Pulmonary Arteriovenous Fistulae Clinical Presentation
Author: Barry A Love, MD; Chief Editor: Howard S Weber, MD, FSCAI more...
Updated: Jan 29, 2015
What would you like to print?
History
Symptoms caused by pulmonary arteriovenous malformations (AVMs) are often insidious, as the arteriovenous malformations slowly enlarge.
Dyspnea, especially with exercise, may develop over many years. In severe cases, dyspnea in the upright position (platypnea) may be present. Visible cyanosis may be present if a significant degree of desaturation is present.
Hemoptysis and rarely massive hemoptysis may occur.
Less common complaints include chest pain, cough, migraine headaches, tinnitus, dizziness, dysarthria, syncope, vertigo, and diplopia. The cause of these symptoms is not entirely clear, but it may be related to hypoxemia, polycythemia, or paradoxical embolization through the pulmonary arteriovenous malformations.
Physical
Murmurs or bruits over the location of the pulmonary arteriovenous malformations are heard in patients with large pulmonary arteriovenous malformations. These murmurs are most audible during inspiration and are called machinery murmurs.
Digital clubbing and cyanosis may be observed.
The phenomenon of orthodeoxia (desaturation with upright position) is characteristic. Because pulmonary arteriovenous malformations are more frequently found in the lower lobes, with upright position, more blood is directed to the lower lobes because of the effects of gravity, exacerbating the degree of shunting. In addition, platypnea (dyspnea with upright position) may also be noted because of the increased degree of cyanosis.
Because most patients with pulmonary arteriovenous malformations also have HHT, the characteristic mucocutaneous telangiectasias are frequently observed in patients with pulmonary arteriovenous malformations. These lesions are papular, slightly rounded, and sharply demarcated from surrounding skin. They have a few dendritic projections that are ruby colored and partially blanche with pressure. The lesions are present on the face, mouth, chest, and upper extremities (see the image below).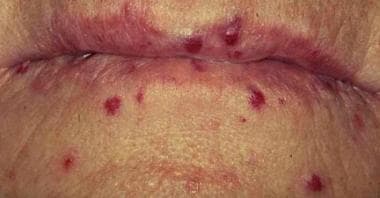 Mucosal telangiectasias are shown in a patient with hereditary hemorrhagic telangiectasia (HHT).
Certainly, the finding of mucocutaneous telangiectasias should prompt a workup for HHT and include evaluation for pulmonary arteriovenous malformations.
Causes
Epidemiology
Great heterogeneity of symptoms is noted among different families and within single large families with HHT. Some families with HHT predominantly have the pulmonary arteriovenous malformations and cerebral arteriovenous malformations; whereas other affected families predominantly have GI mucosal telangiectasis, which lead to GI bleeding and iron-deficiency anemia.
Inheritance
HHT is an autosomal dominant disorder; however, 20% of cases involve no family history of telangiectasia or recurrent bleeding. Penetrance is age related and nearly complete by age 40 years. Although the arteriovenous malformations in HHT are inherited and should be present at birth, they commonly manifest clinically during adult life, after the vessels have been subjected to pressure for several decades.
Associated syndromes
Communication between pulmonary arteries and pulmonary veins has been reported in cases of trauma and in hepatic cirrhosis, schistosomiasis, mitral stenosis, actinomycosis, Fanconi syndrome, and metastatic thyroid carcinoma. Communications between bronchial arteries and pulmonary arteries that cause a left-to-right shunt develop in chronic inflammatory conditions such as bronchiectasis. Most individuals with pulmonary arteriovenous malformations have HHT. The diagnostic criteria for a definite diagnosis of HHT include at least 3 of the following:
Recurrent and spontaneous epistaxis

Multiple mucocutaneous telangiectases

Visceral lesions (eg, GI arteriovenous malformations, pulmonary arteriovenous malformations)

First-degree relative with HHT by these criteria
Associated noncardiac conditions
The most frequently reported associated noncardiac conditions are CNS complications, which occur in 30% of patients. Strokes occur in 18% of patients with CNS complications, transient ischemic attacks occur in 37%, brain abscesses occur in 9%, migraine headaches occur in 43%, and seizures occur in 8%. Paradoxic embolism across pulmonary arteriovenous malformations is the most likely mechanism for major noninfectious strokes. Embolism of infected material accounts for solitary or recurrent brain abscesses. These complications most commonly occur when the feeding arteries are larger than 3 mm in diameter. Hemoptysis and hemothorax are other potentially life-threatening complications. Hemoptysis occurs from ruptured pulmonary arteriovenous malformations or endobronchial telangiectasia.
Idiopathic congenital pulmonary arteriovenous malformations
Idiopathic congenital pulmonary arteriovenous malformations are likely to be single. They are less likely to become enlarged, and the are associated with fewer physical findings than other pulmonary arteriovenous malformations. Idiopathic pulmonary arteriovenous malformations are diagnosed by using the same criteria as for other pulmonary arteriovenous malformations. Idiopathic congenital pulmonary arteriovenous malformations are successfully treated with embolotherapy.
Acquired arteriovenous malformations in hepatopulmonary syndrome
Hepatopulmonary syndrome (HPS), increased alveolar-arterial oxygen gradient (see the A-a Gradient calculator), and intrapulmonary right-to-left shunting (defined as the triad of liver disease) may occur in as many as 47% of patients with end-stage liver disease. All types of chronic liver disease may give rise to this syndrome. Approximately 80% of affected patients have signs and symptoms of end-stage liver disease before symptoms from pulmonary arteriovenous malformations develop. These patients have dyspnea, platypnea, clubbing, cyanosis, hypoxia, and orthodeoxia. Pulmonary function results indicate normal lung volumes and expiratory flow rates with low diffusing capacity.
In contrasts to patients with HHT, patients with HPS rarely have discrete arteriovenous malformations on chest radiographs. The calculation of the shunt fraction with the use of 100% oxygen, contrast echocardiography, and radionuclide scanning are diagnostic tests for HPS.
Results of HPS management have been disappointing. Liver transplantation may result in the resolution of HPS, and HPS is not a contraindication to liver transplantation. An improvement in HPS-related pulmonary shunting after therapeutic transjugular intrahepatic portosystemic shunting has been described.
Acquired arteriovenous malformations after surgery for congenital cyanotic heart disease: Pulmonary arteriovenous malformations may develop after Glenn or modified Fontan procedures for congenital cyanotic heart disease. Pulmonary arteriovenous malformations are a known late complication of Glenn anastomosis (ie, superior vena cava [SVC] to right pulmonary artery [RPA]), which occur in as many as 25% of cases. The Fontan operation (ie, SVC to right atrium and proximal RPA; hepatic veins to left pulmonary artery) was designed as a surgical repair for congenital tricuspid atresia. Contrast echocardiography and radionuclide shunt studies have been used to diagnose pulmonary arteriovenous malformations, and embolotherapy has been used successfully to occlude the pulmonary arteriovenous malformations in these cases.
References
Ragsdale JA. Hereditary hemorrhagic telangiectasia: from epistaxis to life-threatening GI bleeding. Gastroenterol Nurs. 2007 Jul-Aug. 30(4):293-9; quiz 300-1. [Medline].

White RI Jr, Lynch-Nyhan A, Terry P, et al. Pulmonary arteriovenous malformations: techniques and long-term outcome of embolotherapy. Radiology. 1988 Dec. 169(3):663-9. [Medline].

Giordano P, Nigro A, Lenato GM, et al. Screening for children from families with Rendu-Osler-Weber disease: from geneticist to clinician. J Thromb Haemost. 2006 Jun. 4(6):1237-45. [Medline].

Pierucci P, Murphy J, Henderson KJ, Chyun DA, White RI Jr. New definition and natural history of patients with diffuse pulmonary arteriovenous malformations: twenty-seven-year experience. Chest. 2008 Mar. 133(3):653-61. [Medline].

Karam C, Sellier J, Mansencal N, et al. Reliability of Contrast Echocardiography to Rule Out Pulmonary Arteriovenous Malformations and Avoid CT Irradiation in Pediatric Patients with Hereditary Hemorrhagic Telangiectasia. Echocardiography. 2015 Jan. 32(1):42-8. [Medline].

Tomasian A, Lell M, Currier J, Rahman J, Krishnam MS. Coronary artery to pulmonary artery fistulae with multiple aneurysms: radiological features on dual-source 64-slice CT angiography. Br J Radiol. 2008 Sep. 81(969):e218-20. [Medline].

Poulikakos D, Theti D, Pau V, Banerjee D, Jones D. The impact of arteriovenous fistula creation in pulmonary hypertension: Measurement of pulmonary pressures by right heart catheterization in a patient with respiratory failure following arteriovenous fistula creation. Hemodial Int. 2012 Feb 23. [Medline].

Dupuis-Girod S, Ginon I, Saurin JC, Marion D, Guillot E, Decullier E, et al. Bevacizumab in patients with hereditary hemorrhagic telangiectasia and severe hepatic vascular malformations and high cardiac output. JAMA. 2012 Mar 7. 307(9):948-55. [Medline].

Grosso M, Groppo Marchisio F, Testa F, et al. Pulmonary arteriovenous malformations: percutaneous treatment preserving parenchyma in high-flow fistulae. Radiol Med. 2008 Apr. 113(3):395-413. [Medline].

Ishikawa Y, Yamanaka K, Nishii T, Fujii K, Rino Y, Maehara T. Video-assisted thoracoscopic surgery for pulmonary arteriovenous malformations: report of five cases. Gen Thorac Cardiovasc Surg. 2008 Apr. 56(4):187-90. [Medline].

Pollak JS, Saluja S, Thabet A, et al. Clinical and anatomic outcomes after embolotherapy of pulmonary arteriovenous malformations. J Vasc Interv Radiol. 2006 Jan. 17(1):35-44; quiz 45. [Medline].

Bialkowski J, Zabal C, Szkutnik M, et al. Percutaneous interventional closure of large pulmonary arteriovenous fistulas with the amplatzer duct occluder. Am J Cardiol. 2005 Jul 1. 96(1):127-9. [Medline].

McFaul RC, Tajik AJ, Mair DD, et al. Development of pulmonary arteriovenous shunt after superior vena cava- right pulmonary artery (Glenn) anastomosis. Report of four cases. Circulation. 1977 Jan. 55(1):212-6. [Medline].

Cloutier A, Ash JM, Smallhorn JF, et al. Abnormal distribution of pulmonary blood flow after the Glenn shunt or Fontan procedure: risk of development of arteriovenous fistulae. Circulation. 1985 Sep. 72(3):471-9. [Medline].

Laks H, Kaiser GC, Mudd JG, et al. Revascularization of the right coronary artery. Am J Cardiol. 1979 Jun. 43(6):1109-13. [Medline].

Gomes AS, Benson L, George B, Laks H. Management of pulmonary arteriovenous fistulas after superior vena cava- right pulmonary artery (Glenn) anastomosis. J Thorac Cardiovasc Surg. 1984 Apr. 87(4):636-9. [Medline].

Allen SW, Whitfield JM, Clarke DR, et al. Pulmonary arteriovenous malformation in the newborn: a familial case. Pediatr Cardiol. 1993 Jan. 14(1):58-61. [Medline].

Beck A, Dagan T, Matitiau A, Bruckheimer E. Transcatheter closure of pulmonary arteriovenous malformations with Amplatzer devices. Catheter Cardiovasc Interv. 2006 Apr 30. 67(6):932-937. [Medline].

Borsellino A, Giorlandino C, Malena S, et al. Early neurologic complications of pulmonary arteriovenous malformation in a newborn: an indication for surgical resection. J Pediatr Surg. 2006 Feb. 41(2):453-5. [Medline].

Chilvers ER, Whyte MK, Jackson JE, et al. Effect of percutaneous transcatheter embolization on pulmonary function, right-to-left shunt, and arterial oxygenation in patients with pulmonary arteriovenous malformations. Am Rev Respir Dis. 1990 Aug. 142(2):420-5. [Medline].

Dutton JA, Jackson JE, Hughes JM, et al. Pulmonary arteriovenous malformations: results of treatment with coil embolization in 53 patients. AJR Am J Roentgenol. 1995 Nov. 165(5):1119-25. [Medline].

Faughnan ME, Lui YW, Wirth JA, et al. Diffuse pulmonary arteriovenous malformations: characteristics and prognosis. Chest. 2000 Jan. 117(1):31-8. [Medline].

Faughnan ME, Thabet A, Mei-Zahav M, et al. Pulmonary arteriovenous malformations in children: outcomes of transcatheter embolotherapy. J Pediatr. 2004 Dec. 145(6):826-31. [Medline].

Ference BA, Shannon TM, White RI Jr, et al. Life-threatening pulmonary hemorrhage with pulmonary arteriovenous malformations and hereditary hemorrhagic telangiectasia. Chest. 1994 Nov. 106(5):1387-90. [Medline].

Gallitelli M, Guastamacchia E, Resta F, et al. Pulmonary Arteriovenous Malformations, Hereditary Hemorrhagic Telangiectasia, and Brain Abscess. Respiration. 2005 Jul 21. [Medline].

Gossage JR, Kanj G. Pulmonary arteriovenous malformations. A state of the art review. Am J Respir Crit Care Med. 1998 Aug. 158(2):643-61. [Medline].

Heutink P, Haitjema T, Breedveld GJ, et al. Linkage of hereditary haemorrhagic telangiectasia to chromosome 9q34 and evidence for locus heterogeneity. J Med Genet. 1994 Dec. 31(12):933-6. [Medline].

Johnson DW, Berg JN, Baldwin MA, et al. Mutations in the activin receptor-like kinase 1 gene in hereditary haemorrhagic telangiectasia type 2. Nat Genet. 1996 Jun. 13(2):189-95. [Medline].

Laks H, Williams W, Trusler G, Castaneda A. Subclavian arterioplasty for the ipsilateral subclavian-to-pulmonary artery shunt. Circulation. 1979 Aug. 60(2 Pt 2):115-9. [Medline].

Lenato GM, Guanti G. Hereditary Haemorrhagic Telangiectasia (HHT): genetic and molecular aspects. Curr Pharm Des. 2006. 12(10):1173-93. [Medline].

McAllister KA, Grogg KM, Johnson DW, et al. Endoglin, a TGF-beta binding protein of endothelial cells, is the gene for hereditary haemorrhagic telangiectasia type 1. Nat Genet. 1994 Dec. 8(4):345-51. [Medline].

Pooyan P, Shah L, Goli S, et al. Post-traumatic thoracic arteriovenous fistulas. Tenn Med. 2005 Apr. 98(4):181-3. [Medline].

Porteous ME, Burn J, Proctor SJ. Hereditary haemorrhagic telangiectasia: a clinical analysis. J Med Genet. 1992 Aug. 29(8):527-30. [Medline].

Puskas JD, Allen MS, Moncure AC, et al. Pulmonary arteriovenous malformations: therapeutic options. Ann Thorac Surg. 1993 Aug. 56(2):253-7; discussion 257-8. [Medline].

Remy J, Remy-Jardin M, Wattinne L, Deffontaines C. Pulmonary arteriovenous malformations: evaluation with CT of the chest before and after treatment. Radiology. 1992 Mar. 182(3):809-16. [Medline].

Shovlin CL, Guttmacher AE, Buscarini E, et al. Diagnostic criteria for hereditary hemorrhagic telangiectasia (Rendu- Osler-Weber syndrome). Am J Med Genet. 2000 Mar 6. 91(1):66-7. [Medline].

Sluiter-Eringa H, Orie NG, Sluiter HJ. Pulmonary arteriovenous fistula. Diagnosis and prognosis in noncomplainant patients. Am Rev Respir Dis. 1969 Aug. 100(2):177-88. [Medline].

Sperling DC, Cheitlin M, Sullivan RW, Smith A. Pulmonary arteriovenous fistulas with pulmonary hypertension. Chest. 1977 Jun. 71(6):753-7. [Medline].

Swanson KL, Prakash UB, Stanson AW. Pulmonary arteriovenous fistulas: Mayo Clinic experience, 1982-1997. Mayo Clin Proc. 1999 Jul. 74(7):671-80. [Medline].

Ueki J, Hughes JM, Peters AM, et al. Oxygen and 99mTc-MAA shunt estimations in patients with pulmonary arteriovenous malformations: effects of changes in posture and lung volume. Thorax. 1994 Apr. 49(4):327-31. [Medline].

Vase P, Holm M, Arendrup H. Pulmonary arteriovenous fistulas in hereditary hemorrhagic telangiectasia. Acta Med Scand. 1985. 218(1):105-9. [Medline].
Medscape Reference © 2011 WebMD, LLC