Pediatric Surgery for Unroofed Coronary Sinus Treatment & Management
Author: Sergey G Toshinskiy; Chief Editor: John Kupferschmid, MD more...
Updated: Jan 04, 2016
What would you like to print?
Medical Therapy
While in most cases the defect is associated with a more complex congenital heart lesion, excluding an interventional approach, device closure has been proposed recently as a possible nonsurgical option.[5]
Bernado et al reported device closure of a 9.5-year-old, 31-kg child with a coronary sinus atrial septal defect (ASD) and persistent left superior vena cava (PLSVC), through a catheter placed within the left superior vena cava (LSVC).[23] Torreset et al (2007) used a similar approach to close an unroofed coronary sinus (UCS) with a covered stent in a symptomatic 7-month-old infant.[24] Santoro et al (2013) reported transcatheter closure of a partial UCS, where the defect was distal in the coronary sinus, via implantation of a standard occluding device in an 8-year-old child.[25]
Depending on systemic venous drainage patterns, the LSVC can be occluded with an interventional technique or can remain draining systemic venous blood to the left atrium. In this situation, as well as when there are multiple fenestrations, surgical management may be more appropriate.[23, 24] Other contraindications to device closure include inadequate margins to seat the device, large defects, and infants who are too small to accommodate the delivery system.[26]
Surgical Therapy
The goals of surgical therapy include the separation of systemic venous drainage from pulmonary venous drainage, completion of the atrial septum, and management of the PLSVC, if present. This lesion can be repaired with standard bypass techniques, and systemic venous cannulation of the LSVC may be possible if the patient is not an infant or a neonate. As well, the PLSVC can be temporarily occluded if the period is brief and will aid visualization of the repair.
Intraoperative Details
Repair of a coronary sinus ASD without a PLSVC can be accomplished with a roofing procedure.[27] After cardiac arrest and right atriotomy, the defect is examined. If the atrial septum is intact, the fossa ovalis can be incised for increased exposure. Intraoperatively, a probe can be passed through the coronary sinus and visualized through an ASD to confirm the presence of an UCS.[2] The coronary sinus is unroofed into the left atrium, and a patch is placed to close the atrial septum and coronary sinus to the left side (see the image below).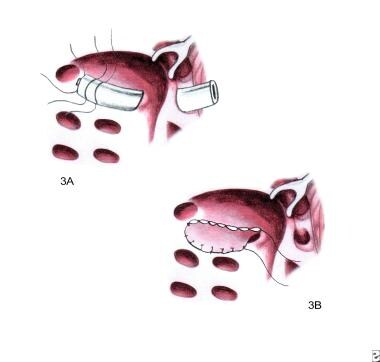 A venous cannula stent opens the coronary sinus while sutures are placed.
When the tissues are redundant, the defect can be closed primarily. When a PLSVC is not present, the amount of cyanosis from coronary blood return is incidental. After closure of the ASD, the presence of a residual leak can be determined by ventilating the lung and looking for evidence of pulmonary venous return from the coronary sinus.[2]
In each case of a PLSVC, the vessel is addressed on its own merits. If it is small and a bridging innominate vein is present, the PLSVC can be ligated. Others have recommended ligation when the occlusion pressure is less than 16 mm Hg.[28] If it is large and is the sole source of venous drainage for the upper extremities and head, an intra-atrial baffle can be considered (see the image below). Still, others have described extracardiac techniques (ie, reimplantation of the LSVC into the right atrium)[29, 30] or right superior vena cava (RSVC) when a bridging vein is absent.[31, 32]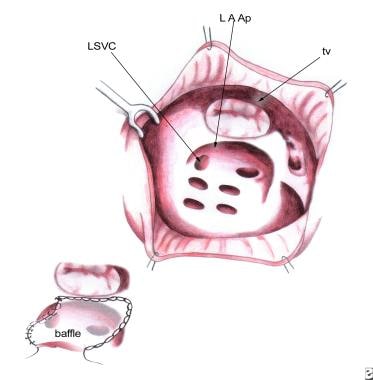 A pericardial patch is used to baffle the pulmonary veins directly toward the mitral valve. This approach allows unobstructed flow from the orifice of the left superior vena cava (LSVC) to drain to the right-sided atrium.
An intra-atrial baffle, however, can potentially result in pulmonary venous obstruction or mitral valve inflow obstruction.[2, 28, 29, 33] Bidirectional left superior cavopulmonary anastomosis is also described as a surgical option for patients with low pulmonary pressures.[30]
When a common atrium is present or when a coronary sinus is absent, landmarks for the conduction system are not available to the surgeon.[29] To remedy this and to avoid the area of conduction, de Leval has described the placement of sutures along the base of the septal leaflet of the tricuspid valve and then out onto the right atrial wall beyond the tricuspid valve annulus.[29]
Complications
Complications are similar to other atrial level repairs. Risks of residual left-to-right or right-to-left shunting and risk of heart block or sinus node dysfunction are most commonly encountered. However, these ASDs are usually seen with other lesions, which may have more severe complications that take precedence.
Outcome and Prognosis
Outcome and prognosis for an isolated coronary sinus ASD are excellent, but the more serious lesions that can be associated may alter the overall outcome for the patient.
Future and Controversies
Results of surgical repair are closely related to the complexity of the associated lesions. A UCS should be suspected whenever a PLSVC is encountered on echocardiogram.
References
Ramos N, Fernandez-Pineda L, Tamariz-Martel A, et al. [Absent right superior vena cava with left superior vena cava draining to an unroofed coronary sinus]. Rev Esp Cardiol. 2005 Aug. 58(8):984-7. [Medline].

El-Eshmawi A, Tang GH, Pawale A, Anyanwu AC, Adams DH. Unroofed coronary sinus in an adult. J Card Surg. 2013 Jan. 28(1):19-22. [Medline].

Kelpis TG, Ninios VN, Giannakoulas G, Spanos GP, Nikoloudakis NE, Pitsis AA. Unroofed coronary sinus as a cause of right heart dilatation in an elderly patient. Hellenic J Cardiol. 2012 Sep-Oct. 53(5):390-1. [Medline].

Sanchez Mejia A, Singh H, Bhalla S, Singh GK. Chronic cyanosis due to persistent left superior vena cava draining into the left atrium in the absence of a coronary sinus. Pediatr Cardiol. 2013 Aug. 34(6):1514-6. [Medline].

Attenhofer Jost CH, Connolly HM, Danielson GK, et al. Clinical features and surgical outcome in 25 patients with fenestrations of the coronary sinus. Cardiol Young. 2007 Dec. 17(6):592-600. [Medline].

Troost E, Gewillig M, Budts W. Percutaneous closure of a persistent left superior vena cava connected to the left atrium. Int J Cardiol. 2006 Jan 26. 106(3):365-6. [Medline].

Kong PK, Ahmad F. Unroofed coronary sinus and persistent left superior vena cava. Eur J Echocardiogr. 2007 Oct. 8(5):398-401. [Medline].

Chauvin M, Shah DC, Haissaguerre M, et al. The anatomic basis of connections between the coronary sinus musculature and the left atrium in humans. Circulation. 2000 Feb 15. 101(6):647-52. [Medline].

Watanabe M, Ono S, Okada Y, et al. Spontaneous closure of an unroofed coronary sinus. Pediatr Int. 2004 Dec. 46(6):722-5. [Medline].

Joffe DC, Rivo J, Oxorn DC. Coronary sinus atrial septal defect. Anesth Analg. 2008 Oct. 107(4):1163-5. [Medline].

Shah SS, Teague SD, Lu JC, Dorfman AL, Kazerooni EA, Agarwal PP. Imaging of the coronary sinus: normal anatomy and congenital abnormalities. Radiographics. 2012 Jul-Aug. 32(4):991-1008. [Medline].

Payne DM, Hamilton A, Milne B, Tanzola R, O'Reilly M. Intraoperative diagnosis of unroofed coronary sinus after aortic valve replacement. Ann Thorac Surg. 2012 Jan. 93(1):296-7. [Medline].

Kwon SH, Oh JH, Kim SJ. Partially unroofed coronary sinus found incidentally in adult patient. Arch Cardiovasc Dis. 2011 Mar. 104(3):202-3. [Medline].

Alexi-Meskishvili V, Dahnert I, Beyer E, et al. Successful total correction of complete atrioventricular canal, total anomalous pulmonary venous drainage and unroofed coronary sinus in an infant. Eur J Cardiothorac Surg. 1999 Jan. 15(1):95-6. [Medline].

Ueno T, Sakata R, Iguro Y, et al. Radical repair of cor triatriatum with partially unroofed coronary sinus and persistent left superior vena cava 35 years after operation for tetralogy of fallot. J Card Surg. 2008 Nov-Dec. 23(6):747-9. [Medline].

Yoshihara K, Ozawa T, Sakuragawa H, et al. [Noonan syndrome associated with atrial septal defect, pulmonary stenosis, and completely unroofed coronary sinus without LSVC: a case report]. Kyobu Geka. 1999 Feb. 52(2):134-7. [Medline].

Drinkwater DC, D'Agostino HJ. Anomalous pulmonary and systemic venous connections. Baue AE, Geha AS, et al, eds. Glenn's Thoracic and Cardiovascualr Surgery. 6th ed. Appleton & Lange: Conn; 1996. 1113-1114.

Kouchoukos NT, Blackstone EH, Doty DB, Hanley FL, Karp RB. Unroofed Coronary Sinus Syndrome. Kirklin/Barratt-Boyes Cardiac Surgery. 3rd ed. Philadelphia, Pa: Churchill Livingstone; 2003. 790-91.

Xie MX, Yang YL, Cheng TO, et al. Coronary sinus septal defect (unroofed coronary sinus): Echocardiographic diagnosis and surgical treatment. Int J Cardiol. 2013 Sep 30. 168(2):1258-1263. [Medline].

Brancaccio G, Miraldi F, Ventriglia F, et al. Multidetector-row helical computed tomography imaging of unroofed coronary sinus. Int J Cardiol. 2003 Oct. 91(2-3):251-3. [Medline].

Ngee T, Lim MC, De Larrazabal C, Sundaram RD. Unroofed coronary sinus defect. J Comput Assist Tomogr. 2011 Mar-Apr. 35(2):246-7. [Medline].

Huang XS. Images in cardiovascular medicine. Partially unroofed coronary sinus. Circulation. 2007 Oct 9. 116(15):e373. [Medline].

Di Bernardo S, Fasnacht M, Berger F. Transcatheter closure of a coronary sinus defect with an Amplatzer septal occluder. Catheter Cardiovasc Interv. 2003 Oct. 60(2):287-90. [Medline].

Torres A, Gersony WM, Hellenbrand W. Closure of unroofed coronary sinus with a covered stent in a symptomatic infant. Catheter Cardiovasc Interv. 2007 Nov 1. 70(5):745-8. [Medline].

Santoro G, Gaio G, Russo MG. Transcatheter treatment of unroofed coronary sinus. Catheter Cardiovasc Interv. 2013 Apr. 81(5):849-52. [Medline].

Myers JL. Management of infants and children. Lemmer JH, Vlahakes GJ, eds. Handbook of Patient Care in Cardiac Surgery. 7th ed. Philadelphia, Pa: Lippincott Williams & Wilkins; 2010. 271-306.

Takahashi H, Kaminishi Y, Saito T, et al. Anatomical repair of partially unroofed coronary sinus syndrome through the coronary sinus orifice. Ann Thorac Cardiovasc Surg. 2005 Jun. 11(3):208-10. [Medline].

Ootaki Y, Yamaguchi M, Yoshimura N, et al. Unroofed coronary sinus syndrome: diagnosis, classification, and surgical treatment. J Thorac Cardiovasc Surg. 2003 Nov. 126(5):1655-6. [Medline].

De Leval M. Anomalies of the systemic venous return. Stark J, De Leval M, eds. Surgery for Congenital Heart Defects. 2nd ed. Philadelphia, PA: WB Saunders Co; 1994. 322-326.

Reddy VM, McElhinney DB, Hanley FL. Correction of left superior vena cava draining to the left atrium using extracardiac techniques. Ann Thorac Surg. 1997 Jun. 63(6):1800-2. [Medline].

van Son JA, Black MD, Haas GS, et al. Extracardiac repair versus intracardiac baffle repair of complex unroofed coronary sinus. Thorac Cardiovasc Surg. 1998 Dec. 46(6):371-4. [Medline].

Chihara S, Yasunaga H, Todo K. Anastomosis of left to right superior vena cava for repair of unroofed coronary sinus. Gen Thorac Cardiovasc Surg. 2012 Apr. 60(4):244-6. [Medline].

Mainwairing RD, Lamberti JL. Atrial septal defects. Kaiser LR, Kron IL, Spray TL, eds. Mastery of Cardiothoracic Surgery. Philadelphia: Lippincott-Raven; 1998. 683-686.

Moore KL. The Developing Human: Clinically Oriented Embryology. Philadelphia: WB Saunders Co; 1982. 299-302.

Tadokoro N, Hoashi T, Kagisaki K, et al. Clinical features and surgical outcomes of coronary sinus orifice atresia. Pediatr Cardiol. 2015 Oct 26. [Epub ahead of print]. [Medline].

Nakano Y, Iwamoto M, Masuda M. Usefulness of real-time three-dimensional trans-oesophageal echocardiography for detection of isolated unroofed coronary sinus. Cardiol Young. 2015 Jan. 25(1):181-3. [Medline].
Medscape Reference © 2011 WebMD, LLC