Pediatric Hepatorenal Syndrome Treatment & Management
Author: Rajendra Bhimma, MB, MD, ChB, PhD, DCH (SA), FCP(Paeds)(SA), MMed(Natal); Chief Editor: Timothy E Corden, MD more...
Updated: Mar 19, 2015
What would you like to print?
Medical Care
Close inpatient monitoring of patients with hepatorenal syndrome (HRS) may be needed.
Medical therapy, especially vasoconstrictor therapy, is used as a temporizing measure to improve renal function while the patient with hepatorenal syndrome (HRS) awaits liver transplantation, if the patient is an appropriate candidate.[3]
Medical management of coagulopathy may also be required. Administer medical or surgical therapy for variceal disease if necessary. Monitor for adverse effects of vasoconstrictor therapies. Promptly start antibiotic therapy if bacterial sepsis or spontaneous bacterial peritonitis is suspected.
As appropriate, provide plasma volume expansion with albumin for recurrent, diuretic-resistant ascites.[3] Administer antibiotics to prevent or treat spontaneous bacterial peritonitis.
Vasoconstrictor agents
Vasoconstrictors, such as the vasopressin analogs ornipressin and terlipressin,[12] and the alpha1-adrenergic agonists, norepinephrine[12] and midodrine, have been studied and have shown promising results in adult patients. In one study, octreotide, a potent splanchnic vasoconstrictor, was not beneficial as single therapy.
The vasopressin analogs both act on V1 vasopressin receptors in the vascular smooth muscle cells to cause splanchnic vasoconstriction and thus increase systemic and renal perfusion.
A few studies have shown beneficial effects of ornipressin combined with albumin or dopamine. Ornipressin is an effective vasoconstrictive agent but has severe ischemic adverse effects in 30-50% of adult patients. These include ischemic mesenteric mucosa, myocardial ischemia, and ventricular arrhythmias. Therefore, it is not currently recommended as treatment for hepatorenal syndrome.
Terlipressin, a vasopressin analogue, has shown potential benefit in the treatment of HRS. Patients given terlipressin had a 50-75% response rate defined as an improved glomerular filtration rate (GFR) to more than 40 mL/min. GFR typically remains below normal, but this therapy provides a bridge to liver transplantation and improves the prognosis after transplantation. Most studies demonstrated an improved response rate with the addition of an albumin infusion to the terlipressin infusion. About 15% of patients have a recurrence after the drug is withdrawn, but most patients respond to retreatment. Terlipressin is administered in an intravenous (IV) bolus every 4 hours for as long as 15 days. Ischemic adverse effects are rare (5-10%) and milder than those of ornipressin. However, this drug is costly and has somewhat limited availability.
Alpha1-adrenergic agonists
Alpha1-adrenergic agonists (eg, noradrenalin, midodrine) are alternatives to the vasopressin analogs and offer the advantage of current availability in the United States and several other countries at a lower cost. They have been most extensively studied in patients with type 2 hepatorenal syndrome (HRS), whereas terlipressin has been evaluated more extensively in type 1 hepatorenal syndrome. The incidence of adverse effects (usually ischaemia) that compels discontinuation of treatment is about 12%. Data from an unblinded, pilot study suggested that noradrenalin was as effective as terlipressin but was associated with increased risk of ischemic events. Another study reported similar beneficial results; however, 2 patients had ventricular arrhythmias. Further studies are needed to evaluate the use of alpha1-adrenergic agonists as potential treatment for HRS.
Paracentesis
Paracentesis may be used in patients with refractory ascites, especially if they are experiencing respiratory embarrassment. Repeated large volume or total volume paracentesis can be used together with plasma volume expanders. Failure to replace losses with a volume expander leads to the development of postparacentesis circulatory syndrome in some patients. Plasma renin activity rises, followed by an insidious rise in serum creatinine over a period of months and the onset of type II hepatorenal syndrome. The pathophysiology of this complication is not fully understood but it is postulated the paracentesis results in peripheral vasodilatation that enhances effective arterial underfilling, and therefore requires acute volume expansion.
Treatment options
Hemodialysis (HD), continuous renal replacement therapy (CRRT), and extracorporeal albumin dialysis (ECAD) are possible treatment options for patients with hepatorenal syndrome.[13] These options have not been reported sufficiently in the literature to support their consistent use. Patients with hepatorenal syndrome historically do not tolerate HD, and deaths during dialysis have been reported. At present, HD is recommended for medically resistant hyperkalemia or severe fluid overload. CRRT remains a potential option for certain patients with hepatorenal syndrome; however, the literature is limited to only case reports.
A more recent method used for the treatment of hepatorenal syndrome is extracorporeal albumin dialysis (ECAD). The procedure uses a cell-free albumin-containing dialysate that is recirculated and perfused through charcoal and anion exchange columns (molecular absorbent recycling system [MARS]). The system is also connected to a hemodialysis or hemoperfusion apparatus. ECAD enables the removal of albumin-bound substances, including bilirubin, bile acids, aromatic amino acids, medium chain fatty acids, and cytokines. ECAD decreases serum creatinine levels but whether or not this effect is due to a true improvement of renal function or simply to the filtration process is unknown.
ECAD has also been reported to improve systemic hemodynamics as indicated by an increase in arterial pressure and systemic vascular resistances and a decrease in cardiac output, plasma renin activity, and norepinephrine levels. To date, these data are based on a few studies of ECAD in cirrhotic patients with hepatorenal syndrome, mainly in patients with type 2 hepatorenal syndrome. Studies regarding the effect of ECAD on survival in patients with type 1 hepatorenal syndrome include too few patients to make definite conclusions.
Consultations
Consultations with the following specialists are indicated:
Nephrologist

Gastroenterologist

Transplant surgeon

Vascular surgeon
Transfer
Transfer to a tertiary care center specializing in liver transplantation may be required to manage this complex disease.
Diet
A low-sodium diet is generally useful for all patients with hepatorenal syndrome, as is fluid restriction because of the renal impairment.
Decreased sodium intake can reduce the severity of the ascites in some patients and can lower the incidence of dilutional hyponatremia.
Surgical Care
Surgical options for patients with hepatorenal syndrome include the transjugular intrahepatic portosystemic shunt (TIPS) procedure and liver transplantation. Peritoneovenous shunting and portosystemic shunting have been attempted in hepatorenal syndrome, but their effectiveness in the treatment of hepatorenal syndrome has not been demonstrated.
A peritoneovenous shunt allows ascitic fluid to pass from the peritoneal cavity back into the systemic circulation. This passage may increase cardiac output and expand the intravascular compartment, decreasing vasoconstrictor activity in patients with hepatorenal syndrome. Improvement in renal blood flow and increased GFR follows. No controlled studies have shown improved survival with this procedure; however, isolated reports have shown a reversal of hepatorenal syndrome.
Portacaval anastomosis is not the standard of care for patients with hepatorenal syndrome because of the high morbidity and mortality risks associated with these procedures.
The TIPS procedure (see the image below) is used as an alternative in treating patients with bleeding esophageal varices that do not respond to standard therapy and in patients with refractory ascites.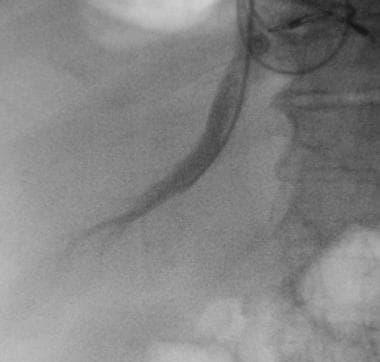 Basic transjugular intrahepatic portosystemic shunt (TIPS) procedure. A curved catheter is placed into the right hepatic vein.
TIPS can be used as a bridge to prolong the survival of patients with type 2 HRS until liver transplantation can be performed. This procedure may decrease portal pressure, which decreases the systemic and renal vasoconstrictor systems. It increases the GFR in 60% of patients with hepatorenal syndrome. However, median survival after TIPS is only 2-4 months.
Contraindications are severe liver failure and severe hepatic encephalopathy because the procedure can lead to irreversible liver failure and chronic, disabling hepatic encephalopathy.
TIPS is currently recommended for patients who appear to be eligible for liver transplantation but in whom vasoconstrictor medical therapy fails. TIPS should not be considered as monotherapy in hepatorenal syndrome. There is delayed recovery of kidney function following TIPS (within 2-4 wk), unlike vasoconstrictor therapy, in which kidney function recovers much faster (1-2 wk).[14, 15]
Significant suppression of the endogenous vasoactive systems, particularly the renin angiotensin system, and a decrease in serum creatinine levels has been observed, although this was slower than that seen in patients treated with terlipressin plus albumin. The recurrence of HRS is rare, provided no shunt malfunction occurs. Hepatic encephalopathy is a frequent complication of TIPS but has been adequately managed using medical therapy. TIPS almost always induces a reduction of ascites volume. Resolution of type 1 HRS by TIPS can improve survival. Increased length of survival has been noted with sequential treatment using vasoconstrictors and albumin infusions followed by TIPS. A recent study has shown TIPS to improve outcome post liver transplantation, probably through improving kidney function.[16]
Liver transplantation is the treatment of choice for patients with hepatorenal syndrome because it cures the underlying liver disease and thus allows renal function to recover secondary to improved perfusion after transplantation.
Most patients with hepatorenal syndrome do not survive long enough or are not candidates for liver transplantation. Most centers advocate vasoconstrictor therapy before the transplantation since this decreases post transplantation morbidity and mortality. Combined liver and kidney transplantation is rarely recommended because the renal failure is functional and reversible.
Renal function may further deteriorate after transplantation, and more than one third of patients require dialysis. Because renal impairment may be secondary to the increased nephrotoxic effect of calcineurin inhibitors (cyclosporin and tacrolimus), these agents should be used 48-72 hours after transplantation, when renal function is expected to improve. The main limitation of liver transplantation is due to the shortage of donor organs. Also, patients with type 1 hepatorenal syndrome often die before transplantation. Combined liver-kidney transplantation is appropriate only for patients who have a low likelihood of recovery of kidney function.
Controversy still exists regarding the best modality of dialysis in orthotopic liver transplantation candidates. Continuous renal replacement therapy is better tolerated than intermittent hemodialysis as evidenced by better cardiovascular stability, gradual correction of hyponatremia, and less fluctuation in intracranial pressure.[17] The choice of renal replacement therapy is dictated by hemodynamic stability and severity of illness and should be tailored to individual patients.[6]
References
Kastelan S, Ljubicic N, Kastelan Z, Ostojic R, Uravic M. The role of duplex-doppler ultrasonography in the diagnosis of renal dysfunction and hepatorenal syndrome in patients with liver cirrhosis. Hepatogastroenterology. 2004 Sep-Oct. 51(59):1408-12. [Medline].

Wadei HM. Hepatorenal syndrome: a critical update. Semin Respir Crit Care Med. 2012 Feb. 33(1):55-69. [Medline].

Wong F. Treatment to improve acute kidney injury in cirrhosis. Curr Treat Options Gastroenterol. 2015 Mar 15. [Medline].

Gines A, Escorsell A, Gines P, et al. Incidence, predictive factors, and prognosis of the hepatorenal syndrome in cirrhosis with ascites. Gastroenterology. 1993 Jul. 105(1):229-36. [Medline].

Planas R, Montoliu S, Balleste B, et al. Natural history of patients hospitalized for management of cirrhotic ascites. Clin Gastroenterol Hepatol. 2006 Nov. 4(11):1385-94. [Medline].

Wong LP, Blackley MP, Andreoni KA, Chin H, Falk RJ, Klemmer PJ. Survival of liver transplant candidates with acute renal failure receiving renal replacement therapy. Kidney Int. 2005 Jul. 68(1):362-70. [Medline].

Salerno F, Cazzaniga M, Merli M, et al. Diagnosis, treatment and survival of patients with hepatorenal syndrome: a survey on daily medical practice. J Hepatol. 2011 Dec. 55(6):1241-8. [Medline].

Stadlbauer V, Mookerjee RP, Hodges S, Wright GA, Davies NA, Jalan R. Effect of probiotic treatment on deranged neutrophil function and cytokine responses in patients with compensated alcoholic cirrhosis. J Hepatol. 2008 Jun. 48(6):945-51. [Medline].

Arroyo V, Gines P, Gerbes AL, et al. Definition and diagnostic criteria of refractory ascites and hepatorenal syndrome in cirrhosis. International Ascites Club. Hepatology. 1996 Jan. 23(1):164-76. [Medline].

Salerno F, Gerbes A, Gines P, Wong F, Arroyo V. Diagnosis, prevention and treatment of hepatorenal syndrome in cirrhosis. Gut. 2007 Sep. 56(9):1310-8. [Medline]. [Full Text].

Remer EM, Papanicolaou N, Casalino DD, et al, for the Expert Panel on Urologic Imaging. ACR appropriateness criteria renal failure [online publication]. Reston, Va: American College of Radiology (ACR); 2013. Available at http://guideline.gov/content.aspx?id=47681. Accessed: March 19, 2015.

Nassar Junior AP, Farias AQ, D' Albuquerque LA, Carrilho FJ, Malbouisson LM. Terlipressin versus Norepinephrine in the Treatment of Hepatorenal Syndrome: A Systematic Review and Meta-Analysis. PLoS One. 2014. 9(9):e107466. [Medline]. [Full Text].

Parson CE, Nelson R, Book L, Jensen MK. The use of renal replacement therapy in infants and children with hepatorenal syndrome awaiting liver transplantation: A case control study. Liver Transpl. 2014 Sep 1. [Medline].

Guevara M, Gines P, Bandi JC, et al. Transjugular intrahepatic portosystemic shunt in hepatorenal syndrome: effects on renal function and vasoactive systems. Hepatology. 1998 Aug. 28(2):416-22. [Medline].

Brensing KA, Textor J, Perz J, Schiedermaier P, Raab P, Strunk H. Long term outcome after transjugular intrahepatic portosystemic stent-shunt in non-transplant cirrhotics with hepatorenal syndrome: a phase II study. Gut. 2000 Aug. 47(2):288-95. [Medline].

Guerrini GP, Pleguezuelo M, Maimone S, et al. Impact of tips preliver transplantation for the outcome posttransplantation. Am J Transplant. 2009 Jan. 9(1):192-200. [Medline].

Davenport A. Renal replacement therapy in the patient with acute brain injury. Am J Kidney Dis. 2001 Mar. 37(3):457-66. [Medline].

Alessandria C, Debernardi-Venon W, Carello M, Ceretto S, Rizzetto M, Marzano A. Midodrine in the prevention of hepatorenal syndrome type 2 recurrence: a case-control study. Dig Liver Dis. 2009 Apr. 41(4):298-302. [Medline].

Alessandria C, Ottobrelli A, Debernardi-Venon W, Todros L, Cerenzia MT, Martini S. Noradrenalin vs terlipressin in patients with hepatorenal syndrome: a prospective, randomized, unblinded, pilot study. J Hepatol. 2007 Oct. 47(4):499-505. [Medline].

Barnardo DE, Baldus WP, Maher FT. Effects of dopamine on renal function in patients with cirrhosis. Gastroenterology. 1970 Apr. 58(4):524-31. [Medline].

Bataller R, Sort P, Gines P, Arroyo V. Hepatorenal syndrome: definition, pathophysiology, clinical features and management. Kidney Int Suppl. 1998 May. 66:S47-53. [Medline].

[Guideline] Bush WH Jr, Choyke PL, Bluth RI, et al. Renal failure. ACR Appropriateness Criteria renal failure. 2005. [Full Text].

Cardenas A. Hepatorenal syndrome: a dreaded complication of end-stage liver disease. Am J Gastroenterol. 2005 Feb. 100(2):460-7. [Medline].

Carl DE, Sanyal A. The management of hepatorenal syndrome. Minerva Gastroenterol Dietol. 2009 Jun. 55(2):207-26. [Medline].

Charlton MR, Wall WJ, Ojo AO, Gines P, Textor S, Shihab FS. Report of the first international liver transplantation society expert panel consensus conference on renal insufficiency in liver transplantation. Liver Transpl. 2009 Nov. 15(11):S1-34. [Medline].

Eason JD, Gonwa TA, Davis CL, Sung RS, Gerber D, Bloom RD. Proceedings of Consensus Conference on Simultaneous Liver Kidney Transplantation (SLK). Am J Transplant. 2008 Nov. 8(11):2243-51. [Medline].

Epstein M. The hepatorenal syndrome--newer perspectives. N Engl J Med. 1992 Dec 17. 327(25):1810-1. [Medline].

Fabrizi F, Dixit V, Messa P, Martin P. Terlipressin for hepatorenal syndrome: A meta-analysis of randomized trials. Int J Artif Organs. 2009 Mar. 32(3):133-40. [Medline].

Follo A, Llovet JM, Navasa M, et al. Renal impairment after spontaneous bacterial peritonitis in cirrhosis: incidence, clinical course, predictive factors and prognosis. Hepatology. 1994 Dec. 20(6):1495-501. [Medline].

Fullen WD. Hepatorenal syndrome: reversal by peritoneovenous shunt. Surgery. 1977 Sep. 82(3):337-41. [Medline].

Gines P, Arroyo V, Quintero E, Planas R, Bory F, Cabrera J. Comparison of paracentesis and diuretics in the treatment of cirrhotics with tense ascites. Results of a randomized study. Gastroenterology. 1987 Aug. 93(2):234-41. [Medline].

Gines P, Guevara M, Arroyo V, Rodes J. Hepatorenal syndrome. Lancet. 2003 Nov 29. 362(9398):1819-27. [Medline].

Gonwa TA, Morris CA, Goldstein RM, et al. Long-term survival and renal function following liver transplantation in patients with and without hepatorenal syndrome--experience in 300 patients. Transplantation. 1991 Feb. 51(2):428-30. [Medline].

Guevara M, Gines P, Fernandez-Esparrach G, et al. Reversibility of hepatorenal syndrome by prolonged administration of ornipressin and plasma volume expansion. Hepatology. 1998 Jan. 27(1):35-41. [Medline].

Guevara M, Rodes J. Hepatorenal syndrome. Int J Biochem Cell Biol. 2005 Jan. 37(1):22-6.

Gulberg V, Bilzer M, Gerbes AL. Long-term therapy and retreatment of hepatorenal syndrome type 1 with ornipressin and dopamine. Hepatology. 1999 Oct. 30(4):870-5. [Medline].

Henriksen JH. Cirrhosis: ascites and hepatorenal syndrome. Recent advances in pathogenesis. J Hepatol. 1995. 23 Suppl 1:25-30. [Medline].

Kiser TH, Fish DN, Obritsch MD, et al. Vasopressin, not octreotide, may be beneficial in the treatment of hepatorenal syndrome: a retrospective study. Nephrol Dial Transplant. 2005 Sep. 20(9):1813-20. [Medline].

Levy M. Hepatorenal syndrome. Kidney Int. 1993 Mar. 43(3):737-53. [Medline].

Magan AA, Khalil AA, Ahmed MH. Terlipressin and hepatorenal syndrome: what is important for nephrologists and hepatologists. World J Gastroenterol. 2010 Nov 7. 16(41):5139-47. [Medline].

Maroto A, Gines A, Salo J, et al. Diagnosis of functional kidney failure of cirrhosis with Doppler sonography: prognostic value of resistive index. Hepatology. 1994 Oct. 20(4 Pt 1):839-44. [Medline].

Moller S, Henriksen JH, Bendtsen F. Pathogenetic background for treatment of ascites and hepatorenal syndrome. Hepatol Int. 2008 Dec. 2(4):416-28. [Medline].

[Guideline] Murray KF, Carithers RL Jr. AASLD practice guidelines: Evaluation of the patient for liver transplantation. Hepatology. 2005 Jun. 41(6):1407-32. [Medline].

Neuschwander-Tetri BA. Organ interactions in the hepatorenal syndrome. New Horiz. 1994 Nov. 2(4):527-44. [Medline].

O'Beirne JP, Heneghan MA. Current management of the hepatorenal syndrome. Hepatol Res. 2005 Aug. 32(4):243-9. [Medline].

Ortega R, Gines P, Uriz J, et al. Terlipressin therapy with and without albumin for patients with hepatorenal syndrome: results of a prospective, nonrandomized study. Hepatology. 2002 Oct. 36(4 Pt 1):941-8. [Medline].

Peron JM, Bureau C, Gonzalez L, et al. Treatment of hepatorenal syndrome as defined by the international ascites club by albumin and furosemide infusion according to the central venous pressure: a prospective pilot study. Am J Gastroenterol. 2005 Dec. 100(12):2702-7. [Medline].

Roberts LR, Kamath PS. Ascites and hepatorenal syndrome: pathophysiology and management. Mayo Clin Proc. 1996 Sep. 71(9):874-81. [Medline].

Ruiz-del-Arbol L, Monescillo A, Jimenez W, Garcia-Plaza A, Arroyo V, Rodes J. Paracentesis-induced circulatory dysfunction: mechanism and effect on hepatic hemodynamics in cirrhosis. Gastroenterology. 1997 Aug. 113(2):579-86. [Medline].

Ruiz-del-Arbol L, Urman J, Fernandez J, et al. Systemic, renal, and hepatic hemodynamic derangement in cirrhotic patients with spontaneous bacterial peritonitis. Hepatology. 2003 Nov. 38(5):1210-8. [Medline].

Sacerdoti D, Bolognesi M, Merkel C, et al. Renal vasoconstriction in cirrhosis evaluated by duplex Doppler ultrasonography. Hepatology. 1993 Feb. 17(2):219-24. [Medline].

Salo J, Gines A, Quer JC, et al. Renal and neurohormonal changes following simultaneous administration of systemic vasoconstrictors and dopamine or prostacyclin in cirrhotic patients with hepatorenal syndrome. J Hepatol. 1996 Dec. 25(6):916-23. [Medline].

Skagen C, Einstein M, Lucey MR, Said A. Combination treatment with octreotide, midodrine, and albumin improves survival in patients with type 1 and type 2 hepatorenal syndrome. J Clin Gastroenterol. 2009 Aug. 43(7):680-5. [Medline].

Soper CP, Latif AB, Bending MR. Amelioration of hepatorenal syndrome with selective endothelin-A antagonist. Lancet. 1996 Jun 29. 347(9018):1842-3. [Medline].

Strang J, Ramlow W, Mitzner S, et al. Dialysis against a recycled albumin solution enables the removal of albumin-bound toxins. Artificial Organs. 1993. 17:809-13.

Testino G, Ferro C, Sumberaz A, Messa P, Morelli N, Guadagni B. Type-2 hepatorenal syndrome and refractory ascites: role of transjugular intrahepatic portosystemic stent-shunt in eighteen patients with advanced cirrhosis awaiting orthotopic liver transplantation. Hepatogastroenterology. 2003 Nov-Dec. 50(54):1753-5. [Medline].

Umgelter A, Schmid RM. [Terlipressin for hepatorenal syndrome - what is the role of plasma expansion and hemodynamic monitoring?]. Z Gastroenterol. 2009 Mar. 47(3):307-8. [Medline].

Van Roey G, Moore K. The hepatorenal syndrome. Pediatr Nephrol. 1996 Feb. 10(1):100-7. [Medline].

Wadei HM, Mai ML, Ahsan N, Gonwa TA. Hepatorenal syndrome: pathophysiology and management. Clin J Am Soc Nephrol. 2006 Sep. 1(5):1066-79. [Medline].

Witzke O, Baumann M, Patschan D, et al. Which patients benefit from hemodialysis therapy in hepatorenal syndrome?. J Gastroenterol Hepatol. 2004 Dec. 19(12):1369-73. [Medline].

Wong F, Pantea L, Sniderman K. Midodrine, octreotide, albumin, and TIPS in selected patients with cirrhosis and type 1 hepatorenal syndrome. Hepatology. 2004 Jul. 40(1):55-64. [Medline].

Xu X, Ling Q, Zhang M, et al. Outcome of patients with hepatorenal syndrome type 1 after liver transplantation: Hangzhou experience. Transplantation. 2009 May 27. 87(10):1514-9. [Medline].
Medscape Reference © 2011 WebMD, LLC