Pediatric Acropustulosis Clinical Presentation
Author: Christine Shanahan; Chief Editor: Dirk M Elston, MD  more...
Updated: Mar 29, 2016
What would you like to print?
History
Typically, an infant aged 2-12 months with acropustulosis exhibits pruritic erythematous macules or papules that progress into vesicles and then pustules. Children with acropustulosis are fretful, irritable, and obviously uncomfortable, but otherwise well. Individual bouts of the condition last 7-15 days and recur at 2- to 4-week intervals. The intensity and duration diminish with each recurrence.
Most children have been treated with antiscabies medications prior to presentation, and some have been treated with topical or oral antibiotics as well. Children with acropustulosis may be misdiagnosed with bacterial infections, hand-foot-and-mouth disease (Coxsackievirus or Enterovirus infection), or dyshidrotic eczema.[3]
Physical
The hands and feet always are involved, usually on the palms, soles, and lateral surfaces. Lesions may occur on the dorsal hands, feet, trunk, scalp, and face.
Lesions begin as small macules or papules that eventually form distinct, noncoalescing vesicles and pustules. They resolve with macular hyperpigmentation (see the image below). No other organ systems are involved.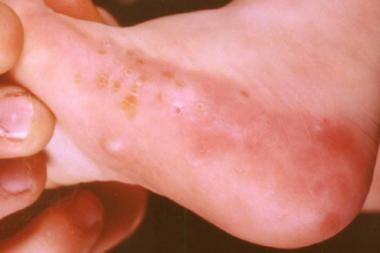 Lateral and plantar foot exhibiting acropustulosis. A combination of intact acute vesicles and brownish hyperpigmentation of old vesicles is present.
Causes
The cause of acropustulosis is unknown.
Scabies (Sarcoptes scabiei infection)as a preceding or concomitant infestation is well documented. However, cases have been described in which a history of scabies was excluded. Many children are undoubtedly misdiagnosed as having scabies and are treated with lindane or permethrin prior to presentation.
Some studies suggest that acropustulosis and neonatal eosinophilic pustular folliculitis are associated and may be manifestations of the same underlying disease.[4, 5]
No other infectious agent has been documented.
References
Posso-De Los Rios CJ, Pope E. New insights into pustular dermatoses in pediatric patients. J Am Acad Dermatol. 2013 Dec 30. [Medline].

Dromy R, Raz A, Metzker A. Infantile acropustulosis. Pediatr Dermatol. 1991 Dec. 8(4):284-7. [Medline].

Good LM, Good TJ, High WA. Infantile acropustulosis in internationally adopted children. J Am Acad Dermatol. 2011 Oct. 65 (4):763-71. [Medline].

Tucker M, Ramolia P, Wells MJ. JAAD Grand Rounds. Neonate with extensive papulovesicles. J Am Acad Dermatol. 2013 May. 68 (5):877-9. [Medline].

Vicente J, Espana A, Idoate M, et al. Are eosinophilic pustular folliculitis of infancy and infantile acropustulosis the same entity?. Br J Dermatol. 1996 Nov. 135(5):807-9. [Medline].

Braun-Falco M, Stachowitz S, Schnopp C, et al. Infantile acropustulosis successfully controlled with topical corticosteroids under damp tubular retention bandages. Acta Derm Venereol. 2001 May. 81(2):140-1. [Medline].

Humeau S, Bureau B, Litoux P, Stalder JF. Infantile acropustulosis in six immigrant children. Pediatr Dermatol. 1995 Sep. 12(3):211-4. [Medline].

Silverberg NB. Infantile Acropustulosis. Silverberg NB, Durán-McKinster C, Tay YK, eds. Pediatric Skin of Color. New York, NY: Springer; 2015. 4(36): 323-25.

Kimura M, Higuchi T, Yoshida M. Infantile acropustulosis treated successfully with topical maxacalcitol. Acta Derm Venereol. 2011 May. 91 (3):363-4. [Medline].

Porriño-Bustamante ML, Sánchez-López J, Aneiros-Fernández J, Burkhardt P, Naranjo-Sintes R. Recurrent pustules on an infant's scalp with neonatal onset. Int J Dermatol. 2015 Aug 12. [Medline].

Zhang X, Hunzelmann N, Tantcheva-Poor I. Recurrent sterile pustules and papules in a 7-month-old infant. Pediatr Dermatol. 2013 Sep-Oct. 30 (5):621. [Medline].

Ghosh S. Neonatal pustular dermatosis: an overview. Indian J Dermatol. 2015 Mar-Apr. 60 (2):211. [Medline].
Medscape Reference © 2011 WebMD, LLC