Pediatric Erythema Toxicum
Author: Elizabeth Arrington, MD; Chief Editor: Dirk M Elston, MD more...
Updated: Nov 04, 2014
What would you like to print?
Background
Erythema toxicum neonatorum (ETN) is a benign, self-limited, asymptomatic skin condition that only occurs during the neonatal period.[1, 2] The eruption is characterized by small, erythematous papules, vesicles, and, occasionally, pustules. The lesions are usually surrounded by a distinctive diffuse, blotchy, erythematous halo. Individual lesions are transitory, often disappearing within hours and then appearing elsewhere on the body. See the image below.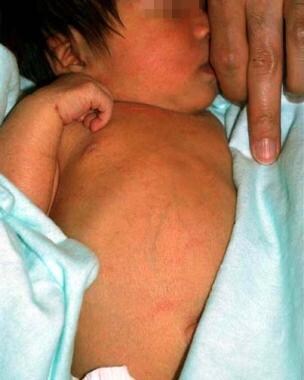 A 5-day-old newborn with erythematous papules with surrounding indistinct blotchy erythema visible on the abdomen. Image courtesy of Jining I. Wang, MD.
See 13 Common-to-Rare Infant Skin Conditions, a Critical Images slideshow, to help identify rashes, birthmarks, and other skin conditions encountered in infants.
Pathophysiology
The underlying pathophysiology is uncertain. Although the initial description of toxic erythema of the newborn is attributed to the 15th century physician Bartholomaeus Metlinger, this neonatal cutaneous eruption was recognized before the time of ancient Mesopotamia.[3] Ancient Mesopotamian physicians believed this eruption to be "nature's method of cleansing the child of impure blood of the mother." In A Treatise on the Theory and Practice of Midwifery, the 18th century English physician William Smellie attributed the condition to "the costiveness of the child when the meconium hath not been sufficiently purged off."
The characteristic presence of eosinophils within the lesions has led some investigators to attribute this condition to an allergy. Work by Eitzman and Smith suggested that eosinophilia is part of the normal spectrum of the nonspecific inflammatory response in the neonate.[4] This hypothesis is supported by cases in which premature neonates have infrequent eruptions that resolve within a few weeks after birth when the neonatal immune response matures.
The etiology of erythema toxicum neonatorum remains uncertain; however, more recent hypotheses explaining the appearance of this eruption include the following:
Relative, increased, ground-substance viscosity in neonatal skin, with associated trauma leading to eosinophilic inflammation

Self-limited, acute, cutaneous, graft-versus-host reaction caused by maternal lymphocytes in the relatively immunosuppressed fetal circulation

[5]

An innate immunologic response to commensal microbes within hair follicle epithelium

An inflammatory response mediated by various inflammatory mediators, including aquaporins, psoriasin, nitric oxide synthases
Epidemiology
Frequency
United States
The condition affects 30-70% of newborns.[6] Carr and associates studied 270 newborns and found an incidence of 48%.[7] Keitel and Yadav studied 207 consecutive newborns and found an incidence of 62%.[8]
International
Incidence is 25.3% in Spain, 33.7% in Taiwan, and 20.6% in India.
Mortality/Morbidity
This is a benign, asymptomatic, self-limited skin condition with no known sequelae.
Race
No significant differences based on race are apparent. A study by Saracli and associates documented a low incidence among black neonates; however, this may be caused by the relative difficulty of diagnosing neonates with darker skin.[9] Other sets of observations have noted no racial difference in incidence.
Sex
In previous studies, no significant difference in incidence is noted between the sexes. However, a study from China indicated a statistically significant predilection in boys.[10]
Age
This condition is limited to the neonatal period. In a study of 270 cases, the typical newborn with erythema toxicum neonatorum was of average birth weight and born at term.[7] Of the newborns affected, 88% weighed 2500 g or more. In addition, 98% were born at least 35 weeks' gestation, with 85% born at least 39 weeks' gestation.
References
Kanada KN, Merin MR, Munden A, Friedlander SF. A Prospective Study of Cutaneous Findings in Newborns in the United States: Correlation with Race, Ethnicity, and Gestational Status Using Updated Classification and Nomenclature. J Pediatr. 2012 Apr 10. [Medline].

Tarang G, Anupam V. Incidence of vesicobullous and erosive disorders of neonates. J Dermatol Case Rep. 2011 Dec 12. 5(4):58-63. [Medline]. [Full Text].

Lehndorff H. Bartholomaeus Metlinger. A fifteenth century pediatrician. Arch Pediatr. 1951 Jul. 68(7):322-33. [Medline].

Eitzman DV, Smith RT. The nonspecific inflammatory cycle in the neonatal infant. AMA J Dis Child. 1959 Mar. 97(3):326-34. [Medline].

Bassukas ID. Is erythema toxicum neonatorum a mild self-limited acute cutaneous graft-versus-host-reaction from maternal-to-fetal lymphocyte transfer?. Med Hypotheses. 1992. 38:334-338. [Medline].

Haveri FT, Inamadar AC. A cross-sectional prospective study of cutaneous lesions in newborn. ISRN Dermatol. 2014. 2014:360590. [Medline].

Carr JA, Hodgman JE, Freedman RI, Levan NE. Relationship between toxic erythema and infant maturity. Am J Dis Child. 1966 Aug. 112(2):129-34. [Medline].

Keitel HG, Yadav V. Etiology of Toxic Erythema. Erythema Toxicum Neonatorum. Am J Dis Child. 1963 Sep. 106:306-9. [Medline].

Saracli T, Kenney JA Jr, Scott RB. Common skin disorders in the newborn Negro infant. Observations based on the examination of 1,000 babies. J Pediatr. 1963 Mar. 62:359-62. [Medline].

Liu C, Feng J, Qu R. Epidemiologic study of the predisposing factors in erythema toxicum neonatorum. Dermatology. 2005. 210(4):269-72. [Medline].

Morgan AJ, Steen CJ, Schwartz RA, Janniger CK. Erythema toxicum neonatorum revisited. Cutis. 2009 Jan. 83(1):13-6. [Medline].

[Guideline] New York State Department of Health. Dermatologic manifestations. New York State Department of Health. 2004. [Full Text].

O'Connor NR, McLaughlin MR, Ham P. Newborn skin: Part I. Common rashes. Am Fam Physician. 2008 Jan 1. 77(1):47-52. [Medline].

Duperrat B, Bret AJ. Erythema neonatorum allergicum. Br J Dermatol. 1961 Aug-Sep. 73:300-2. [Medline].

Hurwitz S. Erythema toxicum. In: Clinical Pediatric Dermatology. 1993: 13-14.

Johnson BL, Honig PJ, Jaworsky C. Erythema toxicum neonatorum. In: Pediatric Dermatopathology. 1994: 82.

Marchini G, Nelson A, Edner J, et al. Erythema toxicum neonatorum is an innate immune response to commensal microbes penetrated into the skin of the newborn infant. Pediatr Res. 2005 Sep. 58(3):613-6. [Medline].

Marchini G, Stabi B, Kankes K, et al. AQP1 and AQP3, psoriasin, and nitric oxide synthases 1-3 are inflammatory mediators in erythema toxicum neonatorum. Pediatr Dermatol. 2003 Sep-Oct. 20(5):377-84. [Medline].

Stone OJ. High viscosity of newborn extracellular matrix is the etiology of erythema toxicum neonatorum: neonatal jaundice?: hyaline membrane disease?. Med Hypotheses. 1990 Sep. 33(1):15-7. [Medline].

Taylor WB, Bondurant CP Jr. Erythema neonatorum allergicum; a study of the incidence in two hundred newborn infants and a review of the literature. AMA Arch Derm. 1957 Nov. 76(5):591-4. [Medline].
Medscape Reference © 2011 WebMD, LLC