Iliopsoas Tendinitis
Author: Joseph P Garry, MD, FACSM, FAAFP; Chief Editor: Sherwin SW Ho, MD more...
Updated: Jul 22, 2016
What would you like to print?
Background
Hip and pelvis injuries represent 2-5% of all sports injuries. Among these injuries, groin pain is the most common finding. The most common sports-related injuries in the hip, pelvis, and thigh area are musculotendinous, (eg, quadriceps strain, adductor tendinitis) and, less commonly, iliopsoas tendinitis. Iliopsoas tendinitis and iliopsoas bursitis are closely interrelated because inflammation of one inevitably causes inflammation of the other, due to their close proximity. Therefore, these 2 conditions are essentially identical in terms of presentation and management.
In basic terms, iliopsoas tendonitis is an inflammation of the tendon or area surrounding the tendon. Major causes of iliopsoas tendinitis are acute trauma and overuse resulting from repetitive hip flexion. See the image below.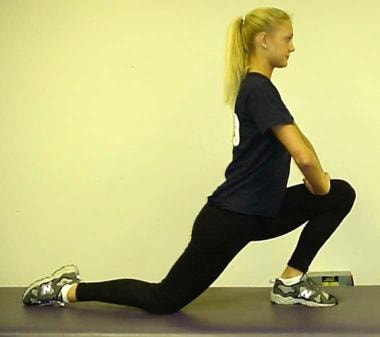 Iliopsoas stretch.
Epidemiology
Frequency
United States
No data on prevalence of iliopsoas tendinitis exists. Despite this, it is a relatively uncommon and poorly recognized cause of anterior hip or groin pain. Iliopsoas tendinitis is noted to affect young adults more commonly, with a slight female predominance.
Functional Anatomy
The pelvis links the trunk and lower extremities. The hip, a ball and socket joint, allows for 3 degrees of freedom. Range of motion (ROM) of the hip includes approximately 120° of flexion, 20° of extension, 40° of abduction, 25° of adduction, and 45° each of internal rotation and external rotation. The resting position of the hip is considered to be 30° of flexion and 30° of abduction.
The psoas and iliacus muscles originate from the lumbar spine (transverse processes t-12 and L1-5) and pelvis (superior anterior iliac crest), respectively, and are innervated by the upper lumbar nerve roots (ie, L1, L2, L3). These muscles converge to form the iliopsoas muscle, which inserts onto the lesser trochanter of the proximal femur as the iliopsoas tendon. The psoas major tendon exhibits a characteristic rotation through its course, transforming its ventral surface into a medial surface. The iliac portion of this tendon has a more lateral position, and the most lateral muscle fibers of the iliacus muscle insert onto the lesser trochanter without joining the main tendon.
The iliopsoas muscle passes anterior to the pelvic brim and hip capsule in a groove between the anterior inferior iliac spine laterally and iliopectineal eminence medially. The musculotendinous junction is consistently found at the level of this groove. The iliopsoas muscle functions as a hip flexor and external rotator of the femur.
An ilio-infratrochanteric muscular bundle has been described, which likely relates to the iliopsoas tendon. This muscular bundle arises from the interspinous incisure and anterior inferior iliac spine (above the origin of the rectus femoris muscle), courses along the anterolateral edge of the iliacus muscle, and inserts without a tendon onto the anterior surface of the lesser trochanter. The iliopsoas bursa lies between the musculotendinous junction and the pelvic brim. This bursa is the largest in the body and may extend proximally into the iliac fossa or distally to the lesser trochanter. Communication between this bursa and the hip joint occurs in approximately 15% of all adults.
A variety of terms have been used to describe and classify tendon injuries. Tendonitis is typically associated with an acute injury through which failure of the tendon fibers and disruption of the vascularized peritendinous connective tissue produces an acute inflammatory response within the tendon. Tendinitis may be acute, subacute, or chronic, depending on the duration of symptoms.
Peritendinitis is a condition in which an acute injury produces an inflammatory response in only the soft tissue surrounding a tendon, without disruption of the tendon fibers. On the other hand, tendinosis is often associated with chronic microtrauma to the tendon, such as repetitive overload. In the case of tendinosis, fiber failure tends to be characterized by intrasubstance failure, compared with peritendinous disruption, which occurs in tendinitis. Microscopic findings in tendinosis include fibrillar degeneration, angiofibroblastic proliferation, myxoid degeneration, fibrosis, and, occasionally, chronic inflammation.
Sport-Specific Biomechanics
Acute injury and overuse injury are the two main causes of iliopsoas tendinitis. The acute injury typically involves an eccentric contraction of the iliopsoas muscle, but also may be due to direct trauma. Overuse injury may occur in activities involving repeated hip flexion or external rotation of the thigh. Motions that call for repeated trunk flexion with hip flexion create a continuous shortening of the iliopsoas which can exacerbate iliopsoas tendonitis. Activities that may predispose to iliopsoas tendinitis include dancing, ballet, resistance training, cycling, rowing, running (particularly uphill), track and field, soccer, and gymnastics.
During the adolescent growth spurt, the hip flexors tend to become relatively inflexible. This inflexibility can lead to problems in younger athletes because stress placed on the iliopsoas musculotendinous unit increases and general biomechanics are altered. Tightness of the iliopsoas, tensor fascia lata, or rectus femoris can lead to inhibition of the gluteus maximus, allowing for an anterior pelvic tilt. This in turn leads to adverse affects on the kinetic chain. Excessive anterior tilt can lead to increased lumbar lordosis with resultant stress on the lower lumbar discs, facet joints, and sacroiliac joints and may result in increased knee flexion at heel strike and during midstance phases of the gait cycle. The subsequent increase in eccentric load across the knee extensor mechanism may result in patellar tendon injuries. With increased knee flexion, compressive forces at the patellofemoral contact surface increase and may predispose to patellofemoral problems.
References
Iagnocco A, Filippucci E, Riente L, Meenagh G, Delle Sedie A, Sakellariu G, et al. Ultrasound imaging for the rheumatologist XLI. Sonographic assessment of the hip in OA patients. Clin Exp Rheumatol. 2012 Sep-Oct. 30(5):652-7. [Medline].

Contreras ME, Dani WS, Endges WK, De Araujo LC, Berral FJ. Arthroscopic treatment of the snapping iliopsoas tendon through the central compartment of the hip: a pilot study. J Bone Joint Surg Br. 2010 Jun. 92(6):777-80. [Medline].

Ilizaliturri VM Jr, Camacho-Galindo J. Endoscopic treatment of snapping hips, iliotibial band, and iliopsoas tendon. Sports Med Arthrosc. 2010 Jun. 18(2):120-7. [Medline].

Anderson CN. Iliopsoas: Pathology, Diagnosis, and Treatment. Clin Sports Med. 2016 Jul. 35 (3):419-33. [Medline].

Gruen GS, Scioscia TN, Lowenstein JE. The surgical treatment of internal snapping hip. Am J Sports Med. 2002 Jul-Aug. 30(4):607-13. [Medline].

Hoskins JS, Burd TA, Allen WC. Surgical correction of internal coxa saltans: a 20-year consecutive study. Am J Sports Med. 2004 Jun. 32(4):998-1001.

Garala K, Power RA. Iliopsoas tendon reformation after psoas tendon release. Case Rep Orthop. 2013. 2013:361087. [Medline]. [Full Text].

Ilizaliturri VM Jr, Chaidez C, Villegas P, Briseno A, Camacho-Galindo J. Prospective randomized study of 2 different techniques for endoscopic iliopsoas tendon release in the treatment of internal snapping hip syndrome. Arthroscopy. 2009 Feb. 25(2):159-63. [Medline].

Ilizaliturri VM Jr, Buganza-Tepole M, Olivos-Meza A, Acuna M, Acosta-Rodriguez E. Central compartment release versus lesser trochanter release of the iliopsoas tendon for the treatment of internal snapping hip: a comparative study. Arthroscopy. 2014 Jul. 30(7):790-5. [Medline].

Dobbs MB, Gordon JE, Luhmann SJ, Szymanski DA, Schoenecker PL. Surgical correction of the snapping iliopsoas tendon in adolescents. J Bone Joint Surg Am. 2002 Mar. 84-A(3):420-4. [Medline].

Byrd JW. Hip arthroscopy. J Am Acad Orthop Surg. 2006 Jul. 14(7):433-44.

Anderson SA, Keene JS. Results of arthroscopic iliopsoas tendon release in competitive and recreational athletes. Am J Sports Med. 2008 Dec. 36(12):2363-71. [Medline].

Agten CA, Rosskopf AB, Zingg PO, Peterson CK, Pfirrmann CW. Outcomes after fluoroscopy-guided iliopsoas bursa injection for suspected iliopsoas tendinopathy. Eur Radiol. 2015 Mar. 25 (3):865-71. [Medline].

De Paulis F, Cacchio A, Michelini O, Damiani A, Saggini R. Sports injuries in the pelvis and hip: diagnostic imaging. Eur J Radiol. 1998 May. 27 Suppl 1:S49-59. [Medline].

Fredberg U, Hansen LB. Ultrasound in the diagnosis and treatment of iliopsoas tendinitis: a case report. Scand J Med Sci Sports. 1995 Dec. 5(6):369-70. [Medline].

Generini S, Matucci-Cerinic M. Iliopsoas bursitis in rheumatoid arthritis. Clin Exp Rheumatol. 1993 Sep-Oct. 11(5):549-51. [Medline].

Geraci MC. Rehabilitation of the hip, pelvis, and thigh. Kibler WB, Herring SA, Press JM, eds. Functional Rehabilitation of Sports and Musculoskeletal Injuries. Philadelphia, Pa: Lippincott Williams & Wilkins; 1998. 226-243.

Jacobs M, Young R. Snapping hip phenomenon among dancers. Am Correct Ther J. 1978 May-Jun. 32(3):92-8. [Medline].

Jacobson T, Allen WC. Surgical correction of the snapping iliopsoas tendon. Am J Sports Med. 1990 Sep-Oct. 18(5):470-4. [Medline].

Janzen DL, Partridge E, Logan PM, Connell DG, Duncan CP. The snapping hip: clinical and imaging findings in transient subluxation ofthe iliopsoas tendon. Can Assoc Radiol J. 1996 Jun. 47(3):202-8. [Medline].

Johnston CA, Wiley JP, Lindsay DM, Wiseman DA. Iliopsoas bursitis and tendinitis. A review. Sports Med. 1998 Apr. 25(4):271-83. [Medline].

Khan K, Cook JL, Maffulli N. Tendinopathy in the active person: Separating fact from fiction to improve clinical management. Am J Med Sports. 2000. 2(2):89-99.

Lachiewicz PF, Kauk JR. Anterior iliopsoas impingement and tendinitis after total hip arthroplasty. J Am Acad Orthop Surg. 2009 Jun. 17(6):337-44. [Medline].

Reid DC. Prevention of hip and knee injuries in ballet dancers. Sports Med. 1988 Nov. 6(5):295-307. [Medline].

Renström P, Peterson L. Groin injuries in athletes. Br J Sports Med. 1980 Mar. 14(1):30-6. [Medline].

Shin AY, Morin WD, Gorman JD, Jones SB, Lapinsky AS. The superiority of magnetic resonance imaging in differentiating the causeof hip pain in endurance athletes. Am J Sports Med. 1996 Mar-Apr. 24(2):168-76. [Medline].

Tatu L, Parratte B, Vuillier F, Diop M, Monnier G. Descriptive anatomy of the femoral portion of the iliopsoas muscle. Anatomicalbasis of anterior snapping of the hip. Surg Radiol Anat. 2001. 23(6):371-4. [Medline].

Taylor GR, Clarke NM. Surgical release of the 'snapping iliopsoas tendon'. J Bone Joint Surg Br. 1995 Nov. 77(6):881-3. [Medline].
Medscape Reference © 2011 WebMD, LLC