Pediatric Pyogenic Granuloma Workup
Author: Brian Keene, DO; Chief Editor: Dirk M Elston, MD  more...
Updated: Feb 25, 2016
What would you like to print?
Procedures
Lesions that do not respond appropriately to conservative treatment should undergo biopsy to confirm the diagnosis.
Histologic Findings
Proliferation of capillaries is present, with prominent endothelial cells embedded in edematous gelatinous stroma in a characteristic lobular configuration (see image below).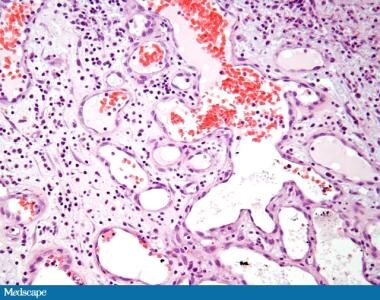 Histologic image showing epidermal erosion and crusting, thinned epidermis, vascular proliferation, and mixed inflammation with lymphocytes, histiocytes, and neutrophils. Courtesy of Medscape Dermatology.
The epidermis is commonly eroded.
A dense infiltrate and granulation tissue with polymorphonuclear leukocytes may be present.
Hyperproliferation of the epidermis is usually present at the margins of the vascular growth, which results in a collarette of epidermis.[25, 16, 26]
Medscape Reference © 2011 WebMD, LLC