Pediatric Keratosis Pilaris
Author: Derek H Chu, MD; Chief Editor: Dirk M Elston, MD more...
Updated: Apr 07, 2014
What would you like to print?
Background
Keratosis pilaris is a very common, benign, heritable disorder of keratinized hair follicles.[1] It is characterized by grouped, horny, keratotic, follicular papules, predominantly located over the extensor surfaces of the proximal extremities, most commonly the posterolateral upper arms and anterior thighs. The papules are typically asymptomatic, although affected individuals may be bothered by the cosmetic appearance. There can be significant individual variation in the prominence and severity of keratosis pilaris. It is often described in children with underlying xerosis, atopy, or ichthyosis vulgaris. Treatment is marginally effective and only provides temporary relief.[2]
Images of keratosis pilaris are below (also see Physical).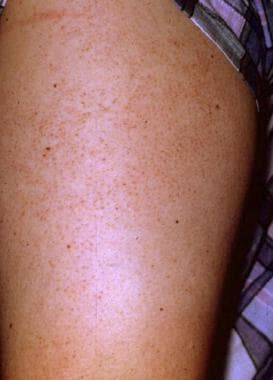 Keratosis pilaris occurs most commonly on the lateral upper arms and upper thighs.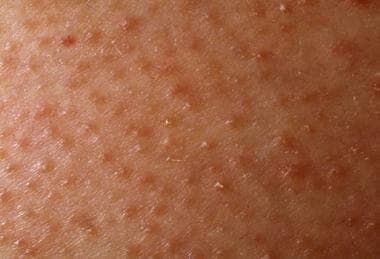 Close examination of keratosis pilaris shows keratotic papules associated with hair follicles. Keratinocytes at the follicular orifice are retained, producing keratin plugs.
Pathophysiology
Keratosis pilaris is theorized to result from defective keratinization of the follicular epithelium, resulting in the lack of proper desquamation of keratinocytes and the formation of a keratotic plug at the follicular orifice. More recently, it has been suggested that keratosis pilaris may not be a primary disorder of keratinization, but rather a disorder of the hair shaft. Circular hair shafts rupture the follicular epithelium, leading to inflammation and abnormal follicular keratinization.[3]
Autosomal dominant inheritance has been described.
Epidemiology
Frequency
International
Keratosis pilaris is a very common disorder observed worldwide that affects approximately 42% of individuals. Some studies estimate that keratosis pilaris affects 50-80% of all adolescents.
The frequency of keratosis pilaris is increased in individuals with ichthyosis vulgaris, estimated at 74%.[4] Many older reports claim an increased incidence in patients with atopic dermatitis, but more recent studies have not demonstrated this association. Given a high prevalence and intensity of keratosis pilaris noted during puberty and in women with hyperandrogenism, some experts postulate that keratosis pilaris may be influenced by hormonal changes.
Mortality/Morbidity
Keratosis pilaris is a benign disorder and is not associated with increased mortality or long-term health consequences. Many patients find the lesions cosmetically unappealing and therefore seek treatment. A significant inflammatory component may be present, resulting in pruritus. Occasionally, keratosis pilaris may become secondarily infected due to scratching or abrasive self-therapy, in which case treatment of the infection is necessary.
Race
Keratosis pilaris has no known racial predilection.
Sex
Keratosis pilaris affects both males and females. The inflammatory form of keratosis pilaris may be more prevalent in females.
Age
Keratosis pilaris most commonly develops during the first decade of life. It is estimated that 51% of cases are diagnosed during this period, while 35% are diagnosed during the second decade, 12% in the third decade, and 2% in the fourth decade.
References
Hwang S, Schwartz RA. Keratosis pilaris: a common follicular hyperkeratosis. Cutis. 2008 Sep. 82(3):177-80. [Medline].

Poskitt L, Wilkinson JD. Natural history of keratosis pilaris. Br J Dermatol. 1994 Jun. 130(6):711-3. [Medline].

Thomas M, Khopkar US. Keratosis pilaris revisited: is it more than just a follicular keratosis?. Int J Trichology. 2012 Oct. 4(4):255-8. [Medline].

Mevorah B, Marazzi A, Frenk E. The prevalence of accentuated palmoplantar markings and keratosis pilaris in atopic dermatitis, autosomal dominant ichthyosis and control dermatological patients. Br J Dermatol. 1985 Jun. 112(6):679-85. [Medline].

Marqueling AL, Gilliam AE, Prendiville J, Zvulunov A, Antaya RJ, Sugarman J. Keratosis pilaris rubra: a common but underrecognized condition. Arch Dermatol. 2006 Dec. 142(12):1611-6. [Medline].

Castela E, Chiaverini C, Boralevi F, Hugues R, Lacour JP. Papular, profuse, and precocious keratosis pilaris. Pediatr Dermatol. 2012 May-Jun. 29(3):285-8. [Medline].

Al-Maawali A, Marshall CR, Scherer SW, Dupuis L, Mendoza-Londono R, Stavropoulos DJ. Clinical characteristics in patients with interstitial deletions of chromosome region 12q21-q22 and identification of a critical region associated with keratosis pilaris. Am J Med Genet A. 2014 Mar. 164(3):796-800. [Medline].

Sallakachart P, Nakjang Y. Keratosis pilaris: a clinico-histopathologic study. J Med Assoc Thai. 1987 Jul. 70(7):386-9. [Medline].

Novick NL. Practical management of widespread, atypical keratosis pilaris. J Am Acad Dermatol. 1984 Aug. 11(2 Pt 1):305-6. [Medline].

Gerbig AW. Treating keratosis pilaris. J Am Acad Dermatol. 2002 Sep. 47(3):457. [Medline].

Breithaupt AD, Alio A, Friedlander SF. A comparative trial comparing the efficacy of tacrolimus 0.1% ointment with Aquaphor ointment for the treatment of keratosis pilaris. Pediatr Dermatol. 2011 Jul-Aug. 28(4):459-60. [Medline].

Saelim P, Pongprutthipan M, Pootongkam S, Jariyasethavong V, Asawanonda P. Long-pulsed 1064-nm Nd:YAG laser significantly improves keratosis pilaris: a randomized, evaluator-blind study. J Dermatolog Treat. 2012 Mar 4. [Medline].

Alcántara González J, Boixeda P, Truchuelo Díez MT, Fleta Asín B. Keratosis pilaris rubra and keratosis pilaris atrophicans faciei treated with pulsed dye laser: report of 10 cases. J Eur Acad Dermatol Venereol. 2011 Jun. 25(6):710-4. [Medline].
Medscape Reference © 2011 WebMD, LLC