Pediatric Milia
Author: Nicholas V Nguyen, MD; Chief Editor: Dirk M Elston, MD more...
Updated: Apr 08, 2016
What would you like to print?
Background
Milia are benign, keratinous cysts that commonly manifest as tiny white bumps on the face of the newborn (see the image below). When present on the gum margin and midline palate they are referred to as Bohn nodules and Epstein pearls, respectively. Milia can be broadly categorized into primary and secondary types. Congenital milia in newborns account for the vast majority of primary milia. Primary milia may also occur in association with one of several genodermatoses or sporadically without associated findings. Secondary milia may be associated with an underlying skin disease, medications, or trauma.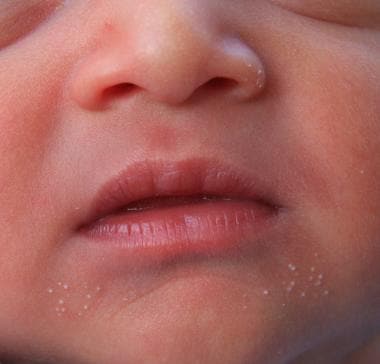 Milia in a week old infant.
See 13 Common-to-Rare Infant Skin Conditions, a Critical Images slideshow, to help identify rashes, birthmarks, and other skin conditions encountered in infants.
In 2008, Berk and Bayliss published an updated classification of milia, as follows[1] :
Primary milia is as follows:
Congenital

Benign primary milia of children and adults

Milia en plaque

Nodular grouped milia

Multiple eruptive milia

Nevus depigmentosus with milia

Genodermatosis-associated
Secondary milia is as follows:
Disease-associated

Medication-associated

Trauma-associated
Congenital milia occur in nearly half of healthy newborns and are typically present at birth, although their onset may be delayed in premature neonates.[2] Lesions typically spontaneously resolve within weeks. Congenital milia predominate on the face, and the nose is frequently affected.
Benign acquired milia of children and adults also occur spontaneously; however, like other acquired milia, they have a tendency to persist without treatment. Benign acquired milia of children and adults favor the eyelids, cheeks, forehead and genitalia.
Multiple eruptive milia describes acquired and widespread milia that appear rather abruptly over weeks to months. Multiple eruptive milia may be associated with a genodermatosis or inherited in an autosomal dominant fashion without other apparent anomalies; however, in most cases they occur sporadically.[3]
Genodermatosis-associated milia have been reported in association with basal cell nevus syndrome,[4] Rombo syndrome,[5] Brooke-Spiegler syndrome,[6] pachyonychia congenita type 2,[7] and atrichia with papular lesions.[8]
In children, traumatic milia most commonly manifest following abrasions or burns. Milia have also been reported following skin grafting.[8] Milia may occur in association with blistering skin diseases. Epidermolysis bullosa and porphyria cutanea tarda are the classic examples. Milia associated with topical corticosteroid use is rarely reported.[9]
Pathophysiology
Histopathologic studies support the notion that primary milia arise from the lower infundibular sebaceous collar of the vellus hair, whereas secondary milia are more commonly derived from eccrine ducts.[10, 11]
Epidemiology
Frequency
Congenital milia are common, affecting 40-50% of healthy newborns. Infants born prematurely are less commonly affected although their onset may be delayed.
Race
No racial predilection is observed.
Sex
In general, milia occur equally in males and females. Milia en plaque is more common in females.
Age
Milia can affect persons of any age, but are most commonly seen in the neonatal period. Onset can be delayed for days to weeks in neonates born prematurely. Milia en plaque is most common in middle-aged adult females.
Prognosis
Congenital milia are benign cysts with a tendency for spontaneous resolution without scarring.
Acquired milia may persist without treatment.
Patient Education
Educate the family about the benign course of milia and tendency towards spontaneous resolution without scarring.
References
Berk DR, Bayliss SJ. Milia: a review and classification. J Am Acad Dermatol. 2008 Dec. 59(6):1050-63. [Medline].

Sachdeva M, Kaur S, Nagpal M, Dewan SP. Cutaneous lesions in new born. Indian J Dermatol Venereol Leprol. 2002 Nov-Dec. 68(6):334-7. [Medline].

Langley RG, Walsh NM, Ross JB. Multiple eruptive milia: report of a case, review of the literature, and a classification. J Am Acad Dermatol. 1997 Aug. 37(2 Pt 2):353-6. [Medline].

Southwick GJ, Schwartz RA. The basal cell nevus syndrome: disasters occurring among a series of 36 patients. Cancer. 1979 Dec. 44(6):2294-305. [Medline].

Michaelsson G, Olsson E, Westermark P. The Rombo syndrome: a familial disorder with vermiculate atrophoderma, milia, hypotrichosis, trichoepitheliomas, basal cell carcinomas and peripheral vasodilation with cyanosis. Acta Derm Venereol. 1981. 61(6):497-503. [Medline].

Rasmussen JE. A syndrome of trichoepitheliomas, milia, and cylindromas. Arch Dermatol. 1975 May. 111(5):610-4. [Medline].

Su WP, Chun SI, Hammond DE, Gordon H. Pachyonychia congenita: a clinical study of 12 cases and review of the literature. Pediatr Dermatol. 1990 Mar. 7(1):33-8. [Medline].

Bergman R, Schein-Goldshmid R, Hochberg Z, Ben-Izhak O, Sprecher E. The alopecias associated with vitamin D-dependent rickets type IIA and with hairless gene mutations: a comparative clinical, histologic, and immunohistochemical study. Arch Dermatol. 2005 Mar. 141(3):343-51. [Medline].

Tsuji T, Kadoya A, Tanaka R, Kono T, Hamada T. Milia induced by corticosteroids. Arch Dermatol. 1986 Feb. 122(2):139-40. [Medline].

Epstein W, Klingman AM. The pathogenesis of milia and benign tumors of the skin. J Invest Dermatol. 1956 Jan. 26(1):1-11. [Medline].

Honda Y, Egawa K, Baba Y, Ono T. Sweat duct milia--immunohistological analysis of structure and three-dimensional reconstruction. Arch Dermatol Res. 1996 Mar. 288(3):133-9. [Medline].

Weedon D. Cutaneous infiltrates—non-lymphoid. Weedon D, ed. Weedon's skin pathology. New York: Churchill Livingstone; 2010.
Medscape Reference © 2011 WebMD, LLC