Diaper Dermatitis
Author: Ruchir Agrawal, MD; Chief Editor: Dirk M Elston, MD more...
Updated: Nov 17, 2015
What would you like to print?
Background
Diaper dermatitis is caused by overhydration of the skin, maceration, prolonged contact with urine and feces, retained diaper soaps, and topical preparations and is a prototypical example of irritant contact dermatitis. Signs and symptoms are restricted in most individuals to the area covered by diapers.[1, 2]
The photograph below depicts a 3-week-old female neonate with diaper rash.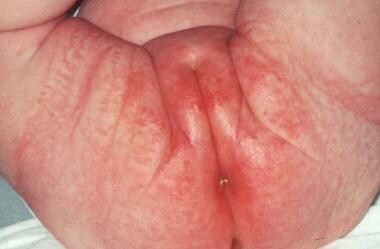 A 3-week-old female infant with diaper rash. Satellite lesions can be observed. The patient was diagnosed clinically with candidal dermatitis and successfully treated with nystatin ointment.
Pathophysiology
Diaper rash affects the areas within the confines of the diaper. Increased wetness in the diaper area makes the skin more susceptible to damage by physical, chemical, and enzymatic mechanisms. Wet skin increases the penetration of irritant substances. Superhydration urease enzyme found in the stratum corneum liberates ammonia from cutaneous bacteria. Urease has a mild irritant effect on nonintact skin. Lipases and proteases in feces mix with urine on nonintact skin and cause an alkaline surface pH, adding to the irritation. (Feces in breastfed infants have a lower pH, and breastfed infants are less susceptible to diaper dermatitis.) The bile salts in the stools enhance the activity of fecal enzymes, adding to the effect.
Candida albicans has been identified as another contributing factor to diaper dermatitis; infection often occurs after 48-72 hours of active eruption. It is isolated from the perineal area in as many as 92% of children with diaper dermatitis. Other microbial agents have been isolated less frequently, perhaps more as a result of secondary infections.
Epidemiology
Race
No racial difference is observed.
Sex
No sexual difference is noted.
Age
Diaper dermatitis commonly affects infants, with peak incidence occurring when the individual is aged 9-12 months. One study determined that at any given time, diaper dermatitis is prevalent in 7-35% of the infant population.[3]
Diaper dermatitis can affect persons of any age who wear diapers, in particular, elderly people.
References
Runeman B. Skin interaction with absorbent hygiene products. Clin Dermatol. 2008 Jan-Feb. 26(1):45-51. [Medline].

Ravanfar P, Wallace JS, Pace NC. Diaper dermatitis: a review and update. Curr Opin Pediatr. 2012 Aug. 24(4):472-9. [Medline].

Jordan WE, Lawson KD, Berg RW, et al. Diaper dermatitis: frequency and severity among a general infant population. Pediatr Dermatol. 1986 Jun. 3(3):198-207. [Medline].

Collipp PJ, Kuo B, Castro-Magana M, et al. Hair zinc, scalp hair quantity, and diaper rash in normal infants. Cutis. 1985 Jan. 35(1):66-70. [Medline].

Benedix F, Hermann U, Brod C, et al. [Transient zinc deficiency in preterm infants]. Hautarzt. 2008 Jul. 59(7):563-6. [Medline].

Berg RW, Milligan MC, Sarbaugh FC. Association of skin wetness and pH with diaper dermatitis. Pediatr Dermatol. 1994 Mar. 11(1):18-20. [Medline].

Higuchi R, Mizukoshi M, Koyama H, et al. Intractable diaper dermatitis as an early sign of biotin deficiency. Acta Paediatr. 1998 Feb. 87(2):228-9. [Medline].

Stamatas GN, Tierney NK. Diaper dermatitis: etiology, manifestations, prevention, and management. Pediatr Dermatol. 2014 Jan-Feb. 31(1):1-7. [Medline].

Xhauflaire-Uhoda E, Henry F, Pierard-Franchimont C, Pierard GE. Electrometric assessment of the effect of a zinc oxide paste in diaper dermatitis. Int J Cosmet Sci. 2009 Oct. 31(5):369-74. [Medline].

Manzoni P, Gomirato G. [Effectiveness of topical acetate tocopherol for the prevention and treatment of skin lesions in newborns: a 5 years experience in a 3rd level Italian Neonatal Intensive Care Unit]. Minerva Pediatr. 2005 Oct. 57(5):305-11. [Medline].

Blanco D, van Rossem K. A Prospective Two-Year Assessment of Miconazole Resistance in Candida Spp. with Repeated Treatment with 0.25% Miconazole Nitrate Ointment in Neonates and Infants with Moderate to Severe Diaper Dermatitis Complicated by Cutaneous Candidiasis. Pediatr Dermatol. 2013 May 16. [Medline].

Farahani LA, Ghobadzadeh M, Yousefi P. Comparison of the Effect of Human Milk and Topical Hydrocortisone 1% on Diaper Dermatitis. Pediatr Dermatol. 2013 Apr 22. [Medline].

Adam R. Skin care of the diaper area. Pediatr Dermatol. 2008 Jul-Aug. 25(4):427-33. [Medline].

Martin E. Weisse Stephen C. Aronoff. Candida. Kliegman. Nelson Textbook of Pediatrics. 18th ed. Saunders; 2007. 231.
Medscape Reference © 2011 WebMD, LLC