Quadriceps Injury Treatment & Management
Author: Thomas M DeBerardino, MD; Chief Editor: Craig C Young, MD more...
Updated: May 13, 2014
What would you like to print?
Acute Phase
Rehabilitation Program
Physical Therapy
Therapy includes rest, immobilization, ice, and compression.
For a strain, stretching of the hamstrings, quadriceps, Achilles, and iliotibial band should be started gently and then become more aggressive as pain permits.
Medical Issues/Complications
In one study, only one third of patients with acute quadriceps tendon rupture were accurately diagnosed at the first visit. Therefore, if complete rupture is suspected but the diagnosis cannot be confirmed clinically, MRI is the study of choice. Late diagnosis of a complete tear of the quadriceps tendon can lead to retraction of the muscle proximally with scarring. The consequence of this is that the surgical repair is more difficult and the clinical results are not as good.
Surgical Intervention
Surgical intervention is indicated for compartment syndrome (decompressive fasciotomy), hematoma removal, complete quadriceps muscle rupture, and bony avulsion of muscle insertion at the patellar tendon.
Complete quadriceps rupture or bony avulsion
The indications for surgery include complete quadriceps tendon rupture and bony avulsion of the quadriceps in patients who can tolerate surgery. The reason for this is that without an intact extensor mechanism, walking and standing are very difficult to impossible, even with braces. For patients who are nonambulatory and who do not stand, nonoperative management may be considered for the diagnosis of quadriceps rupture or avulsion.
The surgery may be completed under a regional anesthetic. In the setting of acute trauma, within 7-14 days of injury, a primary direct repair using nonabsorbable sutures is the recommended procedure. The sutures are placed through the quadriceps tendon and then threaded through drill holes in the patella. The sutures are tied over the distal pole of the patella. In patients with metabolic or renal disease or in those in whom the repair appears tenuous because of underlying tendinopathy, consideration should be given to augmenting the repair with a cerclage wire or cables.
For patients who present later or for those with chronic ruptures, a Z-lengthening of the tendon may be required. These patients may also need augmentation of the repair.
After surgery, a typical rehabilitation program has the goals of early motion and weightbearing without compromising the repair. These goals can be challenging in the setting of underlying tendinopathy, metabolic disease, or repair of a chronic tear. A trend for more aggressive rehabilitation is quite popular. However, before advancing to the next phase and during each phase of the rehabilitation program, the patient should be reevaluated to ensure that the repair remains intact and that no soft tissue swelling or effusion is present.
For uncomplicated repairs, the patient is placed in a rehabilitation brace, locked from 0-30 º of flexion. Weightbearing as tolerated is allowed. After 4-6 weeks, the range of motion is increased to 60 º. From 6-8 weeks, the range of motion is increased to 90 º. The goal of flexion is 90 º, although most patients obtain more flexion. Weightbearing is gradually increased. Patellar mobilization is started at 6-8 weeks. A brace is prescribed for 3-6 months. Contact sports are restricted for 9-12 months.
Chronic partial rectus femoris tears
These patients are candidates for excision of the partial tear if they do not improve with a rehabilitation program and the diagnosis is confirmed by MRI.
Consultations
An orthopedic surgeon should be consulted for compartment syndrome or quadriceps rupture (complete or partial) at the insertion on the patella.
Other Treatment
For a quadriceps contusion, immediately putting the knee in 120° of flexion (first 10 min) tamponades the hemorrhage and limits muscle spasm. This provides a more rapid return to normal range of motion. This aggressive treatment minimizes the risk of developing myositis ossificans. If the knee is left in extension, the quadriceps starts to heal in a shortened position and the patient experiences a more painful and slower return to full flexion capacity. The same treatment is also recommended for quadriceps strains (see the image below).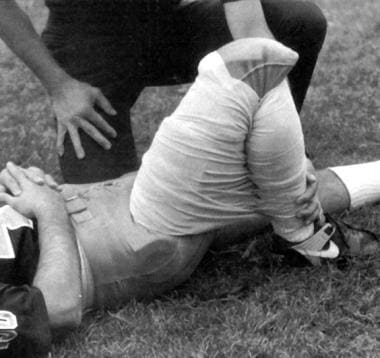 Place knee passively in 120º of flexion and immobilize with a double elastic wrap in a figure-8 fashion. This should occur within minutes of the injury. Used with permission courtesy of John Aronen, MD.
Simple contusion care
Immobilize knee in 120° of flexion with elastic bandage or adjustable knee brace for 24 hours. This should be completed by wrapping the knee in a figure-8 fashion with 2- X 6-inch ACE wraps that have been sewn together end-to-end.
Crutches are needed.
Apply ice for 20 minutes every 2-3 hours.
Discontinue 120° of flexion at 24 hours and begin electrical stimulation and/or passive stretching, followed by icing.
Begin active pain-free quadriceps stretching and strengthening several times a day.
Gradual return to weightbearing is indicated.
Avoid applying heat to the area because it may increase swelling.
Modified treatment regimen
This should be used for the quadriceps contusion that is not brought to medical attention until after intramuscular bleeding and spasm have limited knee flexion significantly. (See the following image)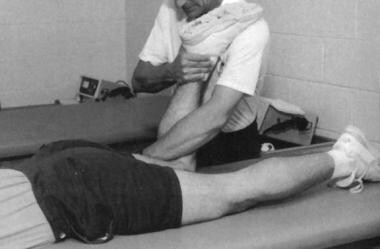 Modified treatment of quadriceps contusion. Used with permission courtesy of John Aronen, MD.
Patient should remain in the prone position.
Bring the knee to maximum amount of pain-free flexion.
From this flexed position, resist the patient's attempt to extend the knee. This isometric contraction should be relaxed when the patient experiences fatigue in the injured muscle. The intent is to relax the spastic muscle by fatiguing it.
As the muscle fatigues, perform passive quadriceps stretching by taking the knee into flexion while in the prone position.
Repeat this combination of extension, relaxation, and flexion 3 times and then immobilize in the maximum amount of pain-free flexion.
Use crutches while immobilized.
Repeat this process twice a day and increase the number of repetitions.
Immobilization/bracing may be discontinued when 120° of flexion is achieved.
Crutches may be discontinued when vastus medialis muscles are equal in size and tone.
Recovery Phase
Rehabilitation Program
Physical Therapy
Patient should continue to be monitored and work on stretching, range of motion, and quadriceps and hamstring strengthening.
Protected weight-bearing combined with immobilization has been routinely recommended after surgical repair. Early functional rehabilitation can support solid healing and lead to normal function. A clinical trial compared early functional rehabilitation with a prolonged period of immobilization. Early functional postoperative mobilization with full weight-bearing after primary repair of a quadriceps tendon rupture was noted to be safe.[2]
Recreational Therapy
When the player returns to activity, a protective pad larger than the injury site should be worn over the contused area for the duration of the season.
Maintenance Phase
Medical Issues/Complications
Myositis ossificans traumatica occurs in approximately 9% of patients with quadriceps contusions.
Occurs 3 or more months after initial injury

Should be differentiated from a soft tissue tumor
Diagnosis requires at least 50% calcification to be observed on radiography.
Treatment may require excision of heterotrophic bone formation, although most people return to full activity without special treatment.
The incidence of myositis ossificans increased with 3 or more of the following risk factors:
Initial range of motion less than 120°

Repeat injury to quadriceps

Knee effusion

Football injury

Treatment delayed more than 3 days
Surgical Intervention
If patients have a partial intrasubstance tear of the rectus femoris and do not improve with a rehabilitation program, they may be candidates for surgical removal of the tear.
Patients with quadriceps muscle hernias do not usually meet the criteria for surgery.
Possible heterotropic bone excision may be indicated for symptomatic myositis ossificans.
References
Ryan JB, Wheeler JH, Hopkinson WJ, Arciero RA, Kolakowski KR. Quadriceps contusions. West Point update. Am J Sports Med. 1991 May-Jun. 19(3):299-304. [Medline].

Langenhan R, Baumann M, Ricart P, Hak D, Probst A, Badke A. Postoperative functional rehabilitation after repair of quadriceps tendon ruptures: a comparison of two different protocols. Knee Surg Sports Traumatol Arthrosc. 2012 Feb 4. [Medline].

Almekinders LC. Anti-inflammatory treatment of muscular injuries in sport. An update of recent studies. Sports Med. 1999 Dec. 28(6):383-8. [Medline].

Aronen JG, Chronister RD. Quadriceps contusions: hastening the return to play. Phys Sportsmed. 1993. 20(7):130-6.

Bennell K, Duncan M, Cowan S, et al. Effects of VMO retraining versus general quadriceps strengthening on vasti onset. Med Sci Sports Exerc. 2009 Dec 4. epub ahead of print. [Medline].

Harvey LA, Fornusek C, Bowden JL, et al. Electrical stimulation plus progressive resistance training for leg strength in spinal cord injury: A randomized controlled trial. Spinal Cord. 2010 Jan 12. epub ahead of print. [Medline].

Hughes C 4th, Hasselman CT, Best TM, Martinez S, Garrett WE Jr. Incomplete, intrasubstance strain injuries of the rectus femoris muscle. Am J Sports Med. 1995 Jul-Aug. 23(4):500-6. [Medline].

Martinez SF, Steingard MA, Steingard PM. The compartment syndrome: a limb-threatening emergency. Phys Sportsmed. 1993. 21:94-104.

Novak PJ, Bach BR, Schwartz JC. Diagnosing acute thigh compartment syndrome. Phys Sportsmed. 1992. 20(11):100-7.

Saartok T. Muscle injuries associated with soccer. Clin Sports Med. 1998 Oct. 17(4):811-7, viii. [Medline].

Staubli HU, Schatzmann L, Brunner P, Rincon L, Nolte LP. Mechanical tensile properties of the quadriceps tendon and patellar ligament in young adults. Am J Sports Med. 1999 Jan-Feb. 27(1):27-34. [Medline].

Wahrenberg H, Lindbeck L, Ekholm J. Knee muscular moment, tendon tension force and EMG during a vigorous movement in man. Scand J Rehabil Med. 1978. 10(2):99-106. [Medline].
Medscape Reference © 2011 WebMD, LLC