Bicycle Seat Neuropathy Treatment & Management
Author: John M Martinez, MD; Chief Editor: Craig C Young, MD more...
Updated: Apr 21, 2016
What would you like to print?
Acute Phase
Rehabilitation Program
Recreational Therapy
Recreational therapy should include evaluation of the rider's position on the bicycle and could include changing the seat height and tilt position.
Medical Issues/Complications
Medical issues and complications include continued injury or insult to the area, resulting in continuation of the neuropathy and long-term sequelae such as impotence. Reevaluate the patient after making changes to the bicycle or riding style or after decreasing the training volume to ensure that improvement in symptoms is occurring. Continued symptoms despite changes in the bicycle seat position and training volume may indicate a different source of the symptoms and should warrant reevaluation by the physician.
Consultations
Possible consultations include specialists in urology and neurology, based upon the patient's clinical presentation.
Other Treatment
The mainstay of treatment of bicycle seat neuropathy is the adjustment of the bike seat and bike position, such as tilting the nose of the seat down or lowering the seat height to relieve pressure off the perineum. Other recommendations include having the rider change the style of riding (eg, change positions more frequently or stop riding more frequently).
Newer bicycle seats with a split nose or a center cutout may also help to reduce the prevalence of neuropathy by limiting compression on the perineal area (see below). A study by Lowe et al compared pressure measurements in the perineal area of cyclists on these different bicycle seats and found that some of the newer seats reduced perineal pressure by approximately 50%.[17]
Another study by Parthiban et al used Doppler ultrasound to identify perineal artery occlusion forces and to facilitate force sensor placement in order to measure the occlusive force exerted over the perineal arteries in a variety of bicycle seat designs. The study found that that the "no-nose" bicycle seat design is associated with significantly less instances of perineal arterial occlusive pressure during bicycling. However, the study also added that all seats that were studied achieved occlusive pressures for a minimum 41% of riding time.[26]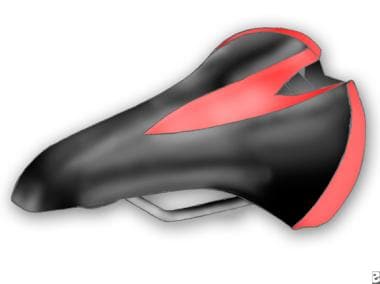 Example of a bicycle seat with a cut-away middle.
References
Schrader SM, Breitenstein MJ, Lowe BD. Cutting off the nose to save the penis. J Sex Med. 2008 Aug. 5(8):1932-40. [Medline].

Kennedy J. Neurologic injuries in cycling and bike riding. Neurol Clin. 2008 Feb. 26(1):271-9; xi-xii. [Medline].

Asplund C, Barkdull T, Weiss BD. Genitourinary problems in bicyclists. Curr Sports Med Rep. 2007 Oct. 6(5):333-9. [Medline].

Weiss BD. Clinical syndromes associated with bicycle seats. Clin Sports Med. 1994 Jan. 13(1):175-86. [Medline].

Silbert PL, Dunne JW, Edis RH, Stewart-Wynne EG. Bicycling induced pudendal nerve pressure neuropathy. Clin Exp Neurol. 1991. 28:191-6. [Medline].

Gemery JM, Nangia AK, Mamourian AC, Reid SK. Digital three-dimensional modelling of the male pelvis and bicycle seats: impact of rider position and seat design on potential penile hypoxia and erectile dysfunction. BJU Int. 2007 Jan. 99(1):135-40. [Medline].

Leibovitch I, Mor Y. The vicious cycling: bicycling related urogenital disorders. Eur Urol. 2005 Mar. 47(3):277-86; discussion 286-7. [Medline].

Andersen KV, Bovim G. Impotence and nerve entrapment in long distance amateur cyclists. Acta Neurol Scand. 1997 Apr. 95(4):233-40. [Medline].

Oberpenning F, Roth S, Leusmann DB, van Ahlen H, Hertle L. The Alcock syndrome: temporary penile insensitivity due to compression of the pudendal nerve within the Alcock canal. J Urol. 1994 Feb. 151(2):423-5. [Medline].

Goodson JD. Pudendal neuritis from biking. N Engl J Med. 1981 Feb 5. 304(6):365. [Medline].

Kuland DN, Brubaker CE. Injuries in the Bikecentennial tour. Phys Sportsmed. 1978. 6(6):74-8.

Weiss BD. Nontraumatic injuries in amateur long distance bicyclists. Am J Sports Med. 1985 May-Jun. 13(3):187-92. [Medline].

LaSalle MD, Salimpour P, Adelstein M, et al. Sexual and urinary tract dysfunction in female bicyclists. Presented at: 94th Annual Meeting of the American Urologic Association; May 4, 1997; Dallas, Tex.

Potter JJ, Sauer JL, Weisshaar CL, Thelen DG, Ploeg HL. Gender differences in bicycle saddle pressure distribution during seated cycling. Med Sci Sports Exerc. 2008 Jun. 40(6):1126-34. [Medline].

Amarenco G, Kerdraon J, Bouju P, et al. [Treatments of perineal neuralgia caused by involvement of the pudendal nerve] [French]. Rev Neurol (Paris). 1997 Jun. 153(5):331-4. [Medline].

Bond RE. Distance bicycling may cause ischemic neuropathy of the penis. Phys Sportsmed. 1975. 3(11):54-6.

Lowe BD, Schrader SM, Breitenstein MJ. Effect of bicycle saddle designs on the pressure to the perineum of the bicyclist. Med Sci Sports Exerc. 2004 Jun. 36(6):1055-62. [Medline].

Bressel E, Larson BJ. Bicycle seat designs and their effect on pelvic angle, trunk angle, and comfort. Med Sci Sports Exerc. 2003 Feb. 35(2):327-32. [Medline].

Spears IR, Cummins NK, Brenchley Z, et al. The effect of saddle design on stresses in the perineum during cycling. Med Sci Sports Exerc. 2003 Sep. 35(9):1620-5. [Medline].

Jeong SJ, Park K, Moon JD, Ryu SB. Bicycle saddle shape affects penile blood flow. Int J Impot Res. 2002 Dec. 14(6):513-7. [Medline]. [Full Text].

Schwarzer U, Sommer F, Klotz T, Cremer C, Engelmann U. Cycling and penile oxygen pressure: the type of saddle matters. Eur Urol. 2002 Feb. 41(2):139-43. [Medline].

Taylor JA 3rd, Kao TC, Albertsen PC, Shabsigh R. Bicycle riding and its relationship to the development of erectile dysfunction. J Urol. 2004 Sep. 172(3):1028-31. [Medline].

Dettori JR, Koepsell TD, Cummings P, Corman JM. Erectile dysfunction after a long-distance cycling event: associations with bicycle characteristics. J Urol. 2004 Aug. 172(2):637-41. [Medline].

Sommer F, König D, Graft C, et al. Impotence and genital numbness in cyclists. Int J Sports Med. 2001 Aug. 22(6):410-3. [Medline].

Solomon S, Cappa KG. Impotence and bicycling. A seldom-reported connection. Postgrad Med. 1987 Jan. 81(1):99-100, 102. [Medline].

Parthiban S, Hotaling JM, Kathrins M, Baftiri AP, Freels S, Niederberger CS. A novel method to determine perineal artery occlusion among male bicyclists. PeerJ. 2015. 3:e1477. [Medline].

Akuthota V, Plastaras C, Lindberg K, et al. The effect of long-distance bicycling on ulnar and median nerves: an electrophysiologic evaluation of cyclist palsy. Am J Sports Med. 2005 Aug. 33(8):1224-30. [Medline].

Mellion MB. Common cycling injuries. Management and prevention. Sports Med. 1991 Jan. 11(1):52-70. [Medline].
Medscape Reference © 2011 WebMD, LLC