Clavicle Fractures Workup
Author: Benjamin P Kleinhenz, MD; Chief Editor: Craig C Young, MD more...
Updated: Dec 10, 2014
What would you like to print?
Approach Considerations
Laboratory studies are ordered in clavicle fractures according to the severity of trauma. With suspected vascular injury, obtain a complete blood count (CBC) to check the hemoglobin and hematocrit values. If a pulmonary injury is suspected or identified, perform an arterial blood gas (ABG) test and obtain an expiration posteroanterior (PA) chest film. Other imaging studies that can be used in the assessment of a clavicle fracture include the following:
Radiography of the clavicle and shoulder

Computed tomography (CT) scanning with 3-dimensional (3-D) reconstruction

Arteriography

Ultrasonography
Imaging Studies
Radiography
Clavicular radiographs
An anteroposterior (AP) view and a 45° cephalic tilt view are standard for the initial radiographic evaluation. These will delineate fracture displacement, as well as fractures to the medial clavicle and first rib. (The proximal humerus and scapula should be looked at for possible associated fractures.) The AP view needs to include the sternoclavicular joint and the shoulder girdle; most clavicle fractures are evident on this view. The 45° cephalad view may be required to define the degree of displacement.
Stress views may be used to identify patterns of displacement and are particularly helpful in the context of fractures of the distal clavicle.
With regard to fracture patterns, most low-energy fractures that occur in sports result in a minimally displaced oblique fracture at the midshaft.[2, 20, 21, 22, 8] As the energy of the lateral force is increased, the fracture tends to be comminuted with a butterfly fragment and shortened. The typical appearance is inferior and medial displacement of the distal fragment, owing to the weight of the upper extremity and medial pull of the pectoralis. The medial clavicle is pulled in a superior direction by the sternocleidomastoid muscle. (See the images below.)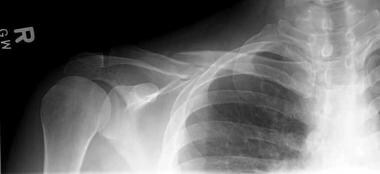 Anteroposterior view of middle third clavicle fracture illustrating a relatively typical fracture pattern.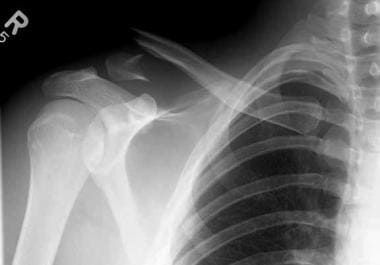 Anteroposterior view of distal clavicle fracture, type II, showing wide displacement.
Initial radiographs may appear normal despite suggestive clinical findings. In these instances, the arm should be immobilized in a simple sling and the radiographs repeated in 7-10 days if symptoms persist.
Chest radiographs
This study may be necessary to evaluate for pneumothorax, hemothorax, and rib fractures and is especially helpful in polytrauma or in patients who are comatose.
Shoulder series
These radiographs may be required to rule out additional injuries or fractures (eg, to the scapula or proximal humerus).
CT scanning
CT scanning with 3-D reconstruction may be used to further evaluate displaced fractures. In the case of medial clavicle fractures, CT scans can show any evidence of posterior displacement of the fracture and injury to the neurovascular structures.
In addition, CT scanning may be required because routine clavicle radiographs may miss fractures due to overlap of surrounding structures, particularly at either end of the bone.
Arteriography
Perform arteriography if a vascular injury is suspected.
Ultrasonography
Cross et al found that bedside ultrasonography can accurately diagnose clavicle fractures in children. In a prospective study in 100 pediatric emergency department patients, 43 of whom were found via radiography to have clavicle fractures, ultrasonography was reported to have an overall accuracy of 96%, with a positive predictive value of 95% and a negative predictive value of 96%. Ultrasonography caused no more discomfort than radiography.[26, 27, 28, 29]
In addition, bedside ultrasonography requires minimal formal training and may reduce the length of stay in the emergency department.[26]
References
Allman FL Jr. Fractures and ligamentous injuries of the clavicle and its articulation. J Bone Joint Surg Am. 1967 Jun. 49(4):774-84. [Medline].

Clavicular fractures in adults. DeLee J, Drez D, eds. DeLee and Drez's Orthopaedic Sports Medicine: Principles and Practice. 2nd ed. Philadelphia, Pa: Saunders; 2003. 958-68.

Kochhar T, Jayadev C, Smith J, Griffiths E, Seehra K. Delayed presentation of Subclavian venous thrombosis following undisplaced clavicle fracture. World J Emerg Surg. 2008 Jul 22. 3:25. [Medline]. [Full Text].

Bahk MS, Kuhn JE, Galatz LM, Connor PM, Williams GR Jr. Acromioclavicular and sternoclavicular injuries and clavicular, glenoid, and scapular fractures. J Bone Joint Surg Am. 2009 Oct. 91(10):2492-510. [Medline].

van der Meijden OA, Gaskill TR, Millett PJ. Treatment of clavicle fractures: current concepts review. J Shoulder Elbow Surg. 2012 Mar. 21(3):423-9. [Medline].

Smekal V, Irenberger A, Struve P, Wambacher M, Krappinger D, Kralinger FS. Elastic stable intramedullary nailing versus nonoperative treatment of displaced midshaft clavicular fractures-a randomized, controlled, clinical trial. J Orthop Trauma. 2009 Feb. 23(2):106-12. [Medline].

Mueller M, Burger C, Florczyk A, Striepens N, Rangger C. Elastic stable intramedullary nailing of midclavicular fractures in adults: 32 patients followed for 1-5 years. Acta Orthop. 2007 Jun. 78(3):421-3. [Medline].

Pieske O, Dang M, Zaspel J, Beyer B, Löffler T, Piltz S. [Midshaft clavicle fractures--classification and therapy. Results of a survey at German trauma departments]. Unfallchirurg. 2008 Jun. 111(6):387-94. [Medline].

Mueller M, Rangger C, Striepens N, Burger C. Minimally invasive intramedullary nailing of midshaft clavicular fractures using titanium elastic nails. J Trauma. 2008 Jun. 64(6):1528-34. [Medline].

Pujalte GG, Housner JA. Management of clavicle fractures. Curr Sports Med Rep. 2008 Sep-Oct. 7(5):275-80. [Medline].

Kim W, McKee MD. Management of acute clavicle fractures. Orthop Clin North Am. 2008 Oct. 39(4):491-505, vii. [Medline].

Khan LA, Bradnock TJ, Scott C, Robinson CM. Fractures of the clavicle. J Bone Joint Surg Am. 2009 Feb. 91(2):447-60. [Medline].

Virtanen KJ, Malmivaara AO, Remes VM, Paavola MP. Operative and nonoperative treatment of clavicle fractures in adults. Acta Orthop. 2012 Feb. 83(1):65-73. [Medline]. [Full Text].

Neer CS 2nd. Fractures of the distal third of the clavicle. Clin Orthop Relat Res. 1968 May-Jun. 58:43-50. [Medline].

Debski RE, Parsons IM 4th, Woo SL, Fu FH. Effect of capsular injury on acromioclavicular joint mechanics. J Bone Joint Surg Am. 2001 Sep. 83-A(9):1344-51. [Medline].

Simon RR, Koenigsknecht SJ. Clavicle fractures. Emergency Orthopedics: The Extremities. 5th ed. McGraw-Hill; 2007.

Nowak J, Mallmin H, Larsson S. The aetiology and epidemiology of clavicular fractures. A prospective study during a two-year period in Uppsala, Sweden. Injury. 2000 Jun. 31(5):353-8. [Medline].

Nordqvist A, Petersson C. The incidence of fractures of the clavicle. Clin Orthop Relat Res. 1994 Mar. 127-32. [Medline].

Chalidis B, Sachinis N, Samoladas E, Dimitriou C, Christodoulou A, Pournaras J. Acute management of clavicle fractures. A long term functional outcome study. Acta Orthop Belg. 2008 Jun. 74(3):303-7. [Medline].

Jeray KJ. Acute midshaft clavicular fracture. J Am Acad Orthop Surg. 2007 Apr. 15(4):239-48. [Medline].

Zlowodzki M, Zelle BA, Cole PA, Jeray K, McKee MD. Treatment of acute midshaft clavicle fractures: systematic review of 2144 fractures: on behalf of the Evidence-Based Orthopaedic Trauma Working Group. J Orthop Trauma. 2005 Aug. 19(7):504-7. [Medline].

Housner JA, Kuhn JE. Clavicle fractures: individualizing treatment for fracture type. Phys Sportsmed. 2003 Dec. 31(12):30-6. [Medline].

McKee RC, Whelan DB, Schemitsch EH, McKee MD. Operative versus nonoperative care of displaced midshaft clavicular fractures: a meta-analysis of randomized clinical trials. J Bone Joint Surg Am. 2012 Apr 18. 94(8):675-84. [Medline].

Murray IR, Foster CJ, Eros A, Robinson CM. Risk factors for nonunion after nonoperative treatment of displaced midshaft fractures of the clavicle. J Bone Joint Surg Am. 2013 Jul 3. 95(13):1153-8. [Medline].

Kendall KM, Burton JH, Cushing B. Fatal subclavian artery transection from isolated clavicle fracture. J Trauma. 2000 Feb. 48(2):316-8. [Medline].

Chien M, Bulloch B, Garcia-Filion P, Youssfi M, Shrader MW, Segal LS. Bedside ultrasound in the diagnosis of pediatric clavicle fractures. Pediatr Emerg Care. 2011 Nov. 27(11):1038-41. [Medline].

Cross KP, Warkentine FH, Kim IK, Gracely E, Paul RI. Bedside ultrasound diagnosis of clavicle fractures in the pediatric emergency department. Acad Emerg Med. 2010 Jul. 17(7):687-93. [Medline].

Gullo J, Singletary EM, Larese S. Emergency bedside sonographic diagnosis of subclavian artery pseudoaneurysm with brachial plexopathy after clavicle fracture. Ann Emerg Med. 2013 Feb. 61(2):204-6. [Medline].

Willis H. Towards evidence based emergency medicine: best BETs from the Manchester Royal Infirmary. BET 2: Can ultrasound be used to diagnose clavicle fractures in children?. Emerg Med J. 2012 Jul. 29(7):599-600. [Medline].

Lenza M, Belloti JC, Andriolo RB, Gomes Dos Santos JB, Faloppa F. Conservative interventions for treating middle third clavicle fractures in adolescents and adults. Cochrane Database Syst Rev. 2009 Apr 15. CD007121. [Medline].

Grassi FA, Tajana MS, D'Angelo F. Management of midclavicular fractures: comparison between nonoperative treatment and open intramedullary fixation in 80 patients. J Trauma. 2001 Jun. 50(6):1096-100. [Medline].

Nonoperative treatment compared with plate fixation of displaced midshaft clavicular fractures. A multicenter, randomized clinical trial. J Bone Joint Surg Am. 2007 Jan. 89(1):1-10. [Medline].

Hill JM, McGuire MH, Crosby LA. Closed treatment of displaced middle-third fractures of the clavicle gives poor results. J Bone Joint Surg Br. 1997 Jul. 79(4):537-9. [Medline].

Wick M, Müller EJ, Kollig E, Muhr G. Midshaft fractures of the clavicle with a shortening of more than 2 cm predispose to nonunion. Arch Orthop Trauma Surg. 2001. 121(4):207-11. [Medline].

Huang JI, Toogood P, Chen MR, Wilber JH, Cooperman DR. Clavicular anatomy and the applicability of precontoured plates. J Bone Joint Surg Am. 2007 Oct. 89(10):2260-5. [Medline].

Formaini N, Taylor BC, Backes J, Bramwell TJ. Superior versus anteroinferior plating of clavicle fractures. Orthopedics. 2013 Jul. 36(7):e898-904. [Medline].

Demirhan M, Bilsel K, Atalar AC, Bozdag E, Sunbuloglu E, Kale A. Biomechanical comparison of fixation techniques in midshaft clavicular fractures. J Orthop Trauma. 2011 May. 25(5):272-8. [Medline].

Neer CS. Nonunion of the clavicle. JAMA. 1960. 172:1006-1011.

Checchia SL, Doneux PS, Miyazaki AN, Fregoneze M, Silva LA. Treatment of distal clavicle fractures using an arthroscopic technique. J Shoulder Elbow Surg. 2008 May-Jun. 17(3):395-8. [Medline].

Motta P, Bruno L, Maderni A, Tosco P, Mariotti U. Acute lateral dislocated clavicular fractures: arthroscopic stabilization with TightRope. J Shoulder Elbow Surg. 2013 Aug 9. [Medline].

Klein SM, Badman BL, Keating CJ, Devinney DS, Frankle MA, Mighell MA. Results of surgical treatment for unstable distal clavicular fractures. J Shoulder Elbow Surg. 2010 Oct. 19(7):1049-55. [Medline].

Chen CH, Chen WJ, Shih CH. Surgical treatment for distal clavicle fracture with coracoclavicular ligament disruption. J Trauma. 2002 Jan. 52(1):72-8. [Medline].

Kao FC, Chao EK, Chen CH, Yu SW, Chen CY, Yen CY. Treatment of distal clavicle fracture using Kirschner wires and tension-band wires. J Trauma. 2001 Sep. 51(3):522-5. [Medline].

Mizue F, Shirai Y, Ito H. Surgical treatment of comminuted fractures of the distal clavicle using Wolter clavicular plates. J Nippon Med Sch. 2000 Feb. 67(1):32-4. [Medline].

Low AK, Duckworth DG, Bokor DJ. Operative outcome of displaced medial-end clavicle fractures in adults. J Shoulder Elbow Surg. 2008 Sep-Oct. 17(5):751-4. [Medline].
Medscape Reference © 2011 WebMD, LLC