Frostbite Clinical Presentation
Author: C Crawford Mechem, MD, MS, FACEP; Chief Editor: Dirk M Elston, MD more...
Updated: Feb 26, 2016
What would you like to print?
History
Frostbite is a completely preventable injury that can occur with or without hypothermia. Below –10°C, any tissue that feels numb for more than a few minutes may become frostbitten. Progressive symptoms of frostbitten areas are as follows:
Coldness

Stinging, burning, and throbbing

Numbness followed by complete loss of sensation (This history of anesthesia suggests a frostbite injury.)

Loss of fine muscle dexterity (ie, clumsiness of fingers)

Loss of large muscle dexterity (ie, difficulty ambulating)

Severe joint pain
Numbness over the affected area is the initial symptom of frostbite. After rewarming, severe throbbing and hyperemia begin and may last for weeks. Many patients complain of paresthesias. Long-term symptoms include cold sensitivity, sensory loss, and hyperhidrosis.
Physical Examination
The initial appearance of frostbite does not accurately predict the eventual extent and depth of tissue damage. Signs and symptoms vary according to severity of the frostbite injury. The hands, feet, ears, and nose are the most commonly affected (see images below).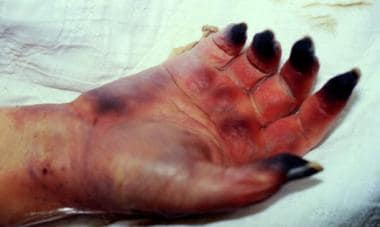 Frostbite of the hand.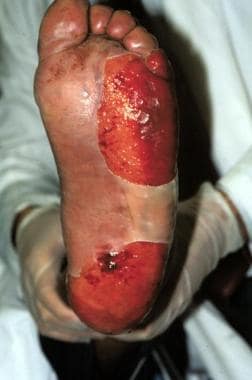 Frostbite of the foot. Photo courtesy of Kevin P. Kilgore, MD, Department of Emergency Medicine, Regions Hospital.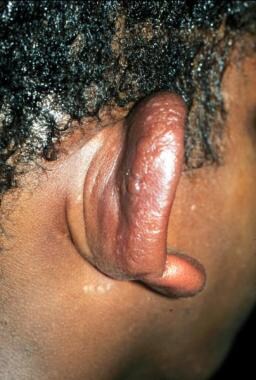 Frostbite of the ear. Photo courtesy of Kevin P. Kilgore, MD, Department of Emergency Medicine, Regions Hospital.
Physical examination in patients with superficial frostbite reveals the presence of soft, palpable skin. If a thumbprint can be left in the skin, the patient usually has more viable underlying tissue. Individuals with deeper frostbite effects present with skin that is hard to the touch.
Other signs may include the following:
Excessive sweating

Joint pain

Pallor or blue discoloration

Hyperemia

Skin necrosis

Gangrene
Degrees of frostbite injury
Four classic stages of frostbite injury have been defined: first degree, second degree, third degree, and fourth degree. This staging system has limited clinical usefulness, however, because it has not been shown to have a direct correlation with survival or tissue loss.
First-degree frostbite has the following characteristics:
Nonsensate, central, white plaque surrounded by a ring of hyperemia

Epidermal involvement

Erythema

Mild edema
Sequelae over the next few weeks include desquamation, transient swelling and erythema, and cold sensitivity.
Second-degree frostbite has the following characteristics:
Full-thickness skin freezing

Clear blister formation with surrounding erythema

Hard outer skin but resilient tissue underneath

Substantial edema
Blisters contain high amounts of thromboxane and prostaglandins. They contract and dry within 2-3 weeks, forming a dark eschar that sloughs off in 4 weeks, leaving poorly keratinized skin that is easily traumatized. Sequelae include paresthesias, hyperhidrosis, and persistent or transient cold sensitivity.
Third-degree frostbite has the following characteristics:
Subdermal plexus freezing

Hemorrhagic blister formation

Blue-gray discoloration of the skin

Deep burning pain on rewarming, lasting 5 weeks

Thick gangrenous eschar formation within 2 weeks
Sequelae include tropic ulceration, severe cold sensitivity, and growth plate injury.
Fourth-degree frostbite has the following characteristics:
Involvement of muscle, bone, and tendons

Frozen, hard, and avascular skin and tissue underneath

Mottled tissue, with nonblanching cyanotic skin that eventually becomes dry, black, and mummified

Relatively little pain experienced on rewarming

Minimal-to-mild postthaw edema
Demarcation between living and nonviable tissue takes 1 month. Spontaneous amputation takes another month after demarcation.
Superficial vs deep frostbite injury
Some experts have moved to a simpler classification of the severity of frostbite injury, in which frostbite is described as either superficial (ie, first- and second-degree injury) or deep (ie, third- and fourth-degree injury). This approach yields a better correlation between severity of injury and final outcome.
Superficial injury is characterized as follows:
Only skin and subcutaneous tissues are involved

Subcutaneous tissue is pliable

Superficial injury precedes deep injury

The lesion has a white mottled appearance with minimal capillary refill, becoming hyperemic and edematous with rewarming

Initial numbness gives way to burning and stinging with rewarming

Blisters, if present, are usually clear

Neurovascular dysfunction is usually reversible

Tissue loss is minimal to nonexistent
Deep injury is characterized as follows:
Skin, subcutaneous levels, muscles, tendons, and bone are all involved

The dermis does not roll over bony prominences

Tissue remains mottled and pulseless after rewarming

Loss of sensation persists after rewarming

Increased loss of flexibility occurs with deeper tissue injury

Blister formation is infrequent; when present, blisters tend to be hemorrhagic

Tissue loss is common

A high risk of infection is present because of devitalized tissue and loss of skin barrier
Postrewarming injury
Rewarming edema appears within 3 hours and lasts 1 week. Large clear blebs appear within 6-24 hours with superficial injuries. Small hemorrhagic blebs appear after 24 hours with deep injuries.
Eschar forms in 9-15 days and is described as a shrunken black carapace shell covering the wound. If the frostbite is superficial, new skin appears beneath the carapace. With deep injury, the area self-amputates. Mummification results in an apparent line of demarcation in 3-6 weeks.
Complications
The degree of long-term disability is related to the severity of frostbite injury. An increased risk of frostbite with lesser exposures and poor cold tolerance in the previously injured extremity are commonplace. Permanent sensory loss is also common.
Wound infection, which is observed in 30% of patients, may be caused by Staphylococcus aureus, beta-hemolytic streptococci, gram-negative bacilli, or anaerobes and may present with the following:
Increased pain, swelling, redness, and fever

Red streaks extending from area

Pus discharge
Other complications may include the following:
Tetanus

Tissue loss and gangrene

Bloodstream infection

Lymphedema

Fascial compartment syndrome

Irreversible growth plate injury (ie, destruction, fragmentation, or fusion of epiphyses) leading to growth deformities and postinjury arthritis

[35]

Premature closure of growth plates, the extent of which is related to the severity of the frostbite

Premature closure in the digits, more frequently occurring in a distal-to-proximal direction

Reflex sympathetic dystrophy (autonomic dysfunction)

Altered thermal perception at the injury site, especially cold sensitivity

Hyperesthesia

Hyperhidrosis

Squamous cell carcinoma development at the frostbitten area

Hyperglycemia

Acidosis

Refractory dysrhythmias

Death, in very rare cases
References
Golding MR. Protection from early and late sequelae of frostbite by regional sympathectomy: mechanism of "cold sensitivity" following frostbite. Surgery. 1963;53:303-310.:

Hashmi MA, Rashid M, Haleem A, Bokhari SA, Hussain T. Frostbite: epidemiology at high altitude in the Karakoram mountains. Ann R Coll Surg Engl. 1998 Mar. 80(2):91-5. [Medline]. [Full Text].

Cappaert TA, Stone JA, Castellani JW, Krause BA, Smith D, Stephens BA. National Athletic Trainers' Association position statement: environmental cold injuries. J Athl Train. 2008 Oct-Dec. 43(6):640-58. [Medline]. [Full Text].

Terra M, Vloemans AF, Breederveld RS. Frostbite injury: a paragliding accident at 5500 meters. Acta Chir Belg. 2013 Mar-Apr. 113 (2):143-5. [Medline].

Russell KW, Imray CH, McIntosh SE, Anderson R, Galbraith D, Hudson ST, et al. Kite skier's toe: an unusual case of frostbite. Wilderness Environ Med. 2013 Jun. 24 (2):136-40. [Medline].

Connor RR. Update: cold weather injuries, active and reserve components, U.S. Armed Forces, July 2009-June 2014. MSMR. 2014 Oct. 21 (10):14-9. [Medline].

McCauley RL, Hing DN, Robson MC, Heggers JP. Frostbite injuries: a rational approach based on the pathophysiology. J Trauma. 1983 Feb. 23(2):143-7. [Medline].

Heggers JP, Robson MC, Manavalen K, Weingarten MD, Carethers JM, Boertman JA, et al. Experimental and clinical observations on frostbite. Ann Emerg Med. 1987 Sep. 16(9):1056-62. [Medline].

Rivlin M, King M, Kruse R, Ilyas AM. Frostbite in an adolescent football player: a case report. J Athl Train. 2014 Jan-Feb. 49 (1):97-101. [Medline].

Ikawa G, dos Santos PA, Yamaguchi KT, Stroh-Recor C, Ibello R. Frostbite and bone scanning: the use of 99m-labeled phosphates in demarcating the line of viability in frostbite victims. Orthopedics. 1986 Sep. 9(9):1257-61. [Medline].

Koehler MM, Henninger CA. Orofacial and digital frostbite caused by inhalant abuse. Cutis. 2014 May. 93 (5):256-60. [Medline].

Kahn JE, Lidove O, Laredo JD, Blétry O. Frostbite arthritis. Ann Rheum Dis. 2005 Jun. 64(6):966-7. [Medline]. [Full Text].

Uygur F, Sever C, Noyan N. Frostbite burns caused by liquid oxygen. J Burn Care Res. 2009 Mar-Apr. 30(2):358-61. [Medline].

Kanzenbach TL, Dexter WW. Cold injuries. Protecting your patients from the dangers of hypothermia and frostbite. Postgrad Med. 1999 Jan. 105(1):72-8. [Medline].

Koljonen V, Andersson K, Mikkonen K, Vuola J. Frostbite injuries treated in the Helsinki area from 1995 to 2002. J Trauma. 2004 Dec. 57(6):1315-20. [Medline].

McIntosh SE, Opacic M, Freer L, Grissom CK, Auerbach PS, Rodway GW, et al. Wilderness Medical Society practice guidelines for the prevention and treatment of frostbite: 2014 update. Wilderness Environ Med. 2014 Dec. 25 (4 Suppl):S43-54. [Medline].

Hutchison RL. Frostbite of the hand. J Hand Surg Am. 2014 Sep. 39 (9):1863-8. [Medline].

Dana AS Jr, Rex IH Jr, Samitz MH. The hunting reaction. Arch Dermatol. 1969 Apr. 99(4):441-50. [Medline].

Hirai K, Horvath SM, Weinstein V. Differences in the vascular hunting reaction between Caucasians and Japanese. Angiology. 1970 Sep. 21(8):502-10. [Medline].

Jobe JB, Goldman RF, Beetham WP Jr. Comparison of the hunting reaction in normals and individuals with Raynaud's disease. Aviat Space Environ Med. 1985 Jun. 56(6):568-71. [Medline].

Tanaka M. Experimental studies on human reaction to cold. Differences in the vascular hunting reaction to cold according to sex, season, and environmental temperature. Bull Tokyo Med Dent Univ. 1971 Dec. 18(4):269-80. [Medline].

Zook N, Hussmann J, Brown R, Russell R, Kucan J, Roth A, et al. Microcirculatory studies of frostbite injury. Ann Plast Surg. 1998 Mar. 40(3):246-53; discussion 254-5. [Medline].

McCauley RL, Heggers JP, Robson MC. Frostbite. Methods to minimize tissue loss. Postgrad Med. 1990 Dec. 88(8):67-8, 73-7. [Medline].

Golant A, Nord RM, Paksima N, Posner MA. Cold exposure injuries to the extremities. J Am Acad Orthop Surg. 2008 Dec. 16(12):704-15. [Medline].

DeGroot DW, Castellani JW, Williams JO, Amoroso PJ. Epidemiology of U.S. Army cold weather injuries, 1980-1999. Aviat Space Environ Med. 2003 May. 74(5):564-70. [Medline].

Valnicek SM, Chasmar LR, Clapson JB. Frostbite in the prairies: a 12-year review. Plast Reconstr Surg. 1993 Sep. 92(4):633-41. [Medline].

Ervasti O, Juopperi K, Kettunen P, Remes J, Rintamäki H, Latvala J, et al. The occurrence of frostbite and its risk factors in young men. Int J Circumpolar Health. 2004 Mar. 63(1):71-80. [Medline].

Juopperi K, Hassi J, Ervasti O, Drebs A, Näyhä S. Incidence of frostbite and ambient temperature in Finland, 1986-1995. A national study based on hospital admissions. Int J Circumpolar Health. 2002 Nov. 61(4):352-62. [Medline].

Koutsavlis AT, Kosatsky T. Environmental-temperature injury in a Canadian metropolis. J Environ Health. 2003 Dec. 66(5):40-5. [Medline].

Harirchi I, Arvin A, Vash JH, Zafarmand V. Frostbite: incidence and predisposing factors in mountaineers. Br J Sports Med. 2005 Dec. 39(12):898-901; discussion 901. [Medline]. [Full Text].

Mäkinen TM, Jokelainen J, Näyhä S, Laatikainen T, Jousilahti P, Hassi J. Occurrence of frostbite in the general population--work-related and individual factors. Scand J Work Environ Health. 2009 Oct. 35(5):384-93. [Medline].

Craig RP. Military cold injury during the war in the Falkland Islands 1982: an evaluation of possible risk factors. J R Army Med Corps. 2007. 153 Suppl 1:63-8; discussion 69. [Medline].

Burgess JE, Macfarlane F. Retrospective analysis of the ethnic origins of male British army soldiers with peripheral cold weather injury. J R Army Med Corps. 2009 Mar. 155(1):11-5. [Medline].

Maley MJ, Eglin CM, House JR, Tipton MJ. The effect of ethnicity on the vascular responses to cold exposure of the extremities. Eur J Appl Physiol. 2014 Nov. 114 (11):2369-79. [Medline].

Brown FE, Spiegel PK, Boyle WE Jr. Digital deformity: an effect of frostbite in children. Pediatrics. 1983 Jun. 71(6):955-9. [Medline].

Long WB 3rd, Edlich RF, Winters KL, Britt LD. Cold injuries. J Long Term Eff Med Implants. 2005. 15(1):67-78. [Medline].

McCauley RL. Frostbite and other cold induced injuries. In: Auerbach PS, ed. Wilderness Medicine. St Louis, MO: Mosby; 1995:129-45:

Roche-Nagle G, Murphy D, Collins A, Sheehan S. Frostbite: management options. Eur J Emerg Med. 2008 Jun. 15(3):173-5. [Medline].

Kowal-Vern A, Latenser BA. Demographics of the homeless in an urban burn unit. J Burn Care Res. 2007 Jan-Feb. 28(1):105-10. [Medline].

Ducharme MB, Giesbrecht GG, Frim J, Kenny GP, Johnston CE, Goheen MS, et al. Forced-air rewarming in -20 degrees C simulated field conditions. Ann N Y Acad Sci. 1997 Mar 15. 813:676-81. [Medline].

Britt LD, Dascombe WH, Rodriguez A. New horizons in management of hypothermia and frostbite injury. Surg Clin North Am. 1991 Apr. 71(2):345-70. [Medline].

Martínez Villén G, García Bescos G, Rodriguez Sosa V, Morandeira García JR. Effects of haemodilution and rewarming with regard to digital amputation in frostbite injury: an experimental study in the rabbit. J Hand Surg Br. 2002 Jun. 27(3):224-8. [Medline].

Ibrahim AE, Goverman J, Sarhane KA, Donofrio J, Walker TG, Fagan SP. The emerging role of tissue plasminogen activator in the management of severe frostbite. J Burn Care Res. 2015 Mar-Apr. 36 (2):e62-6. [Medline].

Twomey JA, Peltier GL, Zera RT. An open-label study to evaluate the safety and efficacy of tissue plasminogen activator in treatment of severe frostbite. J Trauma. 2005 Dec. 59(6):1350-4; discussion 1354-5. [Medline].

Handford C, Buxton P, Russell K, Imray CE, McIntosh SE, Freer L. Frostbite: a practical approach to hospital management. Extrem Physiol Med. 2014. 3:7. [Medline].

Bruen KJ, Ballard JR, Morris SE, Cochran A, Edelman LS, Saffle JR. Reduction of the incidence of amputation in frostbite injury with thrombolytic therapy. Arch Surg. 2007 Jun. 142(6):546-51; discussion 551-3. [Medline].

Folio LR, Arkin K, Butler WP. Frostbite in a mountain climber treated with hyperbaric oxygen: case report. Mil Med. 2007 May. 172(5):560-3. [Medline].

Kemper TC, de Jong VM, Anema HA, van den Brink A, van Hulst RA. Frostbite of both first digits of the foot treated with delayed hyperbaric oxygen:a case report and review of literature. Undersea Hyperb Med. 2014 Jan-Feb. 41 (1):65-70. [Medline].

Poulakidas S, Cologne K, Kowal-Vern A. Treatment of frostbite with subatmospheric pressure therapy. J Burn Care Res. 2008 Nov-Dec. 29(6):1012-4. [Medline].

Purkayastha SS, Bhaumik G, Chauhan SK, Banerjee PK, Selvamurthy W. Immediate treatment of frostbite using rapid rewarming in tea decoction followed by combined therapy of pentoxifylline, aspirin & vitamin C. Indian J Med Res. 2002 Jul. 116:29-34. [Medline].

Lau KN, Park D, Dagum AB, Bui DT. Two for one: salvage of bilateral lower extremities with a single free flap. Ann Plast Surg. 2008 May. 60(5):498-501. [Medline].
Medscape Reference © 2011 WebMD, LLC