Pediatric Constipation Clinical Presentation
Author: Stephen M Borowitz, MD; Chief Editor: Carmen Cuffari, MD more...
Updated: Sep 09, 2015
What would you like to print?
History
History is often helpful in discriminating functional constipation from Hirschsprung disease (see Differentials). Asking parents when their child passed his or her first bowel movement after birth is particularly important. Most children with Hirschsprung disease have difficulties with constipation dating to birth or shortly after birth. In most published series, more than one half of infants with Hirschsprung disease do not pass meconium during the first 36 hours of life and are diagnosed with constipation within the first 4-6 months of life.
Asking the family about specific symptoms of their child's constipation is also important. Inquiring about the onset and duration of symptoms, whether the passage of bowel movements appears to be painful, and whether any bleeding has been associated with defecation is important.
Obtaining a history of fecal incontinence or soiling is also crucial, because many parents confuse fecal soiling (ie, encopresis) with poor hygiene or chronic or recurrent diarrhea.
Most cases of chronic childhood constipation are precipitated by painful bowel movements with resultant voluntary withholding of stool.[10] In young children, parents often confuse withholding of stool with pain or excessive straining. In many cases of functional constipation, parents can identify a precipitating event. Common withholding behaviors are detailed in the image below.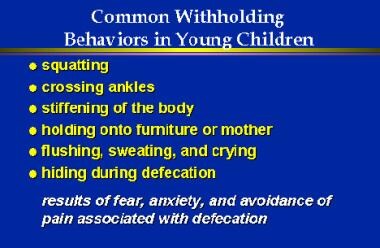 This image delineates common withholding behaviors in young children.
In young infants, functional constipation often develops at the time of a dietary transition (eg, from breast milk to formula, the addition of solid foods into the diet, from formula to whole milk).
In toddlers, functional constipation often develops near the time of toilet training. In toddlers and young children, constipation may develop following an illness associated with either a severe diaper dermatitis or dehydration.
In older children, functional constipation often develops at the time of school entry, because they refuse to defecate while they are at school.
Physical Examination
The most important part of the physical examination is the rectal examination. Perform a rectal examination in any child with chronic constipation, regardless of age, to exclude underlying anatomic abnormalities that might account for the constipation, such as an imperforate anus with perineal fistula, intestinal obstruction (mass effect), or Hirschsprung disease. In young infants, the anus should be sufficiently large to permit the introduction of a pinkie finger.
Upon digital examination, note the size of the anal canal, the size of the rectum, and whether any intrarectal masses are present. Also, note if the rectum is empty or filled with stool and note the consistency of the stool.
Among children with Hirschsprung disease, the rectum is typically quite small and empty of stool. Following the digital examination, the infant may have a gush of liquid stool, because the functional obstruction has transiently been relieved.
Among children with functional constipation, the rectum is generally enlarged, and stool is present just beyond the anal verge.
Sacral dimples or pits
Carefully examine the perineum for any sacral dimples or pits that might indicate an abnormality of the distal spinal cord. Also note the location of the anus on the perineum. In most children, the anus is approximately halfway between the posterior fourchette (base of the scrotum in boys; where the labia minora meet in girls) and the tip of the coccyx.
Whether children with anterior displacement of the anus are at increased risk for constipation is not entirely clear. To date, no large prospective studies have been performed. In some cases, if the anus is sufficiently anterior, a posterior rectal shelf may develop, resulting in abnormal defecation dynamics. Some pediatric surgeons and pediatric gastroenterologists believe that this entity is at one end of the continuum of imperforate anus with a perineal fistula.
Anal fissures, fistulae, or hemorrhoids and anal wink reflex
Examine the anus for the presence of any fissures, fistulae, or hemorrhoids. Also, confirm the presence of an anal wink. To elicit an anal wink, stroke the perianal skin with a pin or probe. In response to the stroking, the subcutaneous portion of the external anal sphincter should contract and visibly pucker at the anal margin. Failure to elicit this reflex can indicate an abnormality with either peripheral sensory or motor nerves or central connections mediating the reflex.
References
van den Berg MM, Benninga MA, Di Lorenzo C. Epidemiology of childhood constipation: a systematic review. Am J Gastroenterol. 2006 Oct. 101(10):2401-9. [Medline].

Borowitz SM, Cox DJ, Kovatchev B, et al. Treatment of childhood constipation by primary care physicians: efficacy and predictors of outcome. Pediatrics. 2005 Apr. 115(4):873-7. [Medline].

[Guideline] North American Society for Pediatric Gastroenterology, Hepatology and Nutrition. Evaluation and treatment of constipation in children: summary of updated recommendations of the North American Society for Pediatric Gastroenterology, Hepatology and Nutrition. J Pediatr Gastroenterol Nutr. 2006 Sep. 43(3):405-7. [Medline].

Benninga M, Candy DC, Catto-Smith AG, et al. The Paris Consensus on Childhood Constipation Terminology (PACCT) Group. J Pediatr Gastroenterol Nutr. 2005 Mar. 40(3):273-5. [Medline].

Issenman RM, Hewson S, Pirhonen D, et al. Are chronic digestive complaints the result of abnormal dietary patterns? Diet and digestive complaints in children at 22 and 40 months of age. Am J Dis Child. 1987 Jun. 141(6):679-82. [Medline].

Loening-Baucke V. Prevalence rates for constipation and faecal and urinary incontinence. Arch Dis Child. 2007 Jun. 92(6):486-9. [Medline].

Saps M, Sztainberg M, Di Lorenzo C. A prospective community-based study of gastroenterological symptoms in school-age children. J Pediatr Gastroenterol Nutr. 2006 Oct. 43(4):477-82. [Medline].

Yong D, Beattie RM. Normal bowel habit and prevalence of constipation in primary-school children. Ambulatory Child Health. 1998. Vol 4: 277-82.

de Araujo Sant Anna AM, Calcado AC. Constipation in school-aged children at public schools in Rio de Janeiro, Brazil. J Pediatr Gastroenterol Nutr. 1999 Aug. 29(2):190-3. [Medline].

Borowitz SM, Cox DJ, Tam A, et al. Precipitants of constipation during early childhood. J Am Board Fam Pract. 2003 May-Jun. 16(3):213-8. [Medline].

De Lorijn F, Reitsma JB, Voskuijl WP, et al. Diagnosis of Hirschsprung's disease: a prospective, comparative accuracy study of common tests. J Pediatr. 2005 Jun. 146(6):787-92. [Medline].

Abrahamian FP, Lloyd-Still JD. Chronic constipation in childhood: a longitudinal study of 186 patients. J Pediatr Gastroenterol Nutr. 1984 Jun. 3(3):460-7. [Medline].

Varni JW, Bendo CB, Nurko S, Shulman RJ, Self MM, Franciosi JP, et al. Health-Related Quality of Life in Pediatric Patients with Functional and Organic Gastrointestinal Diseases. J Pediatr. 2014 Sep 17. [Medline].

Loening-Baucke V. Polyethylene glycol without electrolytes for children with constipation and encopresis. J Pediatr Gastroenterol Nutr. 2002 Apr. 34(4):372-7. [Medline].

Bekkali NL, van den Berg MM, Dijkgraaf MG, et al. Rectal fecal impaction treatment in childhood constipation: enemas versus high doses oral PEG. Pediatrics. 2009 Dec. 124(6):e1108-15. [Medline].

Miller MK, Dowd MD, Friesen CA, Walsh-Kelly CM. A Randomized Trial of Enema Versus Polyethylene Glycol 3350 for Fecal Disimpaction in Children Presenting to an Emergency Department. Pediatr Emerg Care. 2012 Jan 20. [Medline].

Pijpers MA, Tabbers MM, Benninga MA, Berger MY. Currently recommended treatments of childhood constipation are not evidence based: a systematic literature review on the effect of laxative treatment and dietary measures. Arch Dis Child. 2009 Feb. 94(2):117-31. [Medline].

Corkins MR. Are diet and constipation related in children?. Nutr Clin Pract. 2005 Oct. 20(5):536-9. [Medline].

Iacono G, Cavataio F, Montalto G, et al. Intolerance of cow's milk and chronic constipation in children. N Engl J Med. 1998 Oct 15. 339(16):1100-4. [Medline].

Lloyd B, Halter RJ, Kuchan MJ, et al. Formula tolerance in postbreastfed and exclusively formula-fed infants. Pediatrics. 1999 Jan. 103(1):E7. [Medline].

Vandenplas Y, Benninga M. Probiotics and functional gastrointestinal disorders in children. J Pediatr Gastroenterol Nutr. 2009 Apr. 48 Suppl 2:S107-9. [Medline].

Guandalini S, Cernat E, Moscoso D. Prebiotics and probiotics in irritable bowel syndrome and inflammatory bowel disease in children. Benef Microbes. 2014 Nov 12. 1-9. [Medline].

Indrio F, Di Mauro A, Riezzo G, Civardi E, Intini C, Corvaglia L, et al. Prophylactic use of a probiotic in the prevention of colic, regurgitation, and functional constipation: a randomized clinical trial. JAMA Pediatr. 2014 Mar. 168 (3):228-33. [Medline].

Muller-Lissner SA. Adverse effects of laxatives: fact and fiction. Pharmacology. 1993 Oct. 47 Suppl 1:138-45. [Medline].

Schiller LR. Clinical pharmacology and use of laxatives and lavage solutions. J Clin Gastroenterol. 1999 Jan. 28(1):11-8. [Medline].

Dupont C, Leluyer B, Amar F, et al. A dose determination study of polyethylene glycol 4000 in constipated children: factors influencing the maintenance dose. J Pediatr Gastroenterol Nutr. 2006 Feb. 42(2):178-85. [Medline].

Khan S, Campo J, Bridge JA, et al. Long-term outcome of functional childhood constipation. Dig Dis Sci. 2007 Jan. 52(1):64-9. [Medline].
Medscape Reference © 2011 WebMD, LLC