Pediatric Constipation Differential Diagnoses
Author: Stephen M Borowitz, MD; Chief Editor: Carmen Cuffari, MD more...
Updated: Sep 09, 2015
What would you like to print?
Diagnostic Considerations
The differential diagnosis of childhood constipation can be extensive and may include Hirschsprung disease (ie, congenital megacolon), spinal or neuromuscular abnormalities (eg, spinal muscular atrophy, tethered cord, Currarino triad [rectal stenosis, hemi sacrum, presacral mass], cerebral palsy [static encephalopathy]), hypothyroidism, anal stenosis, imperforate anus with fistula, anterior displacement of the anus (this is a controversial diagnosis), allergy or sensitivity to cow's milk, and celiac disease. Other conditions to consider include mitochondrial disorders, neuronal intestinal dysplasia, and prune-belly syndrome.
Fortunately, in most cases in which an underlying condition causes constipation, other stigmata of the disorder point to diagnosis. For example, constipation is rarely the only symptom of hypothyroidism.
For practical purposes, in an otherwise healthy child, the differential diagnosis of chronic constipation is Hirschsprung disease and functional constipation (not Hirschsprung disease). Although this differentiation may sometimes be difficult, numerous clues in the history and physical examination are helpful. The image below details the differences between functional constipation and Hirschsprung disease.
See also Constipation and Surgery for Pediatric Constipation and Bowel Management.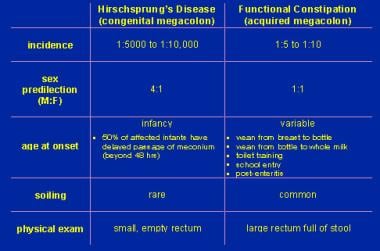 This table differentiates functional constipation from Hirschsprung disease.
Differential Diagnoses
References
van den Berg MM, Benninga MA, Di Lorenzo C. Epidemiology of childhood constipation: a systematic review. Am J Gastroenterol. 2006 Oct. 101(10):2401-9. [Medline].

Borowitz SM, Cox DJ, Kovatchev B, et al. Treatment of childhood constipation by primary care physicians: efficacy and predictors of outcome. Pediatrics. 2005 Apr. 115(4):873-7. [Medline].

[Guideline] North American Society for Pediatric Gastroenterology, Hepatology and Nutrition. Evaluation and treatment of constipation in children: summary of updated recommendations of the North American Society for Pediatric Gastroenterology, Hepatology and Nutrition. J Pediatr Gastroenterol Nutr. 2006 Sep. 43(3):405-7. [Medline].

Benninga M, Candy DC, Catto-Smith AG, et al. The Paris Consensus on Childhood Constipation Terminology (PACCT) Group. J Pediatr Gastroenterol Nutr. 2005 Mar. 40(3):273-5. [Medline].

Issenman RM, Hewson S, Pirhonen D, et al. Are chronic digestive complaints the result of abnormal dietary patterns? Diet and digestive complaints in children at 22 and 40 months of age. Am J Dis Child. 1987 Jun. 141(6):679-82. [Medline].

Loening-Baucke V. Prevalence rates for constipation and faecal and urinary incontinence. Arch Dis Child. 2007 Jun. 92(6):486-9. [Medline].

Saps M, Sztainberg M, Di Lorenzo C. A prospective community-based study of gastroenterological symptoms in school-age children. J Pediatr Gastroenterol Nutr. 2006 Oct. 43(4):477-82. [Medline].

Yong D, Beattie RM. Normal bowel habit and prevalence of constipation in primary-school children. Ambulatory Child Health. 1998. Vol 4: 277-82.

de Araujo Sant Anna AM, Calcado AC. Constipation in school-aged children at public schools in Rio de Janeiro, Brazil. J Pediatr Gastroenterol Nutr. 1999 Aug. 29(2):190-3. [Medline].

Borowitz SM, Cox DJ, Tam A, et al. Precipitants of constipation during early childhood. J Am Board Fam Pract. 2003 May-Jun. 16(3):213-8. [Medline].

De Lorijn F, Reitsma JB, Voskuijl WP, et al. Diagnosis of Hirschsprung's disease: a prospective, comparative accuracy study of common tests. J Pediatr. 2005 Jun. 146(6):787-92. [Medline].

Abrahamian FP, Lloyd-Still JD. Chronic constipation in childhood: a longitudinal study of 186 patients. J Pediatr Gastroenterol Nutr. 1984 Jun. 3(3):460-7. [Medline].

Varni JW, Bendo CB, Nurko S, Shulman RJ, Self MM, Franciosi JP, et al. Health-Related Quality of Life in Pediatric Patients with Functional and Organic Gastrointestinal Diseases. J Pediatr. 2014 Sep 17. [Medline].

Loening-Baucke V. Polyethylene glycol without electrolytes for children with constipation and encopresis. J Pediatr Gastroenterol Nutr. 2002 Apr. 34(4):372-7. [Medline].

Bekkali NL, van den Berg MM, Dijkgraaf MG, et al. Rectal fecal impaction treatment in childhood constipation: enemas versus high doses oral PEG. Pediatrics. 2009 Dec. 124(6):e1108-15. [Medline].

Miller MK, Dowd MD, Friesen CA, Walsh-Kelly CM. A Randomized Trial of Enema Versus Polyethylene Glycol 3350 for Fecal Disimpaction in Children Presenting to an Emergency Department. Pediatr Emerg Care. 2012 Jan 20. [Medline].

Pijpers MA, Tabbers MM, Benninga MA, Berger MY. Currently recommended treatments of childhood constipation are not evidence based: a systematic literature review on the effect of laxative treatment and dietary measures. Arch Dis Child. 2009 Feb. 94(2):117-31. [Medline].

Corkins MR. Are diet and constipation related in children?. Nutr Clin Pract. 2005 Oct. 20(5):536-9. [Medline].

Iacono G, Cavataio F, Montalto G, et al. Intolerance of cow's milk and chronic constipation in children. N Engl J Med. 1998 Oct 15. 339(16):1100-4. [Medline].

Lloyd B, Halter RJ, Kuchan MJ, et al. Formula tolerance in postbreastfed and exclusively formula-fed infants. Pediatrics. 1999 Jan. 103(1):E7. [Medline].

Vandenplas Y, Benninga M. Probiotics and functional gastrointestinal disorders in children. J Pediatr Gastroenterol Nutr. 2009 Apr. 48 Suppl 2:S107-9. [Medline].

Guandalini S, Cernat E, Moscoso D. Prebiotics and probiotics in irritable bowel syndrome and inflammatory bowel disease in children. Benef Microbes. 2014 Nov 12. 1-9. [Medline].

Indrio F, Di Mauro A, Riezzo G, Civardi E, Intini C, Corvaglia L, et al. Prophylactic use of a probiotic in the prevention of colic, regurgitation, and functional constipation: a randomized clinical trial. JAMA Pediatr. 2014 Mar. 168 (3):228-33. [Medline].

Muller-Lissner SA. Adverse effects of laxatives: fact and fiction. Pharmacology. 1993 Oct. 47 Suppl 1:138-45. [Medline].

Schiller LR. Clinical pharmacology and use of laxatives and lavage solutions. J Clin Gastroenterol. 1999 Jan. 28(1):11-8. [Medline].

Dupont C, Leluyer B, Amar F, et al. A dose determination study of polyethylene glycol 4000 in constipated children: factors influencing the maintenance dose. J Pediatr Gastroenterol Nutr. 2006 Feb. 42(2):178-85. [Medline].

Khan S, Campo J, Bridge JA, et al. Long-term outcome of functional childhood constipation. Dig Dis Sci. 2007 Jan. 52(1):64-9. [Medline].
Medscape Reference © 2011 WebMD, LLC