Pediatric Constipation
Author: Stephen M Borowitz, MD; Chief Editor: Carmen Cuffari, MD more...
Updated: Aug 25, 2016
What would you like to print?
Background
Concern about bowel function has been prevalent throughout history across many cultures. A normal bowel pattern is thought to be a sign of good health. Unfortunately, no uniform definition of childhood constipation is recognized. Moreover, healthcare providers have definitions of constipation that are very different from most parents' definitions.
Constipation in children has reported prevalence rates between 1% and 30%.[1] It is the principal complaint in 3-5% of all visits to pediatric outpatient clinics and as many as 35% of all visits to pediatric gastroenterologists.[2]
Definitions
For practical clinical purposes, constipation is generally defined as infrequent defecation, painful defecation, or both. In most cases, parents are worried that their child's stools are too large, too hard, not frequent enough, and/or painful to pass.
The North American Society of Gastroenterology, Hepatology, and Nutrition (NASPGHAN) defines constipation as "a delay or difficulty in defecation, present for 2 weeks or more, and sufficient to cause significant distress to the patient."[3]
The Paris Consensus on Childhood Constipation Terminology (PACCT) defines constipation as "a period of 8 weeks with at least 2 of the following symptoms: defecation frequency less than 3 times per week, fecal incontinence frequency greater than once per week, passage of large stools that clog the toilet, palpable abdominal or rectal fecal mass, stool withholding behavior, or painful defecation."[4]
The following image is an abdominal radiograph of a child with constipation.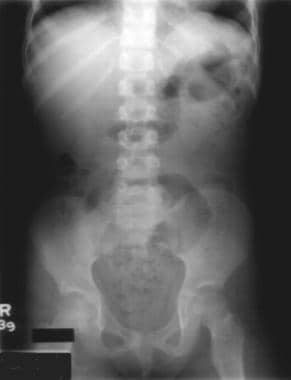 Plain abdominal radiograph that demonstrates stool throughout the colon.
See also Constipation and Surgery for Pediatric Constipation and Bowel Management.
Anatomy
Bowel motility is one of the most complex and sophisticated functions in the human body. The colon absorbs water and functions as a reservoir. Liquid waste delivered by the small bowel into the cecum becomes solid stool in the descending and sigmoid colon. The colon has a slow motility; its peristalsis seems to be less active in the distal portions of the colon. Every 24-48 hours, the rectosigmoid develops active peristaltic waves that indicate that it must be emptied. This is perceived by the individual, who then has the capacity to voluntarily retain the stool or to empty it, depending on social circumstances.
Pathophysiology
Most children with constipation have no underlying medical condition. They are often labeled as having functional constipation or acquired megacolon. In most cases, childhood constipation develops when the child begins to associate pain with defecation. Once pain is associated with the passage of bowel movements, the child begins to withhold stools in an attempt to avoid discomfort. As stool withholding continues, the rectum gradually accommodates, and the normal urge to defecate gradually disappears. The infrequent passage of very large and hard stools reinforces the child's association of pain with defecation, resulting in worsening stool retention and progressively more abnormal defecation dynamics with anal sphincter spasm. Chronic rectal distention ultimately results in both loss of rectal sensitivity, and loss of the urge to defecate, which can lead to fecal incontinence (ie, encopresis).
Epidemiology
In the United States, constipation is extremely common among infants and young children. In a 1987 report, Issenman et al found that 16% of parents reported that their 2-year-old children had constipation[5] ; 2 decades later, Loening-Baucke reported that the prevalence of constipation was 22.6% among 482 children aged 4-17 years.[6] In a longitudinal study of children aged 9-11 years, Saps et al reported an 18% overall prevalence of constipation.[7]
In a European study, Yong and Beattie found that 34% of parents in the United Kingdom reported their children aged 4-7 years had at least intermittent difficulties with constipation,[8] and a South American study by de Araujo Sant'Anna and Calcado found that 28% of Brazilian children aged 8-10 years were constipated.[9]
Constipation occurs in all pediatric age groups from infancy to young adulthood. Typically, childhood constipation develops during 3 stages of childhood: in infants during weaning, in toddlers during toilet training, and in school-aged children. In several published reports, approximately half of childhood constipation occurs during the first year of life.
Before puberty, constipation appears to be equally common among girls and boys. After puberty and into young adulthood, females are more likely to develop constipation than males.
Patient Education
It is very important to educate the family that using laxatives continuously for months may be necessary. This is particularly true in toddlers, because many months may pass before the association between fear and defecation is extinguished.
Caregivers should be reassured as to the safety of long-term laxative use, and the importance of persistent treatment should be strongly reinforced. Address the common misconceptions about laxative dependency and the increased risk of colon cancer due to long-term laxative usage.
Inform the family that relapses are common and are associated with changes in the child's daily routine (eg, vacations) or during times of stress. Also, inform the family that the requirement of intermittent therapy with laxatives into adulthood is not unusual.
For patient education information, see Esophagus, Stomach, and Intestine Center as well as Constipation in Children.
References
van den Berg MM, Benninga MA, Di Lorenzo C. Epidemiology of childhood constipation: a systematic review. Am J Gastroenterol. 2006 Oct. 101(10):2401-9. [Medline].

Borowitz SM, Cox DJ, Kovatchev B, et al. Treatment of childhood constipation by primary care physicians: efficacy and predictors of outcome. Pediatrics. 2005 Apr. 115(4):873-7. [Medline].

[Guideline] North American Society for Pediatric Gastroenterology, Hepatology and Nutrition. Evaluation and treatment of constipation in children: summary of updated recommendations of the North American Society for Pediatric Gastroenterology, Hepatology and Nutrition. J Pediatr Gastroenterol Nutr. 2006 Sep. 43(3):405-7. [Medline].

Benninga M, Candy DC, Catto-Smith AG, et al. The Paris Consensus on Childhood Constipation Terminology (PACCT) Group. J Pediatr Gastroenterol Nutr. 2005 Mar. 40(3):273-5. [Medline].

Issenman RM, Hewson S, Pirhonen D, et al. Are chronic digestive complaints the result of abnormal dietary patterns? Diet and digestive complaints in children at 22 and 40 months of age. Am J Dis Child. 1987 Jun. 141(6):679-82. [Medline].

Loening-Baucke V. Prevalence rates for constipation and faecal and urinary incontinence. Arch Dis Child. 2007 Jun. 92(6):486-9. [Medline].

Saps M, Sztainberg M, Di Lorenzo C. A prospective community-based study of gastroenterological symptoms in school-age children. J Pediatr Gastroenterol Nutr. 2006 Oct. 43(4):477-82. [Medline].

Yong D, Beattie RM. Normal bowel habit and prevalence of constipation in primary-school children. Ambulatory Child Health. 1998. Vol 4: 277-82.

de Araujo Sant Anna AM, Calcado AC. Constipation in school-aged children at public schools in Rio de Janeiro, Brazil. J Pediatr Gastroenterol Nutr. 1999 Aug. 29(2):190-3. [Medline].

Borowitz SM, Cox DJ, Tam A, et al. Precipitants of constipation during early childhood. J Am Board Fam Pract. 2003 May-Jun. 16(3):213-8. [Medline].

De Lorijn F, Reitsma JB, Voskuijl WP, et al. Diagnosis of Hirschsprung's disease: a prospective, comparative accuracy study of common tests. J Pediatr. 2005 Jun. 146(6):787-92. [Medline].

Doniger SJ, Dessie A, Latronica C. Measuring the Transrectal Diameter on Point-of-Care Ultrasound to Diagnose Constipation in Children. Pediatr Emerg Care. 2016 Jun 14. [Medline].

Abrahamian FP, Lloyd-Still JD. Chronic constipation in childhood: a longitudinal study of 186 patients. J Pediatr Gastroenterol Nutr. 1984 Jun. 3(3):460-7. [Medline].

Varni JW, Bendo CB, Nurko S, Shulman RJ, Self MM, Franciosi JP, et al. Health-Related Quality of Life in Pediatric Patients with Functional and Organic Gastrointestinal Diseases. J Pediatr. 2014 Sep 17. [Medline].

Loening-Baucke V. Polyethylene glycol without electrolytes for children with constipation and encopresis. J Pediatr Gastroenterol Nutr. 2002 Apr. 34(4):372-7. [Medline].

Bekkali NL, van den Berg MM, Dijkgraaf MG, et al. Rectal fecal impaction treatment in childhood constipation: enemas versus high doses oral PEG. Pediatrics. 2009 Dec. 124(6):e1108-15. [Medline].

Miller MK, Dowd MD, Friesen CA, Walsh-Kelly CM. A Randomized Trial of Enema Versus Polyethylene Glycol 3350 for Fecal Disimpaction in Children Presenting to an Emergency Department. Pediatr Emerg Care. 2012 Jan 20. [Medline].

Pijpers MA, Tabbers MM, Benninga MA, Berger MY. Currently recommended treatments of childhood constipation are not evidence based: a systematic literature review on the effect of laxative treatment and dietary measures. Arch Dis Child. 2009 Feb. 94(2):117-31. [Medline].

Corkins MR. Are diet and constipation related in children?. Nutr Clin Pract. 2005 Oct. 20(5):536-9. [Medline].

Iacono G, Cavataio F, Montalto G, et al. Intolerance of cow's milk and chronic constipation in children. N Engl J Med. 1998 Oct 15. 339(16):1100-4. [Medline].

Lloyd B, Halter RJ, Kuchan MJ, et al. Formula tolerance in postbreastfed and exclusively formula-fed infants. Pediatrics. 1999 Jan. 103(1):E7. [Medline].

Vandenplas Y, Benninga M. Probiotics and functional gastrointestinal disorders in children. J Pediatr Gastroenterol Nutr. 2009 Apr. 48 Suppl 2:S107-9. [Medline].

Guandalini S, Cernat E, Moscoso D. Prebiotics and probiotics in irritable bowel syndrome and inflammatory bowel disease in children. Benef Microbes. 2014 Nov 12. 1-9. [Medline].

Indrio F, Di Mauro A, Riezzo G, Civardi E, Intini C, Corvaglia L, et al. Prophylactic use of a probiotic in the prevention of colic, regurgitation, and functional constipation: a randomized clinical trial. JAMA Pediatr. 2014 Mar. 168 (3):228-33. [Medline].

Muller-Lissner SA. Adverse effects of laxatives: fact and fiction. Pharmacology. 1993 Oct. 47 Suppl 1:138-45. [Medline].

Schiller LR. Clinical pharmacology and use of laxatives and lavage solutions. J Clin Gastroenterol. 1999 Jan. 28(1):11-8. [Medline].

Dupont C, Leluyer B, Amar F, et al. A dose determination study of polyethylene glycol 4000 in constipated children: factors influencing the maintenance dose. J Pediatr Gastroenterol Nutr. 2006 Feb. 42(2):178-85. [Medline].

Khan S, Campo J, Bridge JA, et al. Long-term outcome of functional childhood constipation. Dig Dis Sci. 2007 Jan. 52(1):64-9. [Medline].
Medscape Reference © 2011 WebMD, LLC