Intestinal Malrotation Treatment & Management
Author: Denis D Bensard, MD, FACS, FAAP; Chief Editor: Carmen Cuffari, MD more...
Updated: Oct 08, 2015
What would you like to print?
Medical Care
Medical care of intestinal malrotation is directed toward stabilizing the patient.
Where malrotation with volvulus or obstruction is suspected, seek immediate pediatric surgical consultation. Maintain patients on nothing by mouth (NPO) and adjust NG or orogastric tube to low intermittent suction. Correct fluid and electrolyte deficits. All patients require intravenous resuscitation with physiologic salt solution. Administer broad-spectrum antibiotics prior to surgery, if possible.
If a patient has signs of shock, administer appropriate fluids, blood products, and vasopressor medications to improve hypotension. Dopamine is often used as first-line therapy because of its possible effects to increase splanchnic blood flow. Dopamine can be started at an infusion rate of 3 mcg/kg/min intravenously (IV) and continued postoperatively even if the patient is not hypotensive.
Most patients require long-term intravenous access after surgery, particularly if midgut volvulus is present. Additionally, intravenous nutrition is likely to be necessary. For this reason, central venous catheters should be placed in most patients.
If the patient is unstable, do not delay surgical intervention for upper GI and laboratory studies. Quick surgical intervention, not prolonged medical management, is associated with the best results if midgut volvulus is suspected.
Surgical Care
The Ladd procedure remains the cornerstone of surgical treatment for malrotation today. Prior to William Ladd's publication in 1936, surgical treatment for malrotation with or without volvulus had a mortality rate higher than 90%. In fact, at Ladd's own institution, the mortality rate was 100% before the development of his new technique. A classic Ladd procedure is described as reduction of volvulus (if present), division of mesenteric bands, placement of small bowel on the right and large bowel on the left of the abdomen, and appendectomy. Published reports for laparoscopic Ladd procedure are now appearing in the literature as well.
Midgut volvulus
If midgut volvulus is present, the entire small intestine along with the transverse colon is delivered out of the abdominal incision, where the volvulus can be reduced. Because the volvulus usually twists in a clockwise direction, reduction is accomplished by twisting in a counterclockwise direction. Complete detorsion usually requires 2-3 twists of the bowel. After the blood supply has been restored by detorsion, the surgeon must make a decision about viability of the involved bowel. The outcome is better when no gangrenous bowel is present or when a small, localized gangrenous segment is present, which can be resected and a primary anastomosis performed.
If multiple areas of questionable viability are present, many surgeons choose to leave the areas and perform a second-look operation in 12-24 hours if the patient is not showing clinical recovery. See the image below.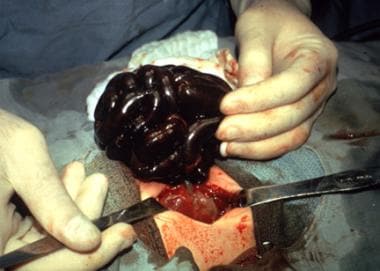 This patient had malrotation with midgut volvulus. The gut is darkened in color because of ischemia.
Grossly necrotic bowel should be resected. Primary anastomosis versus diversion of the fecal stream with a proximal ostomy should be performed at the surgeon's discretion. Three principles should be used to guide decision making:
The highest priority is to preserve the maximum length of intestine required for survival.

Questionably viable bowel should not be anastomosed.

Resection of the entire small bowel require life-long parenteral nutrition or small bowel transplant.

[29]
Duodenal obstruction
After the volvulus is reduced or if no volvulus was present, identify any extrinsic obstruction to the duodenum.
If peritoneal bands crossing the duodenum are found, ligate them with careful attention to protecting the superior mesenteric vessels. The bands may also obstruct the ileum or the jejunum and sometimes run to the gallbladder and liver.
Extrinsic obstruction may also be due to the cecum, colon, or superior mesenteric artery (SMA), impinging on the duodenum; relief is obtained by placing the cecum with its mesentery in the left upper quadrant and exposing the anterior duodenum through its entire length. After extrinsic obstruction has been relieved, determine that no intrinsic obstruction exists by passing an NG tube through the duodenum.
Appendectomy
Appendectomy is performed during operation for malrotation for 2 reasons:[30]
The normal anatomical placement of the appendix is disrupted when the cecum is placed in the left upper quadrant, making the diagnosis of future appendicitis challenging.

Dissection of the peritoneal bands causes damage to the appendiceal vessels.
Laparoscopy
Use of a laparoscopic approach to the correction of malrotation is feasible (level III, level IV evidence) but long-term outcome data are lacking. An open approach is thought to create adhesions, thereby reducing the risk of recurrent volvulus. Critics of the laparoscopic approach cite that laparoscopy is associated with minimal adhesion formation and thus may not afford the patient comparable long-term benefit.[31]
Laparoscopy has been used to repair malrotation in clinically stable patients with or without signs of duodenal obstruction without midgut volvulus.
The Ladd procedure, including widening of the mesenteric base and dissection of peritoneal bands, has been performed successfully using a laparoscopic approach and has resulted in shorter hospital length of stay.
Laparoscopic Ladd procedure is now accepted as an initial approach to surgical correction, with recent reports showing superior short-term results without any increase in operative duration.[32, 33, 34]
Some authors have reported on the success of single-incision laparoscopic Ladd procedure for intestinal malrotation without volvulus in adults.[35]
A study reported that in children aged 6 months or older with suspicion of intestinal malrotation but not presenting with an acute abdomen or hemodynamically instability, laparoscopy should be considered as a first approach to diagnose and subsequently treat intestinal malrotation.[36]
Heterotaxy
Patients with heterotaxy syndromes have increased rates of abnormalities of intestinal rotation. The approach to the management of these rotational abnormalities is controversial.[37]
Some authors advocate for screening of all children with an upper GI study and elective correction of any rotational abnormality.[37] However, a retrospective review of 29 children who underwent Ladd procedure revealed that the complication rate was 57% among patients with heterotaxy who were otherwise asymptomatic, compared with only 9% in the symptomatic, nonheterotaxy group.[38] These authors recommend that asymptomatic children be managed conservatively with operative intervention reserved for those children who become symptomatic.
Consultations
Consultations with the following specialists may be helpful:
Pediatric surgeon: The only definitive treatment for malrotation is surgical in nature

Dietary/intravenous nutrition team: In hospitals where available, include a nutritionist in the medical team to monitor total parenteral nutrition to ensure optimal nutrition. Children who undergo extensive small bowel resection require long-term nutritional support and benefit from early consultation with the nutrition team.

Pediatric gastroenterologist: Consultation with a gastroenterologist should be considered early in the postoperative course, particularly in those children who have undergone extensive small bowel resection due to the need for long-term parenteral nutrition and the resulting cholestasis in this population.

Physical therapist: A physical therapist can help with range of motion exercises and strength conditioning while patients are bedridden. Frequent repositioning also helps prevent decubitus pressure ulcers and head molding in infants.

Occupational therapist: Occupational therapists can also assist with splinting of extremities that contain central lines to prevent contractures as well as range of motion exercises.

Speech therapist: A speech therapist can help with oral stimulation while patients are not being fed. This stimulation can prevent feeding aversion and poor coordination when oral feeds are restarted.
Diet
Feeding strategies are discussed under Further Inpatient Care.
References
Lee HC, Pickard SS, Sridhar S, Dutta S. Intestinal malrotation and catastrophic volvulus in infancy. J Emerg Med. 2012 Jul. 43(1):e49-51. [Medline]. [Full Text].

Zellos A, Zarganis D, Ypsiladis S, Chatzis D, Papaioannou G, Bartsocas C. Malrotation of the intestine and chronic volvulus as a cause of protein-losing enteropathy in infancy. Pediatrics. 2012 Feb. 129(2):e515-8. [Medline].

Mall FP. Development of the human intestine and its position in the adult. 1898. 9:197-208.

Dott NM. Anomalies of intestinal rotation: their embryology and surgical aspects: with report of 5 cases. Br J Surg. 1923. 24:251-286.

Ladd WE. Congenital Obstruction of the Duodenum in Children. N Engl J Med. 1932. 206:277-80.

Warner B. Malrotation. Oldham KT, Colombani PM, Foglia RP, eds. Surgery of Infants and Children: Scientific Principles and Practice. Philadelphia: Lippincott Williams & Wilkins; 1997. 1229.

Dilley AV, Pereira J, Shi EC, Adams S, Kern IB, Currie B. The radiologist says malrotation: does the surgeon operate?. Pediatr Surg Int. 2000. 16(1-2):45-9. [Medline].

Berseth CL. Disorders of the intestines and pancreas. Taeusch WH, Ballard RA, eds. Avery's Diseases of the Newborn. 7th ed. Philadelphia: WB Saunders; 1998. 918.

Varetti C, Meucci D, Severi F, Di Maggio G, Bocchi C, Petraglia F, et al. Intrauterine volvulus with malrotation: prenatal diagnosis. Minerva Pediatr. 2013 Apr. 65(2):219-23. [Medline].

Smith EI. Malrotation of the intestine. Welch KJ, Randolph JG, Ravitch MN, eds. Pediatric Surgery. 4th ed. St. Louis: MO: Mosby-Year Book; 1986. Vol 2: 882-95.

Glover DM, Barry FM. Intestinal obstruction in the newborn. Ann Surg. 1949 Sep. 130(3):480-511. [Medline].

Messineo A, MacMillan JH, Palder SB, Filler RM. Clinical factors affecting mortality in children with malrotation of the intestine. J Pediatr Surg. 1992 Oct. 27(10):1343-5. [Medline].

Rescorla FJ, Shedd FJ, Grosfeld JL, Vane DW, West KW. Anomalies of intestinal rotation in childhood: analysis of 447 cases. Surgery. 1990 Oct. 108(4):710-5; discussion 715-6. [Medline].

Wallberg SV, Qvist N. Increased risk of complication in acute onset intestinal malrotation. Dan Med J. 2013. 60:A4744.

Nagdeve NG, Qureshi AM, Bhingare PD, Shinde SK. Malrotation beyond infancy. J Pediatr Surg. 2012 Nov. 47(11):2026-32. [Medline].

El-Gohary Y, Alagtal M, Gillick J. Long-term complications following operative intervention for intestinal malrotation: a 10-year review. Pediatr Surg Int. 2010 Feb. 26(2):203-6. [Medline].

Kouwenberg M, Severijnen RS, Kapusta L. Congenital cardiovascular defects in children with intestinal malrotation. Pediatr Surg Int. 2008 Mar. 24(3):257-63. [Medline]. [Full Text].

Nehra D, Goldstein AM. Intestinal malrotation: varied clinical presentation from infancy through adulthood. Surgery. 2011 Mar. 149(3):386-93. [Medline].

Durkin ET, Lund DP, Shaaban AF, Schurr MJ, Weber SM. Age-related difference in diagnosis and morbidity of intestinal malrotation. J Am Coll Surg. 2008. 206:658-663.

Wanjari AK, Deshmukh AJ, Tayde PS, Lonkar Y. Midgut malrotation with chronic abdominal pain. N Am J Med Sci. 2012 Apr. 4(4):196-8. [Medline]. [Full Text].

Spitz L, Orr JD, Harries JT. Obstructive jaundice secondary to chronic midgut volvulus. Arch Dis Child. 1983 May. 58(5):383-5. [Medline].

Applegate KE, Anderson JM, Klatte EC. Intestinal malrotation in children: a problem-solving approach to the upper gastrointestinal series. Radiographics. 2006 Sep-Oct. 26(5):1485-500. [Medline].

Lin JN, Lou CC, Wang KL. Intestinal malrotation and midgut volvulus: a 15-year review. J Formos Med Assoc. 1995 Apr. 94(4):178-81. [Medline].

Sizemore AW, Rabbani KZ, Ladd A, Applegate KE. Diagnostic performance of the upper gastrointestinal series in the evaluation of children with clinically suspected malrotation. Pediatr Radiol. 2008 May. 38(5):518-28. [Medline].

Fonio P, Coppolino F, Russo A, D'Andrea A, Giannattasio A, Reginelli A. Ultrasonography (US) in the assessment of pediatric non traumatic gastrointestinal emergencies. Crit Ultrasound J. 2013 Jul 15. 5 Suppl 1:S12. [Medline].

Alehossein M, Abdi S, Pourgholami M, Naseri M, Salamati P. Diagnostic accuracy of ultrasound in determining the cause of bilious vomiting in neonates. Iran J Radiol. 2012 Nov. 9(4):190-4. [Medline].

Hennessey I, John R, Gent R, Goh DW. Utility of sonographic assessment of the position of the third part of the duodenum using water instillation in intestinal malrotation: a single-center retrospective audit. Pediatr Radiol. 2014 Apr. 44(4):387-91. [Medline].

Quail MA. Question 2. Is Doppler ultrasound superior to upper gastrointestinal contrast study for the diagnosis of malrotation?. Arch Dis Child. 2011 Mar. 96(3):317-8. [Medline].

Dassinger MS, Smith SD. Chapter 86. Disorders of Intestinal Rotation and Fixation. Coran A, Adzick NS, Krummel TM, et al, eds. Pediatric Surgery. 7th ed. Elsevier; 837-51.

Badea R, Al Hajjar N, Andreica V, Procopet B, Caraiani C, Tamas-Szora A. Appendicitis associated with intestinal malrotation: imaging diagnosis features. Case report. Med Ultrason. 2012 Jun. 14(2):164-7. [Medline].

Tsao KJ, St Peter SD, Valusek PA, Keckler SJ, Sharp S, Holcomb GW 3rd. Adhesive small bowel obstruction after appendectomy in children: comparison between the laparoscopic and open approach. J Pediatr Surg. 2007 Jun. 42(6):939-42; discussion 942. [Medline].

Draus JM Jr, Foley DS, Bond SJ. Laparoscopic Ladd procedure: a minimally invasive approach to malrotation without midgut volvulus. Am Surg. 2007 Jul. 73(7):693-6. [Medline].

Palanivelu C, Rangarajan M, Shetty AR, Jani K. Intestinal malrotation with midgut volvulus presenting as acute abdomen in children: value of diagnostic and therapeutic laparoscopy. J Laparoendosc Adv Surg Tech A. 2007 Aug. 17(4):490-2. [Medline].

Stanfill AB, Pearl RH, Kalvakuri K, Wallace LJ, Vegunta RK. Laparoscopic Ladd's procedure: treatment of choice for midgut malrotation in infants and children. J Laparoendosc Adv Surg Tech A. 2010 May. 20(4):369-72. [Medline].

Vassaur J, Vassaur H, Buckley FP 3rd. Single-incision laparoscopic Ladd's procedure for intestinal malrotation. JSLS. 2014 Jan-Mar. 18(1):132-5. [Medline].

Ooms N, Matthyssens LE, Draaisma JM, de Blaauw I, Wijnen MH. Laparoscopic Treatment of Intestinal Malrotation in Children. Eur J Pediatr Surg. 2015 Jun 18. [Medline].

Newman B, Koppolu R, Murphy D, Sylvester K. Heterotaxy syndromes and abnormal bowel rotation. Pediatr Radiol. 2014 May. 44(5):542-51. [Medline].

Pockett CR, Dicken B, Rebeyka IM, Ross DB, Ryerson LM. Heterotaxy syndrome: is a prophylactic Ladd procedure necessary in asymptomatic patients?. Pediatr Cardiol. 2013 Jan. 34(1):59-63. [Medline].

Elsinga RM, Roze E, Van Braeckel KN, Hulscher JB, Bos AF. Motor and cognitive outcome at school age of children with surgically treated intestinal obstructions in the neonatal period. Early Hum Dev. 2013 Mar. 89(3):181-5. [Medline].

El-Gohary Y, Alagtal M, Gillick J. Long-term complications following operative intervention for intestinal malrotation: a 10-year review. Pediatr Surg Int. 2010 Feb. 26(2):203-6. [Medline].

Feitz R, Vos A. Malrotation: the postoperative period. J Pediatr Surg. 1997 Sep. 32(9):1322-4. [Medline].

Ai VH, Lam WW, Cheng W. CT appearance of midgut volvulus with malrotation in a young infant. ClinRadiol. Oct 1999. 54(10):687-9.

Bass KD, Rothenberg SS, Chang JH. Laparoscopic Ladd's procedure in infants with malrotation. J Pediatr Surg. 1998 Feb. 33(2):279-81. [Medline].

Chao HC, Kong MS, Chen JY, Lin SJ, Lin JN. Sonographic features related to volvulus in neonatal intestinal malrotation. J Ultrasound Med. 2000 Jun. 19(6):371-6. [Medline].

Estrada RL. Thomas CC, ed. Anomalies of Intestinal Rotation and Fixation. Springfield, IL: 1958.

Guzzetta PC, Anderson KD, Eichelberger MR. General Surgery. Avery GB, Fletcher MA, MacDonald MG, eds. Neonatology: Pathophysiology and Management of the Newborn. Philadelphia, PA: Lippincott Williams & Wilkins; 1994. 931-2.

Howell CG, Vozza F, Shaw S, Robinson M, Srouji MN, Krasna I. Malrotation, malnutrition, and ischemic bowel disease. J Pediatr Surg. 1982 Oct. 17(5):469-73. [Medline].

Irish MS, Pearl RH, Caty MG, Glick PL. The approach to common abdominal diagnosis in infants and children. Pediatr Clin North Am. 1998 Aug. 45(4):729-72. [Medline].

Janik JS, Ein SH. Normal intestinal rotation with non-fixation: a cause of chronic abdominal pain. J Pediatr Surg. 1979 Dec. 14(6):670-4. [Medline].

Kamal IM. Defusing the intra-abdominal ticking bomb: intestinal malrotation in children. CMAJ. 2000 May 2. 162(9):1315-7. [Medline].

Kullendorff CM, Mikaelsson C, Ivancev K. Malrotation in children with symptoms of gastrointestinal allergy and psychosomatic abdominal pain. Acta Paediatr Scand. 1985 Mar. 74(2):296-9. [Medline].

Kumar D, Brereton RJ, Spitz L, Hall CM. Gastro-oesophageal reflux and intestinal malrotation in children. Br J Surg. 1988 Jun. 75(6):533-5. [Medline].

[Guideline] Ladd WE. Surgical Diseases of the Alimentary Tract in Infants. N Engl J Med. 1936. 215:705-8.

Lee HC, Pickard SS, Sridhar S, Dutta S. Intestinal malrotation and catastrophic volvulus in infancy. J Emerg Med. 2012 Jul. 43(1):e49-51. [Medline]. [Full Text].

Mazziotti MV, Strasberg SM, Langer JC. Intestinal rotation abnormalities without volvulus: the role of laparoscopy. J Am Coll Surg. 1997 Aug. 185(2):172-6. [Medline].

Spigland N, Brandt ML, Yazbeck S. Malrotation presenting beyond the neonatal period. J Pediatr Surg. 1990 Nov. 25(11):1139-42. [Medline].
Medscape Reference © 2011 WebMD, LLC