Pediatric Rectal Prolapse Treatment & Management
Author: Jaime Shalkow, MD, FACS; Chief Editor: Carmen Cuffari, MD more...
Updated: Oct 06, 2015
What would you like to print?
Approach Considerations
Patients who present with a prolapsed rectum should undergo manual reduction. Conservative management is appropriate in selected patients. Treatment should be directed to the underlying cause. After treating the underlying cause, conservative management is usually successful. Cases of difficult reduction and patients with recurrent episodes are less likely to respond to conservative measures.
The benefit of using biofeedback in patients with chronic straining or paradoxical contractions of the anal sphincters is yet to be elucidated. For many years, case series and expert opinions proposed biofeedback as a first-choice treatment option for fecal incontinence. Most case series reported positive patient outcomes in over 70% of patients.[41]
Surgical treatment is reserved for patients who do not improve with conservative management or patients with complicated rectal prolapse (eg, recurrent rectal prolapse, painful episodes, ulceration, rectal bleeding).[42]
In patients with cystic fibrosis, initiation of adequate pancreatic enzyme replacement usually results in cessation of rectal prolapse.
Some authors have reported excellent results with injection sclerotherapy.[43, 44]
Internal rectal prolapse (IRP)
IRP refers to a full-thickness intussusception of the rectum during defecation.[45] Radiographically, different grades have been proposed, from low-grade (rectorectal intussusception) to high-grade (rectoanal intussusception) rectal prolapse. This kind of prolapse may lead to outlet obstruction and/or fecal incontinence. IRP plays an important role in the pathophysiology of obstructive defecation, which refers to the inability to empty the rectum satisfactorily during defecation.
Surgical correction for IRP is possible through a transabdominal or transanal approach. Commonly performed procedures include laparoscopic ventral rectopexy (LVR) and stapled transanal rectal resection (STARR). LVR corrects the intussusception of the rectum and reinforces the rectovaginal septum with mesh, which suspends the rectum and vaginal vault to the sacral promontory. During the STARR procedure, a stapled resection of the redundant rectal wall is performed. The optimal procedure is difficult to select since no comparative studies exist to date.[46]
Manual Reduction
When the prolapse is present at the time of examination, reduction should be promptly performed before the onset of edema. Parents should have gloves and lubricant and should be taught how to reduce the prolapse at home.
The prolapsed bowel may be grasped with lubricated gloved fingers and pushed back in with gentle steady pressure. If the bowel has become edematous, firm steady pressure for several minutes may be necessary to reduce the swelling and allow for reduction. Digital rectal examination should always follow this procedure to verify complete reduction. If the prolapse immediately recurs, it may be reduced again and the buttocks taped together for several hours.
Prompt reduction is critical. The prolapsed mucosa becomes edematous as a result of lymphatic obstruction. If the process is not reversed at this stage, venous obstruction ensues, aggravating the edema (see the image below) and leading to arterial obstruction with subsequent necrosis. Once the bowel becomes necrotic, emergency surgical reduction or resection is necessary. An acutely strangulated rectal prolapse should be covered with warm moist towels, and the patient should be brought to the emergency department immediately.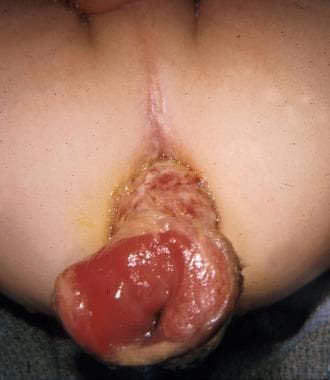 Picture of infant with full-thickness rectal prolapse. Severe edema and abundant mucus are seen on mucosal surface.
When reduction is difficult due to edema, topical table sugar may be used as an osmotic aid to help decrease the edema and facilitate reduction, thereby obviating emergency surgical intervention.[47, 48] This allows the patient to be treated electively under stable conditions.[48] The sugar exerts a mild osmotic power over the prolapsed mucosa, helping the edema to slowly resolve, which permits a nontraumatic reduction and prevents complications.
Sugar does not irritate the mucosa like other substances (eg, salt). The author has used sugar to reduce edematous prolapsed bowel in 12 patients. The edema resolves by as much as 50% in 30-90 minutes. The entire prolapsed mucosa must be covered with sugar, and the process can be repeated up to 3 times. This also improves the microcirculation in the affected segment, making it more favorable for any surgical procedure.
Conservative Management
Conservative management should be the first approach since it may prove useful in over 90% of children. It is aimed at treating the cause and reducing straining. It should be attempted for 1 year before surgical management is chosen.
In patients with diarrhea and constipation, rectal prolapse usually resolves when the stool pattern returns to normal. Therefore, constipation should be aggressively managed. Constipation is treated with dietary modification (total dose per day is 5 g of fiber plus an additional 1 g for each year of age; dose for adults is 20 g once or twice daily) and stool softeners (eg, polyethylene glycol) to reduce straining. Adequate fluid intake should be ensured.
Infectious diarrhea or parasitic infestation should be appropriately treated.
Further management should focus on parental reassurance and education. Instruction on how to reduce a prolapse may prevent repeated presentations to the emergency department.
The type of toilet that the child uses is also important; use of an adult toilet contributes to rectal prolapse because the buttocks are in a dependent position and the feet are unsupported. Using a special child's toilet or using a step to support the feet can be a useful adjunct to treatment. In some patients, switching from a "potty" chair to an adult commode may help prevent recurrence. Time spent on the toilet should also be limited to minimize straining.
Indications for Surgical Treatment
Surgery is infrequently required for rectal prolapse. However, if the prolapse persists after an adequate trial of medical therapy (usually a period of months), surgical intervention may be required. Age, duration of conservative management, and frequency of recurrence should be taken into consideration. Pain, excoriations, and rectal bleeding are considered indications for surgical treatment.
When the prolapse cannot be reduced or if necrosis is already present, emergency surgical resection is indicated.[49] If a recurrent prolapsed rectum is successfully reduced in the emergency department, surgery is scheduled within the next 2 weeks to allow the edema to subside before the procedure.
The main purpose of surgical treatment for rectal prolapse is correction of the prolapsed rectum and recovery and prevention of the associated defecation dysfunction postoperatively. Therefore, when selecting surgical methods, the surgeon should understand the exact causative factors and anatomical variations.[29]
The only absolute contraindication for surgery is poor general condition that precludes a major operation.
Selection of Surgical Approach
A great deal of debate surrounds the optimal surgical management of rectal prolapse. Currently, more than 130 operative procedures for the treatment of rectal prolapse are recognized. In 2008, a Cochrane Database Review of studies available in adult literature found that all reparative procedures have similar clinical outcomes with various degrees of risk.[50]
No single surgical procedure is appropriate for all patients with rectal prolapse[51] ; each has disadvantages and carries some risk of recurrence. No clear-cut indication for any procedure is known, and no consensus has been reached on the operation of choice for a particular patient. Personal experience of the surgeon is a major determinant.
Altemeier et al described their perineal approach in 1971. They used anterior closure of the pelvic diaphragm and transanal resection of the prolapsed segment, with primary end-to-end anastomosis.[3]
Ripstein and Lauter addressed the problem by suspending the rectum via an abdominal approach.[52]
Ashcraft and Holder reported their experience with posterior repair in 46 children over a period of 17 years, with resolution in 42 patients.[36] Three of the failures were attributed to sigmoid intussusception. Such outcomes highlight the importance of distinguishing this condition from rectal prolapse preoperatively.
Surgical treatment can be accomplished either transanally (perineal approach) or transabdominally. Transanal approaches have lower morbidity, and abdominal approaches have lower recurrence rates. Laparoscopic repair provides rectal fixation equal to that achieved through open procedures, with less morbidity.
Abdominal repairs involve mobilization of the rectum and fixation to the anterior sacral wall, which can be achieved with sutures or with prosthetic material. Fixation with prosthesis carries a higher risk of stenosis and obstruction. A sling prosthesis should be tailored to the individual patient, taking growth into consideration. In general, resection rectopexy has an acceptable recurrence rate (2-8%), but it is associated with the added morbidity of a colorectal anastomosis.
Although the perineal approach in the surgical management of rectal prolapse has a higher recurrence, it is the accepted approach for higher-risk patients because of its lower morbidity.[53]
Injection Sclerotherapy
Injection sclerotherapy is a good initial procedure. Success rates range from 90-100%. Sclerotherapy is cheaper and less invasive than surgery. It might be a good alternative in the management of rectal prolapse in patients with HIV/AIDS[54] or other poor surgical candidates.[55]
In spite of this, some pediatric surgeons are reluctant to inject sclerosing agents into a child's anorectum, out of concern for possible induction of fibrosis and the potential long-term risk for carcinogenicity.
Injection can be done with phenol in oil, isotonic sodium chloride, D50, or ethyl alcohol, as a sclerosant to promote adhesion formation, which stabilizes the rectum; each of these materials has its advantages and complications. This technique initiates an inflammatory reaction in the submucosal and perirectal tissues, resulting in fibrosis, with subsequent cessation of the prolapse. It can be performed in an outpatient setting, with no need for bowel preparation.
The patient is placed in the lithotomy or left lateral position under general anesthesia. A 20-gauge spinal needle is introduced through the anal mucosa via a proctoscope or is externally introduced 2-3 cm from the anal margin, with a guiding finger in the anal canal, to a point several centimeters above the dentate line. The sclerosant is circumferentially injected into the submucosal and perirectal space as the needle is withdrawn. To prevent, necrosis, bleeding, or stenosis, care should be taken to avoid injecting the sclerosing agent into the mucosa.
Patients undergoing sclerosant injection are discharged the same day with simple analgesics and stool softeners.
The success rates and complications of the treatment reported in the literature differ for each sclerosing agent. Possible complications include injury to nerves, injury to surrounding tissue, and possible carcinogenic effects.
In Spain, Ibanez et al used fibrin adhesive in patients aged 1 month to 8 years[56] ; they reported no postinjection complications and found that adequate sclerosis was achieved in less than 24 hours.
In Egypt, Fahmy and Ezzelarab treated 130 children with rectal prolapse aged 6 months to 12 years, who underwent injection with 98% ethyl alcohol (group 1), phenol in almond oil 5% (group 2), or dextranomer and hyaluronic acid injectable gel (Deflux; group 3); they found that submucosal injection resulted in no mortality and varying morbidity.[57] Deflux had the lowest complication rate. Phenol in almond oil 5% had a high complication rate and should not be used. Alcohol is inexpensive and should be considered an alternative to Deflux.
Follow-up in this study was 2 months to 3 years.[57] In group 1, the recurrence rate was 11%; 2 patients had mucosal sloughing, and 1 girl developed a rectovaginal fistula. In group 2, 18% had abscesses and mucosal sloughing and 2 developed perianal fistula. In group 3, 2 patients had immediate postoperative prolapse that spontaneously resolved. No patients had mucosal ulceration or abscess formation, and none had recurrence on long-term follow-up.
In Turkey, Abes and Sarihan used 15% saline solution as an injected sclerosing agent in 16 children with rectal prolapse[43] ; they found that prolapse ceased in 93.7% of children after the first injection, only 1 patient required a second injection, and no complications occurred. The investigators concluded that 15% saline is preferred over other sclerosing agents because of a high cure rate, the safety of the procedure, ease of injection, and lack of complications.
Zganger et al published their 30-year experience in Croatia, using cow milk as a sclerosing agent. Their study included 86 children with rectal prolapse treated with cow milk injection sclerotherapy. Treatment was successful in 95.3% (82 children) of patients. They reported recurrent rectal prolapse in 4 (4.7%) patients, which subsequently underwent surgical treatment. Seventy-two percent of patients were younger than 4 years (62 children), whereas the remaining 24 patients were older (28%). Up to 3 applications may be needed. For children who needed operative treatment, the Thiersch procedure was performed without complications. They conclude that injection sclerotherapy with cow milk is a simple and effective treatment method for rectal prolapse in children, with minimal complications.[58]
Open Abdominal and Perineal Surgical Procedures
For procedures performed through an abdominal approach or those needing bowel resection, prophylactic antibiotics should be used. The patient is discharged once bowel function is restored.
Thiersch operation
The Thiersch, or sling, procedure uses synthetic materials to create a perianal sling to support the rectum. It has a success rate of about 90%. This procedure is a good choice for children because it can be done with self-absorbing sutures to provide temporary relief of symptoms until the base pathology is managed. It is considered a palliative procedure since it does not cure the prolapse itself. In adults, it is associated with high recurrence rates.
Perianal sutures are subcutaneously placed as a cerclage (see the image below). The principle is to create a mechanical barrier to contain the prolapse and provoke an inflammatory response on the perirectal tissues to generate a fibrous ring rather than a toneless sphincter.
Modifications involving the use of knitted polypropylene mesh (Marlex mesh) or other nonabsorbing materials have been described (see the image below).[59] Patients should be followed until the wire is removed. Advantages include simplicity, effectiveness, and safety. Disadvantages are poor tolerance, rigidity, breakage, and infection. Infection has always been described as local and superficial, although a case of infection spreading to the scrotum was described by Saleem and Al-Momani.[60]
Lockhart-Mummery operation
Mesh gauze packing is placed temporarily (for 8-10 days) in the retrorectal space to promote adhesions that stabilize the rectum. Success rates are very high (nearly 100%)
Cauterization
In this procedure, the prolapsed rectum is cauterized in a linear fashion extending to the submucosa in 4 quadrants. This produces perirectal inflammation and scarring that prevents further prolapse. The success rate is approximately 80%.[61]
Abdominal rectopexy
Abdominal rectopexy (75% success rate) can be safely performed either laparoscopically or through an open approach. In this procedure, the perirectal tissues are attached to the presacral fascia to assure correct anatomic positioning and tissue adherence. Fixation can be done with direct sutures or with prosthetic material, such as polypropylene mesh (Ripstein procedure; see the first and second images below) or an Ivalon sponge (see the third image below).
This procedure has a high success rate for prolapse control (approximately 75%), and incontinence is improved in 60% of patients, although as many as 60% of patients have constipation after this procedure. It might be wise to close the peritoneum over the mesh to isolate it from the abdominal cavity.
Ekehorn rectopexy
Ekehorn rectopexy (100% success rate) involves placing a mattress suture in the rectal ampulla from inside the rectum, through the lowest part of the sacrum and out through the skin, where it is tied externally.[62] The suture is left in place for 10 days. This leads to local inflammation, which causes adhesions between the rectal wall and perirectal tissues (sacrorectopexy). The procedure takes only a few minutes and is reportedly 100% effective.[63]
Delorme procedure
The mucosa and part of the underlying rectal muscle are excised, and the rectum is then plicated with polydioxanone sutures towards the anal canal.
Long-term results are not satisfactory, with a recurrence rate of 17%.[64] This repair has been used in children with recurrent prolapse and has the advantage of not entering the abdomen. The observation that recurrence and complication rates may be lower in younger and medically fit patients suggests that the Delorme repair does not necessarily have to be restricted specifically to older, medically unfit patients.[65]
Perineal resection
Mikulicz first described perineal resection in 1889.[3] Perineal rectosigmoidectomy with rectopexy, correction of the pelvic floor (plication of the puborectalis muscles), and coloanal anastomosis is promising and could be a good approach for pediatric patients with intractable prolapse and redundant sigmoid. It has been successfully performed using stapling devices for the resection and reconstruction of colonic continuity.[66] This technique avoids the abdominal approach, with its obvious complications.
Mucosal plication with anal encircling
In mucosal plication with anal encircling, Teflon tape is routed relatively deep outside the external anal sphincter (EAS).[67] Clinical results show a recurrence rate of 0-31%, with no mortality and almost no serious complications.
Levator repair and posterior suspension
Levator repair with posterior suspension is performed via a posterior sagittal approach. Nwako reported a 100% success rate with the Lockhart-Mummery procedure, which involves packing the presacral space with gauze through a posterior approach and excision of the prolapsed mucosa.[27] Hight et al recommend linear rectal cauterization of the anorectal mucosa; they had 98% success in 72 patients.[28]
Closed rectosacropexy
In Egypt, Lasheen described a technique of closed rectosacropexy for management of rectal prolapse in children.[68] The technique simply involves passing several U-shaped sutures through stab incisions made in the skin posterior to the anus, into the sacral fascia, then into the wall of rectum, down to the anal canal, and out through the stab incisions. The strands of the suture are tied subcutaneously through the stab incisions.
This operation was successfully performed in 42 children (mean age, 3.5 years) who had recurrent rectal prolapse for 3-5 months. None of the children had any further recurrence or specific complications during follow-up of 1-3 years.
Laparoscopic Repairs
Virtually every type of open transabdominal approach for rectal prolapse has been tried laparoscopically. Some researchers have shown adequate results in laparoscopic repair of rectal prolapse in children, even as an outpatient procedure, thus it promises to become the criterion standard for the management of full-thickness rectal prolapse in children.
The rate of surgical complications is 0-3%, and the recurrence rate ranges from 0-10%. Regarding complications, recurrence rate, and correction of the associated rectal dysfunction, its effectiveness is comparable to that of an open approach.[28, 69]
Lesser rates of adhesions formation can be expected. It is associated with less postoperative pain and short hospital stay with excellent cosmesis.[70]
Current laparoscopic surgical techniques include suture rectopexy, stapled rectopexy, posterior mesh rectopexy with artificial material, and resection of the sigmoid colon with colorectal anastomosis with or without rectopexy.[71, 72, 73]
According to Kairaluoma et al (2003), the main advantages of a laparoscopic approach are a shortened hospital stay and reduced intraoperative blood loss.[74] The recurrence rate is not increased in the short term. Less postoperative pain, better cosmesis, and a faster recovery of the bowel function and introduction of diet have also been reported.[75, 76, 77]
Koivusalo et al performed 8 laparoscopic sacrorectopexies with good results.[76] They reported 2 patients with postoperative constipation. It appears that patients have less constipation and incontinence if the lateral rectal ligaments can be preserved; however, this requires further analysis.
D'Hoore and Penninckx described a laparoscopic ventral rectal colpopexy technique for the repair of rectal prolapse and enterocele.[78]
Delaney reported 109 laparoscopic repairs in adults.[75] Hospital stay was 3 days (compared with 6 days for open surgery), and recurrence rates were 8% for laparoscopic surgery compared with 5% for open surgery. The procedure is described as follows:
The presacral space is entered, and the rectum is mobilized
A precut mesh is passed down a port and tacked to the sacral promontory in the midline
The edges are then sutured to the lateral mesorectal tissue for support
In patients having a resection (those with slow intestinal transit and severe constipation), the upper rectum is transected with an endoscopic stapler and pulled out through a small left lower quadrant muscle-splitting incision
The resection is completed, and the anvil of a circular stapler is inserted in the proximal bowel before it is returned to the abdominal cavity
The anastomosis to the rectal stump is performed before the lateral mesorectal tissue is sutured to the promontory
Saxena et al successfully treated a 22-month-old girl by using laparoscopic simple suture rectopexy with 5-mm instruments and placement of 3-0 nonabsorbable sutures on either side of the rectum to secure it to the presacral fascia.[79] No blood loss occurred, and the procedure was completed without complications. The child was followed up for 24 months, with good results.
Other Treatments
Radiofrequency ablation and plication
Gupta reported promising results with radiofrequency ablation and plication in the treatment of rectal prolapse, on the basis of a short operation time, a shorter hospitalization period, less postoperative pain, faster wound healing, and a relatively low complication rate (9%, compared with a 23% complication rate for ligature and excision).[80] This procedure seems to be safe and effective.
Diathermy
Diathermy has also been used to treat mucosal prolapse; however, it is reported to be painful.[81] Further studies are needed.
Acupuncture
Some reports exist that describe successful management of rectal prolapse with acupuncture.[82]
Behavioral and/or physical therapy
A study highlighted the relationship between rectal prolapse in older children and behavioral/psychiatric disorders (BPD). The study reported that patients who had enrolled in a program of behavioral and/or physical therapy had reductions in frequency and severity of prolapse after initiating pelvic floor strengthening, behavior modification, and biofeedback.[83]
Surgical Complications
Complications of surgical treatment of rectal prolapse include the following:
Postoperative pain

Bleeding from the injection site

Perirectal abscess formation

Potential for damage to bladder neck or presacral nerve plexus
All of these are rare.
For sclerotherapy, some children may have 1 or 2 further episodes of prolapse in the days immediately after the injection before resolution. As many as 12% of patients require a second injection, and as many as 8% need 3 injections. Failure rates approach 15%.
Consultations
Surgical consultation is recommended in patients who meet any of the following criteria:
Recurrent prolapse with mucosal ulceration

Failure to reduce the prolapse despite adequate sedation

Recurrent rectal prolapse associated with severe pain and discomfort despite intensive medical treatment

Failure of conservative management

Full-thickness rectal prolapse in patients with myelomeningocele, exstrophy of the bladder, and postoperative changes after pull-through operations for imperforate anus and Hirschsprung disease
Long-Term Monitoring
All pediatric rectal prolapses should be approached as a symptom of an underlying disease.
Evaluate the child for cystic fibrosis. Evaluate whether or not the child has exhibited signs of constipation or diarrhea. If sweat chloride test results are negative and the bowel regimen has been normal, consider proctosigmoidoscopy to rule out rectal polyps or lesions.
Instruct parents how to manually reduce a prolapse and to seek immediate help from a healthcare provider if reduction fails.
References
Lockhart-Mummery JP. Surgical procedures in general practice. Br Med J. 1939. 1:345-7.

Williams JG, Rothenberger DA, Madoff RD, Goldberg SM. Treatment of rectal prolapse in the elderly by perineal rectosigmoidectomy. Dis Colon Rectum. 1992 Sep. 35(9):830-4. [Medline].

Altemeier WA, Culbertson WR, Schowengerdt C, Hunt J. Nineteen years' experience with the one-stage perineal repair of rectal prolapse. Ann Surg. 1971 Jun. 173(6):993-1006. [Medline]. [Full Text].

Porter NH. A physiological study of the pelvic floor in rectal prolapse. Ann R Coll Surg Engl. 1962 Dec. 31:379-404. [Medline]. [Full Text].

Mann CV. Rectal prolapse. Morson BC, Heinemann W, eds. Diseases of the Colon, Rectum and Anus. London: Medical Books; 1969. 238.

Hinninghofen H, Enck P. Fecal incontinence: evaluation and treatment. Gastroenterol Clin North Am. 2003 Jun. 32(2):685-706. [Medline].

Katz C, Drongowski RA, Coran AG. Long-term management of chronic constipation in children. J Pediatr Surg. 1987 Oct. 22(10):976-8. [Medline].

Van Heest R, Jones S, Giacomantonio M. Rectal prolapse in autistic children. J Pediatr Surg. 2004 Apr. 39(4):643-4. [Medline].

Pearl RH, Ein SH, Churchill B. Posterior sagittal anorectoplasty for pediatric recurrent rectal prolapse. J Pediatr Surg. 1989 Oct. 24(10):1100-2. [Medline].

Ponge T, Bruley des Varannes S. [Digestive involvement of scleroderma]. Rev Prat. 2002 Nov 1. 52(17):1896-900. [Medline].

Candela G, Grillo M, Campione M, Casaburi V, Maschio A, Sciano D, et al. [Complete rectal prolapse in a patient with Hirschsprung disease: a clinical case]. G Chir. 2003 Aug-Sep. 24(8-9):289-94. [Medline].

Sanaka MR, Ferguson DR, Ulrich S, Sargent R. Polyp associated with rectal prolapse. Gastrointest Endosc. 2004 Jun. 59(7):871-2. [Medline].

Orenstein DM, Winnie GB, Altman H. Cystic fibrosis: a 2002 update. J Pediatr. 2002 Feb. 140(2):156-64. [Medline].

Huskins WC, Griffiths JK, Faruque AS, Bennish ML. Shigellosis in neonates and young infants. J Pediatr. 1994 Jul. 125(1):14-22. [Medline].

Rock MJ. Newborn screening for cystic fibrosis. Clin Chest Med. 2007 Jun. 28(2):297-305. [Medline].

El-Chammas KI, Rumman N, Goh VL, Quintero D, Goday PS. Rectal Prolapse and Cystic Fibrosis. J Pediatr Gastroenterol Nutr. 2014 Aug 25. [Medline].

Rittmeyer C, Nakayama D, Ulshen MH. Lymphoid hyperplasia causing recurrent rectal prolapse. J Pediatr. 1997 Sep. 131(3):487-8. [Medline].

Hussein AM, Helal SF. Schistosomal pelvic floor myopathy contributes to the pathogenesis of rectal prolapse in young males. Dis Colon Rectum. 2000 May. 43(5):644-9. [Medline].

Carrada-Bravo T. [Massive childhood trichocephaliasis]. Rev Gastroenterol Mex. 2002 Jul-Sep. 67(3):212. [Medline].

Pancharoen C, Likitnukul S, Chongsrisawat V, Vivatvekin B, Bhattarakosol P, Suwangool P, et al. Rectal prolapse associated with cytomegalovirus pseudomembranous colitis in a child infected by human immunodeficiency virus. Southeast Asian J Trop Med Public Health. 2003 Sep. 34(3):583-4. [Medline].

Adedayo O, Nasiiro R. Intestinal parasitoses. J Natl Med Assoc. 2004 Jan. 96(1):93-6. [Medline]. [Full Text].

Brisighelli G, Di Cesare A, Morandi A, Paraboschi I, Canazza L, Consonni D, et al. Classification and management of rectal prolapse after anorectoplasty for anorectal malformations. Pediatr Surg Int. 2014 Aug. 30(8):783-9. [Medline].

Bush A. Recurrent respiratory infections. Pediatr Clin North Am. 2009 Feb. 56(1):67-100, x. [Medline].

Villarreal M, Brum P. [Rectal prolapse in a neonate with Shigella diarrhea]. Arch Argent Pediatr. 2010 Feb. 108(1):e17-9. [Medline].

Huang SC, Yang YJ, Lee CT. Rectal prolapse in a child: an unusual presentation of Clostridium difficile-associated pseudomembranous colitis. Pediatr Neonatol. 2011 Apr. 52(2):110-2. [Medline].

Brodén B, Snellman B. Procidentia of the rectum studied with cineradiography. A contribution to the discussion of causative mechanism. Dis Colon Rectum. 1968 Sep-Oct. 11(5):330-47. [Medline].

Nwako F. Rectal Prolapse in Nigerian Children. Int Surg. 1975 May. 60(5):284-5. [Medline].

Hight DW, Hertzler JH, Philippart AI, Benson CD. Linear cauterization for the treatment of rectal prolapse in infants and children. Surg Gynecol Obstet. 1982 Mar. 154(3):400-2. [Medline].

Yoon SG. Rectal prolapse: review according to the personal experience. J Korean Soc Coloproctol. 2011 Jun. 27(3):107-13. [Medline]. [Full Text].

Kuiper RJ, de Jong JR, Kneepkens CM. [There is something coming out of the anus of my child]. Ned Tijdschr Geneeskd. 2011. 155:A2735. [Medline].

Akkoyun I. The advantages of using photographs and video images in telephone consultations with a specialist in paediatric surgery. Afr J Paediatr Surg. 2012 May-Aug. 9(2):128-31. [Medline].

Akkoyun I, Akbiyik F, Soylu SG. The use of digital photos and video images taken by a parent in the diagnosis of anal swelling and anal protrusions in children with normal physical examination. J Pediatr Surg. 2011 Nov. 46(11):2132-4. [Medline].

Rashid Z, Basson MD. Association of rectal prolapse with colorectal cancer. Surgery. 1996 Jan. 119(1):51-5. [Medline].

Godbole P, Botterill I, Newell SJ, Sagar PM, Stringer MD. Solitary rectal ulcer syndrome in children. J R Coll Surg Edinb. 2000 Dec. 45(6):411-4. [Medline].

Savoye-Collet C, Koning E, Dacher JN. Radiologic evaluation of pelvic floor disorders. Gastroenterol Clin North Am. 2008 Sep. 37(3):553-67, viii. [Medline].

Ashcraft KW, Garred JL, Holder TM, Amoury RA, Sharp RJ, Murphy JP. Rectal prolapse: 17-year experience with the posterior repair and suspension. J Pediatr Surg. 1990 Sep. 25(9):992-4; discussion 994-5. [Medline].

Koivusalo AI, Pakarinen MP, Rintala RI, Seuri R. Dynamic defecography in the diagnosis of paediatric rectal prolapse and related disorders. Pediatr Surg Int. 2012 Aug. 28(8):815-20. [Medline].

Lesher AP, Hill JG, Schabel SI, Morgan KA, Hebra A. An unusual pediatric case of chronic constipation and rectosigmoid prolapse diagnosed by video defecography. J Pediatr Surg. 2010 May. 45(5):1050-2. [Medline].

Mugie SM, Bates DG, Punati JB, Benninga MA, Di Lorenzo C, Mousa HM. The value of fluoroscopic defecography in the diagnostic and therapeutic management of defecation disorders in children. Pediatr Radiol. 2014 Sep 30. [Medline].

Felt-Bersma RJ, Tiersma ES, Cuesta MA. Rectal prolapse, rectal intussusception, rectocele, solitary rectal ulcer syndrome, and enterocele. Gastroenterol Clin North Am. 2008 Sep. 37(3):645-68, ix. [Medline].

Norton C. Fecal incontinence and biofeedback therapy. Gastroenterol Clin North Am. 2008 Sep. 37(3):587-604, viii. [Medline].

Antao B, Bradley V, Roberts JP, Shawis R. Management of rectal prolapse in children. Dis Colon Rectum. 2005 Aug. 48(8):1620-5. [Medline].

Abes M, Sarihan H. Injection sclerotherapy of rectal prolapse in children with 15 percent saline solution. Eur J Pediatr Surg. 2004 Apr. 14(2):100-2. [Medline].

Chan WK, Kay SM, Laberge JM, Gallucci JG, Bensoussan AL, Yazbeck S. Injection sclerotherapy in the treatment of rectal prolapse in infants and children. J Pediatr Surg. 1998 Feb. 33(2):255-8. [Medline].

Wijffels NA, Collinson R, Cunningham C, Lindsey I. What is the natural history of internal rectal prolapse?. Colorectal Dis. 2010 Aug. 12(8):822-30. [Medline].

Festen S, van Geloven AA, D'Hoore A, Lindsey I, Gerhards MF. Controversy in the treatment of symptomatic internal rectal prolapse: suspension or resection?. Surg Endosc. 2011 Jun. 25(6):2000-3. [Medline]. [Full Text].

Ramanujam PS, Venkatesh KS. Management of acute incarcerated rectal prolapse. Dis Colon Rectum. 1992 Dec. 35(12):1154-6. [Medline].

Coburn WM 3rd, Russell MA, Hofstetter WL. Sucrose as an aid to manual reduction of incarcerated rectal prolapse. Ann Emerg Med. 1997 Sep. 30(3):347-9. [Medline].

Seenivasagam T, Gerald H, Ghassan N, Vivek T, Bedi AS, Suneet S. Irreducible rectal prolapse: emergency surgical management of eight cases and a review of the literature. Med J Malaysia. 2011 Jun. 66(2):105-7. [Medline].

Tou S, Brown SR, Malik AI, Nelson RL. Surgery for complete rectal prolapse in adults. Cochrane Database Syst Rev. 2008 Oct 8. CD001758. [Medline].

Brown AJ, Anderson JH, McKee RF, Finlay IG. Strategy for selection of type of operation for rectal prolapse based on clinical criteria. Dis Colon Rectum. 2004 Jan. 47(1):103-7. [Medline].

Ripstein CB, Lanter B. Etiology and surgical therapy of massive prolapse of the rectum. Ann Surg. 1963 Feb. 157:259-64. [Medline]. [Full Text].

Fang SH, Cromwell JW, Wilkins KB, Eisenstat TE, Notaro JR, Alva S. Is the abdominal repair of rectal prolapse safer than perineal repair in the highest risk patients? An NSQIP analysis. Dis Colon Rectum. 2012 Nov. 55(11):1167-72. [Medline].

Dattani PG. 15th International Conference on AIDS. Bangkok, Thailand: Jul, 2004. 15: abstract no. B11748.

Ezer SS, Kayaselçuk F, Oguzkurt P, Temiz A, Ince E, Hicsonmez A. Comparative effects of different sclerosing agents used to treat rectal prolapse: an experimental study in rats. J Pediatr Surg. 2013 Aug. 48(8):1738-43. [Medline].

Ibáñez V, Gutiérrez C, García-Sala C, Lluna J, Barrios JE, Roca A, et al. [The prolapse of the rectum. Treatment with fibrin adhesive]. Cir Pediatr. 1997 Jan. 10(1):21-4. [Medline].

Fahmy MA, Ezzelarab S. Outcome of submucosal injection of different sclerosing materials for rectal prolapse in children. Pediatr Surg Int. 2004 May. 20(5):353-6. [Medline].

Zganjer M, Cizmic A, Cigit I, et a;. Treatment of rectal prolapse in children with cow milk injection sclerotherapy: 30-year experience. World J Gastroenterol. 2008 Feb 7. 14(5):737-40. [Medline]. [Full Text].

Lomas MI, Cooperman H. Correction of rectal procidentia by use of polypropylene mesh (Marlex). Dis Colon Rectum. 1972 Nov-Dec. 15(6):416-9. [Medline].

Saleem MM, Al-Momani H. Acute scrotum as a complication of Thiersch operation for rectal prolapse in a child. BMC Surg. 2006 Dec 28. 6:19. [Medline]. [Full Text].

El-Sibai O, Shafik AA. Cauterization-plication operation in the treatment of complete rectal prolapse. Tech Coloproctol. 2002 Apr. 6(1):51-4; discussion 54. [Medline].

Sander S, Vural O, Unal M. Management of rectal prolapse in children: Ekehorn's rectosacropexy. Pediatr Surg Int. 1999. 15(2):111-4. [Medline].

Schepens MA, Verhelst AA. Reappraisal of Ekehorn's rectopexy in the management of rectal prolapse in children. J Pediatr Surg. 1993 Nov. 28(11):1494-7. [Medline].

Joshi AA, Milanovic DM. Delorme's procedure for rectal prolapse in a child refractory to conservative treatment and rectal suspension. Int J Colorectal Dis. 2006. 21:395-6.

Lieberth M, Kondylis LA, Reilly JC, Kondylis PD. The Delorme repair for full-thickness rectal prolapse: a retrospective review. Am J Surg. 2009 Mar. 197(3):418-23. [Medline].

Lee JI, Vogel AM, Suchar AM, Glynn L, Statter MB, Liu DC. Sequential linear stapling technique for perineal resection of intractable pediatric rectal prolapse. Am Surg. 2006 Dec. 72(12):1212-5. [Medline].

Yamana T, Iwadare J. Mucosal plication (Gant-Miwa procedure) with anal encircling for rectal prolapse--a review of the Japanese experience. Dis Colon Rectum. 2003 Oct. 46(10 Suppl):S94-9. [Medline].

Lasheen AE. Closed rectosacropexy for rectal prolapse in children. Surg Today. 2003. 33(8):642-4. [Medline].

Shin T, Rafferty JF. Laparoscopy for benign colorectal diseases. Clin Colon Rectal Surg. 2010 Feb. 23(1):42-50. [Medline]. [Full Text].

Ismail M, Gabr K, Shalaby R. Laparoscopic management of persistent complete rectal prolapse in children. J Pediatr Surg. 2010 Mar. 45(3):533-9. [Medline].

Potter DD, Bruny JL, Allshouse MJ, Narkewicz MR, Soden JS, Partrick DA. Laparoscopic suture rectopexy for full-thickness anorectal prolapse in children: an effective outpatient procedure. J Pediatr Surg. 2010 Oct. 45(10):2103-7. [Medline].

Laituri CA, Garey CL, Fraser JD, Aguayo P, Ostlie DJ, St Peter SD. 15-Year experience in the treatment of rectal prolapse in children. J Pediatr Surg. 2010 Aug. 45(8):1607-9. [Medline].

Shalaby R, Ismail M, Abdelaziz M, Ibrahem R, Hefny K, Yehya A. Laparoscopic mesh rectopexy for complete rectal prolapse in children: a new simplified technique. Pediatr Surg Int. 2010 Aug. 26(8):807-13. [Medline].

Kairaluoma MV, Viljakka MT, Kellokumpu IH. Open vs. laparoscopic surgery for rectal prolapse: a case-controlled study assessing short-term outcome. Dis Colon Rectum. 2003 Mar. 46(3):353-60. [Medline].

Delaney CP. Laparoscopic management of rectal prolapse. J Gastrointest Surg. 2007 Feb. 11(2):150-2. [Medline].

Koivusalo A, Pakarinen M, Rintala R. Laparoscopic suture rectopexy in the treatment of persisting rectal prolapse in children: a preliminary report. Surg Endosc. 2006 Jun. 20(6):960-3. [Medline].

Senagore AJ. Management of rectal prolapse: the role of laparoscopic approaches. Semin Laparosc Surg. 2003 Dec. 10(4):197-202. [Medline].

D'Hoore A, Penninckx F. Laparoscopic ventral recto(colpo)pexy for rectal prolapse: surgical technique and outcome for 109 patients. Surg Endosc. 2006 Dec. 20(12):1919-23. [Medline].

Saxena AK, Metzelder ML, Willital GH. Laparoscopic suture rectopexy for rectal prolapse in a 22-month-old child. Surg Laparosc Endosc Percutan Tech. 2004 Feb. 14(1):33-4. [Medline].

Gupta PJ. Treatment of rectal prolapse with radiofrequency ablation and plication--a new surgical technique. Acta Chir Belg. 2007 Sep-Oct. 107(5):535-9. [Medline].

Nyström PO, Qvist N, Raahave D, Lindsey I, Mortensen N. Randomized clinical trial of symptom control after stapled anopexy or diathermy excision for haemorrhoid prolapse. Br J Surg. 2010 Feb. 97(2):167-76. [Medline].

Zhang M. Thirty-six cases of infantile proctoptosis treated by extremely shallow puncture. J Tradit Chin Med. 2002 Mar. 22(1):33-4. [Medline].

Hill SR, Ehrlich PF, Felt B, Dore-Stites D, Erickson K, Teitelbaum DH. Rectal prolapse in older children associated with behavioral and psychiatric disorders. Pediatr Surg Int. 2015 Aug. 31 (8):719-24. [Medline].

Bhalla VK, Warren JA, Hatley RM, Howell CG, Pipkin WL. Colocolic intussusception with rectal prolapse reduced laparoscopically. Am Surg. 2012 Dec. 78(12):E530-1. [Medline].

Faucheron JL, Voirin D, Riboud R, Waroquet PA, Noel J. Laparoscopic anterior rectopexy to the promontory for full-thickness rectal prolapse in 175 consecutive patients: short- and long-term follow-up. Dis Colon Rectum. 2012 Jun. 55(6):660-5. [Medline].

Flum AS, Golladay ES, Teitelbaum DH. Recurrent rectal prolapse following primary surgical treatment. Pediatr Surg Int. 2010 Apr. 26(4):427-31. [Medline]. [Full Text].

Nazem M, Hosseinpour M, Farhadi M. Perineal mesh rectopexy with sterile talc in children with rectal prolapse. Eur J Pediatr Surg. 2010 Sep. 20(5):321-4. [Medline].

Rodrigo N, Shek KL, Dietz HP. Rectal intussusception is associated with abnormal levator ani muscle structure and morphometry. Tech Coloproctol. 2011 Mar. 15(1):39-43. [Medline].

Singh S, Pandey A, Kureel SN, Ahmad I, Srivastava NK. Complicated rectal prolapse in an infant: strangulated pararectal hernia. J Pediatr Surg. 2010 Nov. 45(11):e31-3. [Medline].
Medscape Reference © 2011 WebMD, LLC