Shoulder Dislocation
Author: L Edward Seade, MD; Chief Editor: Craig C Young, MD more...
Updated: Aug 27, 2015
What would you like to print?
Background
Shoulder dislocations may occur from a traumatic injury or from loose capsular ligaments. Different conditions may affect the stabilizing structures of the shoulder and, thus, negatively affect patients with shoulder dislocations.[1]
Note the images and video below.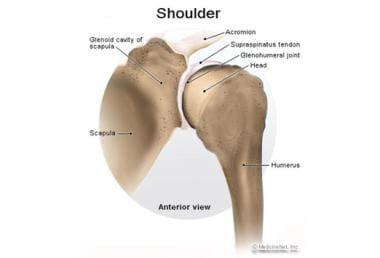 Normal shoulder.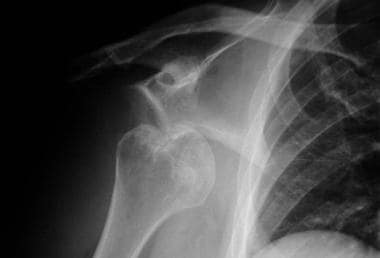 Anterior dislocation.
Shoulder dislocation, Part 1.
This article focuses on glenohumeral joint dislocation. Although acromioclavicular (AC) joint separations are sometimes called shoulder dislocations by nonmedical persons, these are not true shoulder dislocations. Shoulder dislocations occur when the head of the humerus comes out of its socket, the glenoid.
For patient education resources, see the Breaks, Fractures, and Dislocations Center and Sports Injury Center, as well as Shoulder Dislocation and Shoulder Separation.
Related Medscape Reference topics include the following:
Epidemiology
Frequency
United States
The shoulder is the most commonly dislocated joint in the body.[1, 2, 3]
Although most shoulder dislocations occur anteriorly, they may also occur posteriorly, inferiorly, or anterior-superiorly.
Patients with a previous shoulder dislocation are more prone to redislocation. This occurs because the tissue does not heal properly and/or because the tissue stretches out and becomes more lax.
Other factors that show a clear correlation to redislocation are the age of the patient and concomitant rotator cuff tears and fractures of the glenoid.
Younger patients (teenagers and those aged 20 years) have a much higher frequency of redislocation than patients in their 50s and 60s.[4] Many physicians believe that age is less of a predisposing risk factor for redislocation than activity level.
Patients who tear their rotator cuffs or fracture the glenoid during their shoulder dislocation have a higher incidence of redislocation than patients without these problems.
Functional Anatomy
Shoulder stability is maintained by the glenohumeral ligaments, the joint capsule, the rotator cuff muscles, the negative intra-articular pressure, and the bony/cartilaginous anatomy.
The main stabilizers of the shoulder joint are the ligaments and the capsule complex. Multiple ligaments are present, but the inferior glenohumeral ligament is the most important and the one most commonly injured during an anterior shoulder dislocation. The injury may be a tear of the ligament/capsule off one of its bony attachments, and/or it may cause a stretch injury to these structures.
Tears in the rotator cuff muscles may also lead to shoulder instability. Four rotator cuff muscles (supraspinatus, infraspinatus, subscapularis, and teres minor) are present in the shoulder. They are found on top of the glenohumeral ligaments and the bones. Large rotator cuff tears may lead to shoulder instability, even with intact glenohumeral ligaments. Instability of the shoulder can also occur from injury to the nerves that control the shoulder muscles, specifically the axillary nerve.
Sport-Specific Biomechanics
The shoulder is a very mobile joint; therefore, it is often placed in awkward positions during sports (specifically abduction and external rotation). Thus, the force from a fall or a blow may be sufficient to cause damage to the ligaments. If the force is strong enough, the athlete may tear the ligaments/tendons, fracture the glenoid or humerus and from this, dislocate the shoulder.
References
Matsen FA III, Thomas SC, Rockwood CA Jr. Anterior glenohumeral instability. Rockwood CA Jr, Matsen FA III, eds. The Shoulder. Philadelphia, Pa: WB Saunders Co; 1990. Vol 1: 526-622.

Dodson CC, Cordasco FA. Anterior glenohumeral joint dislocations. Orthop Clin North Am. 2008 Oct. 39(4):507-18, vii. [Medline].

Blasier RB, Guldberg RE, Rothman ED. Anterior shoulder stability: Contributions of rotator cuff forces and the capsular ligaments in a cadaver model. J Shoulder Elbow Surg. 1992. 1:140-50.

Hovelius L, Augustini BG, Fredin H, et al. Primary anterior dislocation of the shoulder in young patients. A ten-year prospective study. J Bone Joint Surg Am. 1996 Nov. 78(11):1677-84. [Medline].

Burkhead WZ Jr, Rockwood CA Jr. Treatment of instability of the shoulder with an exercise program. J Bone Joint Surg Am. 1992 Jul. 74(6):890-6. [Medline]. [Full Text].

Schenk TJ, Brems JJ. Multidirectional instability of the shoulder: pathophysiology, diagnosis, and management. J Am Acad Orthop Surg. 1998 Jan-Feb. 6(1):65-72. [Medline].

Cox CL, Kuhn JE. Operative versus nonoperative treatment of acute shoulder dislocation in the athlete. Curr Sports Med Rep. 2008 Sep-Oct. 7(5):263-8. [Medline].

Cofield RH, Kavanagh BF, Frassica FJ. Anterior shoulder instability. Instr Course Lect. 1985. 34:210-27. [Medline].

Itoi E, Hatakeyama Y, Urayama M, Pradhan RL, Kido T, Sato K. Position of immobilization after dislocation of the shoulder. A cadaveric study. J Bone Joint Surg Am. 1999 Mar. 81(3):385-90. [Medline].

Itoi E, Sashi R, Minagawa H, Shimizu T, Wakabayashi I, Sato K. Position of immobilization after dislocation of the glenohumeral joint. A study with use of magnetic resonance imaging. J Bone Joint Surg Am. 2001 May. 83-A(5):661-7. [Medline].

Itoi E, Hatakeyama Y, Kido T, Sato T, Minagawa H, Wakabayashi I, et al. A new method of immobilization after traumatic anterior dislocation of the shoulder: a preliminary study. J Shoulder Elbow Surg. 2003 Sep-Oct. 12(5):413-5. [Medline].

Itoi E, Hatakeyama Y, Sato T, Kido T, Minagawa H, Yamamoto N, et al. Immobilization in external rotation after shoulder dislocation reduces the risk of recurrence. A randomized controlled trial. J Bone Joint Surg Am. 2007 Oct. 89(10):2124-31. [Medline].

Liavaag S, Brox JI, Pripp AH, Enger M, Soldal LA, Svenningsen S. Immobilization in external rotation after primary shoulder dislocation did not reduce the risk of recurrence: a randomized controlled trial. J Bone Joint Surg Am. 2011 May. 93(10):897-904. [Medline].

Olds M, Ellis R, Donaldson K, Parmar P, Kersten P. Risk factors which predispose first-time traumatic anterior shoulder dislocations to recurrent instability in adults: a systematic review and meta-analysis. Br J Sports Med. 2015 Jul. 49 (14):913-22. [Medline].

Boggs W. Several Risk Factors Predict Instability After Anterior Shoulder Dislocation. Reuters Health Information. Available at http://www.medscape.com/viewarticle/844400. May 11, 2015; Accessed: August 28, 2015.

Jouve F, Graveleau N, Nove-Josserand L, Walch G. [Recurrent anterior instability of the shoulder associated with full thickness rotator cuff tear: results of surgical treatment] [French]. Rev Chir Orthop Reparatrice Appar Mot. 2008 Nov. 94(7):659-69. [Medline].

Orloski J, Eskin B, Allegra PC, Allegra JR. Do all patients with shoulder dislocations need prereduction x-rays?. Am J Emerg Med. 2011 Jul. 29(6):609-12. [Medline].

Pouliart N, Gagey O. Consequences of a Perthes-Bankart lesion in twenty cadaver shoulders. J Shoulder Elbow Surg. 2008 Nov-Dec. 17(6):981-5. [Medline].

Reeves B. Acute anterior dislocation of the shoulder. Clinical and experimental studies. Ann R Coll Surg Engl. 1969 May. 44(5):255-73. [Medline]. [Full Text].
Medscape Reference © 2011 WebMD, LLC