Disorders of the Umbilicus Workup
Author: Robert K Minkes, MD, PhD; Chief Editor: Eugene S Kim, MD, FACS, FAAP more...
Updated: Nov 02, 2015
What would you like to print?
Laboratory Studies
For healthy children undergoing umbilical hernia repair or excision of omphalomesenteric or urachal remnants, routine laboratory tests are not needed. However, for infants with necrotizing fasciitis, who may be extremely ill, umbilical cultures and blood cultures are needed. Frequent hematologic, electrolyte, and blood gas analyses may be necessary.
Imaging Studies
Radiography is not indicated in most children with umbilical disorders. Umbilical hernias are diagnosed by means of physical examination.
Fistulography or sinography may be performed if a definitive opening is observed within the umbilicus. Fistulography can be performed by injecting water-soluble contrast medium into the opening at the base of the umbilicus. If the track is blind-ended, the child has a sinus; if it enters the intestine or bladder, a fistula is present.
Ultrasonography is helpful when a mass is present. It may be useful in identifying cysts of the umbilicus. Evaluating for a urachal cyst is useful; this cyst most commonly appears as a mass between the umbilicus and suprapubic area. Ultrasonography can also be used to identify a patent urachal fistula between the umbilicus and bladder.
Plain radiography may be useful in children with omphalitis. Air in the subcutaneous tissue or muscle planes is an ominous sign. An umbilical hernia may be incidentally observed on an upper gastrointestinal tract contrast study with small-bowel follow-through (see the image below).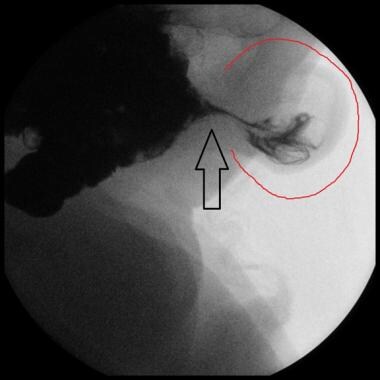 Upper gastrointestinal contrast study showing incidental umbilical hernia in an infant. Red line outlines the umbilical hernia. The arrow shows contrast flowing into the intestine within the umbilical hernia. The umbilical hernia was easily reducible and no intervention based on this study was performed.
Cystography or cystoscopy may be indicated to identify bladder outlet obstruction in children draining frank urine from a urachal fistula. However, studies suggest that, in most cases, history and ultrasonography are sufficient for the diagnosis.[5]
Histologic Findings
The histology of umbilical remnants depends on the tissue of origin and may reveal intestinal or gastric mucosa. Examination of urachal remnants shows transitional or columnar epithelium.
References
Pacilli M, Sebire NJ, Maritsi D, et al. Umbilical polyp in infants and children. Eur J Pediatr Surg. 2007 Dec. 17(6):397-9. [Medline].

Blumberg NA. Infantile umbilical hernia. Surg Gynecol Obstet. 1980 Feb. 150(2):187-92. [Medline].

Cappele O, Sibert L, Descargues J, Delmas V, Grise P. A study of the anatomic features of the duct of the urachus. Surg Radiol Anat. 2001. 23(4):229-35. [Medline].

Rosen JM, Adams PN, Saps M. Umbilical hernia repair increases the rate of functional gastrointestinal disorders in children. J Pediatr. 2013 Oct. 163(4):1065-8. [Medline].

Little DC, Shah SR, St Peter SD, et al. Urachal anomalies in children: the vanishing relevance of the preoperative voiding cystourethrogram. J Pediatr Surg. 2005 Dec. 40(12):1874-6. [Medline].

Bertozzi M, Riccioni S, Appignani A. Laparoscopic treatment of symptomatic urachal remnants in children. J Endourol. 2014 Sep. 28(9):1091-6. [Medline].

Kosloske AM, Bartow SA. Debridement of periumbilical necrotizing fasciitis: importance of excision of the umbilical vessels and urachal remnant. J Pediatr Surg. 1991 Jul. 26(7):808-10. [Medline].

Ciley RE, Krummel TM. Disorders of the umbilicus. Pediatric Surgery. 5th ed. Philadelphia, PA: WB Saunders Co; 1998. 1029-43.

Friedman JM. Umbilical dysmorphology. The importance of contemplating the belly button. Clin Genet. 1985 Oct. 28(4):343-7. [Medline].

Hall DE, Roberts KB, Charney E. Umbilical hernia: what happens after age 5 years?. J Pediatr. 1981 Mar. 98(3):415-7. [Medline].

Haller JA Jr, Morgan WW Jr, White JJ, Stumbaugh S. Repair of umbilical hernias in childhood to prevent adult incarceration. Am Surg. 1971 Apr. 37(4):245-6. [Medline].

Hayward AR, Harvey BA, Leonard J, Greenwood MC, Wood CB, Soothill JF. Delayed separation of the umbilical cord, widespread infections, and defective neutrophil mobility. Lancet. 1979 May 26. 1(8126):1099-101. [Medline].

Kutin ND, Allen JE, Jewett TC. The umbilical polyp. J Pediatr Surg. 1979 Dec. 14(6):741-4. [Medline].

Lally KP, Atkinson JB, Woolley MM, Mahour GH. Necrotizing fasciitis. A serious sequela of omphalitis in the newborn. Ann Surg. 1984 Jan. 199(1):101-3. [Medline].

Larralde de Luna M, Cicioni V, Herrera A. Umbilical polyps. Pediatr Dermatol. 1987 Dec. 4(4):341-3. [Medline].

Lassaletta L, Fonkalsrud EW, Tovar JA, Dudgeon D, Asch MJ. The management of umbilicial hernias in infancy and childhood. J Pediatr Surg. 1975 Jun. 10(3):405-9. [Medline].

Lee SL, DuBois JJ, Greenholz SK, Huffman SG. Advancement flap umbilicoplasty after abdominal wall closure: postoperative results compared with normal umbilical anatomy. J Pediatr Surg. 2001 Aug. 36(8):1168-70. [Medline].

Moore TC. Omphalomesenteric duct malformations. Semin Pediatr Surg. 1996 May. 5(2):116-23. [Medline].

Nagar H. Umbilical granuloma: a new approach to an old problem. Pediatr Surg Int. 2001 Sep. 17(7):513-4. [Medline].

Novack AH, Mueller B, Ochs H. Umbilical cord separation in the normal newborn. Am J Dis Child. 1988 Feb. 142(2):220-3. [Medline].

Pomeranz A. Anomalies, abnormalities, and care of the umbilicus. Pediatr Clin North Am. 2004 Jun. 51(3):819-27, xii. [Medline].

Reyna TM, Hollis HW Jr, Smith SB. Surgical management of proboscoid herniae. J Pediatr Surg. 1987 Oct. 22(10):911-2. [Medline].

Robinson JN, Abuhamad AZ. Abdominal wall and umbilical cord anomalies. Clin Perinatol. 2000 Dec. 27(4):947-78, ix. [Medline].

Rowe PC, Gearhart JP. Retraction of the umbilicus during voiding as an initial sign of a urachal anomaly. Pediatrics. 1993 Jan. 91(1):153-4. [Medline].

Samuel M, Freeman NV, Vaishnav A, Sajwany MJ, Nayar MP. Necrotizing fasciitis: a serious complication of omphalitis in neonates. J Pediatr Surg. 1994 Nov. 29(11):1414-6. [Medline].

Sheth NP. Transumbilical resection and umbilical plasty for patent omphalomesenteric duct. Pediatr Surg Int. 2000. 16(1-2):152. [Medline].

Skandalakis JE, Gray SW, Ricketts R. The anterior body wall. Embryology for Surgeons. 2nd ed. Philadelphia, PA: Lippincott Williams & Wilkins; 1994. 563-8.

Skinner MA, Grosfeld JL. Inguinal and umbilical hernia repair in infants and children. Surg Clin North Am. 1993 Jun. 73(3):439-49. [Medline].

Steck WD, Helwig EB. Umbilical granulomas, pilonidal disease and the urachus. Surg Gynecol Obstet. 1965. 120:1043.

Weik J, Moores D. An unusual case of umbilical hernia rupture with evisceration. J Pediatr Surg. 2005 Apr. 40(4):E33-5. [Medline].

Wilson CB, Ochs HD, Almquist J, et al. When is umbilical cord separation delayed?. J Pediatr. 1985 Aug. 107(2):292-4. [Medline].
Medscape Reference © 2011 WebMD, LLC