Pediatric Crohn Disease Surgery Treatment & Management
Author: Patricia A Valusek, MD; Chief Editor: Harsh Grewal, MD, FACS, FAAP more...
Updated: Dec 07, 2015
What would you like to print?
Medical Therapy
Treatment strategies for patients with Crohn disease (CD) consist of attempts at medical remission, as well as supportive medical management of chronic symptoms and exacerbations. Surgery is reserved for complications of intestinal disease or cases in which medical management is unsuccessful.
The European Crohn's and Colitis Organisation and the European Society of Pediatric Gastroenterology, Hepatology and Nutrition have published consensus guidelines for medical management of CD in pediatric patients.[22]
Numerous medications are available to control acute inflammatory symptoms and to prevent recurrence of intestinal disease. While numerous studies have assessed postoperative prophylactic therapy in adults, no prospective studies on this issue have been conducted in children. Nutritional therapies focus on preventing the weight loss and malnutrition that frequently accompany the disease.
Aminosalicylates
Oral and topical salicylates are often first-line medications in the treatment of acute exacerbations of CD. Sulfasalazine was the first salicylate to be used in inflammatory bowel disease (IBD). It consists of a sulfapyridine moiety (the carrier compound) linked to 5-aminosalicylic acid (5-ASA; the active ingredient). After reaching the colon, the sulfapyridine is released from the 5-ASA by colonic bacteria. The salicylate compound acts locally by preventing inflammation through inhibition of various elements of the inflammatory cascade.
Sulfasalazine has been shown to be effective in active ileocolonic and colonic disease but has been less effective in isolated small-bowel disease. It is often helpful in preventing recurrence after surgery for active disease.[23, 24, 25]
Numerous adverse effects, including gastrointestinal (GI) symptoms (eg, nausea, vomiting, abdominal pain) are associated with the sulfapyridine moiety and limit patient tolerance of this medication. Newer oral compounds, such as mesalamine, olsalazine, and balsalazide, lack the sulfapyridine carrier; they are better tolerated. In addition, topical aminosalicylates, in the form of suppositories and enemas, may be beneficial in patients with distal colonic CD.[26]
Corticosteroids
Glucocorticoids have long been known to be highly effective in the treatment of acute episodes of CD; they induce remission in all disease locations. However, long-term corticosteroid treatment does not have a role in maintaining remission in patients with quiescent disease or after medical or surgical treatment of active disease. High-dose systemic steroids may be administered for weeks to months as treatment of active disease.
Corticosteroids have many adverse effects, including the development of cushingoid features, hypertension, hyperglycemia, cataracts, osteoporosis, osteonecrosis, and psychological effects. In children, growth retardation, delayed onset of puberty, and delayed bone maturation are particular concerns related to repeated steroid treatments. Newer steroids, such as budesonides, are rapidly metabolized on their first pass through the liver; thus, their potential for adverse effects is limited. Topical steroid enemas may be used in distal Crohn colitis, without the systemic effects.[27, 28]
Antibiotics
Enteric bacteria may promote intestinal inflammation, and antibiotics aimed at the intestinal flora have been successfully used in both intestinal and perianal CD. Metronidazole is most widely used in perianal CD; it can promote complete healing of perianal fistulas. If administered after ileal resection, metronidazole can effectively decrease postsurgical disease recurrence, as shown in randomized trials. However, symptoms often recur after the drug is stopped, and adverse effects often limit its use. Ciprofloxacin or other broad-spectrum antibiotics may be used as an alternative, with similar efficacy.[29, 30]
Immunosuppressants
Azathioprine and its metabolite, 6-mercaptopurine (6-MP), are inhibitors of purine synthesis. They are used in the treatment of both active and quiescent CD. In a randomized controlled trial, 6-MP was shown to be of significant benefit in the treatment of active disease and disease with fistulas. Moreover, azathioprine and 6-MP therapies allow for early reduction and cessation of corticosteroid treatment during acute episodes. Unlike salicylates and steroids, the immunosuppressants are effective as maintenance therapies for quiescent disease. Several months of treatment are usually required in order to achieve an effect. The optimal timing and duration of therapy remain unclear.[31, 32, 33]
Dose-dependent adverse effects include nausea, rash, marrow toxicity, hepatitis, and acute pancreatitis. Although no existing evidence suggests an increased risk of solid tumors in adults, concerns about lymphoreticular malignancies have limited the use of these medications in children.
Cyclosporine is commonly used as an immunosuppressant with organ transplantation. In a randomized prospective trial, high-dose oral cyclosporine was shown to be effective in the treatment of active CD.[34] Its rapid onset of action (<2 weeks) makes it an attractive bridge therapy until azathioprine or 6-MP become effective. The effects of cyclosporine continue for several months after cessation of its administration. Nephrotoxicity, hypertension, electrolyte abnormalities, gingival hyperplasia, and paresthesias are the most common adverse effects.[35]
Alternative immunosuppressants such as tacrolimus (FK-506) and mycophenolate mofetil are being explored as treatments for CD. Preliminary data suggest that these treatments have some benefit in patients with severe IBD.[36, 37, 38, 39, 40, 41]
Biologic therapies
Tumor necrosis factor alpha (TNF-α) is an inflammatory cytokine that acts as a primary mediator of intestinal inflammation and injury in IBD. Preliminary evidence from clinical trials involving antibodies against TNF-α has shown promise in the treatment of patients with active and quiescent disease.
Approved by the Food and Drug Administration (FDA) in 1998, infliximab is a chimeric antibody that specifically targets TNF-α. Data from uncontrolled studies suggest an improvement in the endoscopic and histologic appearance of chronic active disease after a single infusion of infliximab. A benefit has also been observed in refractory enterocutaneous and perianal fistulae.[42, 43, 44, 45, 46]
CDP571 is a human monoclonal anti-TNF-α antibody that may be advantageous in patients with refractory CD.[47] Other potential therapies being evaluated include thalidomide, antisense oligonucleotides against intercellular adhesion molecule-1, recombinant interleukin-10 and interleukin-11, and anti-CD4 antibodies.[48, 49]
Nutritional therapy
Although ineffective as a primary therapy, nutritional manipulations that facilitate bowel rest can be effective adjuncts in the treatment of active CD. Both parenteral and enteral nutrition are effective. However, because of the associated risks and costs of parenteral nutrition, it is typically reserved for the postoperative period.
Enteral nutrition has the benefit of altering the bacterial flora and providing direct nourishment to the intestinal mucosa. The effectiveness of enteral nutrition in active disease has been shown in several randomized trials. However, relapse is common after cessation of enteral feeding. Nighttime supplemental enteral nutrition without daytime dietary restrictions has been shown to be beneficial in maintaining disease remission. To the author's knowledge, elemental diets have shown no benefit over conventional enteral nutrition.[50, 51]
Surgical Therapy
Most patients with CD require surgical intervention during their lifetime. Unlike ulcerative colitis (UC), CD has no surgical cure. Within 20 years of the onset of symptoms, 80% of patients with CD require surgery, and many require multiple procedures. Twenty to 30% of patients experience a recurrence of disease within the first postoperative year.[52] Hence, every attempt at conserving the small bowel should be made in the surgical approach to CD. Despite this approach, repeated intestinal resection for CD is a major cause of short-bowel syndrome.[53, 54, 55, 56, 57, 58]
The most common complication of CD is small-bowel obstruction, occurring in 30-50% of patients. Typically, the obstruction is due to intestinal strictures from repeated bouts of inflammation and subsequent fibrosis. In the case of a complete obstruction or a partial obstruction refractory to nonsurgical management, surgical intervention is required. Surgical options for intestinal strictures include resection of the strictured bowel or stricturoplasty. In cases of long strictures (>12 cm) or multiple strictures in close proximity, surgical resection with primary anastomosis is often required.
Stricturoplasty for multiple shorter strictures has the benefit of bowel conservation. A Foley catheter (inflated to 25 mm) can be passed through the lumen to detect additional distal strictures. The strictured bowel is incised longitudinally to a point 1-2 cm beyond the narrowing and then closed transversely without resection. For long or multiple confluent strictures, a stricturoplasty that resembles a Finney side-to-side pyloroplasty can be used to conserve bowel length. Hydrostatic balloon dilatation of ileocolic strictures has been performed, but its effects may not be long-lasting. Bypass procedures are usually reserved for duodenal obstructions.[59, 60, 58]
Other complications of CD that may necessitate operative intervention include free perforation, abscesses, fistulas, toxic megacolon, and massive hemorrhage. More than 10% of patients with CD have an intra-abdominal or pelvic abscess during their lifetime. Abscesses must be drained either surgically or percutaneously. Although surgical drainage is more often successful, an attempt at percutaneous drainage may spare some patients an operation.[61]
Because of the transmural nature of the inflammation, fistula formation is common. Enteroenteric, enterocutaneous, enterovesical, and rectovaginal fistulas are often initially treated using the principles of fistula healing and medical therapy. If medical therapy is unsuccessful, resection of the involved bowel is required in symptomatic patients.
Toxic megacolon and massive hemorrhage are much less common complications of CD. However, they may require urgent bowel resection. Total abdominal colectomy with a Hartmann pouch has been advocated for fulminant toxic megacolon. This allows future restoration of bowel continuity with a sphincter-preserving ileorectal anastomosis. However, a permanent ileostomy may ultimately be required to treat recurrent rectal disease.[62]
Perianal CD presents a particularly difficult management challenge. Fissures, fistulas, and abscess may be multiple and recurrent, and repeat operations may lead to sphincter damage and incontinence. True abscess require drainage. When a fistula tract can be identified, a Silastic seton can be used to prevent premature skin closure and recurrent abscesses. These indwelling setons should be left in place for at least 12 months to allow complete epithelialization of the tract. This approach leads to a chronically draining fistula tract. In patients in whom severe perianal disease has destroyed the sphincter, proctectomy with permanent ileostomy may be necessary.[63, 64, 65, 66]
Laparoscopic resection
The laparoscopic approach to CD has been shown to be feasible as well as safe.[67, 68] Complications of CD such as abscesses, phlegmons, and recurrent disease have been safely treated laparoscopically and are not contraindications to laparoscopy in these patients.
Although open resection is still used by many surgeons and should be considered the criterion standard, the laparoscopic approach is being used with increasing frequency. In children, laparoscopic intestinal resections have been used for proctectomy and pull-through procedures in Hirschsprung disease for more than a decade.[69] Segmental intestinal resections in CD can be easily accomplished as well.
No difference in recurrence rates has been found in adults undergoing laparoscopic versus open ileocolic resection, and the laparoscopic approach has been found to significantly reduce postoperative ileus duration.[70, 71] Adult patients who undergo laparoscopic ileocecectomy tend to experience a better quality of life than those who undergo the open approach. In addition, patients undergoing the laparoscopic approach report that they are more satisfied with the physical appearance of their surgical scar.[72, 73]
A study comparing laparoscopic ileocolic resection versus infliximab in the treatment of distal ileitis has been enrolling participants in the Netherlands. The primary outcomes of the study are quality of life and costs, with recurrence being a secondary outcome.[74] To the author's knowledge, no published data exists regarding recurrence rates in children undergoing open versus laparoscopic resection.
Surgical technique
After the patient is placed under general endotracheal anesthesia and after a urinary catheter is introduced, the abdomen is prepared and draped widely. A 12-mm incision is made in the umbilicus through which a 12-mm cannula is introduced for future insertion of the endoscopic stapling device. Two 5-mm incisions are made, one in the left mid abdomen and one in the left suprapubic region; through these, grasping forceps are inserted for retraction.
The final port (if necessary) is initially 5 or 10 mm in length and is placed in the right lower abdomen in a location similar to an open appendectomy incision. This incision is subsequently enlarged to approximately 2 cm, and the specimen is extracted from the abdominal cavity through this incision (see the image below). In addition, the two ends of the intestine to be anastomosed are exteriorized through this incision, and a two-layer extracorporeal anastomosis is created.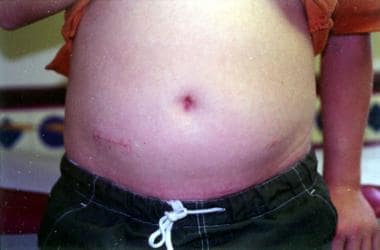 Postoperative photograph depicts the incisions used for laparoscopic ileocolectomy in a 14-year-old male adolescent with obstruction of the terminal ileum. Note the 2-cm incision in the right lower abdomen through which the specimen was extracted and the extracorporeal anastomosis performed. The 12-mm umbilical incision is nicely hidden in the depths of the umbilicus. A 5-mm incision is visible in the left lower abdomen, and another is in the left suprapubic region just above the top of the pants.
The first step in the operation is ligation and division of the proximal ileum with the endoscopic stapler. Next, with either an UltraCision Harmonic Scalpel (Ethicon Endosurgery, Cincinnati, OH) or Ligasure device (Valleylab, Boulder, CO), the mesentery of the proximal right colon is coagulated and transected (see the image below). Then, the right lower abdominal incision is enlarged to 2 cm and the specimen is exteriorized. Alternatively, the umbilical incision may be enlarged to allow exteriorization of the specimen. With this technique, the distal margin of resection is more precisely determined and the distal resection margin can be divided with the surgical stapler. This procedure may also be performed intracorporeally with an endoscopic stapler.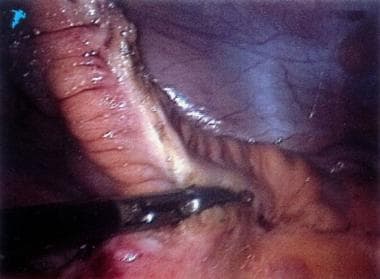 On this laparoscopic photograph, the mesentery of the terminal ileum is being coagulated with a sealing device (Ligasure; Valley Lab, Boulder, CO). Note that the ligation of the mesentery proceeds near the border of the ileum rather than at the base of the mesentery.
Once the resected specimen is removed, the proximal small intestine is delivered through the right lower abdominal incision (or enlarged umbilical incision), and a two-layer extracorporeal anastomosis is created between the proximal and distal margins. The bowel is then returned to the abdominal cavity and all incisions are closed.
In the experience at Children's Mercy Hospital (20 patients), all patients have been discharged on either the fourth or fifth postoperative day. Nasogastric tubes were not placed in these patients, allowing for a more comfortable postoperative convalescence. Two patients developed postoperative pelvic abscesses; both were being treated with steroids for high-grade stricture at the time of surgery. One patient had a secondary stricture that required a repeat operation during the same hospital stay.
Preoperative Details
Preoperatively, a recent evaluation of the extent of intestinal disease with appropriate radiologic and endoscopic studies is essential. Steroids are tapered as much as is tolerable, and the patient's nutritional status is optimized.
In patients who may receive stomas, preoperative counseling better prepares the patients and their families. A stomal therapist should be involved with patient care prior to surgery. Patients should also be counseled about the expectations of surgery because future recurrences are likely.
Intraoperative Details
Most patients will have recently received corticosteroids. Therefore, perioperative steroid dosing will likely be required.
Perianal, rectal, and sigmoidoscopic examinations are often performed while the patient is under anesthesia in order to determine the presence and extent of perianal disease.
The goal of surgical resection is to remove the grossly involved bowel; microscopic disease at resection margins is acceptable. Primary anastomosis of bowel can usually be achieved. Occasionally, a proximal functioning stoma or Brooke ileostomy is required in patients in whom an anastomosis would be unsafe.
Postoperative Details
Postoperatively, an appropriate steroid taper is administered. Patients who were receiving low-dose or short-term steroid preoperatively may be treated with a more rapid taper. Parenteral nutrition is often continued until bowel function returns.
Complications
The most common complication of surgery for CD is the development of intraperitoneal adhesions. Patients with CD undergoing abdominal surgery are also at an increased risk for developing enterocutaneous fistulas as a result of their surgery.
Outcome and Prognosis
CD is a chronic, incurable condition. Among children with juvenile-onset CD, 86% require surgical intervention with 15 years of disease onset. Although our understanding of the disease is incomplete, advances in medical therapies and surgical procedures have led to more treatment options for these patients. With proper treatment, most achieve a healthy height and weight, and the mortality for the disease is low.
References
Crohn B, Ginzburg L, Oppenheimer G. Regional ileitis, a pathologic clinical entity. JAMA. 1932. 99:1323-8.

Lockhart-Mummery HE, Morson BC. Crohn's disease (regional enteritis) of the large intestine and its distinction from ulcerative colitis. Gut. 1960 Jun. 1:87-105. [Medline].

Aufses AH Jr. The history of Crohn's disease. Surg Clin North Am. 2001 Feb. 81(1):1-11, vii. [Medline].

Herrinton LJ, Liu L, Lewis JD, Griffin PM, Allison J. Incidence and prevalence of inflammatory bowel disease in a Northern California managed care organization, 1996-2002. Am J Gastroenterol. 2008 Aug. 103(8):1998-2006. [Medline].

Loftus CG, Loftus EV Jr, Harmsen WS, Zinsmeister AR, Tremaine WJ, Melton LJ 3rd. Update on the incidence and prevalence of Crohn's disease and ulcerative colitis in Olmsted County, Minnesota, 1940-2000. Inflamm Bowel Dis. 2007 Mar. 13(3):254-61. [Medline].

Kappelman MD, Rifas-Shiman SL, Kleinman K, Ollendorf D, Bousvaros A, Grand RJ. The prevalence and geographic distribution of Crohn's disease and ulcerative colitis in the United States. Clin Gastroenterol Hepatol. 2007 Dec. 5(12):1424-9. [Medline].

Duerr RH. Update on the genetics of inflammatory bowel disease. J Clin Gastroenterol. 2003 Nov-Dec. 37(5):358-67. [Medline].

Church JM. Molecular genetics and Crohn's disease. Surg Clin North Am. 2001 Feb. 81(1):31-8, vii-viii. [Medline].

Van Heel DA, McGovern DP, Jewell DP. Crohn's disease: genetic susceptibility, bacteria, and innate immunity. Lancet. 2001 Jun 16. 357(9272):1902-4. [Medline].

Lindberg E, Järnerot G, Huitfeldt B. Smoking in Crohn's disease: effect on localisation and clinical course. Gut. 1992 Jun. 33(6):779-82. [Medline].

D'Souza S, Levy E, Mack D, Israel D, Lambrette P, Ghadirian P. Dietary patterns and risk for Crohn's disease in children. Inflamm Bowel Dis. 2008 Mar. 14(3):367-73. [Medline].

Davis RL, Kramarz P, Bohlke K, Benson P, Thompson RS, Mullooly J, et al. Measles-mumps-rubella and other measles-containing vaccines do not increase the risk for inflammatory bowel disease: a case-control study from the Vaccine Safety Datalink project. Arch Pediatr Adolesc Med. 2001 Mar. 155(3):354-9. [Medline].

Reif S, Lavy A, Keter D, Broide E, Niv Y, Halak A, et al. Appendectomy is more frequent but not a risk factor in Crohn's disease while being protective in ulcerative colitis: a comparison of surgical procedures in inflammatory bowel disease. Am J Gastroenterol. 2001 Mar. 96(3):829-32. [Medline].

Lemberg DA, Clarkson CM, Bohane TD, Day AS. Role of esophagogastroduodenoscopy in the initial assessment of children with inflammatory bowel disease. J Gastroenterol Hepatol. 2005 Nov. 20(11):1696-700. [Medline].

Bernstein CN, Blanchard JF, Rawsthorne P, Yu N. The prevalence of extraintestinal diseases in inflammatory bowel disease: a population-based study. Am J Gastroenterol. 2001 Apr. 96(4):1116-22. [Medline].

Tromm A, May D, Almus E, Voigt E, Greving I, Schwegler U. Cutaneous manifestations in inflammatory bowel disease. Z Gastroenterol. 2001 Feb. 39(2):137-44. [Medline].

Paerregaard A, Uldall Urne F. Anthropometry at the time of diagnosis in Danish children with inflammatory bowel disease. Acta Paediatr. 2005 Nov. 94(11):1682-3. [Medline].

Pallotta N, Civitelli F, Di Nardo G, Vincoli G, Aloi M, Viola F, et al. Small intestine contrast ultrasonography in pediatric Crohn's disease. J Pediatr. 2013 Sep. 163 (3):778-84.e1. [Medline].

Pilleul F, Godefroy C, Yzebe-Beziat D, Dugougeat-Pilleul F, Lachaux A, Valette PJ. Magnetic resonance imaging in Crohn's disease. Gastroenterol Clin Biol. 2005 Aug-Sep. 29(8-9):803-8. [Medline].

Florie J, Horsthuis K, Hommes DW, Nio CY, Reitsma JB, van Deventer SJ. Magnetic resonance imaging compared with ileocolonoscopy in evaluating disease severity in Crohn's disease. Clin Gastroenterol Hepatol. 2005 Dec. 3(12):1221-8. [Medline].

Absah I, Bruining DH, Matsumoto JM, Weisbrod AJ, Fletcher JG, Fidler JL, et al. MR enterography in pediatric inflammatory bowel disease: retrospective assessment of patient tolerance, image quality, and initial performance estimates. AJR Am J Roentgenol. 2012 Sep. 199(3):W367-75. [Medline].

[Guideline] Ruemmele FM, Veres G, Kolho KL, et al. Consensus guidelines of ECCO/ESPGHAN on the medical management of pediatric Crohn's disease. J Crohns Colitis. 2014 Oct. 8 (10):1179-207. [Medline]. [Full Text].

Chanoine F. Treatment of Crohn's disease with salicylate derivatives. Arch Mal Appar Dig Mal Nutr. 1961. 50:1212-1217.

Grand RJ, Ramakrishna J, Calenda KA. Therapeutic strategies for pediatric Crohn disease. Clin Invest Med. 1996 Oct. 19(5):373-80. [Medline].

Knutson D, Greenberg G, Cronau H. Management of Crohn's disease--a practical approach. Am Fam Physician. 2003 Aug 15. 68(4):707-14. [Medline].

Ginsberg AL. Topical salicylate therapy (4-ASA and 5-ASA enemas). Gastroenterol Clin North Am. 1989 Mar. 18(1):35-42. [Medline].

Benchimol EI, Seow CH, Steinhart AH, Griffiths AM. Traditional corticosteroids for induction of remission in Crohn's disease. Cochrane Database Syst Rev. 2008 Apr 16. CD006792. [Medline].

Irving PM, Gearry RB, Sparrow MP, Gibson PR. Review article: appropriate use of corticosteroids in Crohn's disease. Aliment Pharmacol Ther. 2007 Aug 1. 26(3):313-29. [Medline].

Rutgeerts P, Hiele M, Geboes K, Peeters M, Penninckx F, Aerts R. Controlled trial of metronidazole treatment for prevention of Crohn's recurrence after ileal resection. Gastroenterology. 1995 Jun. 108(6):1617-21. [Medline].

Bernstein LH, Frank MS, Brandt LJ, Boley SJ. Healing of perineal Crohn's disease with metronidazole. Gastroenterology. 1980 Aug. 79(2):357-65. [Medline].

Present DH, Korelitz BI, Wisch N, Glass JL, Sachar DB, Pasternack BS. Treatment of Crohn's disease with 6-mercaptopurine. A long-term, randomized, double-blind study. N Engl J Med. 1980 May 1. 302(18):981-7. [Medline].

Prefontaine E, Sutherland LR, Macdonald JK, Cepoiu M. Azathioprine or 6-mercaptopurine for maintenance of remission in Crohn's disease. Cochrane Database Syst Rev. 2009 Jan 21. CD000067. [Medline].

Etchevers MJ, Aceituno M, Sans M. Are we giving azathioprine too late? The case for early immunomodulation in inflammatory bowel disease. World J Gastroenterol. 2008 Sep 28. 14(36):5512-8. [Medline]. [Full Text].

Brynskov J, Freund L, Rasmussen SN, Lauritsen K, de Muckadell OS, Williams N. A placebo-controlled, double-blind, randomized trial of cyclosporine therapy in active chronic Crohn's disease. N Engl J Med. 1989 Sep 28. 321(13):845-50. [Medline].

Chermesh I, Tamir A, Lachter J, Eliakim R. Intravenous cyclosporine for inflammatory bowel disease--safe and effective. Hepatogastroenterology. 2007 Oct-Nov. 54(79):2003-6. [Medline].

Fellermann K, Ludwig D, Stahl M, David-Walek T, Stange EF. Steroid-unresponsive acute attacks of inflammatory bowel disease: immunomodulation by tacrolimus (FK506). Am J Gastroenterol. 1998 Oct. 93(10):1860-6. [Medline].

Benson A, Barrett T, Sparberg M, Buchman AL. Efficacy and safety of tacrolimus in refractory ulcerative colitis and Crohn's disease: a single-center experience. Inflamm Bowel Dis. 2008 Jan. 14(1):7-12. [Medline].

Baumgart DC, Pintoffl JP, Sturm A, Wiedenmann B, Dignass AU. Tacrolimus is safe and effective in patients with severe steroid-refractory or steroid-dependent inflammatory bowel disease--a long-term follow-up. Am J Gastroenterol. 2006 May. 101(5):1048-56. [Medline].

Hart AL, Plamondon S, Kamm MA. Topical tacrolimus in the treatment of perianal Crohn's disease: exploratory randomized controlled trial. Inflamm Bowel Dis. 2007 Mar. 13(3):245-53. [Medline].

Tan T, Lawrance IC. Use of mycophenolate mofetil in inflammatory bowel disease. World J Gastroenterol. 2009 Apr 7. 15(13):1594-9. [Medline].

Palaniappan S, Ford AC, Greer D, Everett SM, Chalmers DM, Axon AT. Mycophenolate mofetil therapy for refractory inflammatory bowel disease. Inflamm Bowel Dis. 2007 Dec. 13(12):1488-92. [Medline].

D'haens G, Van Deventer S, Van Hogezand R, Chalmers D, Kothe C, Baert F, et al. Endoscopic and histological healing with infliximab anti-tumor necrosis factor antibodies in Crohn's disease: A European multicenter trial. Gastroenterology. 1999 May. 116(5):1029-34. [Medline].

Present DH, Rutgeerts P, Targan S, Hanauer SB, Mayer L, van Hogezand RA. Infliximab for the treatment of fistulas in patients with Crohn's disease. N Engl J Med. 1999 May 6. 340(18):1398-405. [Medline].

Hoffman I, Vermeire S, Van Assche G, Rutgeerts P. Infliximab for pediatric Crohn's disease. Drugs Today (Barc). 2008 Aug. 44(8):615-28. [Medline].

Schnitzler F, Fidder H, Ferrante M, Noman M, Arijs I, Van Assche G. Long-term outcome of treatment with infliximab in 614 patients with Crohn's disease: results from a single-centre cohort. Gut. 2009 Apr. 58(4):492-500. [Medline].

Gasparetto M, Corradin S, Vallortigara F, Cananzi M, Guariso G. Infliximab and pediatric stricturing Crohn's disease: a possible alternative to surgery? Experience of seven cases. Acta Gastroenterol Belg. 2012 Mar. 75(1):58-60. [Medline].

Sandborn WJ, Feagan BG, Hanauer SB, Present DH, Sutherland LR, Kamm MA. An engineered human antibody to TNF (CDP571) for active Crohn's disease: a randomized double-blind placebo-controlled trial. Gastroenterology. 2001 May. 120(6):1330-8. [Medline].

Vasiliauskas EA, Kam LY, Abreu-Martin MT, Hassard PV, Papadakis KA, Yang H. An open-label pilot study of low-dose thalidomide in chronically active, steroid-dependent Crohn's disease. Gastroenterology. 1999 Dec. 117(6):1278-87. [Medline].

Stronkhorst A, Radema S, Yong SL, Bijl H, ten Berge IJ, Tytgat GN. CD4 antibody treatment in patients with active Crohn's disease: a phase 1 dose finding study. Gut. 1997 Mar. 40(3):320-7. [Medline].

Song HK, Buzby GP. Nutritional support for Crohn's disease. Surg Clin North Am. 2001 Feb. 81(1):103-15, viii. [Medline].

Gavin J, Anderson CE, Bremner AR, Beattie RM. Energy intakes of children with Crohn's disease treated with enteral nutrition as primary therapy. J Hum Nutr Diet. 2005 Oct. 18(5):337-42. [Medline].

Blackburn SC, Wiskin AE, Barnes C, Dick K, Afzal NA, Griffiths DM, et al. Surgery for children with Crohn's disease: indications, complications and outcome. Arch Dis Child. 2014 May. 99 (5):420-6. [Medline].

Markowitz J, Markowitz JE, Bousvaros A, Crandall W, Faubion W, Kirschner BS. Workshop report: prevention of postoperative recurrence in Crohn's disease. J Pediatr Gastroenterol Nutr. 2005 Aug. 41(2):145-51. [Medline].

Ewe K, Herfarth C, Malchow H, Jesdinsky HJ. Postoperative recurrence of Crohn's disease in relation to radicality of operation and sulfasalazine prophylaxis: a multicenter trial. Digestion. 1989. 42(4):224-32. [Medline].

Alós R, Hinojosa J. Timing of surgery in Crohn's disease: a key issue in the management. World J Gastroenterol. 2008 Sep 28. 14(36):5532-9. [Medline].

Simillis C, Yamamoto T, Reese GE, Umegae S, Matsumoto K, Darzi AW. A meta-analysis comparing incidence of recurrence and indication for reoperation after surgery for perforating versus nonperforating Crohn's disease. Am J Gastroenterol. 2008 Jan. 103(1):196-205. [Medline].

Shen B. Managing medical complications and recurrence after surgery for Crohn's disease. Curr Gastroenterol Rep. 2008 Dec. 10(6):606-11. [Medline].

Romeo E, Jasonni V, Caldaro T, Barabino A, Mattioli G, Vignola S, et al. Strictureplasty and intestinal resection: different options in complicated pediatric-onset Crohn disease. J Pediatr Surg. 2012 May. 47(5):944-8. [Medline].

Yamamoto T, Fazio VW, Tekkis PP. Safety and efficacy of strictureplasty for Crohn's disease: a systematic review and meta-analysis. Dis Colon Rectum. 2007 Nov. 50(11):1968-86. [Medline].

Couckuyt H, Gevers AM, Coremans G, Hiele M, Rutgeerts P. Efficacy and safety of hydrostatic balloon dilatation of ileocolonic Crohn's strictures: a prospective longterm analysis. Gut. 1995 Apr. 36(4):577-80. [Medline].

Garcia JC, Persky SE, Bonis PA, Topazian M. Abscesses in Crohn's disease: outcome of medical versus surgical treatment. J Clin Gastroenterol. 2001 May-Jun. 32(5):409-12. [Medline].

Berg DF, Bahadursingh AM, Kaminski DL, Longo WE. Acute surgical emergencies in inflammatory bowel disease. Am J Surg. 2002 Jul. 184(1):45-51. [Medline].

Kamm MA, Ng SC. Perianal fistulizing Crohn's disease: a call to action. Clin Gastroenterol Hepatol. 2008 Jan. 6(1):7-10. [Medline].

Guidi L, Ratto C, Semeraro S, Roberto I, De Vitis I, Papa A. Combined therapy with infliximab and seton drainage for perianal fistulizing Crohn's disease with anal endosonographic monitoring: a single-centre experience. Tech Coloproctol. 2008 Jun. 12(2):111-7. [Medline].

Bode M, Eder S, Schürmann G. [Perianal fistulas in Crohn's disease--biologicals and surgery: is it worthwhile?]. Z Gastroenterol. 2008 Dec. 46(12):1376-83. [Medline].

Poritz LS, Rowe WA, Koltun WA. Remicade does not abolish the need for surgery in fistulizing Crohn's disease. Dis Colon Rectum. 2002 Jun. 45(6):771-5. [Medline].

Liu CD, Rolandelli R, Ashley SW, Evans B, Shin M, McFadden DW. Laparoscopic surgery for inflammatory bowel disease. Am Surg. 1995 Dec. 61(12):1054-6. [Medline].

Sardinha TC, Wexner SD. Laparoscopy for inflammatory bowel disease: pros and cons. World J Surg. 1998 Apr. 22(4):370-4. [Medline].

Georgeson KE, Cohen RD, Hebra A, Jona JZ, Powell DM, Rothenberg SS. Primary laparoscopic-assisted endorectal colon pull-through for Hirschsprung's disease: a new gold standard. Ann Surg. 1999 May. 229(5):678-82; discussion 682-3. [Medline].

Lowney JK, Dietz DW, Birnbaum EH, Kodner IJ, Mutch MG, Fleshman JW. Is there any difference in recurrence rates in laparoscopic ileocolic resection for Crohn's disease compared with conventional surgery? A long-term, follow-up study. Dis Colon Rectum. 2006 Jan. 49(1):58-63. [Medline].

Chen HH, Wexner SD, Iroatulam AJ, Pikarsky AJ, Alabaz O, Nogueras JJ. Laparoscopic colectomy compares favorably with colectomy by laparotomy for reduction of postoperative ileus. Dis Colon Rectum. 2000 Jan. 43(1):61-5. [Medline].

Eshuis EJ, Polle SW, Slors JF, Hommes DW, Sprangers MA, Gouma DJ. Long-term surgical recurrence, morbidity, quality of life, and body image of laparoscopic-assisted vs. open ileocolic resection for Crohn's disease: a comparative study. Dis Colon Rectum. 2008 Jun. 51(6):858-67. [Medline].

Laituri CA, Fraser JD, Garey CL, Aguayo P, Sharp SW, Ostlie DJ, et al. Laparoscopic ileocecectomy in pediatric patients with Crohn's disease. J Laparoendosc Adv Surg Tech A. 2011 Mar. 21(2):193-5. [Medline].

Eshuis EJ, Bemelman WA, van Bodegraven AA, Sprangers MA, Bossuyt PM, van Milligen de Wit AW. Laparoscopic ileocolic resection versus infliximab treatment of distal ileitis in Crohn's disease: a randomized multicenter trial (LIR!C-trial). BMC Surg. 2008. 8:15. [Medline].

IBD Working Group of the European Society for Paediatric Gastroenterology, Hepatology and Nutrition. Inflammatory bowel disease in children and adolescents: recommendations for diagnosis--the Porto criteria. J Pediatr Gastroenterol Nutr. 2005 Jul. 41(1):1-7. [Medline].
Table 1. Differentiating Characteristics of Crohn Disease and Ulcerative Colitis
Characteristic
Crohn Disease
Ulcerative Colitis
Distribution
Entire gastrointestinal tract
Colon only
Skip lesions
Continuous involvement proximally from rectum
Pathology
Full thickness
Mucosa only
Granulomas (50%)
No granulomas
Radiology
Entire gastrointestinal tract
Colon only
Skip lesions
Continuous involvement proximally from rectum
Fistulas, abscesses, fibrotic strictures
Mucosal disease only
Presentation
Bleeding
Uncommon
Common
Obstruction
Common
Uncommon
Fistula
Common
Uncommon
Weight loss
Common
Uncommon
Perianal disease
Common
Uncommon
Cancer risk
Controversial
1% per year starting 10 years after diagnosis (estimated)
Medscape Reference © 2011 WebMD, LLC