Pediatric Intussusception Surgery
Author: Michael S Irish, MD; Chief Editor: Harsh Grewal, MD, FACS, FAAP more...
Updated: May 13, 2015
What would you like to print?
Background
Intussusception, which is defined as the telescoping or invagination of a proximal portion of intestine (intussusceptum) into a more distal portion (intussuscipiens), is one of the most common causes of bowel obstruction in infants and toddlers.
Intussusception was first described by Barbette in 1674, and it was first successfully treated surgically by Wilson in 1831. In 1876, Hirschsprung first reported the technique of hydrostatic reduction,[1] and in 1905, after monitoring a series of 107 cases, he reported a 35% mortality attributable to intussusception.
Vascular compromise and subsequent bowel necrosis are the primary concerns with intussusception. Among patients who undergo operative reduction of intussusception, as many as 10% may require bowel resection.
Epidemiology
Frequency
The incidence of intussusception is 1.5-4 cases per 1000 live births, with a male-to-female ratio of 3:2. The highest incidence of idiopathic intussusception is in infants aged 9-24 months. A seasonal incidence has been described, with peaks in the spring, summer, and the middle of winter. These periods correspond to peaks in the occurrence of seasonal gastroenteritis and upper respiratory tract infections.
Etiology
Intussusception is ileocolic (see the first image below) in 80% of cases but may also be ileoileal (see the second image below), colocolic, or ileoileocolic. Most infants and toddlers (95%) with the condition do not have an identifiable specific lead point. In these idiopathic cases, careful examination may reveal hypertrophied mural lymphoid tissues (Peyer patches), which are due to adenovirus or rotavirus infection. Intussusception has also been found to increase the risk of tonsillar disease (ie, chronic or acute tonsillitis) and tonsillectomy in children.[2]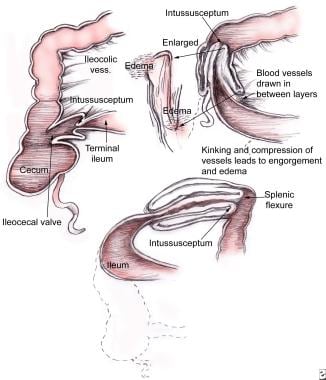 Diagram illustrating the anatomy of intussusception.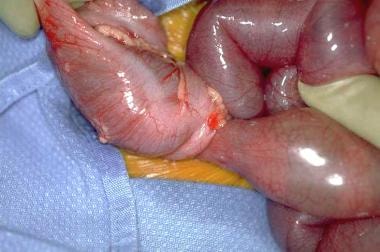 Intraoperative appearance of ileocolic intussusception.
A specific lead point that draws the proximal intestine and its mesentery inward and propagates it distally through peristalsis is identified in only 5% of cases and is most commonly found in cases of ileoileal intussusception. Specific lead points are more commonly found in children older than 3 years and almost always in adults with intussusception. Meckel diverticulum (see the image below) is the most common lead point, followed by polyps, such as are seen with Peutz-Jeghers syndrome, and intestinal duplications.[3]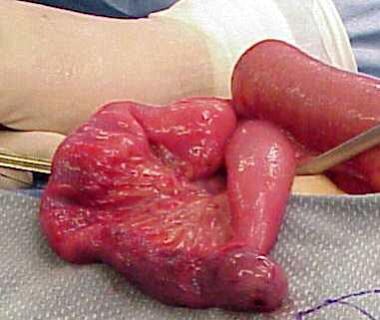 Intraoperative appearance of ileocolic intussusception due to Meckel diverticulum.
Other lead points described include lymphomas, lymphangiectasias,[4] submucosal hemorrhage with Henoch-Schönlein purpura, trichobezoars with Rapunzel syndrome,[5] caseating granulomas due to abdominal tuberculosis,[6] hemangiomas, and lymphosarcomas.
Children with cystic fibrosis (CF) may present with intussusception due to inspissated meconium in the terminal ileum. Although intussusception is generally observed as a complication in older children with CF, neonatal intussusception with meconium plug syndrome associated with CF has been reported.
Postoperative jejunoileal or ileoileal intussusception, which has no specific lead point in most cases, accounts for approximately 1% of intussusceptions in children of all ages.[7] When a lead point is present with postoperative intussusception, several cases have been reported after appendectomy with stump inversion.[8] Other rare reported types of intussusception include retrograde jejunojejunal intussusception following duodenal atresia repair[9] and an ileoileal type resulting from blunt abdominal trauma.[10]
Although the vast majority of intussusception cases are idiopathic, Oshio et al in Japan reported a familial anatomic tendency that may predispose to the condition in the face of viral infection. Of 554 families who had at furthest a third-degree relative with an idiopathic case of intussusception, the authors found an incidence of approximately 7%, or 1 per 14.2 cases. The family history may help in the workup, and further genetic testing may eventually identify the gene responsible for this predisposition.[11]
Pathophysiology
Intussusception results in bowel obstruction, followed by congestion and edema with venous and lymphatic obstruction. This progresses to arterial obstruction and subsequent necrosis of the bowel. Ischemia and then necrosis results in fluid sequestration and bleeding from the gastrointestinal (GI) tract. If untreated, the bowel may perforate, resulting in sepsis.
Presentation
In 1941, Ladd and Gross described the deceptively healthy appearance of infants with intussusception.[12] One rarely finds intussusception in a child who is thin, undernourished, and poorly developed. This is evident in that babies with intussusception are usually well nourished and generally above average in physical development.
This fat and healthy appearance is apt to mislead the physician in the early hours of the patient's illness. Thus, the first visit may leave the physician with the impression that the parent is overanxious, whereas a return visit the next day shows that the child is desperately ill.
Disorders characterized by bowel obstruction, colicky abdominal pain, blood in the stool, an intra-abdominal mass, or a combination of these should be considered in the differential diagnoses of intussusception. These include gastroenteritis, appendicitis, Meckel diverticulum, malrotation with midgut volvulus, or incarcerated hernia.
Most infants with intussusception have a history of intermittent severe cramping or colicky abdominal pain, occurring every 5-30 minutes. During these attacks, the infant screams and flexes at the waist, draws the legs up to the abdomen, and may appear pale. These episodes may last for only a few seconds and are separated by periods of calm normal appearance and activity. However, some infants become quite lethargic and somnolent between attacks.
Early on, the infant may vomit undigested food. As attacks continue, emesis may turn bilious. Stool that appear normal in character early in the course of the illness eventually become dark red and mucoid (resembling currant jelly), a sign of intestinal ischemia and mucosal sloughing.
Ideally, the dramatic paroxysms described above would sufficiently alert the parents to seek medical attention early in the course of the illness. If this is the case, initial inspection may reveal a robust infant who appears healthy. Between attacks, the infant may appear somnolent or quite normal, and findings on examination of the abdomen may be unremarkable. During an attack or spasm, the infant suddenly appears startled or anxious and begins to scream.
Upon initial inspection, the abdomen may appear scaphoid; during paroxysms, it may be rigid; and later in the course of the illness, it may become distended with signs of peritonitis. Careful palpation after an attack has subsided may reveal an ill-defined or sausage-shaped mass.
With early ileocolic intussusception, the mass is typically found in the right upper quadrant or abdomen. The right lower quadrant may seem empty upon examination, a finding known as the Dance sign. This mass may be difficult to locate in inconsolable infants because of abdominal rigidity from muscle straining. If episodes of cramping are witnessed, the careful examiner may auscultate peristaltic rushes in the area of the intussusception.
The rectal examination should commence with inspection of fecal material in the diaper. Normal-appearing stool should be tested for occult blood. The presence of mucoid or frankly bloody stool supports the diagnosis. Rarely, inspection of the anus reveals the prolapsed tip of the intussusception. A digital rectal examination should be performed routinely, looking for blood or a mass higher in the anal canal.
In lieu of concerns about rotavirus vaccine–associated intussusception, the Brighton Collaboration Intussusception Working Group established a clinical diagnosis using a mix of major and minor criteria. This stratification helps to devise a working model based on three levels of evidence to suggest definite, probable, and possible cases of intussusception.[13]
Major criteria for the clinical diagnosis of intussusception are as follows:
Evidence of intestinal obstruction - This criterion consists of a history of bile-stained emesis, along with abdominal distention or abnormal or absent bowel sounds

Features of intestinal invagination - This criterion includes at least one of three key findings—abdominal mass, rectal mass, or rectal prolapse—as well as an abdominal radiograph, sonogram, or computed tomography (CT) scan showing visible intussusceptum or a soft-tissue mass

Evidence of intestinal vascular compromise or venous congestion - This criterion manifests as rectal bleeding or "red currant jelly" stool or blood on rectal examination
Minor criteria include the following:
Male infants younger than 1 year

Abdominal pain

Vomiting

Lethargy

Pallor

Hypovolemic shock

Abdominal radiograph showing nonspecific abnormality
The likelihood of the diagnosis is stratified on the basis of evidence levels.
level 1 (definite) includes any one of the following:
Surgical criteria - Invagination of intestine found during surgery

Radiologic criteria - Gas or liquid contrast enema showing invagination or abdominal sonogram with specific features proven to be reduced by enema on postreduction sonogram

Autopsy criteria - Invagination of the intestine
level 2 (probable) includes either of the following:
Two major criteria (see above)

One major criterion and three minor criteria (see above)
level 3 (possible) includes the following:
Four or more minor criteria (see above)
The relevance of this definition has been clinically tested in Switzerland, where it correctly identified 86 of 96 confirmed episodes, 82 of which met level 1 evidence. Regarding sensitivity in comparison to this level 1 evidence, level 2 (probable) had a sensitivity of 65%, whereas level 3 (possible) had only 30%.[14]
A 2011 prospective study by Weihmiller et al focused on establishing predictive clinical criteria to risk stratify patients while performing a workup for intussusception.[15] The three strongest clinical predictors for high risk were as follows:
Male sex ( P = .007)

Age >5 months ( P = .04)

Report of lethargy ( P = .001)
If a patient is older than 5 months, then he or she may be considered low-risk if the abdominal radiograph is negative and there is diarrhea with no bilious emesis.
This study also recommended plain abdominal radiographs for all patients suspected of having intussusception.[15] An abnormal abdominal plain film had a P value of .0001. Their definitions for an abdominal radiographs were classified as either (a) negative, with no intussusception suspected, or (b) positive or possibly positive for intussusception, which led to more testing using either ultrasonography or air enema.
Of note, this study identified 38 intussusceptions out of 310 pediatric patients and did not find abdominal pain, abdominal mass, or guaiac-positive stools to be significant.[15] However, these clinical findings are classic for intussusception on the basis of prior research; therefore, the presence of these symptoms and signs should still raise clinical suspicion for intussusception.
In a study of 379 patients, Fallon et al concluded that significant predictors for operative treatment included abdominal symptoms for more than 2 days, age younger than 1 year, multiple ultrasonography findings, and failure of initial enema reduction.[16]
In a 7-year multicenter retrospective study of intussusception in 153 pediatric patients aged 12 years or younger, Banapour et al found that children older than 5 years were significantly more likely to have a pathologic lead point, which suggested that early surgical intervention should be considered.[17] In this age group, enema reduction, though safe, yielded only minimal benefit.
Indications
Stable patients in whom the index of suspicion for intussusception is high but who do not have evidence of ischemic bowel, perforation, or sepsis may undergo immediate contrast enema for diagnosis and treatment of suspected intussusception.
Immediate surgery is indicated for unstable patients, patients who have peritonitis, and patients with bowel perforation during attempted enema reduction. Elevated temperature and white blood cell (WBC) counts have also served as relative indicators for surgery. Patients requiring surgery must be aggressively resuscitated with fluids, and care must be taken to preserve body temperature preoperatively, intraoperatively, and postoperatively.
Relevant Anatomy
Intussusception is the telescoping or invagination of a proximal portion of intestine into a more distal portion. Intussusception may be ileoileal, colocolic, ileoileocolic, or ileocolic (the most common type; see the image below).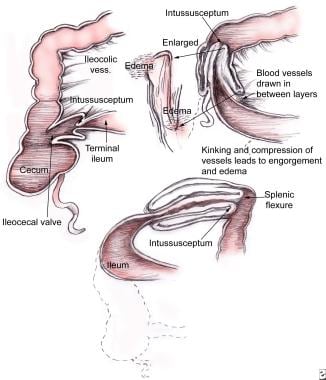 Diagram illustrating the anatomy of intussusception.
The primary concern with intussusception is vascular compromise with subsequent bowel necrosis. In addition to bowel obstruction, edema with venous obstruction and eventual obstruction of arterial flow leads to ischemia and eventual full-thickness necrosis of the intussuscepted bowel and mesentery.
Contraindications
Contraindications to enema reduction include evidence of bowel perforation and peritonitis.
References
Hirschsprung H. Et Tilfaelde af subakut tarminvagination. Hospitals-Tidende. 1876. 3:312-327.

Vestergaard H, Westergaard T, Wohlfahrt J, Pipper C, Melbye M. Association between intussusception and tonsil disease in childhood. Epidemiology. 2008 Jan. 19(1):71-4. [Medline].

Deigaard SB, Trap R. [Intestinal duplication--an important differential diagnosis to intussusception]. Ugeskr Laeger. 2008 Aug 25. 170(35):2708. [Medline].

Katoch P, Bhardwaj S. Lymphangiectasia of small intestine presenting as intussusception. Indian J Pathol Microbiol. 2008 Jul-Sep. 51(3):411-2. [Medline].

Rabie ME, Arishi AR, Khan A, Ageely H, Seif El-Nasr GA, Fagihi M. Rapunzel syndrome: the unsuspected culprit. World J Gastroenterol. 2008 Feb 21. 14(7):1141-3. [Medline].

Mahajan D, Nigam S, Kohli K. Abdominal tuberculosis presenting as ileocolic intussusception in an infant. Pediatr Dev Pathol. 2007 Nov-Dec. 10(6):477-80. [Medline].

Yalçin S, Karnak I, Ciftçi AO, Tanyel FC, Senocak ME. Postoperative intussusception in children: a keen diagnosis in postoperative ileus. Turk J Pediatr. 2012 Jul-Aug. 54(4):403-8. [Medline].

Arora A, Caniano DA, Hammond S, Besner GE. Inversion appendectomy acting as a lead point for intussusception. Pediatr Surg Int. 2008 Nov. 24(11):1261-4. [Medline].

Humbyrd CJ, Baril DT, Dolgin SE. Postoperative retrograde intussusception in an infant: a rare occurrence. J Pediatr Surg. 2006 Dec. 41(12):e13-5. [Medline].

Erichsen D, Sellström H, Andersson H. Small bowel intussusception after blunt abdominal trauma in a 6-year-old boy: case report and review of 6 cases reported in the literature. J Pediatr Surg. 2006 Nov. 41(11):1930-2. [Medline].

Oshio T, Ogata H, Takano S, Ishibashi H. Familial intussusception. J Pediatr Surg. 2007 Sep. 42(9):1509-14. [Medline].

Ladd WE, Gross RE. Intussusception. 1941:105. Abdominal Surgery of Infancy and Childhood. 1941. 105. [Medline].

The Brighton Collaboration. Clinical Case Definition for Acute Intussusception in Infants and Children. Brighton Collaboration. Available at http://bit.ly/dXFZfT. Accessed: 3/15/2009.

Tapiainen T, Bär G, Bonhoeffer J, Heininger U. Evaluation of the Brighton Collaboration case definition of acute intussusception during active surveillance. Vaccine. 2006 Feb 27. 24(9):1483-7. [Medline].

Weihmiller SN, Buonomo C, Bachur R. Risk stratification of children being evaluated for intussusception. Pediatrics. 2011 Feb. 127(2):e296-303. [Medline].

Fallon SC, Lopez ME, Zhang W, Brandt ML, Wesson DE, Lee TC, et al. Risk factors for surgery in pediatric intussusception in the era of pneumatic reduction. J Pediatr Surg. 2013 May. 48(5):1032-6. [Medline].

Banapour P, Sydorak RM, Shaul D. Surgical approach to intussusception in older children: Influence of lead points. J Pediatr Surg. 2015 Apr. 50(4):647-50. [Medline].

Hooker RL, Hernanz-Schulman M, Yu C, Kan JH. Radiographic evaluation of intussusception: utility of left-side-down decubitus view. Radiology. 2008 Sep. 248(3):987-94. [Medline]. [Full Text].

Roskind CG, Ruzal-Shapiro CB, Dowd EK, Dayan PS. Test characteristics of the 3-view abdominal radiograph series in the diagnosis of intussusception. Pediatr Emerg Care. 2007 Nov. 23(11):785-9. [Medline].

Burke LF, Clark E. Ileocolic intussusception--a case report. J Clin Ultrasound. 1977 Oct. 5(5):346-7. [Medline].

Wiersma F, Allema JH, Holscher HC. Ileoileal intussusception in children: ultrasonographic differentiation from ileocolic intussusception. Pediatr Radiol. 2006 Nov. 36(11):1177-81. [Medline].

Park NH, Park SI, Park CS, Lee EJ, Kim MS, Ryu JA, et al. Ultrasonographic findings of small bowel intussusception, focusing on differentiation from ileocolic intussusception. Br J Radiol. 2007 Oct. 80(958):798-802. [Medline].

Munden MM, Bruzzi JF, Coley BD, Munden RF. Sonography of pediatric small-bowel intussusception: differentiating surgical from nonsurgical cases. AJR Am J Roentgenol. 2007 Jan. 188(1):275-9. [Medline].

Ladd WE. Progress in the diagnosis and treatment of intussusception. Boston Medical and Surgical Journal. 1913. 168:542-544.

Chan KL, Saing H, Peh WC, Mya GH, Cheng W, Khong PL, et al. Childhood intussusception: ultrasound-guided Hartmann's solution hydrostatic reduction or barium enema reduction?. J Pediatr Surg. 1997 Jan. 32(1):3-6. [Medline].

Bai YZ, Qu RB, Wang GD, Zhang KR, Li Y, Huang Y, et al. Ultrasound-guided hydrostatic reduction of intussusceptions by saline enema: a review of 5218 cases in 17 years. Am J Surg. 2006 Sep. 192(3):273-5. [Medline].

Al-Jazaeri A, Yazbeck S, Filiatrault D, Beaudin M, Emran M, Bütter A. Utility of hospital admission after successful enema reduction of ileocolic intussusception. J Pediatr Surg. 2006 May. 41(5):1010-3. [Medline].

Apelt N, Featherstone N, Giuliani S. Laparoscopic treatment of intussusception in children: a systematic review. J Pediatr Surg. 2013 Aug. 48(8):1789-93. [Medline].

Kia KF, Mony VK, Drongowski RA. Laparoscopic vs open surgical approach for intussusception requiring operative intervention. J Pediatr Surg. 2005 Jan. 40(1):281-4. [Medline].

Bonnard A, Demarche M, Dimitriu C, Podevin G, Varlet F, François M, et al. Indications for laparoscopy in the management of intussusception: A multicenter retrospective study conducted by the French Study Group for Pediatric Laparoscopy (GECI). J Pediatr Surg. 2008 Jul. 43(7):1249-53. [Medline].

Chui CH, Ong LY, Chua JH, Yap TL. "Chinese fan spread" distraction technique of laparoscopic reduction of intussusception. JSLS. 2007 Apr-Jun. 11(2):238-41. [Medline].

Klein JD, Turner CG, Kamran SC, Yu AY, Ferrari L, Zurakowski D, et al. Pediatric postoperative intussusception in the minimally invasive surgery era: a 13-year, single center experience. J Am Coll Surg. 2013 Jun. 216(6):1089-93. [Medline].

Bhisitkul DM, Todd KM, Listernick R. Adenovirus infection and childhood intussusception. Am J Dis Child. 1992 Nov. 146(11):1331-3. [Medline].

Campbell JB. Contrast media in intussusception. Pediatr Radiol. 1989. 19(5):293-6. [Medline].

Connolly B, Alton DJ, Ein SH, Daneman A. Partially reduced intussusception: when are repeated delayed reduction attempts appropriate?. Pediatr Radiol. 1995. 25(2):104-7. [Medline].

Corroppolo M, Zampieri N, Erculiani E, Cecchetto M, Camoglio FS. Intussusception due to a cecal duplication cyst: a rare cause of acute abdomen. Case report. Pediatr Med Chir. 2007 Sep-Oct. 29(5):273-4. [Medline].

Cosper GH, Hamann MS, Stiles A, Nakayama DK. Hospital characteristics affect outcomes for common pediatric surgical conditions. Am Surg. 2006 Aug. 72(8):739-45. [Medline].

Couture A, Veyrac C, Baud C, Armelin I. Evaluation of abdominal pain in Henoch-Schonlein syndrome by high frequency ultrasound. Pediatr Radiol. 1992. 22(1):12-7. [Medline].

Daneman A, Alton DJ. Intussusception. Issues and controversies related to diagnosis and reduction. Radiol Clin North Am. 1996 Jul. 34(4):743-56. [Medline].

Daneman A, Alton DJ, Ein S, et al. Perforation during attempted intussusception reduction in children--a comparison of perforation with barium and air. Pediatr Radiol. 1995. 25(2):81-8. [Medline].

Ein SH. Leading points in childhood intussusception. J Pediatr Surg. 1976 Apr. 11(2):209-11. [Medline].

Eshel G, Barr J, Heiman E, et al. Incidence of recurrent intussusception following barium versus air enema. Acta Paediatr. 1997 May. 86(5):545-6. [Medline].

Fragoso AC, Campos M, Tavares C, Costa-Pereira A, Estevão-Costa J. Pneumatic reduction of childhood intussusception. Is prediction of failure important?. J Pediatr Surg. 2007 Sep. 42(9):1504-8. [Medline].

Franken EA Jr, Smith WL, Chernish SM, et al. The use of glucagon in hydrostatic reduction of intussusception: a double-blind study of 30 patients. Radiology. 1983 Mar. 146(3):687-9. [Medline].

Gerst PH, Niazi M, Narasimha V, et al. Primary non-Hodgkin lymphoma presenting as ileocolic intussusception. Lymphology. 1996 Dec. 29(4):166-9. [Medline].

Irish MS, Pearl RH, Caty MG, Glick PL. The approach to common abdominal diagnosis in infants and children. Pediatr Clin North Am. 1998 Aug. 45(4):729-72. [Medline].

Konno T, Suzuki H, Kutsuzawa T, et al. Human rotavirus infection in infants and young children with intussusception. J Med Virol. 1978. 2(3):265-69. [Medline].

Lipskar A, Telem D, Masseaux J, Midulla P, Dolgin S. Failure of appendectomy to resolve appendiceal intussusception. J Pediatr Surg. 2008 Aug. 43(8):1554-6. [Medline].

Little KJ, Danzl DF. Intussusception associated with Henoch-Schonlein purpura. J Emerg Med. 1991. 9 Suppl 1:29-32. [Medline].

Patrícia S, Cláudia N, Susana M, Inês L, José S, Manuela S. Perioral pigmentation: what is your diagnosis?. Dermatol Online J. 2008 Nov 15. 14(11):16. [Medline].

Peh WC, Khong PL, Lam C, et al. Ileoileocolic intussusception in children: diagnosis and significance. Br J Radiol. 1997 Sep. 70(837):891-6. [Medline].

Riebel TW, Nasir R, Weber K. US-guided hydrostatic reduction of intussusception in children. Radiology. 1993 Aug. 188(2):513-6. [Medline].

Rohrschneider WK, Troger J. Hydrostatic reduction of intussusception under US guidance. Pediatr Radiol. 1995. 25(7):530-4. [Medline].

Sargent MA, Wilson BP. Are hydrostatic and pneumatic methods of intussusception reduction comparable?. Pediatr Radiol. 1991. 21(5):346-9. [Medline].

Schier F. Experience with laparoscopy in the treatment of intussusception. J Pediatr Surg. 1997 Dec. 32(12):1713-4. [Medline].

Shanbhogue RL, Hussain SM, Meradji M, et al. Ultrasonography is accurate enough for the diagnosis of intussusception. J Pediatr Surg. 1994 Feb. 29(2):324-7; discussion 327-8. [Medline].

Shiels WE 2nd, Maves CK, Hedlund GL, Kirks DR. Air enema for diagnosis and reduction of intussusception: clinical experience and pressure correlates. Radiology. 1991 Oct. 181(1):169-72. [Medline].

Shwachman H. Gastrointestinal manifestations of cystic fibrosis. Pediatr Clin North Am. 1975 Nov. 22(4):787-805. [Medline].

Starshak RJ, Sty JR, Bruce JS. Meconium plug syndrome associated with neonatal intussusception. Gastrointest Radiol. 1981 Jan 15. 6(1):75-8. [Medline].
Medscape Reference © 2011 WebMD, LLC