Stomas of the Small and Large Intestine Treatment & Management
Author: Robert K Minkes, MD, PhD; Chief Editor: Harsh Grewal, MD, FACS, FAAP more...
Updated: Apr 27, 2015
What would you like to print?
Medical Therapy
Stomas are created for the treatment of certain surgical diseases of the gastrointestinal (GI) tract when no medical alternatives are available.
Surgical Therapy
The operation performed depends on the specific disease being treated. Injuries to the rectum and sphincter are difficult to repair in the initial setting. Minor injuries may be repaired primarily. For more extensive injuries, exploratory laparotomy should be performed to rule out intra-abdominal injuries, and a diverting colostomy should be created.[4] Debridement of the perineum should be avoided in the initial setting. The anal sphincter can be reconstructed later.
In selected cases, performing ostomies by means of minimally invasive surgical technique (laparoscopic surgery) is possible.
Preoperative Details
Stomas are created in both elective and emergency settings. A physician, enterostomal therapist, or nurse specialist should counsel children undergoing elective colostomy as well as their families. This preparation reduces their anxiety and makes postoperative management easier. When safe to do so, the bowel is prepared mechanically and with antibiotics; however, this preparation should be avoided when an obstruction is present.
The potential stoma sites should be marked preoperatively. In older children, the site should be marked with the patient in both sitting and supine positions to ensure that the stoma appliance fits securely. The stoma site should be selected to avoid fat folds, scars, and bony prominences. A useful selection technique is drawing a vertical line through the umbilicus to the pubis and a transverse line through the inferior margin of the umbilicus. A disk the size of a stoma faceplate can then be used to determine the location.
When an adequate site for all positions is found, the site should be marked with ink. After the induction of general anesthesia in the operating room, a fine needle can be used to scratch the site prior to preparation of the abdominal skin.
Intraoperative Details
Construction of a stoma requires the bowel to be mobile enough to be brought through the abdominal wall. Tension on the mesentery should be avoided. Ideally, stomas are brought out through separate skin incisions, but ultimately, the site used is dictated by the clinical situation.
In older children and adolescents, stomas should be brought through the rectus abdominis to prevent parastomal hernias. A disk of skin is removed, and the fascia is incised longitudinally. The stoma is matured with absorbable suture after the abdominal incision is closed. In neonates and infants, the stomas may be covered with petrolatum gauze until bowel function returns. In older children, a one-piece stoma appliance that can be cut to just fit around the stoma should be applied in the operating room.
Postoperative Details
Return of bowel function varies and depends on the clinical setting. Ileostomies and colostomies usually begin to function in 4-5 days. In the first few days, clear or serosanguinous fluid may appear. This finding should not be mistaken for an indication of bowel activity. An enterostomal therapist or nurse specialist should be involved early in the care of the newly formed stoma and in the instruction of the patient and family regarding long-term care of the stoma.
Follow-up
Small bowel stomas (ie, jejunostomy, ileostomy) and proximal colostomies have liquid output. Volumes may be large, and the fluid may irritate the skin. Use of an appropriately fitting stoma bag is essential. Various stoma appliances and products are available. Stoma appliances should be able to remain in place for several days. Improperly fitted appliances leak and lead to more complications.
Local irritation, skin excoriation, and yeast infections can be treated with appropriate topical medication and skin care. Mild stoma bleeding is not uncommon and usually stops spontaneously. Children with high ostomy output require close follow-up for dehydration and electrolyte imbalances.
Complications
Stoma-related complications
Many potential stoma-related complications are recognized.[5, 6]
Skin irritation and infection are the most common complications with pediatric stomas. Excoriation from stoma effluent, candidal infection, and dermatitis are frequent; improper location or construction of the stoma and poor stoma care are often responsible. (See the images below.) Local wound care and patient or caretaker education often corrects the problem. Occasionally, surgical revision is needed.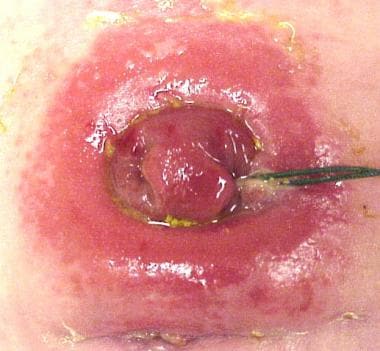 Appearance of violaceous rash commonly due to Candida albicans. String coming out of the distal stoma was passed through a distal stricture and out of the anus.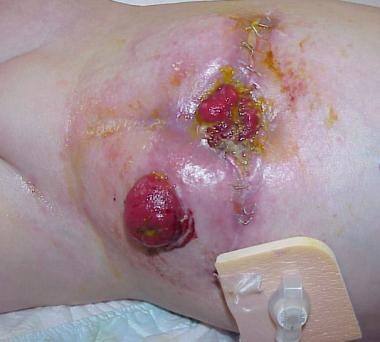 Skin irritation, stoma retraction, and wound infection after placement of a stoma through a laparotomy incision.
Wound infection, wound separation, dehiscence, and postoperative sepsis may also occur after formation of a stoma, particularly if the stoma has been brought out through the wound (see the image below.)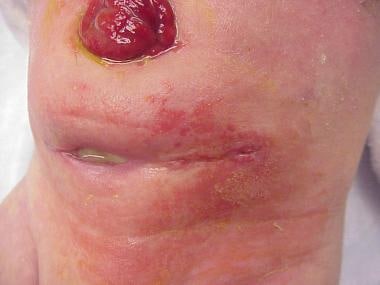 Wound infection and postoperative sepsis may also occur after formation of a stoma. Note the redness of the skin at the laparotomy incision site and evidence of soft tissue abdominal wall infection.
Stoma prolapse also is common in children. Prolapse can occur in end or loop stomas. Both proximal and distal bowel segments can protrude many centimeters (see the image below), though this complication may be more common in the distal limb. A variety of surgical techniques have been used, with mixed success, to reduce the incidence of prolapse.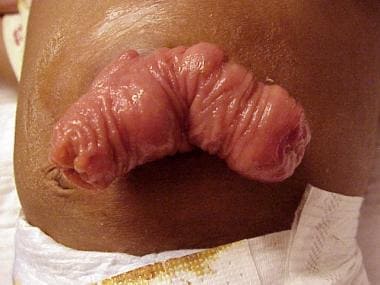 Prolapse of loop colostomy. Both proximal and distal limbs have prolapsed. This may or may not cause intestinal obstruction.
Once prolapse occurs, it often becomes a chronic problem that can be difficult to correct. In most cases, prolapse is an unsightly nuisance but is well tolerated by the child. Surgical revision is indicated for the rare instances of ischemia, obstruction, ulceration, or chronic bleeding. Stoma reversal is the optimal treatment.
Stoma retraction results in a stoma that is flush with the skin, and difficulty in controlling the effluent may lead to skin breakdown. Retraction of a loop colostomy results in a blowhole configuration that allows proximal contents to spill into the distal segment. If distal diversion is necessary, revision may be required. A retracted end stoma often re-protrudes spontaneously. Usually, when the stoma is temporary, only short-term measures are needed until the stoma is reversed. Permanent stomas that have retracted may require surgical revision.
Intestinal obstruction is also common. Stoma strictures can occur at the skin level, the fascial level, or both. Partial obstruction can result in hyperperistalsis and hypersecretion; massive fluid losses through the stoma may result in dehydration. If a stoma stricture is suspected, the size of the opening can be determined by carefully passing metal sounds through the stoma.
Attempts at dilating the stoma are usually unsuccessful and may cause intestinal perforation. Passage of a soft catheter proximal to the stricture can provide temporary decompression. Most significant stoma strictures require surgical revision; a local procedure with minimal morbidity is often possible. Parastomal hernias usually require surgical intervention.
Other causes of obstruction include luminal plugging caused by ingested food, adhesive intestinal obstruction, internal hernia, and volvulus. Obstruction is usually obvious, and the diagnosis is based on the patient's history and findings at physical examination and on plain radiography. In all patients with a bowel obstruction, a nasogastric tube should be placed for decompression and the patient should receive intravenous hydration.
A study with water-soluble contrast material administered through the stoma provides diagnostic information and, in most cases of luminal obstruction, is therapeutic. Most adhesive obstructions improve with nasogastric decompression and bowel rest. Prompt surgical exploration is required in patients with suspected ischemic or gangrenous bowel, clinical deterioration, or obstruction that does not rapidly resolve with nonsurgical therapy.
Psychological issues can be significant for the child and the family.[7] These effects can be particularly important in adolescents, who are dealing with body image and sexuality. A team approach to providing preoperative counseling, postoperative care, and rehabilitation is crucial to the well-being of the patient. The participation of an enterostomal therapist or nurse specialist is essential. The age of the patient and an understanding of physical and psychological changes that children with stomas experience must be carefully considered.
In summary, potential stoma-related problems include the following:
Skin irritation - Chemical, mechanical, allergic

Intestinal obstruction - Adhesion, volvulus, internal hernia

Wound-related complications - Infection, separation, dehiscence

Infections

Prolapse

Retraction

Stricture

Fistula

Ulceration

Leakage

Bleeding

Parastomal hernia

Fluid and electrolyte imbalances

Psychological trauma
Fluid and electrolyte problems
Physiologic abnormalities related to loss of fluid and electrolytes are common in young patients with stomas, particularly when the stoma is in the proximal gastrointestinal tract. Fluid and electrolyte losses from any stoma can be significant, and replacement is usually required. (See Table 1 below.)
Table 1. Electrolyte Composition of Enteral Fluids. (Open Table in a new window)
Fluid
Na+



mEq/L




Cl-



mEq/L




K+



mEq/L




HCO3-



mEq/L




H+



mEq/L




Saliva
30-60
15-40
20
15-50
N/A
Gastric
60-100
90-140
10-20
N/A
30-100
Duodenal
140
80
5
50
N/A
Bile
140
100
5-10
40-50
N/A
Pancreatic
140
75
5-15
90
N/A
Jejunal
100
100
5-10
10-20
N/A
Ileal
130
110
10
30
N/A
Colonic
60
40
30
20
N/A
Diarrhea
130
30
90
N/A
N/A
Duodenal stomas are rare, but duodenal fistulas may occur after trauma or surgery. Duodenal fistulas typically have high output and therefore are difficult to control. Proximal jejunal stomas also tend to have high-volume output, with fluid and electrolyte losses similar to those of duodenal fistulas, except for a slightly lower sodium loss from the jejunum. Pancreatic and biliary fluids also empty into the duodenum, and secretion of these fluids may substantially increase if feeding into the stomach is initiated.
Often, the proximal bowel can adapt to the fluid and electrolyte losses of a distal small bowel stoma. After a period of adaptation, the absorptive capacity of the small bowel proximal to the ileostomy increases, and the bowel can reduce ileostomy electrolyte losses by as much as two thirds of its initial output. Adaptation of water absorption is a much slower process. Ileostomy output should average 10-15 mL/kg/day. A doubling of usual stoma output should be considered abnormal.
Normal ileostomy output results in the loss of two to three times the normal amount of salt and water, and children with these stomas are susceptible to dehydration. In infants, sodium and bicarbonate losses may exceed renal conservation mechanisms. Infants are prone to dehydration, and they may not gain appropriate amounts of weight unless salt and bicarbonate supplementation is provided.
Although failure to thrive as a consequence of total body sodium depletion (TBSD) has been reported in neonates with high-output ileostomies, its has not been widely reported in older children. A case series by O'Neil et al described four older children (age range, 18 months to 19 years) who had TBSD and experienced unintentional weight loss despite adequate energy intake.[8] Thus, the relation between TBSD and failure to thrive may extend well beyond the neonatal period and possibly into adulthood.
Patients with long-standing ileostomies often have hypomagnesemia and decreased absorption of vitamin B12 and folic acid. Patients with ileostomies also have a higher incidence of renal calculi and gallstones than that of the general population. Also, they may have iron deficiency and fat malabsorption.
Intestinal contents become progressively more solid as they pass through the colon to the rectum. Ileal and cecal contents are liquid and erosive to the skin. The contents of transverse colon stomas are typically semiliquid and less erosive; those of the descending colon tend to be solid and nonreactive with skin. These generalizations are true when the proximal bowel has sufficient length to allow absorption of nutrients and fluid. In children with short bowel syndrome, fluid and electrolyte losses can be massive, even with a distal colostomy.
Outcome and Prognosis
The outcome of patients with intestinal stomas depends on the underlying condition. Fortunately, most stomas in infants and children are reversible. Reestablishing bowel continuity depends on factors such as the underlying disease, the general medical condition of the child, and the presence of stoma-related complications. Understanding the anatomy prior to stoma closure is crucial. In most instances, a preoperative distal contrast-enhanced study should be performed.
In general, the prognosis for patients with intestinal stomas is good. The exception is in patients with stomas and short gut syndrome. In such cases, reversal of the stoma should be attempted as soon as possible in order to maximize the absorptive capacity of the intestines. However, in many cases of short gut syndrome, ostomy reversal is not possible because of other associated comorbid conditions. The most common cause of short gut syndrome in North America is necrotizing enterocolitis.
In a retrospective cohort study intended to compare clinical outcomes of loop and divided colostomies in patients with anorectal malformations, Oda et al found that the former, because of the higher incidence of prolapse, carried a higher total complication rate than the latter but that the rates of other complications (eg, megarectum and urinary tract infection) did not differ significantly between the two stoma types.[9]
References
Levitt MA, Mathis KL, Pemberton JH. Surgical treatment for constipation in children and adults. Best Pract Res Clin Gastroenterol. 2011 Feb. 25(1):167-79. [Medline].

Kootstra G, Kamann HL, Okken A. The Bishop-Koop anastomosis-a find in pediatric surgery. Neth J Surg. 1980. 32(3):92-6. [Medline].

Cameron GS, Lau GY. The umbilicus as a site for temporary colostomy in infants. J Pediatr Surg. 1982 Aug. 17(4):362-4. [Medline].

Ghritlaharey RK, Budhwani KS, Shrivastava DK. Exploratory laparotomy for acute intestinal conditions in children: a review of 10 years of experience with 334 cases. Afr J Paediatr Surg. 2011 Jan-Apr. 8(1):62-9. [Medline].

Pearl RK, Prasad ML, Orsay CP. Early local complications from intestinal stomas. Arch Surg. 1985 Oct. 120(10):1145-7. [Medline].

Ratliff CR, Scarano KA, Donovan AM. Descriptive study of peristomal complications. J Wound Ostomy Continence Nurs. 2005 Jan-Feb. 32(1):33-7. [Medline].

Brown H, Randle J. Living with a stoma: a review of the literature. J Clin Nurs. 2005 Jan. 14(1):74-81. [Medline].

O'Neil M, Teitelbaum DH, Harris MB. Total body sodium depletion and poor weight gain in children and young adults with an ileostomy: a case series. Nutr Clin Pract. 2014 Jun. 29(3):397-401. [Medline].

Oda O, Davies D, Colapinto K, Gerstle JT. Loop versus divided colostomy for the management of anorectal malformations. J Pediatr Surg. 2014 Jan. 49(1):87-90; discussion 90. [Medline].

al-Salem AH, Grant C, Khawaja S. Colostomy complications in infants and children. Int Surg. 1992 Jul-Sep. 77(3):164-6. [Medline].

Albanese CT, Jennings RW, Lopoo JB. One-stage correction of high imperforate anus in the male neonate. J Pediatr Surg. 1999 May. 34(5):834-6. [Medline].

Beiler HA, Zachariou Z, Daum R. Impalement and anorectal injuries in childhood: a retrospective study of 12 cases. J Pediatr Surg. 1998 Aug. 33(8):1287-91. [Medline].

Bishop HC, Koop CE. Management of meconium ileus: resection, Roux-en-Y anastomosis and ileostomy irrigation with pancreatic enzymes. Ann Surg. 1957. 145:410.

Bower TR, Pringle KC, Soper RT. Sodium deficit causing decreased weight gain and metabolic acidosis in infants with ileostomy. J Pediatr Surg. 1988 Jun. 23(6):567-72. [Medline].

Curry JI, Osborne A, Malone PS. The MACE procedure: experience in the United Kingdom. J Pediatr Surg. 1999 Feb. 34(2):338-40. [Medline].

De Carli C, Bettolli M, Jackson CC, Sweeney B, Rubin S. Laparoscopic-assisted colostomy in children. J Laparoendosc Adv Surg Tech A. 2008 Jun. 18(3):481-3. [Medline].

el Hefny A, el Beshlawy A, Nour S. Ketotifen in the treatment of infants and young children with wheezy bronchitis and bronchial asthma. J Int Med Res. 1986. 14(5):267-73. [Medline].

Fonkalsrud EW. Long-term results after colectomy and ileoanal pull-through procedure in children. Arch Surg. 1996 Aug. 131(8):881-5; discussion 885-6. [Medline].

Fonkalsrud EW, Dunn JC, Kawaguchi AI. Simplified technique for antegrade continence enemas for fecal retention and incontinence. J Am Coll Surg. 1998 Oct. 187(4):457-60. [Medline].

Griffiths DM, Malone PS. The Malone antegrade continence enema. J Pediatr Surg. 1995 Jan. 30(1):68-71. [Medline].

Haberlik A, Hollwarth ME, Windhager U. Problems of ileostomy in necrotizing enterocolitis. Acta Paediatr Suppl. 1994. 396:74-6. [Medline].

Harberg FJ, Senekjian EK, Pokorny WJ. Treatment of uncomplicated meconium ileus via T-tube ileostomy. J Pediatr Surg. 1981 Feb. 16(1):61-3. [Medline].

Haut ER, Nance ML, Keller MS. Management of penetrating colon and rectal injuries in the pediatric patient. Dis Colon Rectum. 2004 Sep. 47(9):1526-32. [Medline].

Hollinworth H, Howlett S, Tallett J. Professional holistic care of the person with a stoma: online learning. Br J Nurs. 2004 Nov 25-Dec 8. 13(21):1268-75. [Medline].

Janik JS, Ein SH, Filler RM. An assessment of the surgical treatment of adhesive small bowel obstruction in infants and children. J Pediatr Surg. 1981 Jun. 16(3):225-35. [Medline].

Kock NG, Darle N, Hulten L. Ileostomy. Curr Probl Surg. 1977 Aug. 14(8):1-52. [Medline].

Langer JC, Fitzgerald PG, Winthrop AL, et al. One-stage versus two-stage Soave pull-through for Hirschsprung's disease in the first year of life. J Pediatr Surg. 1996 Jan. 31(1):33-6; discussion 36-7. [Medline].

Langer JC, Minkes RK, Mazziotti MV, Skinner MA, Winthrop AL. Transanal one-stage Soave procedure for infants with Hirschsprung's disease. J Pediatr Surg. 1999 Jan. 34(1):148-51; discussion 152. [Medline].

Malone PS, Ransley PG, Kiely EM. Preliminary report: the antegrade continence enema. Lancet. 1990 Nov 17. 336(8725):1217-8. [Medline].

Millar AJ, Lakhoo K, Rode H. Bowel stomas in infants and children. A 5-year audit of 203 patients. S Afr J Surg. 1993 Sep. 31(3):110-3. [Medline].

Mollitt DL, Malangoni MA, Ballantine TV. Colostomy complications in children. An analysis of 146 cases. Arch Surg. 1980 Apr. 115(4):455-8. [Medline].

Mousa HM, van den Berg MM, Caniano DA. Cecostomy in children with defecation disorders. Dig Dis Sci. 2006 Jan. 51(1):154-60. [Medline].

Musemeche CA, Kosloske AM, Ricketts RR. Enterostomy in necrotizing enterocolitis: an analysis of techniques and timing of closure. J Pediatr Surg. 1987 Jun. 22(6):479-83. [Medline].

Nour S, Beck J, Stringer MD. Colostomy complications in infants and children. Ann R Coll Surg Engl. 1996 Nov. 78(6):526-30. [Medline].

Quarmby CJ, Millar AJ, Rode H. The use of diverting colostomies in paediatric peri-anal burns. Burns. 1999 Nov. 25(7):645-50. [Medline].

Rothstein FC, Halpin TC Jr, Kliegman RJ. Importance of early ileostomy closure to prevent chronic salt and water losses after necrotizing enterocolitis. Pediatrics. 1982 Aug. 70(2):249-53. [Medline].

Santulli TV, Blanc WA. Congenital atresia of the intestine: pathogenesis and treatment. Ann Surg. 1961. 154:939.

Schwarz KB, Ternberg JL, Bell MJ. Sodium needs of infants and children with ileostomy. J Pediatr. 1983 Apr. 102(4):509-13. [Medline].

Sherkin-Langer F. If This Is A Test, Have I Passed Yet?. Toronto, Canada: Macmillan; 1994.

Steinau G, Ruhl KM, Hörnchen H, Schumpelick V. Enterostomy complications in infancy and childhood. Langenbecks Arch Surg. 2001 Aug. 386(5):346-9. [Medline].

Woodward MN, Foley P, Cusick EL. Colostomy for treatment of functional constipation in children: a preliminary report. J Pediatr Gastroenterol Nutr. 2004 Jan. 38(1):75-8. [Medline].

Yoshida NR, Webber EM, Gillis DA. Roux-en-Y jejunostomy in the pediatric population. J Pediatr Surg. 1996 Jun. 31(6):791-3. [Medline].

Yu SC, Petty JK, Bensard DD. Laparoscopic-assisted percutaneous endoscopic gastrostomy in children and adolescents. JSLS. 2005 Jul-Sep. 9(3):302-4. [Medline].
Table 1. Electrolyte Composition of Enteral Fluids.
Fluid
Na+



mEq/L




Cl-



mEq/L




K+



mEq/L




HCO3-



mEq/L




H+



mEq/L




Saliva
30-60
15-40
20
15-50
N/A
Gastric
60-100
90-140
10-20
N/A
30-100
Duodenal
140
80
5
50
N/A
Bile
140
100
5-10
40-50
N/A
Pancreatic
140
75
5-15
90
N/A
Jejunal
100
100
5-10
10-20
N/A
Ileal
130
110
10
30
N/A
Colonic
60
40
30
20
N/A
Diarrhea
130
30
90
N/A
N/A
Medscape Reference © 2011 WebMD, LLC