Genetics of Klippel-Trenaunay-Weber Syndrome
Author: Ravi Sunderkrishnan, MD; Chief Editor: Maria Descartes, MD more...
Updated: Jan 13, 2015
What would you like to print?
Background
Klippel-Trenaunay syndrome (KTS) is defined by the presence of a combined vascular malformation of the capillaries, veins, and lymphatics; congenital venous abnormalities; and limb hypertrophy. See the image below.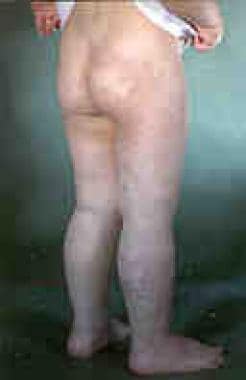 Klippel-Trenaunay syndrome in a young person. Note the port-wine stain extending to the buttocks. These lesions can be associated with venous malformations involving the rectum and bladder.
Isolated reports of cases of limb hypertrophy were published in the 19th century, but the combination of a congenital vascular nevus of an extremity, venous varices on the affected side, and limb hypertrophy was not recognized as a consistent and unique syndrome until a 1900 article by Klippel and Trenaunay. A few years later, Frederick Parkes Weber published a report of similar patients in whom enlarged arteries and veins, rather than just venous abnormalities, were present. Patients with limb hypertrophy, cutaneous capillary malformations, and venous and arterial malformations sometimes receive a diagnosis of Klippel-Trenaunay-Weber syndrome.
Parkes Weber syndrome (PWS) is closely associated with and similar to Klippel-Trenaunay syndrome, except that an arteriovenous malformation (AVM) occurs in association with a cutaneous capillary malformation and skeletal or soft tissue hypertrophy.
Sturge-Weber syndrome is defined by the presence of a meningeal angioma, cutaneous capillary malformation of the face, and glaucoma; this is often accompanied by hemiparesis and hemiatrophy contralateral to the meningeal angioma.[1]
Although each of these syndromes is distinct, overlap does rarely occur. This article focuses on Klippel-Trenaunay syndrome and Parkes Weber syndrome.
Pathophysiology
Klippel-Trenaunay syndrome is characterized by a combined type of vascular malformation of the skin, abnormalities of the venous and lymphatic systems, and limb enlargement. Lymphatic vesicles appear on the surface of the capillary malformation; the lymph may also ooze at times. In addition, the abnormal venous system may produce protrusions of veins on the surface of the skin, called venous flares. Varicose veins appear in early childhood, and lateral venous anomalies are seen in 80% of cases.
Limb hypertrophy is due to the presence of vascular, venous, and lymphatic abnormalities but also to the hypertrophy of soft tissue and bone. The hypertrophy is often asymmetrical and often involves the digits. Ninety-five percent of cases involve the lower extremity.
Because the vascular abnormalities in Klippel-Trenaunay syndrome are not associated with arterial malformations, flow through the malformations is slow. The combination of low-flow vascular abnormalities and lymphatic involvement makes the skin lesions appear bluish or purplish.
In contrast, Parkes Weber syndrome is characterized by the presence of arteriovenous fistulas, and flow through the cutaneous malformations is fast, giving the lesions a pink color. Cardiac hypertrophy or high-output congestive heart failure occurs.
Epidemiology
Frequency
United States
Klippel-Trenaunay syndrome and Parkes Weber syndrome are rare sporadic conditions with no racial or geographic predisposition. Parkes Weber syndrome is much less common than Klippel-Trenaunay syndrome.
Mortality/Morbidity
See the list below:
Klippel-Trenaunay syndrome and Parkes Weber syndrome have a mortality rate of 1%.

All patients have significant morbidity.

Hypertrophy of the extremities or digits can be extreme, requiring amputation.
Lymphatic involvement with lymph vesicles may lead to poor wound healing.
Although superficial vein abnormalities are common, the deep vein can also be involved with thrombosis.
Pulmonary embolism may occur in 10% of patients, particularly after surgery.[2]
Pain may also be a feature of Klippel-Trenaunay syndrome.
One half of patients can be treated solely using medical means.
Race
See the list below:
No racial predilection is noted.
Sex
See the list below:
No sex predilection is observed.
Age
See the list below:
The cutaneous vascular malformation is apparent at birth.

The venous varicosities and limb hypertrophy may not be apparent initially.

The average age of presentation of children to a medical center is 4 years.
References
Purkait R, Samanta T, Sinhamahapatra T, Chatterjee M. Overlap of Sturge-Weber syndrome and Klippel-Trenaunay syndrome. Indian J Dermatol. 2011 Nov. 56(6):755-7. [Medline]. [Full Text].

Douma RA, Oduber CE, Gerdes VE, van Delden OM, van Eck-Smit BL, Meijers JC, et al. Chronic pulmonary embolism in Klippel-Trenaunay syndrome. J Am Acad Dermatol. 2012 Jan. 66(1):71-7. [Medline].

Rohany M, Shaibani A, Arafat O, et al. Spinal arteriovenous malformations associated with Klippel-Trenaunay-Weber syndrome: a literature search and report of two cases. AJNR Am J Neuroradiol. 2007 Mar. 28(3):584-9. [Medline].

Robertson DJ. Congenital arteriovenous fistulae of the extremities. Ann R Coll Surg Engl. 1956. 18:73-98.

Ziyeh S, Spreer J, Rossler J, et al. Parkes Weber or Klippel-Trenaunay syndrome? Non-invasive diagnosis with MR projection angiography. Eur Radiol. 2004 Nov. 14(11):2025-9. [Medline].

Yazaki M, Kaneko K, Tojo K, Miyazaki D, Shimojima Y, Ueda K. An unusual case of Klippel-Trénaunay-Weber syndrome presenting with portosystemic encephalopathy. Intern Med. 2008. 47(18):1621-5. [Medline].

Ceballos-Quintal JM, Pinto-Escalante D, Castillo-Zapata I. A new case of Klippel-Trenaunay-Weber (KTW) syndrome: evidence of autosomal dominant inheritance. Am J Med Genet. 1996 Jun 14. 63(3):426-7. [Medline].

Phadke SR. Klippel Trenaunay syndrome. Huret JL, ed. Atlas of Genetics and Cytogenetics in Oncology and Haematology. 2009. 153-5. [Full Text].

Chen D, Li L, Tu X, et al. Functional characterization of Klippel-Trenaunay syndrome gene AGGF1 identifies a novel angiogenic signaling pathway for specification of vein differentiation and angiogenesis during embryogenesis. Hum Mol Genet. 2013 Mar 1. 22(5):963-76. [Medline].

Wang Q, Timur AA, Szafranski P, et al. Identification and molecular characterization of de novo translocation t(8;14)(q22.3;q13) associated with a vascular and tissue overgrowth syndrome. Cytogenet Cell Genet. 2001. 95(3-4):183-8. [Medline]. [Full Text].

Kashiwada T, Fukuhara S, Terai K, et al. ß-catenin-dependent transcription is central to Bmp-mediated formation of venous vessels. Development. 2015 Jan 6. [Medline].

Brouillard P, Vikkula M. Genetic causes of vascular malformations. Hum Mol Genet. 2007 Oct 15. 16 Spec No. 2:R140-9. [Medline].

Servelle M. Klippel and Trenaunay's syndrome. 768 operated cases. Ann Surg. 1985 Mar. 201(3):365-73. [Medline].

Jacob AG, Driscoll DJ, Shaughnessy WJ, et al. Klippel-Trenaunay syndrome: spectrum and management. Mayo Clin Proc. 1998 Jan. 73(1):28-36. [Medline].

Güngor Gündogan T, Jacquemyn Y. Klippel-Trenaunay syndrome and pregnancy. Obstet Gynecol Int. 2010. 2010:706850. [Medline]. [Full Text].

Neubert AG, Golden MA, Rose NC. Kasabach-Merritt coagulopathy complicating Klippel-Trenaunay-Weber syndrome in pregnancy. Obstet Gynecol. 1995 May. 85(5 Pt 2):831-3. [Medline].

Berry SA, Peterson C, Mize W, et al. Klippel-Trenaunay syndrome. Am J Med Genet. 1998 Oct 2. 79(4):319-26. [Medline].

Cabrera J, Cabrera J, Garcia-Olmedo MA, Redondo P. Treatment of venous malformations with sclerosant in microfoam form. Arch Dermatol. 2003 Nov. 139(11):1409-16. [Medline].

Cohen MM. Klippel-Trenaunay syndrome. Am J Med Genet. 2000 Jul 31. 93(3):171-5. [Medline].

Huiras EE, Barnes CJ, Eichenfield LF, et al. Pulmonary thromboembolism associated with Klippel-Trenaunay syndrome. Pediatrics. 2005 Oct. 116(4):e596-600. [Medline].

Kasabach HH, Merritt KK. Capillary hemangioma with extensive purpura: a report of a case. Am J Dis Child. 1940. 59:1063-70.

Kinmonth JB, Young AE, Edwards JM, et al. Mixed vascular deformities of the lower limbs, with particular reference to lymphography and surgical treatment. Br J Surg. 1976 Dec. 63(12):899-906. [Medline].

Klippel M, Trenaunay P. Du naevus variqueux osteohypertrophique. Arch Gen Med. 1900. 185:641-72.

Lee A, Driscoll D, Gloviczki P, et al. Evaluation and management of pain in patients with Klippel-Trenaunay syndrome: a review. Pediatrics. 2005 Mar. 115(3):744-9. [Medline].

Maari C, Frieden IJ. Klippel-Trenaunay syndrome: the importance of "geographic stains" in identifying lymphatic disease and risk of complications. J Am Acad Dermatol. 2004 Sep. 51(3):391-8. [Medline].

Samuel M, Spitz L. Klippel-Trenaunay syndrome: clinical features, complications and management in children. Br J Surg. 1995 Jun. 82(6):757-61. [Medline].

Stephan MJ, Hall BD, Smith DW, Cohen MM Jr. Macrocephaly in association with unusual cutaneous angiomatosis. J Pediatr. 1975 Sep. 87(3):353-9. [Medline].

Stickler GB. Klippel-Trenaunay syndrome. Gomez MR, ed. Neurocutaneous Diseases: A Practical Approach. Butterworth-Heinemann; 1987. 368-75.

Tian XL, Kadaba R, You SA, et al. Identification of an angiogenic factor that when mutated causes susceptibility to Klippel-Trenaunay syndrome. Nature. 2004 Feb 12. 427(6975):640-5. [Medline].

Weber PF. Angioma: formation in connection with hypertrophy of limbs and hemihypertrophy. Br J Dermatol. 1907. 19:231-5.

Whelan AJ, Watson MS, Porter FD, Steiner RD. Klippel-Trenaunay-Weber syndrome associated with a 5:11 balanced translocation. Am J Med Genet. 1995 Dec 4. 59(4):492-4. [Medline].

Young AE, Ackroyd J, Baskerville P. Combined vascular malformations. Mulliken JB, Young AE, eds. Vascular Birthmarks: Hemangiomas and Malformations. WB Saunders Co; 1988. 246-74.
Medscape Reference © 2011 WebMD, LLC