Genetics of Fabry Disease
Author: Robert J Desnick, MD, PhD; Chief Editor: Maria Descartes, MD more...
Updated: Feb 24, 2016
What would you like to print?
Background
Fabry disease is an X-linked lysosomal storage disease that is caused by deficient activity of lysosomal enzyme α -galactosidase A (α -Gal A). Most males with no α -Gal A activity develop the classic phenotype of Fabry disease, which affects multiple organ systems. The first clinical manifestations of the disease, which consist of episodes of severe pain in the extremities (acroparesthesias), hypohidrosis, corneal and lenticular changes, and skin lesions (angiokeratoma) develop in childhood. See the images below.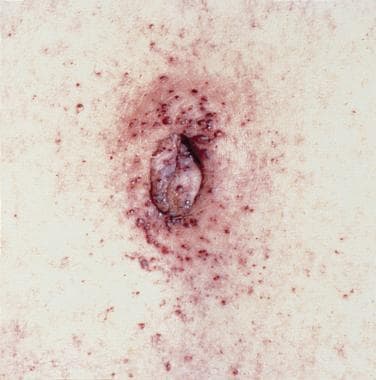 Angiokeratoma is the small punctate reddish-to-bluish angiectases on the umbilicus.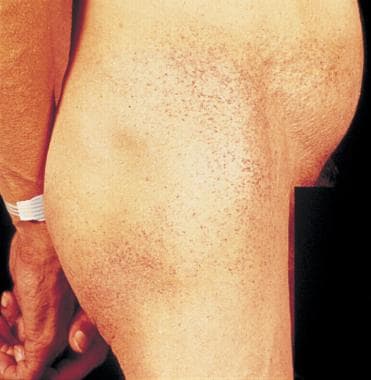 Angiokeratomas are commonly observed as dense cluster of lesions on the flank and private areas.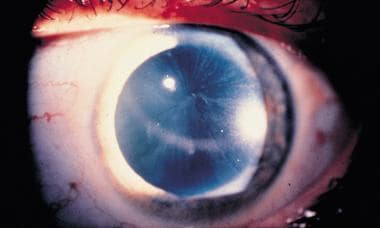 Corneal verticillata, commonly seen in patients with Fabry disease, detectable by slit lamp examination.
The rate of disease progression and specific organ damage demonstrate intrafamilial and interfamilial variability. Renal failure, cardiovascular disease, and stroke are the major causes of morbidity and mortality, occurring in the fourth or fifth decade of life.
Pathophysiology
Glycosphingolipids, predominantly globotriaosylceramide (GL-3) and galabiosylceramide, accumulate in the lysosomes of various cells (eg, in the vascular endothelium of multiple organs) owing to α -Gal A deficiency. The accumulation of GL-3 in the lysosomes causes lysosomal and cellular dysfunction; this, in turn, triggers the cascade of cells and tissue ischemia and fibrosis.
Epidemiology
Frequency
United States
Fabry disease is one of the more common lysosomal storage disorders, affecting approximately 1 in 40,000-60,000 males.
Mortality/Morbidity
Prior to the availability of renal transplant, dialysis, and, more recently, enzyme replacement therapy (ERT), the average age at death in men with classic Fabry disease was 41 years. Renal failure, heart failure and/or myocardial infarction, and stroke were among the most likely causes of death.
Race
Although most patients with Fabry disease are white, the disorder has been described in patients in many ethnic groups, including those with Hispanic, African, Asian, and Middle Eastern ancestry.
Sex
As is expected in X-linked disorders, males with deleterious mutations have little to no residual α -Gal A activity. Therefore, these patients experience the full spectrum of disease symptoms. Because of random X inactivation (lyonization), the disease presentation in female carriers is more variable and depends on the normal-to-mutant ratio of α -Gal A in the different tissues. A significant number of female carriers may develop Fabry disease–related symptoms, including acroparesthesias, GI symptoms, renal and cardiac disease, and/or stroke.
Age
Most males with classic Fabry disease first manifest symptoms in childhood or early adolescence. The earliest manifestations include acroparesthesias, angiokeratomas, hypohidrosis, and lenticular and corneal changes. Proteinuria usually becomes evident in the second decade of life, and renal insufficiency is typically present in the third decade of life. Cardiovascular and cerebrovascular diseases usually develop in the fourth decade of life.
Individuals with atypical renal or cardiac variants usually do not have signs or symptoms in childhood. Many of these patients remain asymptomatic well into adulthood, when patients with classic symptoms are severely affected or have died from the disease.
References
Watanabe H, Goto S, Miyashita A, et al. Role of the p.E66Q variant of GLA in the progression of chronic kidney disease. Clin Exp Nephrol. 2014 Apr 10. [Medline].

[Guideline] Eng CM, Germain DP, Banikazemi M, et al. Fabry disease: guidelines for the evaluation and management of multi-organ system involvement. Genet Med. 2006 Sep. 8(9):539-48. [Medline].

[Guideline] Desnick RJ, Brady R, Barranger J, et al. Fabry disease, an under-recognized multisystemic disorder: expert recommendations for diagnosis, management, and enzyme replacement therapy. Ann Intern Med. 2003 Feb 18. 138(4):338-46. [Medline]. [Full Text].

Auray-Blais C, Boutin M, Gagnon R, Dupont FO, Lavoie P, Clarke JT. Urinary globotriaosylsphingosine-related biomarkers for fabry disease targeted by metabolomics. Anal Chem. 2012 Mar 20. 84(6):2745-53. [Medline].

West M, Nicholls K, Mehta A, et al. Agalsidase alfa and kidney dysfunction in Fabry disease. J Am Soc Nephrol. 2009 May. 20(5):1132-9. [Medline]. [Full Text].

Wilcox WR, Linthorst GE, Germain DP, Feldt-Rasmussen U, Waldek S, Richards SM, et al. Anti-a-galactosidase A antibody response to agalsidase beta treatment: Data from the Fabry Registry. Mol Genet Metab. 2012 Mar. 105(3):443-9. [Medline].

Trimarchi H, Canzonieri R, Schiel A, et al. Podocyturia is significantly elevated in untreated vs treated Fabry adult patients. J Nephrol. 2016 Feb 3. [Medline].

Ashton-Prolla P, Tong B, Shabbeer J, et al. Fabry disease: twenty-two novel mutations in the alpha-galactosidase A gene and genotype/phenotype correlations in severely and mildly affected hemizygotes and heterozygotes. J Investig Med. 2000 Jul. 48(4):227-35. [Medline].

Banikazemi M, Bultas J, Waldek S, et al. Agalsidase-beta therapy for advanced Fabry disease: a randomized trial. Ann Intern Med. 2007 Jan 16. 146(2):77-86. [Medline]. [Full Text].

Banikazemi M, Desnick RJ. Does enzyme replacement therapy improve symptoms of Fabry disease in patients undergoing dialysis?. Nat Clin Pract Nephrol. 2006 Feb. 2(2):72-3. [Medline].

Banikazemi M, Ullman T, Desnick RJ. Gastrointestinal manifestations of Fabry disease: clinical response to enzyme replacement therapy. Mol Genet Metab. 2005 Aug. 85(4):255-9. [Medline].

Bennett RL, Hart KA, O'Rourke E, et al. Fabry disease in genetic counseling practice: recommendations of the National Society of Genetic Counselors. J Genet Couns. 2002 Apr. 11(2):121-46. [Medline].

Bishop DF, Calhoun DH, Bernstein HS, et al. Human alpha-galactosidase A: nucleotide sequence of a cDNA clone encoding the mature enzyme. Proc Natl Acad Sci U S A. 1986 Jul. 83(13):4859-63. [Medline]. [Full Text].

Brady RO, Schiffmann R. Clinical features of and recent advances in therapy for Fabry disease. JAMA. 2000 Dec 6. 284(21):2771-5. [Medline].

Bühler FR, Thiel G, Dubach UC, Enderlin F, Gloor F, Tholen H. Kidney transplantation in Fabry's disease. Br Med J. 1973 Jul 7. 3(5870):28-9. [Medline].

Chien YH, Lee NC, Chiang SC, Desnick RJ, Hwu WL. Fabry Disease: Incidence of the Common Later-Onset a -Galactosidase A IVS4+919G>A Mutation in Taiwanese Newborns -- Superiority of DNA-Based to Enzyme-Based Newborn Screening for Common Mutations. Mol Med. 2012 Mar 19. [Medline].

Cho ME, Kopp JB. Fabry disease in the era of enzyme replacement therapy: a renal perspective. Pediatr Nephrol. 2004 Jun. 19(6):583-93. [Medline].

Colombi A, Kostyal A, Bracher R, Gloor F, Mazzi R, Tholen H. Angiokeratoma corporis diffusum--Fabry's disease. Helv Med Acta. 1967 Dec. 34(1):67-83. [Medline].

Crutchfield KE, Patronas NJ, Dambrosia JM, et al. Quantitative analysis of cerebral vasculopathy in patients with Fabry disease. Neurology. 1998 Jun. 50(6):1746-9. [Medline].

Desnick RJ. Enzyme replacement and enhancement therapies for lysosomal diseases. J Inherit Metab Dis. 2004. 27(3):385-410. [Medline].

Desnick RJ, Ioannou YA, Eng CM. a-Galactosidase A deficiency: Fabry disease. Scriver CR, Beaudet AL, Sly WS, eds. In: Metabolic and Molecular Bases of Inherited Disease. 8th ed. McGraw-Hill Professional; 2001. 3733-74.

Eng CM, Banikazemi M, Gordon RE, Goldman M, Phelps R, Kim L, et al. A phase 1/2 clinical trial of enzyme replacement in fabry disease: pharmacokinetic, substrate clearance, and safety studies. Am J Hum Genet. 2001 Mar. 68(3):711-22. [Medline]. [Full Text].

Eng CM, Guffon N, Wilcox WR, et al. Safety and efficacy of recombinant human alpha-galactosidase A--replacement therapy in Fabry's disease. N Engl J Med. 2001 Jul 5. 345(1):9-16. [Medline].

Erten Y, Ozdemir FN, Demirhan B, et al. A case of Fabry's disease with normal kidney function at 10 years after successful renal transplantation. Transplant Proc. 1998 May. 30(3):842-3. [Medline].

Frustaci A, Chimenti C, Ricci R, et al. Improvement in cardiac function in the cardiac variant of Fabry's disease with galactose-infusion therapy. N Engl J Med. 2001 Jul 5. 345(1):25-32. [Medline].

Goldman ME, Cantor R, Schwartz MF, et al. Echocardiographic abnormalities and disease severity in Fabry's disease. J Am Coll Cardiol. 1986 May. 7(5):1157-61. [Medline].

Hilz MJ, Brys M, Marthol H. Enzyme replacement therapy improves function of C-, Adelta-, and Abeta-nerve fibers in Fabry neuropathy. Neurology. 2004 Apr 13. 62(7):1066-72. [Medline].

Hilz MJ, Stemper B, Kolodny EH, et al. Lower limb cold exposure induces pain and prolonged small fiber dysfunction in Fabry patients. Pain. 2000 Feb. 84(2-3):361-5. [Medline].

Linthorst GE, De Rie MA, Tjiam KH. Misdiagnosis of Fabry disease: importance of biochemical confirmation of clinical or pathological suspicion. Br J Dermatol. 2004 Mar. 150(3):575-7. [Medline].

Morgan SH, Rudge P, Smith SJ, et al. The neurological complications of Anderson-Fabry disease (alpha-galactosidase A deficiency)--investigation of symptomatic and presymptomatic patients. Q J Med. 1990 May. 75(277):491-507. [Medline].

Ojo A, Meier-Kriesche HU, Friedman G, et al. Excellent outcome of renal transplantation in patients with Fabry's disease. Transplantation. 2000 Jun 15. 69(11):2337-9. [Medline].

Ries M, Clarke JT, Whybra C, et al. Enzyme-replacement therapy with agalsidase alfa in children with Fabry disease. Pediatrics. 2006 Sep. 118(3):924-32. [Medline].

Schiffmann R. Enzyme replacement in Fabry disease: the essence is in the kidney. Ann Intern Med. 2007 Jan 16. 146(2):142-4. [Medline].

Schiffmann R. Neuropathy and Fabry disease: pathogenesis and enzyme replacement therapy. Acta Neurol Belg. 2006 Jun. 106(2):61-5. [Medline].

Schiffmann R, Kopp JB, Austin HA, et al. Enzyme replacement therapy in Fabry disease: a randomized controlled trial. JAMA. 2001 Jun 6. 285(21):2743-9. [Medline].

Schiffmann R, Murray GJ, Treco D, Daniel P, Sellos-Moura M, Myers M, et al. Infusion of alpha-galactosidase A reduces tissue globotriaosylceramide storage in patients with Fabry disease. Proc Natl Acad Sci U S A. 2000 Jan 4. 97(1):365-70. [Medline]. [Full Text].

von Scheidt W, Eng CM, Fitzmaurice TF, et al. An atypical variant of Fabry's disease with manifestations confined to the myocardium. N Engl J Med. 1991 Feb 7. 324(6):395-9. [Medline].

Wilcox WR, Banikazemi M, Guffon N, Waldek S, Lee P, Linthorst GE, et al. Long-term safety and efficacy of enzyme replacement therapy for Fabry disease. Am J Hum Genet. 2004 Jul. 75(1):65-74. [Medline]. [Full Text].
Medscape Reference © 2011 WebMD, LLC