Pediatric Imperforate Hymen Workup
Author: Amulya K Saxena, MD, PhD; Chief Editor: Andrea L Zuckerman, MD more...
Updated: Apr 22, 2016
What would you like to print?
Approach Considerations
Careful physical examination combined with imaging is usually sufficient to establish the diagnosis of imperforate hymen. In certain circumstances related to the child's age and maturity, examination may need to be deferred until it can be performed with the patient under anesthesia.
Laboratory studies are not necessary in the evaluation and treatment of imperforate hymen. Tumor markers CA-125 and CA-19-9 are elevated in imperforate hymen; although these markers suggest the presence of a benign condition, they are not necessary for diagnosis.[16]
The diagnosis should not be confirmed by aspirating secretions beyond the obstruction because this procedure may result in iatrogenic pyocolpos. Instead, the diagnosis should be confirmed by performing noninvasive imaging studies (eg, ultrasonography or magnetic resonance imaging [MRI]) to determine the extent of the vaginal outflow obstruction and to diagnose other associated anomalies.
Imaging Studies
Abdominal and pelvic ultrasonography and MRI are the cornerstones of imaging for uterovaginal anomalies. Ultrasonography provides a reliable means for rapidly diagnosing hematocolpos or hematometrocolpos (see the images below).[17] If a complex anomaly is suspected, MRI is necessary. In addition, transrectal ultrasonography may help in delineating complex anatomy. MRI and ultrasonography also aid in excluding associated congenital anomalies of the urinary tract. Although rare, combined anomalies (ie, imperforate hymen and a transverse vaginal septum) can occur.[18]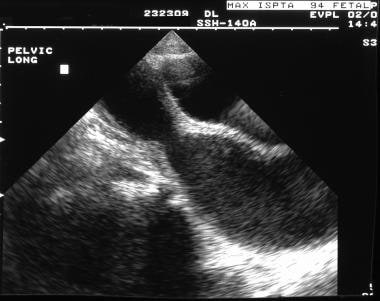 Sagittal sonogram in an adolescent with imperforate hymen shows a distended vagina and uterus.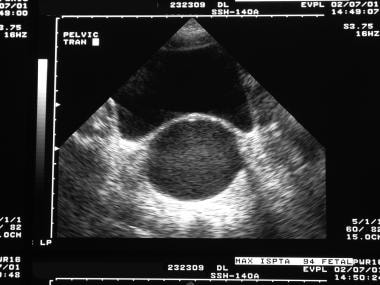 Transverse sonogram in an adolescent with imperforate hymen shows a distended vagina immediately posterior to the bladder.
Other Tests
Invasive examination is typically unnecessary for diagnosis. However, sedation or general anesthesia may considerably aid in the examination of anxious patients, especially young children. In the optimal situation, the use of anesthesia should be delayed until noninvasive studies are completed and until a surgeon is prepared to proceed with definitive therapy.
Laparoscopy has been recommended in some cases to evacuate pelvic and intra-abdominal endometrial material generated because of retrograde menstruation. This procedure is speculated to reduce the potential for secondary endometriosis. However, most cases of endometriosis regress spontaneously after resection of the obstructing membrane. Most cases do not require concurrent laparoscopy.
References
Ameh EA, Mshelbwala PM, Ameh N. Congenital vaginal obstruction in neonates and infants: recognition and management. J Pediatr Adolesc Gynecol. 2011 Apr. 24(2):74-8. [Medline].

Posner JC, Spandorfer PR. Early detection of imperforate hymen prevents morbidity from delays in diagnosis. Pediatrics. 2005 Apr. 115(4):1008-12. [Medline]. [Full Text].

Congenital abnormalities of the female reproductive tract. Mishell DR, Stenchever MA, Droegemueller W, et al, eds. Comprehensive Gynecology. 3rd ed. St Louis, Mo: Mosby-Year Book; 1997.

Wall EM, Stone B, Klein BL. Imperforate hymen: a not-so-hidden diagnosis. Am J Emerg Med. 2003 May. 21(3):249-50. [Medline].

Goodyear-Smith FA, Laidlaw TM. What is an 'intact' hymen? A critique of the literature. Med Sci Law. 1998 Oct. 38(4):289-300. [Medline].

Berenson AB. The prepubertal genital exam: what is normal and abnormal. Curr Opin Obstet Gynecol. 1994 Dec. 6(6):526-30. [Medline].

Stelling JR, Gray MR, Davis AJ, et al. Dominant transmission of imperforate hymen. Fertil Steril. 2000 Dec. 74(6):1241-4. [Medline].

Mwenda AS. Imperforate Hymen - a rare cause of acute abdominal pain and tenesmus: case report and review of the literature. Pan Afr Med J. 2013. 15:28. [Medline]. [Full Text].

Domany E, Gilad O, Shwarz M, Vulfsons S, Garty BZ. Imperforate hymen presenting as chronic low back pain. Pediatrics. 2013 Sep. 132(3):e768-70. [Medline].

Hewitt G. Examining pediatric and adolescent gynecology patients. J Pediatr Adolesc Gynecol. 2003 Aug. 16(4):257-8. [Medline].

Nazir Z, Rizvi RM, Qureshi RN, Khan ZS, Khan Z. Congenital vaginal obstructions: varied presentation and outcome. Pediatr Surg Int. 2006 Sep. 22(9):749-53. [Medline].

Eksioglu AS, Maden HA, Cinar G, Tasci Yildiz Y. Imperforate hymen causing bilateral hydroureteronephrosis in an infant with bicornuate uterus. Case Rep Urol. 2012. 2012:102683. [Medline]. [Full Text].

Nagai K, Murakami Y, Nagatani K, Nakahashi N, Hayashi M, Higaki T, et al. Life-threatening acute renal failure due to imperforate hymen in an infant. Pediatr Int. 2012 Apr. 54(2):280-2. [Medline].

Winderl LM, Silverman RK. Prenatal diagnosis of congenital imperforate hymen. Obstet Gynecol. 1995 May. 85(5 Pt 2):857-60. [Medline].

Ogunyemi D. Prenatal sonographic diagnosis of bladder outlet obstruction caused by a ureterocele associated with hydrocolpos and imperforate hymen. Am J Perinatol. 2001. 18(1):15-21. [Medline].

Sak ME, Evsen MS, Soydinc HE, Sak S, Yalinkaya A. Imperforate hymen with elevated serum CA 125 and CA 19-9 levels. J Reprod Med. 2013 Jan-Feb. 58(1-2):47-50. [Medline].

Ayaz UY, Dilli A, Api A. Ultrasonographic diagnosis of congenital hydrometrocolpos in prenatal and newborn period: a case report. Med Ultrason. 2011 Sep. 13(3):234-6. [Medline].

Ahmed S, Morris LL, Atkinson E. Distal mucocolpos and proximal hematocolpos secondary to concurrent imperforate hymen and transverse vaginal septum. J Pediatr Surg. 1999 Oct. 34(10):1555-6. [Medline].

Frega A, Verrone A, Schimberni M, Manzara F, Ralli E, Catalano A, et al. Feasibility of office CO2 laser surgery in patients affected by benign pathologies and congenital malformations of female lower genital tract. Eur Rev Med Pharmacol Sci. 2015. 19 (14):2528-36. [Medline]. [Full Text].
Medscape Reference © 2011 WebMD, LLC