Lymphadenopathy Workup
Author: Vikramjit S Kanwar, MBBS, MBA, MRCP(UK), FAAP; Chief Editor: Russell W Steele, MD more...
Updated: Jun 14, 2016
What would you like to print?
Laboratory Studies
The laboratory evaluation of lymphadenopathy must be directed by the history and physical examination and is based on the size and other characteristics of the nodes and the overall clinical assessment of the patient. When a laboratory evaluation is indicated, it must be driven by the clinical evaluation.[13]
The following studies should be considered for chronic lymphadenopathy (>3 wk):
CBC count, including a careful evaluation of the peripheral blood smear

Lactate dehydrogenase (LDH) and uric acid

Chest radiography

B henselae (catscratch) serology if exposed to a cat

Tuberculosis skin test (TST) and interferon-gamma release assay (eg, Quantiferon Gold)
Evaluation of hepatic and renal function and a urine analysis are useful in identifying underlying systemic disorders that may be associated with lymphadenopathy. When evaluating specific regional adenopathy, lymph node aspirate for culture may be important if lymphadenitis is clinically suspected.
Titers for specific microorganisms may be indicated, particularly if generalized adenopathy is present. These may include Epstein-Barr virus, cytomegalovirus (CMV), Toxoplasma species, and human immunodeficiency virus (HIV).
Imaging Studies
Chest radiography may be helpful in elucidating mediastinal adenopathy and underlying diseases affecting the lungs, including tuberculosis, coccidioidomycosis, lymphomas, neuroblastoma, histiocytoses, and Gaucher disease.
Supraclavicular adenopathy, with its high associated rate of serious underlying disease, may be an indication for computed tomography (CT) scan of the chest, abdomen, or both.
A retrospective study by Razek et al indicated that diffusion-weighted magnetic resonance imaging (MRI) can be used to differentiate malignant from benign mediastinal lymphadenopathy in children. In the study, which included 29 children with mediastinal lymphadenopathy, patients were assessed with single-shot echo planar diffusion-weighted MRI, with the mean apparent diffusion coefficient (ADC) for the malignant condition being significantly below that for benign mediastinal lymphadenopathy.[14] However, although this study may represent an important advance in the imaging of mediastinal/hilar lymphadenopathy, the results must be confirmed before the routine use of this technique can be recommended.
Positron-emission tomography (PET) scanning is not helpful as a screening tool as benign and malignant conditions may cause intense uptake.[15] However, PET scanning is helpful in the staging of lymphomas once a diagnosis is made.[16]
Ultrasonography may be helpful in documenting the extent of lymph node involvement and any changes in the lymph nodes.[17] In children with inguinal adenopathy or abdominal complaints, ultrasonography of the abdomen, CT scan of the abdomen, or both may be indicated.[18] Ultrasonography is rarely of diagnostic value for lymphadenopathy in childhood, even with advanced techniques.[19]
A study by Ying et al indicated that evaluation of the intranodal vascularity index is an effective means of diagnosing metastatic and tuberculous lymph nodes in patients with cervical lymphadenopathy. Using ultrasonographic images from 347 patients with palpable cervical lymph nodes, a customized computer program was used to quantify the intranodal vascularity index. With regard to distinguishing metastatic and tuberculous lymph nodes, the index was found to have a sensitivity and specificity of 80% and 73%, respectively; positive and negative predictive values of 91% and 51%, respectively; and an overall accuracy of 68%, when the cutoff vascularity index was 22%.[20]
Procedures
The critical question is often whether or not to perform a lymph node biopsy; this requires an overall assessment of the history and physical examination as described above.
Images taken during and after a lymph node biopsy are shown below.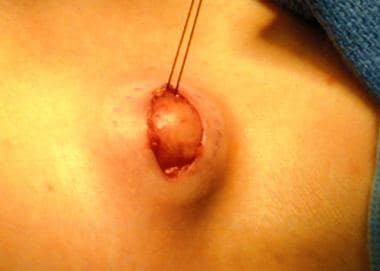 A lymph node biopsy is performed. Note that a marking pen has been used to outline the node before removal and that a silk suture has been used to provide traction to assist the removal.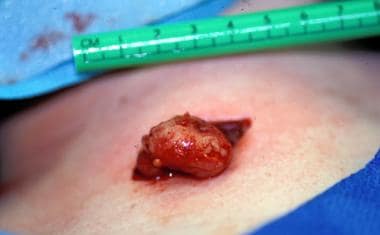 A lymph node after removal by means of biopsy, which was performed completely under a local anesthetic technique.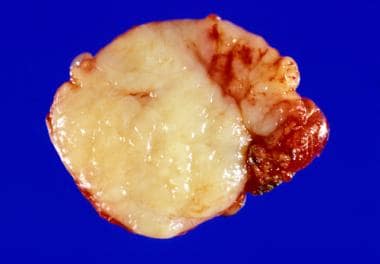 A gross image of a node following excision. The cut surface of the node shows the typical fish-flesh appearance seen with lymphoma.
Treatment with antibiotics covering bacterial pathogens frequently implicated in lymphadenitis, followed by reevaluation in 2-4 weeks is reasonable, if clinical findings suggest lymphadenitis. Benign reactive adenopathy may be safely observed for months.[6]
If the size, location, or character of the lymphadenopathy suggests malignancy, the need for laboratory studies and biopsy is more urgent. If laboratory testing is inconclusive, a lymph node biopsy is immediately indicated.
Fine needle aspiration and core needle biopsy yield small samples with limited ability to perform flow cytometry and chromosomal analysis; most pediatric hematologists and pathologists prefer excisional biopsy.
Excisional biopsy also has limitations and may yield a definitive diagnosis in only 40-60% of patients because of inadequate specimen size, improper handling, or node-sampling error (eg, Hodgkin lymphoma) may be associated with reactive changes in surrounding nodes; sampling more accessible nodes may miss the underlying malignancy.
The surgeon should therefore biopsy larger, firmer, and most recently enlarging nodes, even if it is technically difficult, with appropriate handling of the specimen. If an excisional biopsy does not reveal the diagnosis, a second biopsy may be indicated.
Endobronchial ultrasound-guided transbronchial needle aspiration (EBUS-TBNA) is a widespread technique for tissue sampling from hilar and mediastinal lymph nodes; however, the predominant finding in routine care is a nondiagnostic cytology in more than 70% of patients.[21]
A multicenter study by Dhooria et al indicated that, as in adults, EBUS-TBNA and endoscopic ultrasonography with an echobronchoscope-guided fine-needle aspiration (EUS-B-FNA) can be safely and effectively used in children with mediastinal lymphadenopathy, providing a good diagnostic yield.[22]
Histologic Findings
Histiologic findings depend on the underlying etiology of the lymphadenopathy. Nonspecific changes consistent with reactive adenopathy are often the only findings. This is helpful in ruling out malignancy, histiocytoses, granulomatous disorders, and storage diseases. Specific infections can be diagnosed if tissues are appropriately stained.
When examining the tissue, histiologic findings are often inadequate. Flow cytometric and chromosomal analysis may provide critical information to permit a diagnosis to be established.
Staging
Staging is relevant only when a specific malignancy is diagnosed as the etiology of lymphadenopathy.
References
Larsson LO, Bentzon MW, Berg Kelly K, et al. Palpable lymph nodes of the neck in Swedish schoolchildren. Acta Paediatr. 1994 Oct. 83(10):1091-4. [Medline].

Grossman M, Shiramizu B. Evaluation of lymphadenopathy in children. Curr Opin Pediatr. 1994. 6(1):68-76. [Medline].

Moore SW, Schneider JW, Schaaf HS. Diagnostic aspects of cervical lymphadenopathy in children in the developing world: a study of 1,877 surgical specimens. Pediatr Surg Int. 2003 Jun. 19(4):240-4. [Medline].

Miller DR. Hematologic malignancies: leukemia and lymphoma (Differential diagnosis of lymphadenopathy). Miller DR, Baehner RL, eds. Blood Diseases of Infancy and Childhood. Mosby Inc; 1995. 745-9.

Kliegman RM, Nieder ML, Super DM. Lymphadenopathy. Fletcher J, Bralow L, eds. Practical Strategies in Pediatric Diagnosis and Therapy. WB Saunders Co; 1996. 791-803.

Roberts KB, Tunnessen WW. Lymphadenopathy. Signs and Symptoms in Pediatrics. 3rd ed. Lippincott, Williams, and Wilkins; 1999. 63-72.

Nield LS, Kamat D. Lymphadenopathy in children: when and how to evaluate. Clin Pediatr (Phila). 2004 Jan-Feb. 43(1):25-33. [Medline].

Oguz A, Karadeniz C, Temel EA, Citak EC, Okur FV. Evaluation of peripheral lymphadenopathy in children. Pediatr Hematol Oncol. 2006 Oct-Nov. 23(7):549-61. [Medline].

Yaris N, Cakir M, Sozen E, Cobanoglu U. Analysis of children with peripheral lymphadenopathy. Clin Pediatr (Phila). 2006 Jul. 45(6):544-9. [Medline].

Gray DM, Zar H, Cotton M. Impact of tuberculosis preventive therapy on tuberculosis and mortality in HIV-infected children. Cochrane Database Syst Rev. 2009 Jan 21. CD006418. [Medline].

Leung AK, Davies HD. Cervical lymphadenitis: etiology, diagnosis, and management. Curr Infect Dis Rep. 2009 May. 11(3):183-9. [Medline].

Lindeboom JA, Kuijper EJ, Bruijnesteijn van Coppenraet ES, Lindeboom R, Prins JM. Surgical excision versus antibiotic treatment for nontuberculous mycobacterial cervicofacial lymphadenitis in children: a multicenter, randomized, controlled trial. Clin Infect Dis. 2007 Apr 15. 44(8):1057-64. [Medline].

Twist CJ, Link MP. Assessment of lymphadenopathy in children. Pediatr Clin North Am. 2002 Oct. 49(5):1009-25. [Medline].

Razek AA, Gaballa G, Elashry R, Elkhamary S. Diffusion-weighted MR imaging of mediastinal lymphadenopathy in children. Jpn J Radiol. 2015 Jun 12. [Medline].

Tsujikawa T, Tsuchida T, Imamura Y, Kobayashi M, Asahi S, Shimizu K. Kikuchi-Fujimoto disease: PET/CT assessment of a rare cause of cervical lymphadenopathy. Clin Nucl Med. 2011 Aug. 36(8):661-4. [Medline].

Quarles van Ufford H, Hoekstra O, de Haas M, Fijnheer R, Wittebol S, Tieks B. On the added value of baseline FDG-PET in malignant lymphoma. Mol Imaging Biol. 2010 Apr. 12(2):225-32. [Medline].

Niedzielska G, Kotowski M, Niedzielski A, Dybiec E, Wieczorek P. Cervical lymphadenopathy in children--incidence and diagnostic management. Int J Pediatr Otorhinolaryngol. 2007 Jan. 71(1):51-6. [Medline].

Vayner N, Coret A, Polliack G, et al. Mesenteric lymphadenopathy in children examined by US for chronic and/or recurrent abdominal pain. Pediatr Radiol. 2003 Dec. 33(12):864-7. [Medline].

Cui XW, Jenssen C, Saftoiu A, Ignee A, Dietrich CF. New ultrasound techniques for lymph node evaluation. World J Gastroenterol. 2013 Aug 14. 19(30):4850-60. [Medline]. [Full Text].

Ying M, Cheng SC, Ahuja AT. Diagnostic Accuracy of Computer-Aided Assessment of Intranodal Vascularity in Distinguishing Different Causes of Cervical Lymphadenopathy. Ultrasound Med Biol. 2016 Apr 27. [Medline].

Lange TJ, Kunzendorf F, Pfeifer M, Arzt M, Schulz C. Endobronchial ultrasound-guided transbronchial needle aspiration in routine care - plenty of benign results and follow-up tests. Int J Clin Pract. 2012 May. 66(5):438-45. [Medline].

Dhooria S, Madan K, Pattabhiraman V, et al. A multicenter study on the utility and safety of EBUS-TBNA and EUS-B-FNA in children. Pediatr Pulmonol. 2016 May 3. [Medline].
Medscape Reference © 2011 WebMD, LLC