Pediatric Thrombocytosis Workup
Author: Susumu Inoue, MD; Chief Editor: Max J Coppes, MD, PhD, MBA  more...
Updated: Mar 31, 2014
What would you like to print?
Laboratory Studies
Laboratory studies are used to identify whether the thrombocytosis is primary or reactive. An algorithm for thrombocytosis workup and the potential need for medication is shown in the image below.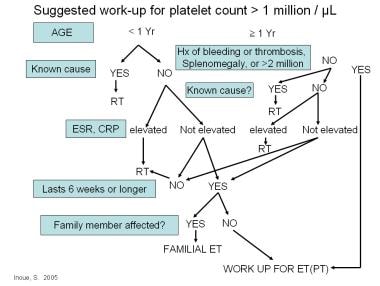 Algorithm for thrombocytosis workup and potential need for medication.
See the list below:
When a reactive thrombocytosis is strongly suspected, no additional laboratory studies are indicated. For the differentiation of secondary from primary thrombocytosis, Messinezy et al found determination of acute-phase reactants (eg, erythrocyte sedimentation rate [ESR]) is most useful. Blood ESR, C-reactive protein (CRP) level, fibrinogen level, factor VIII procoagulant activities, and von Willebrand antigen values are significantly elevated in patients with secondary thrombocytosis, whereas they were normal in patients with primary thrombocythemia.

Reactive thrombocytosis is a temporary condition, although it may last for several months. Thus, sequential platelet counts are important. If thrombocytosis does not subside, and if no primary cause is obvious, then work-up for essential thrombocytosis is in order. Obtaining platelet counts in all family members is important.

The Polycythemia Vera Study Group established the following criteria to diagnose essential thrombocytosis (ET):

Platelet count of more than 600 X 109/L
Hemoglobin of 13 g/dL or less or normal RBC mass (adult men, < 36 mL/kg; adult women, < 32 mL/kg)
Stainable iron in marrow or failure of therapeutic iron trial after 1 month
No Philadelphia chromosome or absence of bcr-abl rearrangement
Either absent fibrosis of marrow or fibrosis seen in less than one third of the biopsy area without splenomegaly or leukoerythroblastosis picture
No known cause of reactive thrombocytosis
The problem is that, in children, physiologic hemoglobin levels are less than 13 g/dL, and no age-related normal RBC masses have been established. Furthermore, in young children, stainable iron in the bone marrow is physiologically absent. Therefore, criteria for adults are not applicable to children. However, examination of bone-marrow morphology and bone-marrow cytogenetic study are highly recommended to exclude myelofibrosis and rule out chronic myelocytic leukemia (CML). If CML is a consideration, fluorescent in situ hybridization (FISH) analysis of bone marrow cells for bcr-abl is indicated.
JAK2, or CALR mutation is present in a majority of adult patients with essential thrombocytosis, but not in patients with reactive thrombocytosis. Therefore, this test should be done if essential thrombocytosis is a likely diagnosis. If the patient is an African American with thrombocytosis without any other features, then a genetic test for MPLBaltimoreis indicated.
For adults and some children with ET, various qualitative platelet abnormalities have been found. Giant, bizarre-shaped platelets are seen on light microscopy. Platelets lack granules or are hypogranular. Often, megakaryocytic fragments are found in the blood smear. The bleeding time is usually normal. Platelet-function study shows loss of primary-wave and secondary-wave aggregation with epinephrine due to loss of membrane alpha-adrenergic receptors. (This finding is the most helpful in differentiating primary from secondary thrombocytosis.) Many other platelet function abnormalities are described; however, no correlations with laboratory results and clinical risk of bleeding or thrombosis have been reported.
In patients with non-familial primary thrombocythemia, plasma TPO level was reported to be in the reference range or mildly elevated, whereas most patients with reactive thrombocytosis had an elevated level of TPO and interleukin (IL)-6 at least at the onset of the thrombocytosis-triggering event. In the familial form of ET, extremely elevated TPO indicates TPO mutation. In one study, platelet membrane expression of the c-mpl receptor in patients with primary thrombocythemia was markedly reduced compared with platelets from control subjects (see Pathophysiology).
Other laboratory tests that may be useful in determining nature of thrombocytosis (cause and mechanisms of thrombocytosis, functional evaluation of platelets and/or megakaryocytes) include tests of the following:

Serum TPO level: This is usually elevated in reactive thrombocytosis but only in the beginning of the event that triggered thrombocytosis. The TPO level may have declined to a normal level when it is measured at the time of peak elevation of platelet count. Results of a TPO assay are normal or elevated in primary thrombocytosis. In a familial thrombocytosis syndrome, TPO values may be elevated because of a mutation in the 5' untranslated region (UTR), which inhibits TPO mRNA repression, resulting in excessive TPO production and thus thrombocytosis. However, in other families, TPO levels were normal.
Platelet aggregation: Variable results have been reported in patients with primary thrombocytosis, ranging from totally normal aggregation to abnormal.
Platelets and bone marrow megakaryocytes: Electromicroscopy may be useful for further determining the nature of thrombocytosis (structural evaluation). Abnormality of granules, tubular systems, or open canalicular system has been reported in some but not all patients with primary thrombocytosis.
Factor VIIIC, Von Willebrand factor (VWF), VWF multimers: Quantitative abnormalities have been reported in some patients with primary thrombocytosis.

Although the laboratory tests discussed above may be useful in select patients, they should not be routinely performed in pediatric patients with thrombocytosis.
Imaging Studies
Doppler study of suspected blood vessels for thrombosis and ultrasonography of vessels may show evidence of thrombosis as a complication of thrombocytosis. These imaging studies should be used as clinically indicated.
For persistent thrombocytosis of undetermined cause, chest radiography and ultrasonography of the abdomen may be helpful to uncover undetected sources of infection/inflammation, malignancy, or absence of spleen.
Histologic Findings
Bone marrow in reactive thrombocytosis show increased number of normal-appearing megakaryocytes. No other abnormalities are present. In primary thrombocytosis, bone marrow is usually hypercellular, with a markedly increased number of megakaryocytes. The megakaryocytes may appear in clusters. In some patients, bone marrow is described as normal.
In patients in transition to agnogenic myeloid metaplasia (AMM), bone marrow aspiration may be unsuccessful because of increased fibrosis. In these patients, bone-marrow biopsy would show increased marrow reticulin with reticulin staining. In AMM, various morphologic abnormalities is found in the bone marrow, including hypolobulation and hyperlobulation of megakaryocytes. In children, primary thrombocytosis alone is extremely rare, and thrombocytosis as an initial abnormality of AMM is even rarer.
References
Teofili L, Foa R, Giona F, Larocca LM. Childhood polycythemia vera and essential thrombocythemia: does their pathogenesis overlap with that of adult patients?. Haematologica. 2008 Feb. 93(2):169-72. [Medline].

Vlacha V, Feketea G. Thrombocytosis in pediatric patients is associated with severe lower respiratory tract inflammation. Arch Med Res. 2006 Aug. 37(6):755-9. [Medline].

Wang JL, Huang LT, Wu KH, et al. Associations of reactive thrombocytosis with clinical characteristics in pediatric diseases. Pediatr Neonatol. 2011 Oct. 52(5):261-6. [Medline].

Tchebiner JZ, Nutman A, Boursi B, et al. Diagnostic and prognostic value of thrombocytosis in admitted medical patients. Am J Med Sci. 2011 Nov. 342(5):395-401. [Medline].

Williams B, Morton C. Cerebral vascular accident in a patient with reactive thrombocytosis: a rare cause of stroke. Am J Med Sci. 2008 Sep. 336(3):279-81. [Medline].

Henry DH, Dahl NV, Auerbach MA. Thrombocytosis and venous thromboembolism in cancer patients with chemotherapy induced anemia may be related to ESA induced iron restricted erythropoiesis and reversed by administration of IV iron. Am J Hematol. 2012 Mar. 87(3):308-10. [Medline].

Go RS. Idiopathic cyclic thrombocytopenia. Blood Rev. 2005 Jan. 19(1):53-9. [Medline].

Teofili L, Larocca LM. Advances in understanding the pathogenesis of familial thrombocythaemia. Br J Haematol. 2011 Mar. 152(6):701-12. [Medline].

El-Harith el-HA, Roesl C, Ballmaier M, et al. Familial thrombocytosis caused by the novel germ-line mutation p.Pro106Leu in the MPL gene. Br J Haematol. 2009 Jan. 144(2):185-94. [Medline].

Abe M, Suzuki K, Inagaki O, Sassa S, Shikama H. A novel MPL point mutation resulting in thrombopoietin-independent activation. Leukemia. 2002 Aug. 16(8):1500-6. [Medline].

Ding J, Komatsu H, Wakita A, et al. Familial essential thrombocythemia associated with a dominant-positive activating mutation of the c-MPL gene, which encodes for the receptor for thrombopoietin. Blood. 2004 Jun 1. 103(11):4198-200. [Medline].

Fujiwara T, Harigae H, Kameoka J, et al. A case of familial thrombocytosis: possible role of altered thrombopoietin production. Am J Hematol. 2004 Aug. 76(4):395-7. [Medline].

Ghilardi N, Wiestner A, Kikuchi M, Ohsaka A, Skoda RC. Hereditary thrombocythaemia in a Japanese family is caused by a novel point mutation in the thrombopoietin gene. Br J Haematol. 1999 Nov. 107(2):310-6. [Medline].

Kikuchi M, Tayama T, Hayakawa H, et al. Familial thrombocytosis. Br J Haematol. 1995 Apr. 89(4):900-2. [Medline].

Graziano C, Carone S, Panza E, et al. Association of hereditary thrombocythemia and distal limb defects with a thrombopoietin gene mutation. Blood. 2009 Aug 20. 114(8):1655-7. [Medline].

Kondo T, Okabe M, Sanada M, et al. Familial essential thrombocythemia associated with one-base deletion in the 5'-untranslated region of the thrombopoietin gene. Blood. 1998 Aug 15. 92(4):1091-6. [Medline].

Liu K, Kralovics R, Rudzki Z, et al. A de novo splice donor mutation in the thrombopoietin gene causes hereditary thrombocythemia in a Polish family. Haematologica. 2008 May. 93(5):706-14. [Medline].

Robins EB, Niazi M. Essential thrombocythemia in a child with elevated thrombopoietin concentrations and skeletal anomalies. Pediatr Blood Cancer. 2008 Apr. 50(4):859-61. [Medline].

Wiestner A, Schlemper RJ, van der Maas AP, Skoda RC. An activating splice donor mutation in the thrombopoietin gene causes hereditary thrombocythaemia. Nat Genet. 1998 Jan. 18(1):49-52. [Medline].

Schlemper RJ, van der Maas AP, Eikenboom JC. Familial essential thrombocythemia: clinical characteristics of 11 cases in one family. Ann Hematol. 1994 Mar. 68(3):153-8. [Medline].

Stuhrmann M, Bashawri L, Ahmed MA, et al. Familial thrombocytosis as a recessive, possibly X-linked trait in an Arab family. Br J Haematol. 2001 Mar. 112(3):616-20. [Medline].

Tecuceanu N, Dardik R, Rabizadeh E, Raanani P, Inbal A. A family with hereditary thrombocythaemia and normal genes for thrombopoietin and c-Mpl. Br J Haematol. 2006 Nov. 135(3):348-51. [Medline].

Kumar TS, Scott JX, Mathew LG. Caffey disease with raised immunoglobulin levels and thrombocytosis. Indian J Pediatr. 2008 Feb. 75(2):181-2. [Medline].

Osovsky M, Tamary H, Merlob P. Neonatal thrombocytosis following G-CSF treatment. Clin Toxicol (Phila). 2007 Oct-Nov. 45(7):801-2. [Medline].

Hwang SJ, Luo JC, Li CP, et al. Thrombocytosis: a paraneoplastic syndrome in patients with hepatocellular carcinoma. World J Gastroenterol. 2004 Sep 1. 10(17):2472-7. [Medline].

Liautard C, Nunes AM, Vial T, et al. Low-molecular-weight heparins and thrombocytosis. Ann Pharmacother. 2002 Sep. 36(9):1351-4. [Medline].

Haddad LB, Laufer MR. Thrombocytosis associated with malignant ovarian lesions within a pediatric/adolescent population. J Pediatr Adolesc Gynecol. 2008 Oct. 21(5):243-6. [Medline].

Valade N, Decailliot F, Rebufat Y, et al. Thrombocytosis after trauma: incidence, aetiology, and clinical significance. Br J Anaesth. 2005 Jan. 94(1):18-23. [Medline].

Dame C, Sutor AH. Primary and secondary thrombocytosis in childhood. Br J Haematol. Apr 2005. 129(2):165-77. [Medline].

Dror Y, Zipursky A, Blanchette VS. Essential thrombocythemia in children. J Pediatr Hematol Oncol. Sep-Oct 1999. 21(5):356-63. [Medline].

Sutor AH. Thrombocytosis in childhood. Semin Thromb Hemost. 1995. 21(3):330-9. [Medline].

Wang JL, Huang LT, Wu KH, et al. Associations of reactive thrombocytosis with clinical characteristics in pediatric diseases. Pediatr Neonatol. 2011 Oct. 52(5):261-6. [Medline].

Teofili L, Giona F, Martini M, et al. Markers of myeloproliferative diseases in childhood polycythemia vera and essential thrombocythemia. J Clin Oncol. 2007 Mar 20. 25(9):1048-53. [Medline].

Eyster ME, Saletan SL, Rabellino EM, et al. Familial essential thrombocythemia. Am J Med. 1986 Mar. 80(3):497-502. [Medline].

Lundstrom U. Thrombocytosis in low birthweight infants: a physiological phenomenon in infancy. Arch Dis Child. 1979 Sep. 54(9):715-7. [Medline].

Matsubara K, Fukaya T, Nigami H, et al. Age-dependent changes in the incidence and etiology of childhood thrombocytosis. Acta Haematol. 2004. 111(3):132-7. [Medline].

[Guideline] Wiedmeier SE, Henry E, Sola-Visner MC, Christensen RD. Platelet reference ranges for neonates, defined using data from over 47,000 patients in a multihospital healthcare system. J Perinatol. 2009 Feb. 29(2):130-6. [Medline].

El-Moneim AA, Kratz CP, Boll S, Rister M, Pahl HL, Niemeyer CM. Essential versus reactive thrombocythemia in children: retrospective analyses of 12 cases. Pediatr Blood Cancer. 2007 Jul. 49(1):52-5. [Medline].

Nakatani T, Imamura T, Ishida H, Wakaizumi K, Yamamoto T, Otabe O. Frequency and clinical features of the JAK2 V617F mutation in pediatric patients with sporadic essential thrombocythemia. Pediatr Blood Cancer. 2008 Dec. 51(6):802-5. [Medline].

Messinezy M, Westwood N, Sawyer B, et al. Primary thrombocythaemia: a composite approach to diagnosis. Clin Lab Haematol. 1994 Jun. 16(2):139-48. [Medline].

[Guideline] Matthews JH, Smith CA, Herst J, et al. The management of malignant thrombocytosis in Philadelphia chromosome-negative myeloproliferative disease: guideline recommendations. Evidence-based series; no. 6-9. 2008 Jan 15. Cancer Care Ontario (CCO):[Full Text].

Saadi Z, Inaba K, Barmparas G, Salim A, Talving P, Plurad D. Extreme thrombocytosis in trauma patients: are antiplatelet agents the answer?. Am Surg. 2009 Oct. 75(10):1020-4. [Medline].

Kastan MB, Zehnbauer BA, Leventhal BG, Corden BJ, Dover GJ. Philadelphia-chromosome positive essential thrombocythemia. Two cases in children. Am J Pediatr Hematol Oncol. 1989. 11(4):433-6. [Medline].

Harrison CN, Gale RE, Machin SJ, Linch DC. A large proportion of patients with a diagnosis of essential thrombocythemia do not have a clonal disorder and may be at lower risk of thrombotic complications. Blood. 1999 Jan 15. 93(2):417-24. [Medline].

Tefferi A, Silverstein MN, Hoagland HC. Primary thrombocythemia. Semin Oncol. 1995 Aug. 22(4):334-40. [Medline].

Aksentijevich I, Masters SL, Ferguson PJ, Dancey P, Frenkel J, van Royen-Kerkhoff A. An autoinflammatory disease with deficiency of the interleukin-1-receptor antagonist. N Engl J Med. 2009 Jun 4. 360(23):2426-37. [Medline].

Fu R, Zhang L, Yang R. Paediatric essential thrombocythaemia: clinical and molecular features, diagnosis and treatment. Br J Haematol. 2013 Nov. 163(3):295-302. [Medline].

Klampfl T, Gisslinger H, Harutyunyan AS, et al. Somatic Mutations of Calreticulin in Myeloproliferative Neoplasms. New Engl J Med. 2013. 2013;369:2379-90:2379-90. [Full Text].

Moliterno AR, Williams DM, Gutierrez-Alamillo LI, et al. Mpl Baltimore: A thrombopoietin receptor polymorphism associated with thrombocytosis. PNAS. 2004. 101:11444-11447.

Munot P, De Vile C, Hemingway C, Gunny R, Ganesan V. Severe iron deficiency anaemia and ischaemic stroke in children. Arch Dis Child. 2011 Mar. 96(3):276-9. [Medline].

Nangalia J, Massie CE, Baxter EJ, et al. Somatic CALR Mutations in Myeloproliferative Neoplasms with Nonmutated JAK2. N Engl J Med. 2013. 369:2391-405.

Rossi-Semerano L, Piram M, Chiaverini C. et al. First clinical description of an infant with interleukin-36-receptor antagonist deficiency successfully treated with anakinra. Pediatrics. 2013. 132:e1043-7.

Rumi E, Pietra D, Ferretti V, et al. JAK2 or CALR mutation status defines subtypes of essential thrombocythemia with substantially different clinical course and outcomes. Blood. 2014. 123:1544-51.

Stockklausner C, Echner N, Klotter AC, Hegenbart U, Dreger P, Kulozik AE. Hereditary thrombocythemia caused by a thrombopoietin (THPO) gain-of-function mutation associated with multiple myeloma and congenital limb defects. Ann Hematol. 2012 Jul. 91(7):1129-33. [Medline].

Unal S, Alanay Y, Cetin M, Boduroglu K, Utine E, Cormier-Daire V. Striking hematological abnormalities in patients with microcephalic osteodysplastic primordial dwarfism type II (MOPD II): a potential role of pericentrin in hematopoiesis. Pediatr Blood Cancer. 2014 Feb. 61(2):302-5. [Medline].
Medscape Reference © 2011 WebMD, LLC