Pediatric Mucormycosis Clinical Presentation
Author: Meera Varman, MD; Chief Editor: Russell W Steele, MD more...
Updated: Jul 28, 2016
What would you like to print?
History and Physical Examination
Symptoms of mucormycosis vary depending on the involved anatomic site. However, unexplained or persistent fever in a patient who has immunosuppression and who is receiving broad-spectrum antibiotics should alert the clinician to look for possible foci of mucormycosis.
Rhinocerebral disease
The most common signs and symptoms of rhinocerebral mucormycosis are altered mental status, fever, and pain and swelling over the involved site. Severe headache can also manifest. Most of these findings occur in patients with diabetic ketoacidosis.
A black eschar of the nasal mucosa or palate is usually a hallmark sign of rhinocerebral mucormycosis. It is a sign of deep infection and tissue destruction of the nasal mucosa. This finding on physical examination should prompt biopsy and empiric treatment.
CNS disease
Persistence of altered mental status after metabolic abnormalities are corrected, especially in patients with diabetic ketoacidosis, should alert the physician to consider mucormycosis involving the central nervous system (CNS).
Loss of extraocular muscular function, along with proptosis and cranial nerve dysfunction of cranial nerves V and VII, are signs of neurologic involvement in mucormycosis. Several other cranial nerves, such as cranial nerves I, III, and IV, can also be involved.
Pulmonary and GI disease
Fever, dyspnea, hemoptysis, and cough are observed in patients with pulmonary mucormycosis.
Abdominal pain can be a manifestation of gastrointestinal (GI) mucormycosis. GI mucormycosis is mostly encountered in premature neonates and in patients with malnutrition. Severe malnutrition is an independent risk factor.
Cutaneous disease
A black eschar on the skin of a patient who is immunocompromised should prompt skin biopsy, as seen in the following image. Progressive cellulitis of skin lesions with gangrene and necrosis is another concern in cutaneous mucormycosis.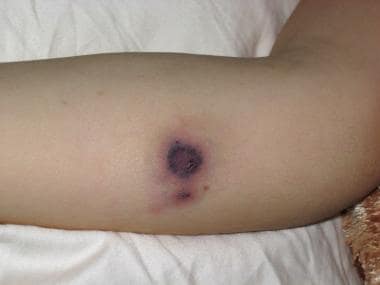 Black eschar on the skin of an immunocompromised patient.
References
Richardson M, Koukila-Kahkola P, Shankland G. Rhizopus, Rhizomucor, Absidia, and other agents of systemic and subcutaneous zygomycoses. Murray PR, Baron EJ, Jorgensen JH, Pfaller MA , Yolken RH, eds. Manual of Clinical Microbiology. 9th ed. Washington, DC: American Society of Microbiology; 2007.

Sugar A. Agents of mucormycosis and related species. Mandell GL, Bennet JE, Dolin R, eds. Mandell, Douglas, and Bennett's Principles and Practice of Infectious Diseases. 7th ed. Philadelphia, Pa: Churchill Livingstone; 2009. Chapter 259.

Wiedermann BL. Zygomycosis. Feigen RD, Cherry JD, Demmler-Harrison GJ, Kaplan SL, eds. Textbook of Pediatric Infectious Diseases. 6th ed. Philadelphia, Pa: Saunders; 2009.

Frater JL, Hall GS, Procop GW. Histologic features of zygomycosis: emphasis on perineural invasion and fungal morphology. Arch Pathol Lab Med. 2001 Mar. 125(3):375-8. [Medline].

Simbli M, Hakim F, Koudieh M, Tleyjeh IM. Nosocomial post-traumatic cutaneous mucormycosis: a systematic review. Scand J Infect Dis. 2008. 40(6-7):577-82. [Medline].

Robertson AF, Joshi VV, Ellison DA, Cedars JC. Zygomycosis in neonates. Pediatr Infect Dis J. 1997 Aug. 16(8):812-5. [Medline].

Kline MW. Mucormycosis in children: review of the literature and report of cases. Pediatr Infect Dis. 1985 Nov-Dec. 4(6):672-6. [Medline].

Walsh TJ, Skiada A, Cornely OA, Roilides E, Ibrahim A, Zaoutis T, et al. Development of new strategies for early diagnosis of mucormycosis from bench to bedside. Mycoses. 2014 Dec. 57 Suppl 3:2-7. [Medline].

Garbino J, Myers C, Ambrosioni J, Gumy-Pause F. Report of a successful treatment of pulmonary Cunninghamella bertholletiae infection with liposomal amphotericin and posaconazole in a child with GvHD and review of the literature. J Pediatr Hematol Oncol. 2010 Mar. 32(2):85-7. [Medline].

Rüping MJ, Heinz WJ, Kindo AJ, Rickerts V, Lass-Flörl C, Beisel C, et al. Forty-one recent cases of invasive zygomycosis from a global clinical registry. J Antimicrob Chemother. 2010 Feb. 65(2):296-302. [Medline].

Dave SP, Vivero RJ, Roy S. Facial cutaneous mucormycosis in a full-term infant. Arch Otolaryngol Head Neck Surg. 2008 Feb. 134(2):206-9. [Medline].

Scheinfeld N. A review of the new antifungals: posaconazole, micafungin, and anidulafungin. J Drugs Dermatol. 2007 Dec. 6(12):1249-51. [Medline].

Ullmann AJ, Lipton JH, Vesole DH, Chandrasekar P, Langston A, Tarantolo SR, et al. Posaconazole or fluconazole for prophylaxis in severe graft-versus-host disease. N Engl J Med. 2007 Jan 25. 356(4):335-47. [Medline].

Kaide CG, Khandelwal S. Hyperbaric oxygen: applications in infectious disease. Emerg Med Clin North Am. 2008 May. 26(2):571-95, xi. [Medline]. [Full Text].

Garg PK, Gupta N, Gautam V, Hadke NS. Gastric zygomycosis: unusual cause of gastric perforation in an immunocompetent patient. South Med J. 2008 Apr. 101(4):449-50. [Medline].

Goel S, Carter JE, Culpepper M, Kahn AG. Primary renal zygomycotic infarction mimicking renal neoplasia in an immunocompetent patient. Am J Med Sci. 2009 Oct. 338(4):330-3. [Medline].

Kontoyiannis DP, Lionakis MS, Lewis RE, Chamilos G, Healy M, Perego C, et al. Zygomycosis in a tertiary-care cancer center in the era of Aspergillus-active antifungal therapy: a case-control observational study of 27 recent cases. J Infect Dis. 2005 Apr 15. 191(8):1350-60. [Medline].

Singh N, Aguado JM, Bonatti H, Forrest G, Gupta KL, Safdar N, et al. Zygomycosis in solid organ transplant recipients: a prospective, matched case-control study to assess risks for disease and outcome. J Infect Dis. 2009 Sep 15. 200(6):1002-11. [Medline].

Katragkou A, Walsh TJ, Roilides E. Why is mucormycosis more difficult to cure than more common mycoses?. Clin Microbiol Infect. 2014 Jun. 20 Suppl 6:74-81. [Medline].

Ducassou S, Rivaud D, Auvrignon A, Vérité C, Bertrand Y, Gandemer V, et al. Invasive Fungal Infections in Pediatric Acute Myelogenous Leukemia. Pediatr Infect Dis J. 2015 Nov. 34 (11):1262-4. [Medline].
Medscape Reference © 2011 WebMD, LLC