Pediatric Pharyngitis Clinical Presentation
Author: Harold K Simon, MD, MBA; Chief Editor: Russell W Steele, MD more...
Updated: Apr 26, 2016
What would you like to print?
History
Clinical differentiation of the various pathogens of pharyngitis on the basis of history or physical examination is difficult. As Feinstein et al noted in 1962, "[t]he only typical feature of streptococcal infections is the failure to show a single, consistent, typical feature."
A history of exposure to known carriers, fever, headache, and abdominal pain in conjunction with sore throat suggests group A beta-hemolytic streptococcal (GABHS) pharyngitis. Involvement of other mucous membranes (eg, conjunctivitis, coryza) suggests a viral etiology. Age may also dictate the level of concern because GABHS is rarely a true rheumatogenic pathogen in children younger than 2 years.
Because supportive care is a primary goal in all cases, historical information regarding oral intake and hydration status is important. Obtain information about previous treatments, treatment failures, and medication allergies.
Physical Examination
Although no single finding or combination of physical findings distinguishes GABHS from a viral etiology, several findings are suggestive, including the following:
Enlarged tonsils

Pharyngeal erythema

Tonsillar exudates with necrotic crypts

Soft-palate petechiae

Tender cervical adenopathy

Scarlet fever rash (punctate erythematous macules and fine papules with reddened flexor creases and circumoral pallor), the so-called sandpaper rash

Conjunctivitis (more common with adenovirus infections)
GABHS pharyngitis is often associated with headache, pharyngeal exudate (see the image below), painful cervical adenopathy, gastrointestinal (GI) symptoms, chills, and high fever.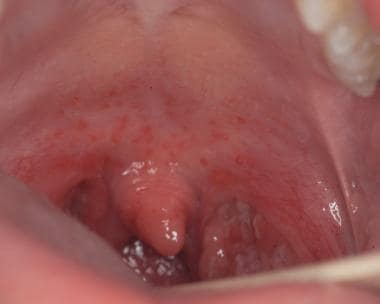 Posterior pharynx with petechiae and exudates in a 12-year-old girl. Both the rapid antigen detection test and throat culture were positive for group A beta-hemolytic streptococci.
Viral pharyngitis is usually associated with sneezing, rhinorrhea, and cough. For example, H1N1 influenza can present with sore throat but may also have other associated symptoms (eg, rhinorrhea and cough). Mononucleosis is typically exudative with extensive false membranes. Herpangina (usually coxsackievirus A) is associated with papulovesicular lesions of the skin (ie, hand-foot-and-mouth disease). Diphtheria (rare in developed countries) is associated with a thick gray membrane that is difficult to remove, is highly friable, and bleeds if manipulated.
It is important to look for tonsillar asymmetry, which may be a sign of peritonsillar abscesses. This condition can occur in conjunction with soft palate bulging and deviation of the uvula. Pay particular attention to signs of dehydration because supportive care is a primary concern and essential regardless of the etiologic agent.
Although no single or combination of physical findings is specific for distinguishing GABHS from viral etiologies, the Infectious Diseases Society of America (IDSA) has attempted to categorize some of the clinical differentiators. This clinical decision tool was tested in an emerging health care system and was found to be somewhat helpful in reducing unnecessary antibiotic use in resource-limited settings. Rates of disease outbreaks and availability of laboratory and clinical screening tools can help guide management. The IDSA categorization is as follows:
Category 1 (probable viral pharyngitis) - Conjunctivitis, coryza, cough, diarrhea, viral-like exanthems

Category 2 (suggestive of possible bacterial pharyngitis) - Fever of more than 38.5°C, tender cervical nodes, headache, petechia of the palate, abdominal pains, or sudden onset (< 12 h).
Complications
Complications of pharyngitis may include the following:
Systemic infection

Septicemia or toxic shock syndrome

Rhinitis

Pneumonia
References
[Guideline] Michigan Quality Improvement Consortium. Acute pharyngitis in children. Southfield (MI): Michigan Quality Improvement Consortium; 2009 Jan. [Full Text].

Fretzayas A, Moustaki M, Kitsiou S, Nychtari G, Nicolaidou P. The clinical pattern of group C streptococcal pharyngitis in children. J Infect Chemother. 2009 Aug. 15(4):228-32. [Medline].

Centor RM, Atkinson TP, Ratliff AE, Xiao L, Crabb DM, Estrada CA, et al. The clinical presentation of Fusobacterium-positive and streptococcal-positive pharyngitis in a university health clinic: a cross-sectional study. Ann Intern Med. 2015 Feb 17. 162(4):241-7. [Medline].

Barclay L. Sore Throat in Young Adults May Indicate Serious Illness. Medscape Medical News. Available at http://www.medscape.com/viewarticle/839928. Accessed: May 26, 2015.

American Academy of Pediatrics. Report of the committee on infectious diseases. Pickering LK, Baker CJ, McMillan J, Long S (Editors). Red Book. . 27th Edition. Elk Grove Village, Il: American Academy of Pediatrics; 2006:430-439.:

[Guideline] Ayanruoh S, Waseem M, Quee F, Humphrey A, Reynolds T. Impact of rapid streptococcal test on antibiotic use in a pediatric emergency department. Pediatr Emerg Care. 2009 Nov. 25(11):748-50. [Medline].

Shulman ST, Bisno AL, Clegg HW, Gerber MA, Kaplan EL, Lee G, et al. Clinical practice guideline for the diagnosis and management of group A streptococcal pharyngitis: 2012 update by the Infectious Diseases Society of America. Clin Infect Dis. 2012 Nov 15. 55 (10):1279-82. [Medline].

Harrist A, Van Houten C, Shulman ST, Van Beneden C, Murphy T. Notes from the Field: Group A Streptococcal Pharyngitis Misdiagnoses at a Rural Urgent-Care Clinic--Wyoming, March 2015. MMWR Morb Mortal Wkly Rep. 2016 Jan 1. 64 (50-51):1383-5. [Medline].

el-Daher NT, Hijazi SS, Rawashdeh NM, al-Khalil IA, Abu-Ektaish FM, Abdel-Latif DI. Immediate vs. delayed treatment of group A beta-hemolytic streptococcal pharyngitis with penicillin V. Pediatr Infect Dis J. 1991 Feb. 10(2):126-30. [Medline].

WANNAMAKER LW, RAMMELKAMP CH Jr, DENNY FW, BRINK WR, HOUSER HB, HAHN EO, et al. Prophylaxis of acute rheumatic fever by treatment of the preceding streptococcal infection with various amounts of depot penicillin. Am J Med. 1951 Jun. 10(6):673-95. [Medline].

Bulloch B, Kabani A, Tenenbein M. Oral dexamethasone for the treatment of pain in children with acute pharyngitis: a randomized, double-blind, placebo-controlled trial. Ann Emerg Med. 2003 May. 41(5):601-8. [Medline].

Krober MS, Weir MR, Themelis NJ, van Hamont JE. Optimal dosing interval for penicillin treatment of streptococcal pharyngitis. Clin Pediatr (Phila). 1990 Nov. 29(11):646-8. [Medline].

Altamimi S, Khalil A, Khalaiwi KA, Milner R, Pusic MV, Al Othman MA. Short versus standard duration antibiotic therapy for acute streptococcal pharyngitis in children. Cochrane Database Syst Rev. 2009 Jan 21. CD004872. [Medline].

Wing A, Villa-Roel C, Yeh B, Eskin B, Buckingham J, Rowe BH. Effectiveness of corticosteroid treatment in acute pharyngitis: a systematic review of the literature. Acad Emerg Med. 2010 May. 17(5):476-83. [Medline].

Schwartz RH, Kim D, Martin M, Pichichero ME. A Reappraisal of the Minimum Duration of Antibiotic Treatment Before Approval of Return to School for Children With Streptococcal Pharyngitis. Pediatr Infect Dis J. 2015 Dec. 34 (12):1302-4. [Medline].

Haelle T. Strep Throat: Treated Kids Can Return to School in 12 Hours. Medscape Medical News. Available at http://www.medscape.com/viewarticle/850338. September 02, 2015; Accessed: April 26, 2016.
Medscape Reference © 2011 WebMD, LLC