Breast Milk Jaundice Treatment & Management
Author: Prashant G Deshpande, MD; Chief Editor: Ted Rosenkrantz, MD more...
Updated: Dec 31, 2015
What would you like to print?
Medical Care
Treatment recommendations in this section apply only to healthy term infants with no signs of pathologic jaundice and are based on the severity of hyperbilirubinemia. In preterm, anemic, or ill infants and those with early (< 24 h) or severe jaundice (>25 mg/dL or 430 µmol/L), different treatment protocols should be pursued (see Neonatal Jaundice).
For healthy term infants with breast milk or breastfeeding jaundice and with bilirubin levels of 12 mg/dL (170 µmol/L) to 17 mg/dL, the following options are acceptable:
Increase breastfeeding to 8-12 times per day and recheck the serum bilirubin level in 12-24 hours. The mother should be reassured about the relatively benign nature of breast milk jaundice (BMJ). This recommendation assumes that effective breastfeeding is occurring, including milk production, effective latching, and effective sucking with resultant letdown of milk. Breastfeeding can also be supported with manual or electric pumps and the pumped milk given as a supplement to the baby.

Continue breastfeeding and supplement with formula.

Temporary interruption of breastfeeding is rarely needed and is not recommended unless serum bilirubin levels reach 20 mg/dL (340 µmol/L).
For infants with serum bilirubin levels from 17-25 mg/dL (294-430 µmol/L), add phototherapy to any of the previously stated treatment options. The reader is referred to the American Academy of Pediatrics' practice parameter on the management of hyperbilirubinemia in healthy full-term newborn infants.[16]
The most rapid way to reduce the bilirubin level is to interrupt breastfeeding for 24 hours, feed with formula, and use phototherapy; however, in most infants, interrupting breastfeeding is not necessary or advisable.
Phototherapy can be administered with standard phototherapy units and fiberoptic blankets. See the image below.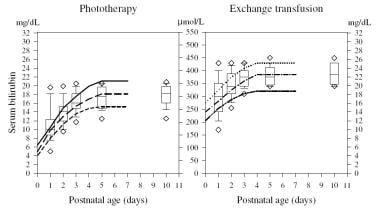 The graph represents indications for phototherapy and exchange transfusion in infants (with a birthweight of 3500 g) in 108 neonatal ICUs. The left panel shows the range of indications for phototherapy, whereas the right panel shows the indications for exchange transfusion. Numbers on the vertical axes are serum bilirubin concentrations in mg/dL (lateral) and mmol/L (middle). In the left panel, the solid line refers to the current recommendation of the American Academy of Pediatrics (AAP) for low-risk infants, the line consisting of long dashes (- - - - -) represents the level at which the AAP recommends phototherapy for infants at intermediate risk, and the line with short dashes (-----) represents the suggested intervention level for infants at high risk. In the right panel, the dotted line (......) represents the AAP suggested intervention level for exchange transfusion in infants considered at low risk, the line consisting of dash-dot-dash (-.-.-.-.) represents the suggested intervention level for exchange transfusion in infants at intermediate risk, and the line consisting of dash-dot-dot-dash (-..-..-..-) represents the suggested intervention level for infants at high risk. Intensive phototherapy is always recommended while preparations for exchange transfusion are in progress. The box-and-whisker plots show the following values: lower error bar = 10th percentile; lower box margin = 25th percentile; line transecting box = median; upper box margin = 75th percentile; upper error bar = 90th percentile; and lower and upper diamonds = 5th and 95th percentiles, respectively.
Note the following:
Fiberoptic phototherapy can often be safely administered at home, which may allow for improved infant-maternal bonding.

Although sunlight provides sufficient irradiance in the 425-nm to 475-nm band to provide phototherapy, practical difficulties involved in safely exposing a naked newborn to sunlight, either indoors or outdoors (and avoiding sunburn), preclude the use of sunlight as a reliable phototherapy tool; therefore, it is not recommended.

Phototherapy can be discontinued when serum bilirubin levels drop to less than 15 mg/dL (260 µmol/L).

Average bilirubin level rebound has been shown to be less than 1 mg/dL (17 µmol/L); therefore, rechecking the level after discontinuation of phototherapy is not necessary unless hyperbilirubinemia is due to a hemolytic process.
For an in-depth discussion of phototherapy, see Neonatal Jaundice.
Consultations
The following consultations may be indicated:
Consider consultation with a neonatologist when serum bilirubin level approaches 20 mg/dL (430 µmol/L) or when signs and symptoms suggest pathological jaundice and the rate of rise in the serum bilirubin level is more than 0.5 mg/dL/h.

A consultation with a lactation specialist is recommended in any breastfed baby who has jaundice. The expertise of lactation consultants can be extremely helpful, especially in situations in which inadequate breastfeeding is contributing to the jaundice.
Diet
Continue breastfeeding, if possible, and increase frequency of feeding to 8-12 times per day. Depending on maternal preference, breastfeeding can be supplemented or replaced by formula at the same frequency. Supplementation with dextrose solution is not recommended because it may decrease caloric intake and milk production and may consequently delay the drop in serum bilirubin concentration. Breastfeeding can also be supplemented by pumped breast milk.
Activity
No restrictions are necessary. Encourage parents to remove the child from the warmer or infant crib for feeding and bonding. Fiberoptic blankets allow holding and breastfeeding without interruption in treatment.
References
Gotze T, Blessing H, Grillhosl C, Gerner P, Hoerning A. Neonatal cholestasis - differential diagnoses, current diagnostic procedures, and treatment. Front Pediatr. 2015. 3:43. [Medline].

Fujiwara R, Maruo Y, Chen S, Tukey RH. Role of extrahepatic UDP-glucuronosyltransferase 1A1: Advances in understanding breast milk-induced neonatal hyperbilirubinemia. Toxicol Appl Pharmacol. 2015 Nov 15. 289 (1):124-32. [Medline].

Zanardo V, Golin R, Amato M, et al. Cytokines in human colostrum and neonatal jaundice. Pediatr Res. 2007 Aug. 62(2):191-4. [Medline].

Kumral A, Ozkan H, Duman N, Yesilirmak DC, Islekel H, Ozalp Y. Breast milk jaundice correlates with high levels of epidermal growth factor. Pediatr Res. 2009 Aug. 66(2):218-21. [Medline].

Rosa Manganaro, Lucia Marseglia, Carmelo Mami, Giuseppe Saitta, Romana Gargano, Marina Gernellie. Serum alpha-fetoprotein (AFP) levels in breastfed infants with prolonged indirect hyperbilirubinemia. Early Human Development. 2008. 84:487-490.

Tuzun F, Kumral A, Duman N, Ozkan H. Breast milk jaundice: effect of bacteria present in breast milk and infant feces. J Pediatr Gastroenterol Nutr. 2013 Mar. 56(3):328-32. [Medline].

Alonso EM, Whitington PF, Whitington SH, Rivard WA, Given G. Enterohepatic circulation of nonconjugated bilirubin in rats fed with human milk. J Pediatr. 1991 Mar. 118(3):425-30. [Medline].

Maruo Y, Nishizawa K, Sato H, Sawa H, Shimada M. Prolonged unconjugated hyperbilirubinemia associated with breast milk and mutations of the bilirubin uridine diphosphate- glucuronosyltransferase gene. Pediatrics. 2000 Nov. 106(5):E59. [Medline]. [Full Text].

Monaghan G, McLellan A, McGeehan A, Li Volti S, Mollica F, Salemi I. Gilbert's syndrome is a contributory factor in prolonged unconjugated hyperbilirubinemia of the newborn. J Pediatr. 1999 Apr. 134(4):441-6. [Medline].

Huang CS, Chang PF, Huang MJ, Chen ES, Hung KL, Tsou KI. Relationship between bilirubin UDP-glucuronosyl transferase 1A1 gene and neonatal hyperbilirubinemia. Pediatr Res. 2002 Oct. 52(4):601-5. [Medline].

Lin Z, Fontaine J, Watchko JF. Coexpression of gene polymorphisms involved in bilirubin production and metabolism. Pediatrics. 2008 Jul. 122(1):e156-62. [Medline].

Chou HC, Chen MH, Yang HI, et al. 211 G to a variation of UDP-glucuronosyl transferase 1A1 gene and neonatal breastfeeding jaundice. Pediatr Res. 2011 Feb. 69(2):170-4. [Medline].

Huang MJ, Kua KE, Teng HC, Tang KS, Weng HW, Huang CS. Risk factors for severe hyperbilirubinemia in neonates. Pediatr Res. 2004 Nov. 56(5):682-9. [Medline].

Watchko JF. Genetics and the risk of neonatal hyperbilirubinemia: commentary on the article by Huang et al. on page 682. Pediatr Res. 2004 Nov. 56(5):677-8. [Medline].

Uras N, Tonbul A, Karadag A, Dogan DG, Erel O, Tatli MM. Prolonged jaundice in newborns is associated with low antioxidant capacity in breast milk. Scand J Clin Lab Invest. 2010 Oct. 70(6):433-7. [Medline].

[Guideline] American Academy of Pediatrics Subcommittee on Hyperbilirubinemia. Management of hyperbilirubinemia in the newborn infant 35 or more weeks of gestation. Pediatrics. 2004 Jul. 114(1):297-316. [Medline].

Stark AR, Lannon CM. Systems changes to prevent severe hyperbilirubinemia and promote breastfeeding: pilot approaches. J Perinatol. 2009 Feb. 29 Suppl 1:S53-7. [Medline].

van Dommelen P, van Wouwe JP, Breuning-Boers JM, van Buuren S, Verkerk PH. Reference chart for relative weight change to detect hypernatraemic dehydration. Arch Dis Child. 2007 Jun. 92(6):490-4. [Medline].

Gourley GR, Li Z, Kreamer BL. A Controlled, Randomized, Double-Blind Trial of Prophylaxis Against Jaundice Among Breastfed Newborns. Pediatrics. 116:385 - 391. [Medline].

Maisels MJ. Transcutaneous bilirubinometry. Neoreviews. 2006. 7(5):e217-e225.

Keren R, Luan X, Friedman S, Saddlemire S, Cnaan A, Bhutani VK. A comparison of alternative risk-assessment strategies for predicting significant neonatal hyperbilirubinemia in term and near-term infants. Pediatrics. 2008 Jan. 121(1):e170-9. [Medline].

Maisels MJ, Deridder JM, Kring EA, Balasubramaniam M. Routine transcutaneous bilirubin measurements combined with clinical risk factors improve the prediction of subsequent hyperbilirubinemia. J Perinatol. 2009 Sep. 29(9):612-7. [Medline].

Maisels MJ, Bhutani VK, Bogen D, Newman TB, Stark AR, Watchko JF. Hyperbilirubinemia in the newborn infant > or =35 weeks' gestation: an update with clarifications. Pediatrics. 2009 Oct. 124(4):1193-8. [Medline].

Bhutani VK, Johnson L, Sivieri EM. Predictive ability of a predischarge hour-specific serum bilirubin for subsequent significant hyperbilirubinemia in healthy term and near-term newborns. Pediatrics. 1999 Jan. 103(1):6-14. [Medline].

Fontaine P. The first month of life. Handbook of Pregnancy and Perinatal Care in Family Practice. Hanley & Belfus; 1995. 396-429.

Gartner LM, Herschel M. Jaundice and breastfeeding. Pediatr Clin North Am. 2001 Apr. 48(2):389-99. [Medline].

Grunebaum E, Amir J, Merlob P, et al. Breast mild jaundice: natural history, familial incidence and late neurodevelopmental outcome of the infant. Eur J Pediatr. 1991 Feb. 150(4):267-70. [Medline].

Hamosh M, Bitman J. Human milk in disease: lipid composition. Lipids. 1992 Nov. 27(11):848-57. [Medline].

Huang MJ, Kua KE, Teng HC, Tang KS, Weng HW, Huang CS. Risk factors for severe hyperbilirubinemia in neonates. Pediatr Res. 2004 Nov. 56(5):682-9. [Medline].

Johnson LH, Bhutani VK, Brown AK. System-based approach to management of neonatal jaundice and prevention of kernicterus. J Pediatr. 2002 Apr. 140(4):396-403. [Medline].

Lovejoy FH Jr, Robertson WO, Woolf AD. Poison centers, poison prevention, and the pediatrician. Pediatrics. 1994 Aug. 94(2 Pt 1):220-4. [Medline].

Maisels MJ, Newman TB. Kernicterus in otherwise healthy, breast-fed term newborns. Pediatrics. 1995 Oct. 96(4 Pt 1):730-3. [Medline].

Martinez JC, Maisels MJ, Otheguy L, et al. Hyperbilirubinemia in the breast-fed newborn: a controlled trial of four interventions. Pediatrics. 1993 Feb. 91(2):470-3. [Medline].

Schneider AP 2nd. Breast milk jaundice in the newborn. A real entity. JAMA. 1986 Jun 20. 255(23):3270-4. [Medline].

Yamauchi Y, Yamanouchi I. Breast-feeding frequency during the first 24 hours after birth in full-term neonates. Pediatrics. 1990 Aug. 86(2):171-5. [Medline].
Medscape Reference © 2011 WebMD, LLC