Omphalitis Clinical Presentation
Author: Patrick G Gallagher, MD; Chief Editor: Ted Rosenkrantz, MD more...
Updated: Jan 02, 2016
What would you like to print?
History
A detailed review of the pregnancy, labor, delivery, and the neonatal course is important when assessing omphalitis. Note the following:
A history of poor feeding or feeding intolerance may be an early indication of infection. A history of change in mental status, such as irritability, lethargy, and somnolence, or a history of a decreased level of activity may be an important indicator of systemic dissemination of the infection.

Anaerobic bacteria are part of the normal flora of the female genital tract and are commonly involved in ascending infections of the uterus and in septic complications of pregnancy; therefore, the higher incidence of omphalitis caused by anaerobes (especially B fragilis) in infants with adverse perinatal histories, such as premature or prolonged rupture of membranes and amnionitis, may relate to exposure to maternal infection.

History of urine or stool discharge from the umbilicus suggests an underlying anatomic abnormality.
Physical
Local disease
Physical signs vary with the extent of disease. Signs of localized infection include the following:
Purulent or malodorous discharge from the umbilical stump

Periumbilical erythema (Recently, algorithms that attempt to standardize the clinical diagnosis of omphalitis have been developed, emphasizing extent of periumbilical erythema and absence or presence of pus.)

Edema

Tenderness
The image below shows a case of omphalitis associated with bullous impetigo due to Staphylococcus aureus.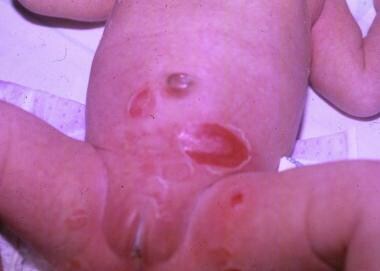 A case of omphalitis associated with bullous impetigo due to Staphylococcus aureus.
Extensive local disease, with extension
The following signs indicate more extensive local disease, such as necrotizing fasciitis or myonecrosis, which are typically found in a periumbilical location but may spread across the abdominal wall, onto the flanks and back, and into the scrotum. These signs may also suggest infection by both aerobic and anaerobic organisms and include the following:
Ecchymoses, violaceous discoloration

Bullae

Peau d'orange appearance

Crepitus

Petechiae

Progression of cellulitis despite antimicrobial therapy
The images below demonstrate findings in a case of omphalitis (left) associated with extensive myonecrosis (right).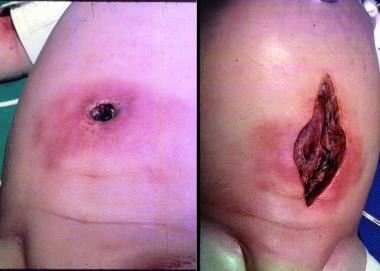 A case of omphalitis (left) associated with extensive myonecrosis (right).
Systemic disease
Signs of sepsis or other systemic disease are nonspecific and include disturbances of thermoregulation or evidence of dysfunction of multiple organ systems. Examples include the following:
Disturbances of thermoregulation - Fever (temperature >38°C), hypothermia (temperature < 36°C), or temperature instability

Cardiovascular disturbances - Tachycardia (pulse >180 beats per minute [bpm]), hypotension (systolic blood pressure < 60 mm Hg in full-term infants), or delayed capillary refill (< 2-3 s)

Respiratory disturbances - Apnea, tachypnea (respirations >60/min), grunting, flaring of the alae nasi, intercostal or subcostal retractions, or hypoxemia

GI tract disturbances - Rigid or distended abdomen or absent bowel sounds

Cutaneous abnormalities - Jaundice, petechiae, or cyanosis

Neurologic abnormalities - Irritability, lethargy, weak sucking, hypotonia, or hypertonia
Causes
Omphalitis is a polymicrobial infection typically caused by a mixture of aerobic and anaerobic organisms.
Associated risk factors include the following:
Low birth weight (< 2500 g)

Prior umbilical catheterization

Septic delivery (as suggested by premature rupture of membranes, nonsterile delivery, or maternal infection)

Prolonged rupture of membranes
Omphalitis occasionally manifests from an underlying immunologic disorder. Leukocyte adhesion deficiency (LAD) is most prominent among the immunodeficiency syndromes.[30, 31, 32, 33, 34] Numerous infants with acute or chronic omphalitis have been diagnosed with LAD, a rare immunologic disorder with an autosomal recessive pattern of inheritance. These infants typically present with the following:
Leukocytosis

Delayed separation of the umbilical cord, with or without omphalitis

Recurrent infections
Omphalitis may also be the initial manifestation of neutropenia in the neonate.[35, 36, 37, 38, 39] Infants with neonatal alloimmune neutropenia or congenital neutropenia have presented with omphalitis. Neonatal alloimmune neutropenia is a disease analogous to Rh-hemolytic disease and results from maternal sensitization to fetal neutrophils bearing antigens that differ from the mother's. Maternal immunoglobulin G antibodies cross the placenta and result in an immune-mediated neutropenia that can be severe and last for several weeks to 6 months. Affected infants may present with other cutaneous infections, pneumonia, sepsis, and meningitis.
Because omphalitis complicated by sepsis can also be associated with neutropenia, the underlying immune-mediated neutrophil destruction may not be immediately appreciated in affected newborns. The congenital neutropenias are a disease group of heterogenous disorders that range from intermittent to persistent manifestations of varying severity. Omphalitis may complicate congenital neutropenia.
Rarely, an anatomic abnormality such as a patent urachus, patent omphalomesenteric duct, or urachal cyst may be present.[40, 41, 42, 43, 44]
References
Cushing AH. Omphalitis: a review. Pediatr Infect Dis. 1985 May-Jun. 4(3):282-5. [Medline].

Airede AI. Pathogens in neonatal omphalitis. J Trop Pediatr. 1992 Jun. 38(3):129-31. [Medline].

Brook I. Microbiology of necrotizing fasciitis associated with omphalitis in the newborn infant. J Perinatol. 1998 Jan-Feb. 18(1):28-30. [Medline].

[Guideline] Riley LE, Stark AR, eds. Guidelines for Perinatal Care. 7th ed. Elk Grove Village, IL, and Wash, DC: American Academy of Pediatrics and American College of Obstetricians and Gynecologists; 2012. 302.

Karumbi J, Mulaku M, Aluvaala J, et al. Topical umbilical cord care for prevention of infection and neonatal mortality. Pediatr Infect Dis J. 2013 Jan. 32(1):78-83. [Medline]. [Full Text].

[Guideline] WHO. Guidelines on Maternal, Newborn, Child and Adolescent Health: Recommendations on Newborn Health. Available at http://www.who.int/maternal_child_adolescent/documents/guidelines-recommendations-newborn-health.pdf. Accessed: Sep 29 2014.

Imdad A, Bautista RM, Senen KA, et al. Umbilical cord antiseptics for preventing sepsis and death among newborns. Cochrane Database Syst Rev. 2013 May 31. 5:CD008635. [Medline].

Goldenberg RL, McClure EM, Saleem S. A review of studies with chlorhexidine applied directly to the umbilical cord. Am J Perinatol. 2013 Sep. 30(8):699-701. [Medline]. [Full Text].

Imdad A, Mullany LC, Baqui AH, et al. The effect of umbilical cord cleansing with chlorhexidine on omphalitis and neonatal mortality in community settings in developing countries: a meta-analysis. BMC Public Health. 2013. 13 Suppl 3:S15. [Medline]. [Full Text].

Sinha A, Sazawal S, Pradhan A, Ramji S, Opiyo N. Chlorhexidine skin or cord care for prevention of mortality and infections in neonates. Cochrane Database Syst Rev. 2015 Mar 5. 3:CD007835. [Medline].

McKenna H, Johnson D. Bacteria in neonatal omphalitis. Pathology. 1977 Apr. 9(2):111-3. [Medline].

Geil CC, Castle WK, Mortimer EA Jr. Group A streptococcal infections in newborn nurseries. Pediatrics. 1970 Dec. 46(6):849-54. [Medline].

Gezon HM, Schaberg MJ, Klein JO. Concurrent epidemics of Staphylococcus aureus and group A Streptococcus disease in a newborn nursery. Control with penicillin G and hexachlorophene bathing. Pediatrics. 1973 Feb. 51(2):383-90. [Medline].

Nelson JD, Dillon HC Jr, Howard JB. A prolonged nursery epidemic associated with a newly recognized type of group A streptococcus. J Pediatr. 1976 Nov. 89(5):792-6. [Medline].

Sawin RS, Schaller RT, Tapper D, et al. Early recognition of neonatal abdominal wall necrotizing fasciitis. Am J Surg. 1994 May. 167(5):481-4. [Medline].

Ameh EA, Nmadu PT. Major complications of omphalitis in neonates and infants. Pediatr Surg Int. 2002 Sep. 18(5-6):413-6. [Medline].

Feo CF, Dessanti A, Franco B, et al. Retroperitoneal abscess and omphalitis in young infants. Acta Paediatr. 2003. 92(1):122-5. [Medline].

Fraser N, Davies BW, Cusack J. Neonatal omphalitis: a review of its serious complications. Acta Paediatr. 2006 May. 95(5):519-22. [Medline].

Kosloske AM, Cushing AH, Borden TA, et al. Cellulitis and necrotizing fasciitis of the abdominal wall in pediatric patients. J Pediatr Surg. 1981 Jun. 16(3):246-51. [Medline].

Lally KP, Atkinson JB, Woolley MM, Mahour GH. Necrotizing fasciitis. A serious sequela of omphalitis in the newborn. Ann Surg. 1984 Jan. 199(1):101-3. [Medline].

Samuel M, Freeman NV, Vaishnav A, et al. Necrotizing fasciitis: a serious complication of omphalitis in neonates. J Pediatr Surg. 1994 Nov. 29(11):1414-6. [Medline].

Moss RL, Musemeche CA, Kosloske AM. Necrotizing fasciitis in children: prompt recognition and aggressive therapy improve survival. J Pediatr Surg. 1996 Aug. 31(8):1142-6. [Medline].

Weber DM, Freeman NV, Elhag KM. Periumbilical necrotizing fasciitis in the newborn. Eur J Pediatr Surg. 2001 Apr. 11(2):86-91. [Medline].

Nazir Z. Necrotizing fasciitis in neonates. Pediatr Surg Int. 2005 Aug. 21(8):641-4. [Medline].

Bingol-Kologlu M, Yildiz RV, Alper B, et al. Necrotizing fasciitis in children: diagnostic and therapeutic aspects. J Pediatr Surg. 2007 Nov. 42(11):1892-7. [Medline].

Mason WH, Andrews R, Ross LA, Wright HT Jr. Omphalitis in the newborn infant. Pediatr Infect Dis J. 1989 Aug. 8(8):521-5. [Medline].

O'Brien PH, Meredith HC, Vujic I, Schabel SI. Obstructive jaundice caused by cavernous transformation of the portal vein post neonatal omphalitis. J S C Med Assoc. 1979 May. 75(5):209-10. [Medline].

Perlemuter G, Bejanin H, Fritsch J, et al. Biliary obstruction caused by portal cavernoma: a study of 8 cases. J Hepatol. 1996 Jul. 25(1):58-63. [Medline].

Orloff MJ, Orloff MS, Girard B, Orloff SL. Bleeding esophagogastric varices from extrahepatic portal hypertension: 40 years' experience with portal-systemic shunt. J Am Coll Surg. 2002 Jun. 194(6):717-28; discussion 728-30. [Medline].

Hung CH, Cheng SN, Hua YM, et al. Leukocyte adhesion deficiency disorder: report of one case. Acta Paediatr Taiwan. 1999 Mar-Apr. 40(2):128-31. [Medline].

Mogica-Martinez MD, Lopez-Duran JL, Canseco-Raymundo MR, Becerril Angeles M. [Leukocyte adhesion deficiency syndrome: case report]. Rev Alerg Mex. 1999 Sep-Oct. 46(5):140-4. [Medline].

van Vliet DN, Brandsma AE, Hartwig NG. [Leukocyte-adhesion deficiency: a rare disorder of inflammation]. Ned Tijdschr Geneeskd. 2004 Dec 11. 148(50):2496-500. [Medline].

Alizadeh P, Rahbarimanesh AA, Bahram MG, Salmasian H. Leukocyte adhesion deficiency type 1 presenting as leukemoid reaction. Indian J Pediatr. 2007 Dec. 74(12):1121-3. [Medline].

Parvaneh N, Mamishi S, Rezaei A, et al. Characterization of 11 new cases of leukocyte adhesion deficiency type 1 with seven novel mutations in the ITGB2 gene. J Clin Immunol. 2010 Sep. 30(5):756-60. [Medline].

Hagimoto R, Koike K, Sakashita K, et al. A possible role for maternal HLA antibody in a case of alloimmune neonatal neutropenia. Transfusion. 2001 May. 41(5):615-20. [Medline].

Rezaei N, Moin M, Pourpak Z, et al. The clinical, immunohematological, and molecular study of Iranian patients with severe congenital neutropenia. J Clin Immunol. 2007 Sep. 27(5):525-33. [Medline].

Dale DC. ELANE-Related Neutropenia. 1993. [Medline].

Shim YJ, Kim HJ, Suh JS, Lee KS. Novel ELANE gene mutation in a Korean girl with severe congenital neutropenia. J Korean Med Sci. 2011 Dec. 26(12):1646-9. [Medline].

Donadieu J, Fenneteau O, Beaupain B, Mahlaoui N, Chantelot CB. Congenital neutropenia: diagnosis, molecular bases and patient management. Orphanet J Rare Dis. 2011. 6:26. [Medline].

Elhassani SB. The umbilical cord: care, anomalies, and diseases. South Med J. 1984 Jun. 77(6):730-6. [Medline].

Boyle G, Rosenberg HK, O'Neill J. An unusual presentation of an infected urachal cyst. Review of urachal anomalies. Clin Pediatr (Phila). 1988 Mar. 27(3):130-4. [Medline].

Ward TT, Saltzman E, Chiang S. Infected urachal remnants in the adult: case report and review. Clin Infect Dis. 1993 Jan. 16(1):26-9. [Medline].

Razvi S, Murphy R, Shlasko E, Cunningham-Rundles C. Delayed separation of the umbilical cord attributable to urachal anomalies. Pediatrics. 2001 Aug. 108(2):493-4. [Medline]. [Full Text].

Masuko T, Nakayama H, Aoki N, Kusafuka T, Takayama T. Staged approach to the urachal cyst with infected omphalitis. Int Surg. 2006 Jan-Feb. 91(1):52-6. [Medline].

Kosloske AM, Bartow SA. Debridement of periumbilical necrotizing fasciitis: importance of excision of the umbilical vessels and urachal remnant. J Pediatr Surg. 1991 Jul. 26(7):808-10. [Medline].

Young TE, Mangum B. Neofax 2008. 21st edition. Thomson Reuters; 2008.

Brook I. Anaerobic infections in children. Adv Exp Med Biol. 2011. 697:117-52. [Medline].

Brook I, Dunkle LM. Anaerobic infections. McMillan J, De Angelis CD, Feigin RD, eds. Oski's Pediatrics: Principles and Practice. 3rd ed. Lippincott Williams & Wilkins; 1999. 937-50.

Gormley D. Neonatal anaerobic (clostridial) cellulitis and omphalitis. Arch Dermatol. 1977 May. 113(5):683-4. [Medline].
Medscape Reference © 2011 WebMD, LLC