Nasal Polyps Treatment & Management
Author: John E McClay, MD; Chief Editor: Ravindhra G Elluru, MD, PhD more...
Updated: Jun 17, 2016
What would you like to print?
Approach Considerations
Historically, children diagnosed with cystic fibrosis (CF) already had digestive and pulmonary disease and were the children with the more severe form of disease. These children were often treated with intravenous antibiotics directed at the most common pathogens found in the lungs and the sinuses (eg, Pseudomonas aeruginosa,Staphylococcus aureus), both preoperatively and postoperatively.
Additionally, these children had pulmonary toilet to increase their lung function in the perioperative period, including intravenous (IV) steroids, percussion therapy, and inhaled bronchodilators. Much of this process can now be performed on an outpatient basis, depending on the severity of the associated disease.
For patients with severe asthma and polyposis requiring surgery, postoperative admission for observation of respiratory compromise or spasm is determined on an individual basis.
Outpatient surgery is usually performed for older children undergoing endoscopic sinus surgery (ESS) for nasal polyposis without coexisting medical conditions.
Medical Care
Oral and topical nasal steroid administration is the primary medical therapy for nasal polyposis.[14, 15, 16] Antihistamines, decongestants, and cromolyn sodium provide little benefit. Immunotherapy may be useful to treat allergic rhinitis but, when used alone, does not usually resolve existing polyps. Administer antibiotics for bacterial superinfections.
Corticosteroids are the treatment of choice, either topically or systemically. Direct injection into the polyp is not approved by the US Food and Drug Administration (FDA) because of reports of unilateral vision loss in three patients after intranasal steroid injection with Kenalog. Safety may depend on specific drug particle size; high-molecular-weight drugs such as Aristocort are safer and less likely to be transferred to the intracranial area. Avoid direct injection into blood vessels.
Oral steroids are the most effective medical treatment for nasal polyposis. In adults, most authors use prednisone (30-60 mg) for 4-7 days and taper the medicine for 1-3 weeks. Dosage varies for children, but the maximum dosage is usually 1 mg/kg/day for 5-7 days, which is then tapered over 1-3 weeks. Responsiveness to corticosteroids appears to depend on the presence or absence of eosinophilia; thus, patients with polyps and allergic rhinitis or asthma should respond to this treatment.
Patients with polyposis not dominated by eosinophilia (eg, patients with CF, primary ciliary dyskinesia syndrome, or Young syndrome) may not respond to steroids. Long-term use of oral steroids is not recommended because of the numerous potential adverse effects (eg, growth retardation, diabetes mellitus, hypertension, psychotropic effects, adverse GI effects, cataracts, glaucoma, osteoporosis, and aseptic necrosis of the femoral head).
Many authors advocate topical nasal steroid administration for nasal polyps, either as the primary treatment or as a continual secondary treatment immediately after oral steroids or surgery. Most nasal steroids (eg, fluticasone, beclomethasone, budesonide) effectively relieve subjective symptoms and increase the nasal airflow when measured objectively (primarily in double-blind placebo-controlled studies).[17]
A systematic review of 19 studies found similar results. The topical steroid preparations fluticasone, mometasone, and budesonide were shown to improve nasal symptoms in patients with nasal polyposis.[18] Some studies indicate fluticasone has a faster onset of action and possible mild superiority to beclomethasone.[19]
Topical corticosteroid administration generally causes fewer adverse effects than systemic corticosteroid use because of the former's limited bioavailability. Long-term use, especially at high dosages or in combination with inhaled corticosteroids, presents a risk of hypothalamic-pituitary-adrenal axis suppression, cataract formation, growth retardation, nasal bleeding, and, in rare cases, nasal septal perforation.
As with any long-term therapy, monitor use of topical corticosteroid sprays. However, long-term (>5 years) studies evaluating the use of beclomethasone have shown no degradation of the normal respiratory epithelium to squamous epithelium seen in chronic atrophic rhinitis. Additionally, the newer generation of systemic steroids (eg, fluticasone, Nasonex) appears to have less bioavailability than older nasal steroids, such as beclomethasone.
Surgical Care
Surgical intervention is required for children with multiple benign nasal polyposis or chronic rhinosinusitis in whom maximal medical therapy fails. Simple polypectomy is effective initially to relieve nasal symptoms, especially for isolated polyps or small numbers of polyps. (See the image below.) In benign multiple nasal polyposis, polypectomy is fraught with a high recurrence rate.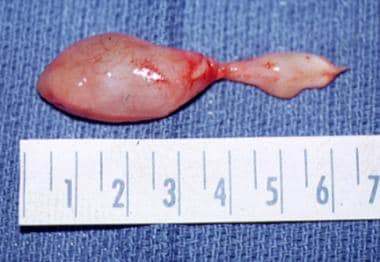 Scale is in inches. The left side of the lesion was the portion of the polyp in the nasal cavity. The right was a stalk attached to the medial maxillary wall.
ESS is a better technique that not only removes the polyps but also opens the clefts in the middle meatus, where they most often form, which helps decrease the recurrence rate. The exact extent of the surgery needed, whether complete extirpation (ie, Nasalide procedure) or simple aeration of the sinuses, is not entirely known, simply because of the dearth of studies. Rare comparisons show that complete extirpation procedures are as effective as or superior to aeration of the sinuses; complication rates are low with experienced surgeons. The use of a surgical microdebrider has made the procedure safer and faster, providing precise tissue cutting and decreased hemostasis with better visualization. (See the images below.)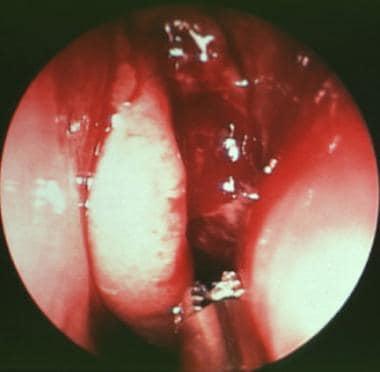 A surgical microdebrider entering the middle meatus. The septum is on the far left. The middle turbinate is in the left center. The surgical microdebrider is on the inferior center. Inferior turbinate is seen on the bottom right. Some blood overlying the ethmoid cavity is noted where polyps were present in the center of the picture.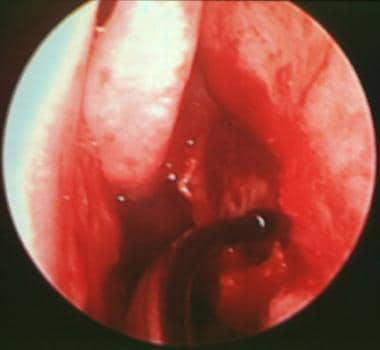 Endoscopic view of the left middle meatus, showing the septum on the left, the middle turbinate in the center superiorly, and a large maxillary antrostomy with a curved suction on the right. This is following antral-choanal polyp removal.
Surgery is directed at diseased tissue that is apparent on the computed tomography (CT) scan at the time of surgery. Patients with diseases such as CF, primary ciliary dyskinesia syndrome, or Young syndrome may proceed to surgery without extensive medical treatment because these diseases usually do not respond well to corticosteroid treatment. Once diseased tissue has been removed from the nasal cavity and sinuses, the pulmonary systems usually improve.
Consider use of an image-guided system to define the exact location of intranasal, sinus, orbital, and intracranial structures for massive polyposis or revision surgery because surgical landmarks may be absent or altered.
For specific techniques in pediatric sinus surgery, with and without polyps, see Pediatric Sinusitis, Surgical Treatment.
Nasal polyposis occurs in 6-48% of children with CF. Surgery is performed when children become symptomatic. Recurrence of polyps in CF is almost universal, necessitating repeat surgery every few years. In fact, recurrence is typical for many diseases that cause nasal polyps; patients should receive preoperative counseling about this possibility.
For lesions other than benign nasal polyps that result in a nasal polyp, the polyp should be biopsied or removed, depending on the disease process.
Complications
Massive polyposis or a single large polyp (eg, an antral-choanal polyp) that obstructs the nasal cavities and/or nasopharynx can cause obstructive sleep symptoms and chronic mouth breathing. Rarely, massive polyposis, observed in CF and in allergic fungal sinusitis (AFS) can alter the craniofacial structure. This can result in proptosis, hypertelorism, and diplopia.
In a retrospective study, McClay et al reported that 42% of children with AFS (compared with 10% of adults) presented with craniofacial abnormalities.[7] Massive polyposis rarely causes enough extrinsic compression on the optic nerve to decrease visual acuity. One study reported that three of 82 patients with AFS had vision changes from compression of the optic nerve in the sphenoid sinus that resolved over time with removal of disease. However, because these polyps are slow-growing, they usually cause no neurologic symptoms, even when they extend into the intracranial cavity.
Diet and Activity
Treatment of nasal polyps involves no special diet.
No activity restrictions are necessary for a child with nasal polyps. The child's activity level may decrease because of diminished ability to breathe through the nose, decreasing sport or physical activity performance. After sinus surgery, activities are limited; these limitation recommendations vary from surgeon to surgeon. Most surgeons specifically restrict nose-blowing because it may increase intranasal pressure and cause potential problems in areas of already thinned bony dividers in patients with nasal polyposis.
Consultations
First notify a pediatric otolaryngologist, especially if medical therapy has failed or if the origin or diagnosis of the underlying pathology of the nasal polyp is unknown.
Consider consultation with a pulmonary specialist when benign nasal polyps are identified because they could result from asthma, allergy, or CF. Patients with these diseases often have associated pulmonary problems.
Long-Term Monitoring
Closely monitor children with benign multiple nasal polyps, whatever the cause, because recurrence is likely, regardless of whether the polyps were treated medically or surgically. Postoperative follow-up should occur three or four times in the first month to monitor healing of the sinus cavities; frequency depends on the patient's own geographic location and symptoms.
A patient with CF can be monitored symptomatically because surgery is not performed until these patients are symptomatic, even if nasal polyposis is seen on CT or nasal endoscopy. Certainly, each patient is treated on an individual basis.
For polyps associated with AFS, close follow-up by an otolaryngologist is recommended until the patient is deemed free of disease, which may be several years or more.
Any accumulation of fungus may accelerate the antigenic process, which causes symptoms and disease to recur. Recurrence is especially common for polyps, which may be controlled more simply and effectively if recognized early.
Small nasal polyps are recognized early on a routine follow-up in patients with benign multiple nasal polyps.
Other diseases may be treated medically or with smaller surgical procedures. For diseases resulting in nasal polyps other than benign multiple nasal polyps, the need for inpatient or outpatient care is determined by the extent of disease, symptoms and situation of the patient, and associated medical conditions.
References
Babinski D, Trawinska-Bartnicka M. Rhinosinusitis in cystic fibrosis: not a simple story. Int J Pediatr Otorhinolaryngol. 2008 May. 72(5):619-24. [Medline].

Bernstein JM, Gorfien J, Noble B. Role of allergy in nasal polyposis: a review. Otolaryngol Head Neck Surg. 1995 Dec. 113(6):724-32. [Medline].

Tos M, Sasaki Y, Ohnishi M, Larsen P, Drake-Lee AB. Fireside conference 2. Pathogenesis of nasal polyps. Rhinol Suppl. 1992. 14:181-5. [Medline].

Stammberger H. Surgical treatment of nasal polyps: past, present, and future. Allergy. 1999. 54 Suppl 53:7-11. [Medline].

Lind H, Joergensen G, Lange B, Svendstrup F, Kjeldsen AD. Efficacy of ESS in chronic rhinosinusitis with and without nasal polyposis: a Danish cohort study. Eur Arch Otorhinolaryngol. 2016 Apr. 273 (4):911-9. [Medline].

Andrews P, Poirrier AL, Lund VJ, Choi D. Outcomes in Endoscopic Sinus Surgery : Olfaction, NOSE scale and Quality of Life in a Prospective Cohort Study. Clin Otolaryngol. 2016 Apr 27. [Medline].

McClay JE, Marple B, Kapadia L, Biavati MJ, Nussenbaum B, Newcomer M, et al. Clinical presentation of allergic fungal sinusitis in children. Laryngoscope. 2002 Mar. 112 (3):565-9. [Medline].

Mabry RL, Marple BF, Folker RJ, Mabry CS. Immunotherapy for allergic fungal sinusitis: three years' experience. Otolaryngol Head Neck Surg. 1998 Dec. 119(6):648-51. [Medline].

Zhu CJ, Fruth K, Schneider A, Mann WJ, Brieger J. Impact of ozone exposure on prostaglandin release in nasal polyps. Eur Arch Otorhinolaryngol. 2011 Dec 1. [Medline].

Lund VJ, Mackay IS. Staging in rhinosinusitus. Rhinology. 1993 Dec. 31 (4):183-4. [Medline].

Lund VJ, Kennedy DW. Quantification for staging sinusitis. The Staging and Therapy Group. Ann Otol Rhinol Laryngol Suppl. 1995 Oct. 167:17-21. [Medline].

Mackay IS, Lund VJ. Imaging and staging. Mygind N, Lildholdt T, eds. Nasal Polyposis: An Inflammatory Disease and Its Treatment. Copenhagen: Munksgaard; 1997. 137-44.

Malm L. Assessment and staging of nasal polyposis. Acta Otolaryngol. 1997 Jul. 117 (4):465-7. [Medline].

Wongsritrang K, Ruttanaphol S. Clinical efficacy of a short course of systemic steroids in nasal polyposis. Rhinology. 2011 Dec. 49(5):525-32. [Medline].

Naclerio RM, Pinto J, Baroody F. Evidence-based approach to medical and surgical treatment of nasal polyposis. J Allergy Clin Immunol. 2013 Dec. 132 (6):1461-1462.e3. [Medline]. [Full Text].

Bachert C, Zhang L, Gevaert P. Current and future treatment options for adult chronic rhinosinusitis: Focus on nasal polyposis. J Allergy Clin Immunol. 2015 Dec. 136 (6):1431-40; quiz 1441. [Medline].

Holmstrom M. Clinical performance of fluticasone propionate nasal drops. Allergy. 1999. 54 Suppl 53:21-5. [Medline].

Rudmik L, Schlosser RJ, Smith TL, Soler ZM. Impact of topical nasal steroid therapy on symptoms of nasal polyposis: A Meta-Analysis. Laryngoscope. 2012 Mar 12. [Medline].

Lund VJ, Flood J, Sykes AP, Richards DH. Effect of fluticasone in severe polyposis. Arch Otolaryngol Head Neck Surg. 1998 May. 124(5):513-8. [Medline].
Medscape Reference © 2011 WebMD, LLC