Otitis Externa Clinical Presentation
Author: Ariel A Waitzman, MD, FRCSC; Chief Editor: Ravindhra G Elluru, MD, PhD more...
Updated: Jul 11, 2016
What would you like to print?
History
Patients with otitis externa (OE) may complain of the following:
Otalgia, ranging from mild to severe, typically progressing over 1-2 days

Hearing loss

Ear fullness or pressure

Tinnitus

Fever (occasionally)

Itching (especially in fungal OE or chronic OE)

Severe deep pain – If this is experienced by a patient who is immunocompromised or diabetic, be alerted to the possibility of necrotizing (malignant) OE

Discharge – Initially, the discharge may be clear and odorless, but it quickly becomes purulent and foul-smelling

Bilateral symptoms (rare)

Frequently, a history of exposure to or activities in water (eg, swimming, surfing, and kayaking)

Usually, a history of preceding ear trauma (eg, forceful ear cleaning, use of cotton swabs, or water in the ear canal)
Physical Examination
The key physical finding of OE is pain upon palpation of the tragus (anterior to ear canal) or application of traction to the pinna (the hallmark of OE). Examination reveals erythema, edema, and narrowing of the external auditory canal (EAC), and a purulent or serous discharge may be noted (see the image below). Conductive hearing loss may be evident. Cellulitis of the face or neck or lymphadenopathy of the ipsilateral neck occurs in some patients.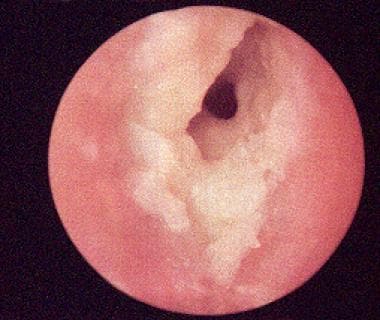 Acute otitis externa. Ear canal is red and edematous, and discharge is present.
The tympanic membrane may be difficult to visualize and may be mildly inflamed, but it should be normally mobile on insufflation. Eczema of the pinna may be present. By definition, cranial nerve (CN) involvement (ie, of CNs VII and IX-XII) is not associated with simple OE.
Fungal OE results in severe itching but typically causes less pain than bacterial OE does. A thick discharge that may be white or gray is often present. Whereas pseudomonal infection produces purulent otorrhea that may be green or yellow, Aspergillus otomycosis looks like a fine white mat topped by black spheres. Upon close examination, the discharge may contain visible fungal elements (eg, spores or hyphae) or have a fuzzy appearance.
The sine qua non of necrotizing OE is pain that is out of proportion to the clinical findings. Upon close examination, granulation tissue may be present in the ear canal.
In severe cases, the infection may spread to the surrounding soft tissues, including the parotid gland. Bony extension may also occur into the mastoid bone, temporomandibular joint, and base of the skull, in which case cranial nerves VII (facial), IX (glossopharyngeal), X (vagus), XI (accessory), or XII (hypoglossal) may be affected.
Complications
Complications of OE are rare and may include the following:
Necrotizing OE (the most significant complication)

Mastoiditis

Chondritis of the auricle (from spread of acute OE to the pinna, particularly in patients with newly pierced ears)

Bony erosion of the base of the skull (skull base osteomyelitis

[16]

)

Central nervous system (CNS) infection

Cellulitis or lymphadenitis
Diabetic ketoacidosis is often present in diabetics with this condition.
Herpes zoster may initially present with symptoms similar to those of OE, and vesicular eruption may occur 1-2 days after the initial symptoms. Ramsay Hunt syndrome is a rare complication of herpes zoster and presents with peripheral unilateral facial palsy. Patients should be counseled on this possible presentation and advised to seek medical care if it occurs.[17]
References
Bojrab DI, Bruderly T, Abdulrazzak Y. Otitis externa. Otolaryngol Clin North Am. 1996 Oct. 29(5):761-82. [Medline].

Cantor RM. Otitis externa and otitis media. A new look at old problems. Emerg Med Clin North Am. 1995 May. 13(2):445-55. [Medline].

Rosenfeld RM, Brown L, Cannon CR, Dolor RJ, Ganiats TG, Hannley M, et al. Clinical practice guideline: acute otitis externa. Otolaryngol Head Neck Surg. 2006 Apr. 134(4 Suppl):S4-23. [Medline].

Rowlands S, Devalia H, Smith C, Hubbard R, Dean A. Otitis externa in UK general practice: a survey using the UK General Practice Research Database. Br J Gen Pract. 2001 Jul. 51(468):533-8. [Medline]. [Full Text].

Grandis JR, Curtin HD, Yu VL. Necrotizing (malignant) external otitis: prospective comparison of CT and MR imaging in diagnosis and follow-up. Radiology. 1995 Aug. 196(2):499-504. [Medline]. [Full Text].

Hegde AN, Mohan S, Pandya A, Shah GV. Imaging in infections of the head and neck. Neuroimaging Clin N Am. 2012 Nov. 22(4):727-54. [Medline].

Clark WB, Brook I, Bianki D, Thompson DH. Microbiology of otitis externa. Otolaryngol Head Neck Surg. 1997 Jan. 116(1):23-5. [Medline].

Holten KB, Gick J. Management of the patient with otitis externa. J Fam Pract. 2001 Apr. 50(4):353-60. [Medline].

Hughes E, Lee JH. Otitis externa. Pediatr Rev. 2001 Jun. 22(6):191-7. [Medline].

Osguthorpe JD, Nielsen DR. Otitis externa: Review and clinical update. Am Fam Physician. 2006 Nov 1. 74(9):1510-6. [Medline].

Russell JD, Donnelly M, McShane DP, Alun-Jones T, Walsh M. What causes acute otitis externa?. J Laryngol Otol. 1993 Oct. 107(10):898-901. [Medline].

Rosenfeld RM, Schwartz SR, Cannon CR, Roland PS, Simon GR, Kumar KA, et al. Clinical practice guideline: acute otitis externa executive summary. Otolaryngol Head Neck Surg. 2014 Feb. 150(2):161-8. [Medline].

Roland PS, Stroman DW. Microbiology of acute otitis externa. Laryngoscope. 2002 Jul. 112(7 Pt 1):1166-77. [Medline].

Roland PS. Chronic external otitis. Ear Nose Throat J. 2001 Jun. 80(6 Suppl):12-6. [Medline].

Centers for Disease Control and Prevention. Estimated burden of acute otitis externa--United States, 2003-2007. MMWR Morb Mortal Wkly Rep. 2011 May 20. 60(19):605-9. [Medline].

Alva B, Prasad KC, Prasad SC, Pallavi S. Temporal bone osteomyelitis and temporoparietal abscess secondary to malignant otitis externa. J Laryngol Otol. 2009 Nov. 123(11):1288-91. [Medline].

Kim D, Bhimani M. Ramsay Hunt syndrome presenting as simple otitis externa. CJEM. 2008 May. 10(3):247-50. [Medline].

Zhang T, Dai C, Wang Z. The misdiagnosis of external auditory canal carcinoma. Eur Arch Otorhinolaryngol. 2012 Aug 25. [Medline].

Kaushik V, Malik T, Saeed SR. Interventions for acute otitis externa. Cochrane Database Syst Rev. 2010 Jan 20. CD004740. [Medline].

Wall GM, Stroman DW, Roland PS, Dohar J. Ciprofloxacin 0.3%/dexamethasone 0.1% sterile otic suspension for the topical treatment of ear infections: a review of the literature. Pediatr Infect Dis J. 2009 Feb. 28(2):141-4. [Medline].

Rosenfeld RM, Singer M, Wasserman JM, Stinnett SS. Systematic review of topical antimicrobial therapy for acute otitis externa. Otolaryngol Head Neck Surg. 2006 Apr. 134(4 Suppl):S24-48. [Medline].

Collier SA, Hlavsa MC, Piercefield EW, Beach MJ. Antimicrobial and Analgesic Prescribing Patterns for Acute Otitis Externa, 2004-2010. Otolaryngol Head Neck Surg. 2012 Nov 6. [Medline].

Roland PS, Belcher BP, Bettis R, Makabale RL, et al. A single topical agent is clinically equivalent to the combination of topical and oral antibiotic treatment for otitis externa. Am J Otolaryngol. 2008 Jul-Aug. 29(4):255-61. [Medline].

Mosges R, Nematian-Samani M, Hellmich M, Shah-Hosseini K. A meta-analysis of the efficacy of quinolone containing otics in comparison to antibiotic-steroid combination drugs in the local treatment of otitis externa. Curr Med Res Opin. 2011 Oct. 27(10):2053-60. [Medline].

Brooks M. FDA clears finafloxacin ear drops (Xtoro) for swimmer's ear. Medscape Medical News. December 17, 2014. [Full Text].

FDA approves Xtoro to treat swimmer's ear. U.S. Food and Drug Administration. Available at http://www.fda.gov/NewsEvents/Newsroom/PressAnnouncements/ucm427274.htm. Accessed: December 20, 2014.

Caffier PP, Harth W, Mayelzadeh B, Haupt H, Sedlmaier B. Tacrolimus: a new option in therapy-resistant chronic external otitis. Laryngoscope. 2007 Jun. 117(6):1046-52. [Medline].
Medscape Reference © 2011 WebMD, LLC