Pediatric Retropharyngeal Abscess Workup
Author: Jason L Acevedo, MD; Chief Editor: Ravindhra G Elluru, MD, PhD more...
Updated: Jul 11, 2016
What would you like to print?
Laboratory Studies
Laboratory findings in retropharyngeal abscess are nonspecific. White blood cell (WBC) counts can be elevated (mean, 17,000/μL; range, 4000-45,000/μL). The purulent contents of the abscess should be cultured and the etiology determined to direct antibiotic therapy.
Imaging Studies
Radiography
Lateral soft tissue neck radiography may be helpful in making the diagnosis of a retropharyngeal abscess. This study is best obtained during inspiration with the neck held in normal extension.
An abscess occupies the soft tissue space that can be observed between the radiolucent airway (ie, pharynx and trachea) and the spine. Widening of these soft tissues (see the image below) is pathologic until proved otherwise.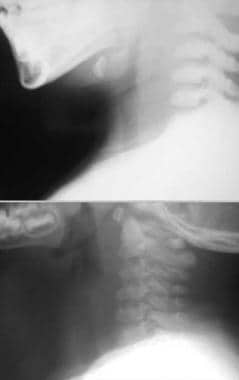 Plain film soft tissue views of lateral neck. Top radiograph reveals widening of soft tissues, with anterior displacement of airway. Careful examination of this film reveals gas in soft tissue. Bottom radiograph is much more subtle. Soft tissue is widened at level of C2.
Measured at the level of C2, the distance from the anterior surface of the vertebrae to the posterior border of the airway should be 7 mm or less, regardless of the patient's age. At C6, this distance should be 14 mm or less in children younger than 15 years. A distance of 22 mm is considered normal in an adult. A simpler (but less precise) rule is that the soft tissue plane should be less than one half the width of the corresponding vertebral body.
A plain film may also demonstrate gas or a foreign body in the retropharyngeal space. The normal spinal lordosis may be reversed. With a child's head extended, the width of the soft tissue is no more than a vertebral body width in an average child. Obtaining the film with the head extended is important.
Unfortunately, lateral plain radiography is not very sensitive or specific. One study demonstrated a 33% false-negative rate. False-positive rates are also high. Poor neck extension or an expiratory view that results in a falsely narrowed airway can produce a false-positive result. One study detailed three cases in which plain radiography missed three retropharyngeal abscesses because of the nasopharyngeal location.[11]
Chest radiography should be performed if mediastinal or pulmonary involvement is suspected. Furthermore, patients who underwent transcervical or transoral drainage of a retropharyngeal space abscess and do not recover as expected should undergo chest imaging to rule out a developing mediastinitis or pneumonia.
Computed tomography
Computed tomography (CT) is currently the imaging modality of choice for a pediatric retropharyngeal abscess. A study with intravenous (IV) contrast should be obtained to help demarcate the lesion and determine whether vascular involvement is present. The radiologist should be informed of the purpose of the study in advance, because a standard CT scan of the neck may not use thin enough slices (3-5 mm) and may not scan through the entire extent of the retropharyngeal space (the base of the skull to T2).
An abscess is found in the deep spaces of the neck. It is an area of low attenuation, surrounded by an enhanced ring. Gas is sometimes present within the abscess cavity. The nearby soft tissue is edematous, and fat planes may be obliterated. Neighboring structures, including the airway, can be compressed.
CT may be able to determine the presence of an abscess (see the image below) and help distinguish it from cellulitis (because an abscess may have an area of central lucency). The study also can assist in determining the location of the abscess, the extent of its spread, and the presence of any complications.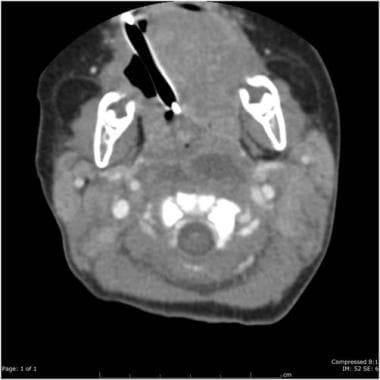 Contrast axial CT scan demonstrates left-side retropharyngeal abscess.
CT provides much more information than plain radiography does. Depending on the study, its sensitivity can exceed 90%.[8] The positive predictive value has been estimated at 82%, and the negative predictive value has been estimated to be 100%.[12]
Shefelbine et al describe a case series of 30 pediatric patients with retropharyngeal abscesses.[13] The authors concluded that a low attenuation focus with rim enhancement on CT indicates a presuppurative or suppurative lymph node. The authors suggest that children with a hypodense focus diameter of 2 cm or less often respond to IV antibiotic therapy, whereas those children with a hypodense focus diameter of more than 2 cm likely require surgical intervention.
In contradistinction, Malloy et al reported a lack of correlation between CT findings and the presence of purulence at the time of surgical drainage.[14] No statistically significant differences in size, rim enhancement, and prevertebral edema were found between the purulent and nonpurulent groups.
Kirse and Roberson's series reported that scalloping is the most useful characteristic on CT scanning.[15] Although rim enhancement was helpful, scalloping (irregularity of the abscess wall) had a stronger association with finding pus at the time of surgery. The investigators also found that retropharyngeal edema was present in all their patients and was not helpful in distinguishing abscess from phlegmon.
Magnetic resonance imaging
Magnetic resonance imaging (MRI) produces images superior to those produced by the other studies; however, it is usually unnecessary and is rarely used unless there is some concern that the abscess has spread to the central nervous system (CNS). Additionally, this study requires a protracted time during which the patient is in an unmonitored setting. Children usually require sedation for this test, which is also dangerous in any patient with a potentially unstable airway.
Ultrasonography
Ultrasonography has also been suggested for use in deep neck space infections. This modality is portable and does not use radiation. It can also be less traumatic to children, rarely requiring the use of sedation. In experienced hands, ultrasonography has the potential to determine the presence and location of an abscess and allow the clinician to distinguish an abscess from cellulitis. However, for surgical planning, ultrasonography provides only limited assistance.
Histologic Findings
Cultures of the wound cavity must be obtained. Gram stain and culture of drained pus can be used to help determine the predominant organisms; this permits a targeted and selective choice of antibiotic and assists in determination of the appropriate duration and route (ie, IV or oral) of antibiotic therapy.
References
Abdel-Haq N, Quezada M, Asmar BI. Retropharyngeal abscess in children: the rising incidence of methicillin-resistant Staphylococcus aureus. Pediatr Infect Dis J. 2012 Jul. 31(7):696-9. [Medline].

Chirinos JA, Garcia J, Alcaide ML, Toledo G, Baracco GJ, Lichtstein DM. Septic thrombophlebitis: diagnosis and management. Am J Cardiovasc Drugs. 2006. 6(1):9-14. [Medline].

Lander L, Lu S, Shah RK. Pediatric retropharyngeal abscesses: a national perspective. Int J Pediatr Otorhinolaryngol. 2008 Dec. 72(12):1837-43. [Medline].

Schweinfurth JM. Demographics of pediatric head and neck infections in a tertiary care hospital. Laryngoscope. 2006 Jun. 116(6):887-9. [Medline].

Novis SJ, Pritchett CV, Thorne MC, Sun GH. Pediatric deep space neck infections in U.S. children, 2000-2009. Int J Pediatr Otorhinolaryngol. 2014 May. 78(5):832-6. [Medline].

Ridder GJ, Technau-Ihling K, Sander A, Boedeker CC. Spectrum and management of deep neck space infections: an 8-year experience of 234 cases. Otolaryngol Head Neck Surg. 2005 Nov. 133(5):709-14. [Medline].

Agarwal AK, Sethi A, Sethi D, Mrig S, Chopra S. Role of socioeconomic factors in deep neck abscess: A prospective study of 120 patients. Br J Oral Maxillofac Surg. 2007 Oct. 45(7):553-5. [Medline].

Grisaru-Soen G, Komisar O, Aizenstein O, Soudack M, Schwartz D, Paret G. Retropharyngeal and parapharyngeal abscess in children--epidemiology, clinical features and treatment. Int J Pediatr Otorhinolaryngol. 2010 Sep. 74(9):1016-20. [Medline].

Baldassari CM, Howell R, Amorn M, Budacki R, Choi S, Pena M. Complications in pediatric deep neck space abscesses. Otolaryngol Head Neck Surg. 2011 Apr. 144(4):592-5. [Medline].

Makeieff M, Pelliccia P, Mondain M, Machi P. Pseudoaneurysm of the internal carotid artery complicating deep neck space infection. J Pediatr. 2010 Sep. 157(3):510. [Medline].

Uzomefuna V, Glynn F, Mackle T, Russell J. Atypical locations of retropharyngeal abscess: beware of the normal lateral soft tissue neck X-ray. Int J Pediatr Otorhinolaryngol. 2010 Dec. 74(12):1445-8. [Medline].

Freling N, Roele E, Schaefer-Prokop C, Fokkens W. Prediction of deep neck abscesses by contrast-enhanced computerized tomography in 76 clinically suspect consecutive patients. Laryngoscope. 2009 Sep. 119(9):1745-52. [Medline].

Shefelbine SE, Mancuso AA, Gajewski BJ, Ojiri H, Stringer S, Sedwick JD. Pediatric retropharyngeal lymphadenitis: differentiation from retropharyngeal abscess and treatment implications. Otolaryngol Head Neck Surg. 2007 Feb. 136(2):182-8. [Medline].

Malloy KM, Christenson T, Meyer JS, Tai S, Deutsch ES, Barth PC. Lack of association of CT findings and surgical drainage in pediatric neck abscesses. Int J Pediatr Otorhinolaryngol. 2008 Feb. 72(2):235-9. [Medline].

Kirse DJ, Roberson DW. Surgical management of retropharyngeal space infections in children. Laryngoscope. 2001 Aug. 111(8):1413-22. [Medline].

McClay JE, Murray AD, Booth T. Intravenous antibiotic therapy for deep neck abscesses defined by computed tomography. Arch Otolaryngol Head Neck Surg. 2003 Nov. 129(11):1207-12. [Medline].

Wong DK, Brown C, Mills N, Spielmann P, Neeff M. To drain or not to drain - management of pediatric deep neck abscesses: a case-control study. Int J Pediatr Otorhinolaryngol. 2012 Dec. 76(12):1810-3. [Medline].

Johnston D, Schmidt R, Barth P. Parapharyngeal and retropharyngeal infections in children: argument for a trial of medical therapy and intraoral drainage for medical treatment failures. Int J Pediatr Otorhinolaryngol. 2009 May. 73(5):761-5. [Medline].

Page NC, Bauer EM, Lieu JE. Clinical features and treatment of retropharyngeal abscess in children. Otolaryngol Head Neck Surg. 2008 Mar. 138(3):300-6. [Medline].

Suryadevara AC, Kellman RM. Incision and drainage of a retropharyngeal abscess located adjacent to C1 with InstaTrak image guidance. Laryngoscope. 2006 Mar. 116(3):499-501. [Medline].

Vieira F, Allen SM, Stocks RM, Thompson JW. Deep neck infection. Otolaryngol Clin North Am. 2008 Jun. 41(3):459-83, vii. [Medline].
Medscape Reference © 2011 WebMD, LLC