Pediatric Microtia Surgery Workup
Author: Arturo Bonilla, MD; Chief Editor: Ravindhra G Elluru, MD, PhD more...
Updated: Mar 11, 2016
What would you like to print?
Imaging Studies
Microtia is rarely noticed on prenatal ultrasonography, primarily because of the complexity of the fetal ear and the inherent nature of conventional two-dimensional (2D) ultrasonography. Some authors suggest the use of three-dimensional (3D) ultrasonography to provide a better examination of the fetal ear for purposes of prenatal diagnosis and genetic counseling. The image below is a 3D sonogram, with the arrow indicating the microtia.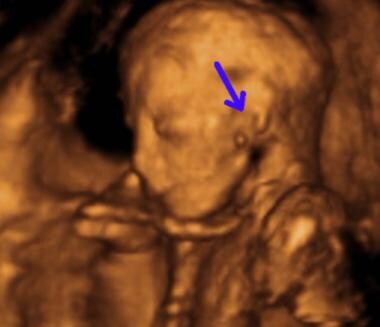 Three-dimensional sonogram of fetus with microtia.
Computed tomography (CT) of the ears is not recommended in children younger than 4 years. Obtaining a CT scan at an earlier age does not allow any earlier surgical intervention and therefore serves only to irradiate the child's head unnecessarily. Obtaining the scan just before the pinna reconstruction is recommended so as to facilitate counseling of the patient about candidacy for ear-canal and middle-ear surgery. The image below shows the lack of an ear canal on the left side.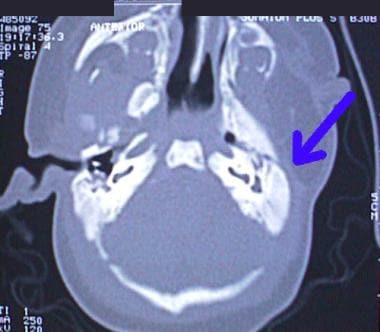 Arrow in CT scan indicates lack of ear canal (atresia) on left side. Note normal ear canal on right side.
Diagnostic Procedures
An auditory brainstem response (ABR) test is recommended soon after birth to evaluate inner ear (cochlear) function on both sides.
Frequent otologic evaluations are essential to rule out other possible problems, such as otitis media in the good ear. In the case of ear canal narrowing or stenosis, it is important be aware of foul-smelling drainage. This could be a sign of a cholesteatoma growing medial to the stenosis.
Aggressively treat middle ear effusions of the normal ear to optimize the hearing status of the child and avoid speech delay. An auditory brainstem response test is usually recommended approximately 3-6 months later. If the child is cooperative, audiologic testing can then be performed by sound-field testing and eventual bilateral pure tone audiometry. Routine scheduled audiologic follow-up testing should be continued.
References
Craig MJ. Mandibulo-facial dysostosis. Arch Dis Child. 1955. 30:391-397.

Constantine KK, Gilmore J, Lee K, Leach J Jr. Comparison of microtia reconstruction outcomes using rib cartilage vs porous polyethylene implant. JAMA Facial Plast Surg. 2014 Jul-Aug. 16 (4):240-4. [Medline].

Cabin JA, Bassiri-Tehrani M, Sclafani AP, Romo T 3rd. Microtia reconstruction: autologous rib and alloplast techniques. Facial Plast Surg Clin North Am. 2014 Nov. 22 (4):623-38. [Medline].

Cao Y, Vacanti JP, Paige KT, et al. Transplantation of chondrocytes utilizing a polymer-cell construct to produce tissue-engineered cartilage in the shape of a human ear. Plast Reconstr Surg. 1997 Aug. 100(2):297-302; discussion 303-4. [Medline].

Reiffel AJ, Kafka C, Hernandez KA, Popa S, Perez JL, Zhou S, et al. High-fidelity tissue engineering of patient-specific auricles for reconstruction of pediatric microtia and other auricular deformities. PLoS One. 2013. 8 (2):e56506. [Medline].

Zhang L, He A, Yin Z, Yu Z, Luo X, Liu W, et al. Regeneration of human-ear-shaped cartilage by co-culturing human microtia chondrocytes with BMSCs. Biomaterials. 2014 Jun. 35 (18):4878-87. [Medline].

Aguilar EF. Auricular reconstruction of congenital microtia (grade III). Laryngoscope. 1996 Dec. 106(12 Pt 2 Suppl 82):1-26. [Medline].

Avelar JM, Psillakis JM. Microtia: total reconstruction of the auricle in one single operation. Br J Plast Surg. 1981 Apr. 34(2):224-7. [Medline].

Brent B. Technical advances in ear reconstruction with autogenous rib cartilage grafts: personal experience with 1200 cases. Plast Reconstr Surg. 1999 Aug. 104(2):319-34; discussion 335-8. [Medline].

Cilingir M, Malkoc C, Duman A, et al. Microtia and pectoralis muscle agenesis. Plast Reconstr Surg. 2004 Jun. 113(7):2222-4. [Medline].

Harris J, Kallen B, Robert E. The epidemiology of anotia and microtia. J Med Genet. 1996 Oct. 33(10):809-13. [Medline].

Lynberg MC, Khoury MJ, Lammer EJ, et al. Sensitivity, specificity, and positive predictive value of multiple malformations in isotretinoin embryopathy surveillance. Teratology. 1990 Nov. 42(5):513-9. [Medline].

More V, Ahuja SR, Kulkarni HV, Kulkarni MV. Bilateral anotia with congenital hypothyroidism. Indian J Pediatr. 2004 Apr. 71(4):369-70. [Medline].

Nagata S. Total auricular reconstruction with a three-dimensional costal cartilage framework. Ann Chir Plast Esthet. 1995 Aug. 40(4):371-99; discussion 400-3. [Medline].

Shih JC, Shyu MK, Lee CN, et al. Antenatal depiction of the fetal ear with three-dimensional ultrasonography. Obstet Gynecol. 1998 Apr. 91(4):500-5. [Medline].

Smithells RW, Newman CG. Recognition of thalidomide defects. J Med Genet. 1992 Oct. 29(10):716-23. [Medline].

Song Y, Song Y. An improved one-stage total ear reconstruction procedure. Plast Reconstr Surg. 1983 May. 71(5):615-23. [Medline].

Tanzer RC. Correction of microtia with autotenous costal cartilage. In: Tanzer RC, Edgerton MT, eds. Symposium on Reconstruction of the Auricle. St. Louis:. Mosby. 1974:46-57.

Yanai A, Fukuda O, Yamada A. Problems encountered in contouring a reconstructed ear of autogenous cartilage. Plast Reconstr Surg. 1985 Feb. 75(2):185-91. [Medline].
Medscape Reference © 2011 WebMD, LLC