Pediatric Cysticercosis
Author: Delaram Ghadishah, MD; Chief Editor: Russell W Steele, MD more...
Updated: Apr 03, 2012
What would you like to print?
Background
Cysticercosis, a tissue infection that involves larval cysts of the cestode Taenia solium (the human pork tapeworm), results from the ingestion of food (especially vegetables) and water contaminated with human feces that contain T solium eggs.
Although infections with Taenia tapeworm cysts may involve many parts of the body, the most common site of severe symptomatic infection is the CNS. See the image below.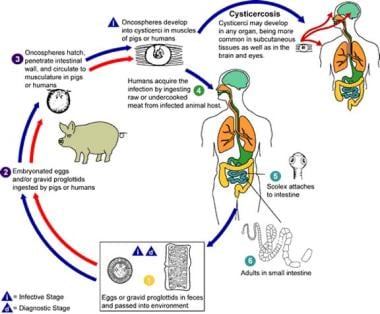 Cysticercosis life cycle. Image courtesy of the Centers for Disease Control and Prevention.
Neurocysticercosis, the most common parasitic disease of the CNS, is the most common cause of adult-onset epilepsy in many of the countries where the infection is endemic.
Pathophysiology
Cysticercosis, the intermediate form of T solium infection, is predominantly acquired by ingesting food or water contaminated with T solium eggs. Additionally, autoinfection may occur by means of fecal-oral contact and, theoretically, by reverse peristalsis in the small intestines of individuals infected with adult T solium worms.
In the stomach, oncospheres are liberated following digestion of the eggs' coats. Oncospheres invade and cross the intestinal wall, enter the bloodstream, and then migrate to and lodge in tissues throughout the body, where they produce small (0.2-0.5 cm) fluid-filled bladders containing a single juvenile-stage parasite (protoscolex).
Although the cysticerci may infect any organ of the body (most often the eye, skeletal muscle, and CNS), serious disease almost exclusively involves the CNS and heart.
Oncospheres that invade the brain may lodge in the brain parenchyma, subarachnoid space, ventricular space, or spinal cord. Cysticerci develop after 2 months and may or may not stimulate an appreciable inflammatory response.
In the brain parenchyma, cysticerci form a thin capsule of fibrous tissue that thickens with time. After several years, the parasite dies or is killed and is replaced by an astroglial and fibrous tissue granuloma that becomes calcified. The number of cysticerci present ranges from one to several hundred.
Cysts that grow in the sylvian fissure and in the subarachnoid space at the base of the skull may enlarge to 10-15 cm in diameter. Meningeal and spinal cord cysticercosis occurs if the oncospheres enter via the choroid plexus and hatch in the arachnoid membranes along the neural axis.
Cysts that develop in the subarachnoid space may cause an inflammatory response. Subsequent fibrosis of the arachnoid membranes may interfere with normal cerebral spinal fluid (CSF) resorption, resulting in hydrocephalus. Fourth ventricle cysts can create a subacute hydrocephalus via a valve-and-ball mechanism. However, head movement can suddenly increase the intracranial pressure (ICP).
With the exception of massive or obstructive disease, the cystic stages of most tapeworms do not provoke a strong immunologic response while they remain alive and intact. However, once the cysts die, the immune system recognizes them as foreign, and a vigorous immunologic response ensues. Seizures, hydrocephalus, blindness, strokes, meningitis, encephalitis, irreversible brain damage, myositis, and myocarditis may occur. Death may subsequently occur.
Epidemiology
Frequency
United States
Cysticercosis is not endemic to the United States, although domestic transmission has been documented from recent immigrants to the United States from highly endemic areas.[1] Historically, rates significantly decreased in the 1970s.
Since the 1970s, the number of cases of neurocysticercosis in the United States has increased, mainly because of the large number of immigrants from areas with endemic disease, such as Mexico, Central and South America, Africa, Asia, Spain, and Portugal. Americans without a travel history to such areas have developed neurocysticercosis, mainly because of exposure to a cohabitant with a T solium infection.
Disease is prevalent in areas with low socioeconomic status and poor hygiene and sanitation.
International
An accurate estimation of the prevalence of cysticercosis is difficult because of the high prevalence of asymptomatic individuals. Overall, more than 2 million people are estimated to have adult tapeworm infection, and many more are infected with cysticercoids. Disease is prevalent in areas with poor hygiene and sanitation.
Cysticercosis is endemic throughout Latin American, although it is rare in Chile, Argentina, and Uruguay.
Cysticercosis is absent in Arabic regions of Asia and Africa but is found in areas where pigs live in close proximity to humans. In Europe, cysticercosis is still endemic in Spain, Portugal, and some Eastern European countries but is rare in most other countries.
Mortality/Morbidity
Worldwide, an estimated 50,000 people die from cysticercosis each year because of CNS or cardiac complications.
Race
No racial predilection for cysticercosis is known.
Sex
The prevalence does not differ according to sex.
Age
No known age-based differences in the frequency of cysticercosis have been reported.
References
Schantz PM, Moore AC, Munoz JL, et al. Neurocysticercosis in an Orthodox Jewish community in New York City. N Engl J Med. 1992 Sep 3. 327(10):692-5. [Medline].

Raffaldi I, Scolfaro C, Mignone F, Aguzzi S, Denegri F, Tovo PA. An uncommon cause of seizures in children living in developed countries: neurocysticercosis--a case report. Ital J Pediatr. 2011 Jan 25. 37:9. [Medline]. [Full Text].

Murthy R, Samant M. Extraocular muscle cysticercosis: clinical features and management outcome. Strabismus. 2008 Jul-Sep. 16(3):97-106. [Medline].

Krumholz A, Wiebe S, Gronseth G, et al. Practice Parameter: evaluating an apparent unprovoked first seizure in adults (an evidence-based review): report of the Quality Standards Subcommittee of the American Academy of Neurology and the American Epilepsy Society. Neurology. 2007 Nov 20. 69(21):1996-2007. [Medline].

Quintana LM. Cysticercosis treatment- A complex interaction drug-parasite-host. World Neurosurg. 2012 Feb 22. [Medline].

AAP Committee on Infectious Diseases. Cysticercosis. AAP 2000 Red Book: Report of the Committee on Infectious Diseases. 25th ed. 2000. 560-2.

Abuseir S, Kuhne M, Schnieder T, Klein G, Epe C. Evaluation of a serological method for the detection of Taenia saginata cysticercosis using serum and meat juice samples. Parasitol Res. 2007 Jun. 101(1):131-7. [Medline].

Ahmad FU, Sharma BS. Treatment of intramedullary spinal cysticercosis: report of 2 cases and review of literature. Surg Neurol. 2007 Jan. 67(1):74-7; discussion 77. [Medline].

Alonso-Trujillo J, Rivera-Montoya I, Rodriguez-Sosa M, Terrazas LI. Nitric oxide contributes to host resistance against experimental Taenia crassiceps cysticercosis. Parasitol Res. 2007 Jan 6. [Medline].

Bhigjee AI, Rosemberg S. Optimizing therapy of seizures in patients with HIV and cysticercosis. Neurology. 2006 Dec 26. 67(12 Suppl 4):S19-22. [Medline].

Blanton R. Cysticercosis. Nelson Textbook of Pediatrics. 16th ed. Philadelphia, PA: WB Saunders; 2000. 1078-9.

Cohn-Zurita F, Guinto-Balanzar G, Perez-Cerdan H. [Neurocysticercosis associated with pituitary adenoma. Case report and literature review.]. Cir Cir. 2006 Jan-Feb. 74(1):47-9. [Medline].

Evans CAW, Garcia HH, Gilman RH. Cysticercosis. Hunter's Tropical Medicine and Emerging Infectious Diseases. Philadelphia, PA: WB Saunders; 2000. 862-6.

Facanha MC. [Cysticercosis' admissions in public health hospitals: Ceara State distribuition]. Rev Soc Bras Med Trop. 2006 Sep-Oct. 39(5):484-7. [Medline].

Galan-Puchades MT, Fuentes MV. The specificity of the electroimmunotransfer blot assay for Taenia solium cysticercosis. Clin Microbiol Infect. 2007 Jan. 13(1):111-2; author reply 112. [Medline].

Garcia HH, Cancrini G, Bartalesi F, et al. Evaluation of immunodiagnostics for toxocarosis in experimental porcine cysticercosis. Trop Med Int Health. 2007 Jan. 12(1):107-10. [Medline].

Garcia HH, Del Brutto OH. Taenia solium cysticercosis. Infect Dis Clin North Am. 2000 Mar. 14(1):97-119, ix. [Medline].

Geysen D, Kanobana K, Victor B, et al. Validation of meat inspection results for Taenia saginata cysticercosis by PCR-restriction fragment length polymorphism. J Food Prot. 2007 Jan. 70(1):236-40. [Medline].

Goetz CG, Pappert EJ. Textbook of Clinical Neurology. Philadelphia, PA: WB Saunders; 1999.

Ishida MM, Peralta RH, Livramento JA, et al. Serodiagnosis of neurocysticercosis in patients with epileptic seizure using ELISA and immunoblot assay. Rev Inst Med Trop Sao Paulo. 2006 Nov-Dec. 48(6):343-6. [Medline].

King CH. Cestode infections. Cecil Textbook of Medicine. 21st ed. 2000. 1975-8.

King CH. Cestodes (tapeworms). Mandell's Principles and Practice of Infectious Diseases. 5th ed. New York, NY: Churchill Livingstone; 2000. 2956-62.

Kumar A, Pushker N, Bajaj MS, et al. Unifocal, subconjunctival twin cysticercosis cysts. J Pediatr Ophthalmol Strabismus. 2007 Jan-Feb. 44(1):55-6. [Medline].

Li T, Craig PS, Ito A, et al. Taeniasis/cysticercosis in a Tibetan population in Sichuan Province, China. Acta Trop. 2006 Dec. 100(3):223-231. [Medline].

Mahajan D, Khurana N, Setia N. Coexistence of salivary gland cysticercosis with squamous cell carcinoma of the mandible. Oral Surg Oral Med Oral Pathol Oral Radiol Endod. 2007 Jan 11. [Medline].

Manfredi MT, Ghirardelli R, Zanzani S. [Cysticercus tenuicollis infection in a goat farm]. Parassitologia. 2006 Sep. 48(3):433-6. [Medline].

Proano JV, Madrazo I, Avelar F, et al. Medical treatment for neurocysticercosis characterized by giant subarachnoid cysts. N Engl J Med. 2001. 345(12):879-85. [Medline]. [Full Text].

Rajshekhar V, Raghava MV, Prabhakaran V, et al. Active epilepsy as an index of burden of neurocysticercosis in Vellore district, India. Neurology. 2006 Dec 26. 67(12):2135-9. [Medline].

Rodriguez-Hidalgo R, Benitez-Ortiz W, Praet N, et al. Taeniasis-cysticercosis in Southern Ecuador: assessment of infection status using multiple laboratory diagnostic tools. Mem Inst Oswaldo Cruz. 2006 Nov. 101(7):779-82. [Medline].

Sandes AR, Mouzinho A, Valente P. Orbital cysticercosis: diagnosis and treatment controversies. Pediatr Infect Dis J. 2007 Feb. 26(2):180-1. [Medline].

Sciutto E, Rosas G, Hernandez M, et al. Improvement of the synthetic tri-peptide vaccine (S3Pvac) against porcine Taenia solium cysticercosis in search of a more effective, inexpensive and manageable vaccine. Vaccine. 2007 Feb 9. 25(8):1368-78. [Medline].

Singhi P, Dayal D, Khandelwal N. One week versus four weeks of albendazole therapy for neurocysticercosis in children: a randomized, placebo-controlled double blind trial. Pediatr Infect Dis J. 2003. 22(3):268-72. [Medline].

Singhi P, Singhi S. Neurocysticercosis in children. Indian J Pediatr. 2009 May. 76(5):537-45. [Medline].

Verulashvili I, Glonti L, Miminoshvili D, et al. [Basal Ganglia calcification: clinical manifestations and diagnostic evaluation.]. Georgian Med News. 2006 Nov. 39-43. [Medline].

Zheng Y, Cai X, Luo X, et al. Characterization of a new gene (SLC10) with a spliced leader from Taenia solium. Vet J. 2007 Feb 2. [Medline].
Medscape Reference © 2011 WebMD, LLC