Enterobiasis
Author: Wayne Wolfram, MD, MPH; Chief Editor: Russell W Steele, MD more...
Updated: Apr 27, 2016
What would you like to print?
Background
Enterobius vermicularis is a small nematode This common helminthic infestation has an estimated prevalence of 40 million infected individuals in the United States.[1] The female nematode averages 10 mm X 0.7 mm, whereas males are smaller. All socioeconomic levels are affected. Infestation often occurs in family clusters. Infestation does not equate with poor home sanitary measures (an important point when discussing therapy).
Pathophysiology
E vermicularis is an obligate parasite; humans are the only natural host. Fecal-oral contamination via hand-mouth contact or via fomites (toys, clothes) are common methods of infestation. After ingestion, eggs usually hatch in the duodenum within 6 hours. Worms mature in as little as 2 weeks and have a life span of approximately 2 months.
Adult worms normally inhabit the terminal ileum, cecum, vermiform appendix, and proximal ascending colon. The worms live free in the intestinal lumen. Little evidence supports invasion of healthy tissue under normal conditions. The female worm migrates to the rectum after copulation and, if not expelled during defecation, migrates to the perineum (often at night) where an average of 11,000 eggs are released. Eggs become infectious within 6-8 hours and, under optimum conditions, remain infectious in the environment for as long as 3 weeks.
See the image below.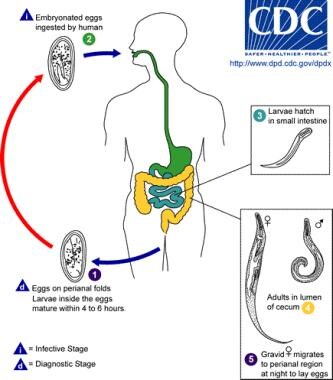 Because of the short incubation time until the ova are infectious, eggs that are deposited under the fingernails during scratching and then placed in the mouth may be a mode of reinfestation.
Epidemiology
Frequency
United States
Prevalence is approximately 5-15% in the general population; however, this rate has declined in recent years. Prevalence rates are probably higher in institutionalized individuals. Humans are the only known host.
Infestation rate increases with increased population density, and with personal habits such as thumb sucking
International
E vermicularis infestation occurs worldwide. Prevalence data vary by country.
A study that aimed to determine the extent of enterobiasis, strongyloidiasis, and other helminth infections in infants, preschool-aged, and school-aged children from rural coastal Tanzania reported that enterobius vermicularis infections were found in 4.2% of infants, 16.7%, of preschool-aged children, and 26.3% of school-aged children.[2]
Infestation rates increase with increased population density and with certain personal habits like thumb-sucking.[3, 4]
Mortality/Morbidity
Secondary bacterial skin infection may develop from vigorous scratching to relieve pruritus. Reinfestation is common. Infection can develop as long as female pinworms continue to lay eggs on the skin. Restless sleeping may be due to pruritus ani. Infestation has been reported to cause enuresis.
Immunocompromised
Although other helminthic infection rates are shown to be higher in patients with HIV, studies to date have not shown a statistically significant difference for Evermicularis.[5]
Race
All races are subject to infestation.
Sex
Infestation can occur in males and females.
Age
The people most likely to be infected with pinworms are children younger than 18 years, people who take care of infected children, and people who are institutionalized. In these groups, the prevalence can reach 50%.[6] However, individuals can be affected regardless of age or health status.
References
Centers for Disease Control and Prevention. Enterobiasis. Available at http://www.dpd.cdc.gov/dpdx/HTML/Enterobiasis.htm. Accessed: June 17, 2013.

Salim N, Schindler T, Abdul U, Rothen J, Genton B, Lweno O, et al. Enterobiasis and strongyloidiasis and associated co-infections and morbidity markers in infants, preschool- and school-aged children from rural coastal Tanzania: a cross-sectional study. BMC Infect Dis. 2014 Dec 9. 14:644. [Medline].

Song HJ, Cho CH, Kim JS, Choi MH, Hong ST. Prevalence and risk factors for enterobiasis among preschool children in a metropolitan city in Korea. Parasitol Res. 2003 Sep. 91(1):46-50. [Medline].

Kim DH, Son HM, Kim JY, Cho MK, Park MK, Kang SY, et al. Parents' knowledge about enterobiasis might be one of the most important risk factors for enterobiasis in children. Korean J Parasitol. 2010 Jun. 48(2):121-6. [Medline].

Fontanet AL, Sahlu T, Rinke de Wit T, et al. Epidemiology of infections with intestinal parasites and human immunodeficiency virus (HIV) among sugar-estate residents in Ethiopia. Ann Trop Med Parasitol. 2000 Apr. 94(3):269-78. [Medline].

Centers for Disease Control and Prevention. Pinworms. Available at http://www.cdc.gov/parasites/pinworm/epi.html. Accessed: June 17, 2013.

[Guideline] American College of Obstetricians and Gynecologists (ACOG). Vaginitis. Washington (DC): American College of Obstetricians and Gynecologists (ACOG); 2006 May. 12 p. (ACOG practice bulletin; no. 72). [Full Text].

Ariyarathenam AV, Nachimuthu S, Tang TY, et al. Enterobius vermicularis infestation of the appendix and management at the time of laparoscopic appendectomy: case series and literature review. Int J Surg. 2010. 8(6):466-9. [Medline].

Snow M. Pinning down pinworms. Nursing. 2006 May. 36(5):17. [Medline].

American Academy of Pediatrics. Pinworm Infection (Enterobius vermicularis). Report of the committee on infectious disease. 2015. 621-22.

Singh SP, Panda C, Rout N, Mishra AP. Anal Albendazole application for pruritus ani in threadworm infestation. J Trop Pediatr. 2005 Dec. 51(6):386. [Medline].

Wen LY, Yan XL, Sun FH, Fang YY, Yang MJ, Lou LJ. A randomized, double-blind, multicenter clinical trial on the efficacy of ivermectin against intestinal nematode infections in China. Acta Trop. 2008 Jun. 106(3):190-4. [Medline].

Ramezani MA, Dehghani MR. Relationship between Enterobius vermicularis and the incidence of acute appendicitis. Southeast Asian J Trop Med Public Health. 2007 Jan. 38(1):20-3. [Medline].

Sodergren MH, Jethwa P, Wilkinson S, Kerwat R. Presenting features of Enterobius vermicularis in the vermiform appendix. Scand J Gastroenterol. 2009. 44(4):457-61. [Medline].

Vose L. Pinworm in pregnancy. J Midwifery Womens Health. 2012 Mar-Apr. 57(2):184-7. [Medline].

Arca MJ, Gates RL, Groner JI, Hammond S, Caniano DA. Clinical manifestations of appendiceal pinworms in children: an institutional experience and a review of the literature. Pediatr Surg Int. 2004 May. 20(5):372-5. [Medline].

Samkari A, Kiska DL, Riddell SW, et al. Dipylidium caninum mimicking recurrent enterobius vermicularis (pinworm) infection. Clin Pediatr (Phila). 2008 May. 47(4):397-9. [Medline].

Hoekelman RA. Pinworm Infestation. Merck Manual of Diagnosis and Therapy. 15th ed. 1987.

Kucik CJ, MartinGL, Sortor BV. Common Intestinal Parasites. Am Fam Physician. Mar 2004. 69(5):11621-8.

Lormans JA, Wesel AJ, Vanprus OF. Mebendazole in enterobiasis. A clinical trial in mental retardates. Chemotherapy. 1975. 21:255.

McCarthy J, Loukas A, Hotez PJ. Chemotherapy of Helminth Infections. Brunton LL, Chabner BA, Knollmann BC, eds. Goodman & Gilman's The Pharmacological Basis of Therapeutics. 12th ed. New York, NY: McGraw-Hill; 2011. Chapter 51.

Otu-Bassey IB, Ejezie GC, Epoke J, Useh. Enterobiasis and its relationship with anal itching and enuresis among school-age children in Calabar, Nigeria. Ann Trop Med Parasitol. Sep 2005. 99(6):611-6.

Song HJ, Cho CH, Kim JS, et al. Prevalence and risk factors for enterobiasis among preschool children in a metropolitan city in Korea. Parasitol Res. 2003 Sep. 91(1):46-50. [Medline].

Symmers WS. Pathology of oxyuriasis; with special reference to granulomas due to the presence of Oxyuris vermicularis (Enterobius vermicularis) and its ova in the tissues. AMA Arch Pathol. 1950 Oct. 50(4):475-516. [Medline].

Weller TH, Sorenson CW. Enterobiasis: Its incidence and symptomatology in a group of 505 children. NEJM. 1941. 224:143.
Medscape Reference © 2011 WebMD, LLC