Workup
Laboratory Studies
Diagnosis is based on the microscopic detection of eggs or larvae in fresh or fixed stool samples. [6] The eggs are bile stained with characteristic barrel (American football) shape with translucent polar plugs.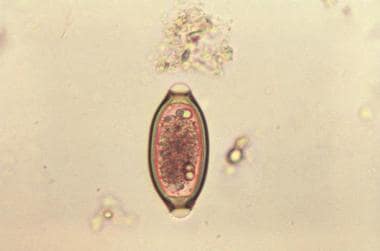 Egg from the "human whipworm". Courtesy of the CDC (http://phil.cdc.gov/phil/home.asp).
The stool commonly contains RBCs and WBCs, including eosinophils.
No serological tests or PCR testing in stool have been validated to detect infection with Trichuris.
Other Tests
Other laboratory findings are non-specific. Peripheral CBC may reveal anemia (iron deficiency anemia) and ESR could be elevated due to ongoing inflammation. [7]
Procedures
Anoscopy may be useful. In heavy infections, worms can be directly visualized.
Histologic Findings
The pathologic changes are noted in the large intestine, confined primarily to the mucosal epithelium. This differentiates whipworm infection with IBD as there is little or no involvement of the submucosa and muscularis layer.
The anterior part of the worm is embedded in the mucosa and the posterior two-fifth floats in the lumen. On biopsy there is intense eosinophilic infiltrate noted around the worm. [8]
What would you like to print?