Workup
Laboratory Studies
The following studies are indicated in Löffler syndrome:
CBC count with differential

Results show mild blood eosinophilia, usually 5-20%.

Eosinophils may account for as much as 40% of the WBC differential in patients with drug-induced eosinophilia.

Stool examination

Parasites and ova can be found in the stool 6-12 weeks after the initial parasitic infection.

Pulmonary symptoms usually resolve by the time parasitic forms are found in the stool.

Immunoglobulin E (IgE) level: This may be elevated.

Analysis of sputum or gastric lavages: Larvae are occasionally found in sputum and gastric aspirates at the time of pulmonary symptoms.

Bronchoalveolar lavage: The eosinophilic count may be elevated.
Imaging Studies
Chest radiography
Roentgenographic abnormalities can be unilateral or bilateral.
Most patients have peripheral densities, usually of a combined interstitial and alveolar pattern and often a few centimeters in diameter, although they may coalesce into larger areas of consolidation.
Densities are generally transient, migratory, and disappear completely within 2-4 weeks.
In drug-induced pulmonary eosinophilia, radiographic abnormalities resolve completely several weeks after withdrawal of the offending drug.
Pleural effusions may be present in patients with nitrofurantoin toxicity. A case of eosinophilic pleural effusion with peripheral blood eosinophilia has been described with valproic acid administration.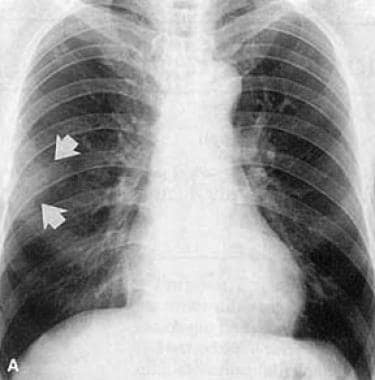 Initial chest radiograph of a 54-year-old man showing subtle opacity (arrows) in the right middle lung zone.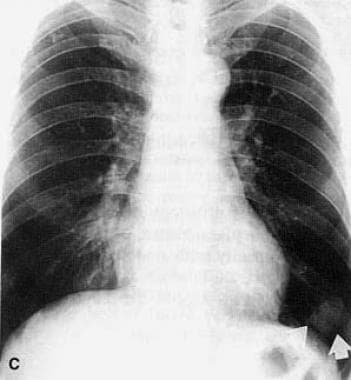 Follow-up chest radiograph of a 54-year-old man showing migrating opacity in the left lower lobe (arrows) obtained 20 days after the previous image.
Chest CT scanning
One report describes areas of ground-glass opacity (halo) around consolidation or nodules observed on high-resolution chest CT scanning. See the image below.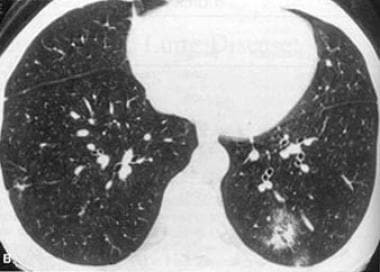 High-resolution CT scan (1 mm collimation) obtained in a 54-year-old man showing consolidation with surrounding ground-glass opacity in the left lower lobe. Dilated airways are observed within the lesion. This CT scan was obtained between the first and second images above.
Procedures
Bronchoscopy and bronchoalveolar lavage are rarely indicated. In one report, the total number of cells found in bronchoalveolar lavage fluid (BALF) from patients with drug-induced pulmonary eosinophilia was significantly elevated compared to healthy subjects. Specifically, the number of lymphocytes and eosinophils in BALF was higher than in healthy subjects. These findings were not specific for drug-induced pulmonary eosinophilia because similar numbers were found in patients with chronic eosinophilic pneumonia. In addition to elevated eosinophils and lymphocytes in BALF, patients with acute eosinophilic pneumonia had high numbers of neutrophils in BALF.
Histologic Findings
Pathologic changes in the lungs have been described in patients who died from another cause while they concomitantly had simple pulmonary eosinophilia.
Eosinophilic infiltration occurs in the bronchi and bronchioles and in the alveolar and interstitial spaces. Parasitic forms are usually not found in the lungs.
What would you like to print?