Workup
Approach Considerations
A general approach to individuals with pectus carinatum is described below; however, evaluation and testing is individualized depending on the severity, associated findings, and anticipated treatment plan.
The patient should be assessed for the following:
Body image

Cardiopulmonary symptoms at rest (generally uncommon)

Exercise tolerance and exercise related symptoms

If genetic syndrome suspected, appropriate information about relevant findings

Clinical characteristics of the chest wall

Posture

Physical features and findings of genetic syndromes
Pulmonary function testing should include body plethysmography, prebronchodilator and postbronchodilator spirometry, maximal inspiratory and expiratory pressure measurements, and cardiopulmonary exercise testing. [14]
The cardiovascular evaluation should include electrocardiography and echocardiography.
Imaging studies are individualized, with consideration for radiation exposure
Genetic testing may be warranted.
Imaging Studies
Plain chest films may be done initially.
A chest radiograph of a patient with pectus carinatum is shown in the image below.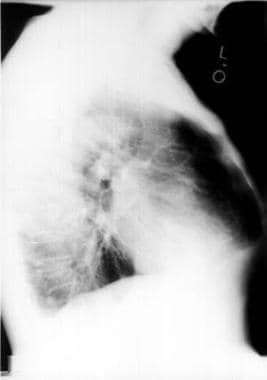 Chest radiograph of a patient with pectus carinatum. Radiograph courtesy of A. Fruauff, MD.
CT and MRI imaging are the most common techniques used to evaluate deformities of the chest wall. A preliminary report from Lain et al (2017) describes their experience with a radiation-free external three dimensional scanning technique to evaluate and follow children and adolescents with chest wall deformities. [15] While this technique has limitations and does not currently replace CT or MRI studies in children with severe malformations, the development of imaging techniques without radiation exposure is important because of the increased susceptibility of children to the effects of ionizing radiation.
CT scanning of the chest in an individual with pectus carinatum (see the image below) reveals an increased anteroposterior chest wall diameter. [16]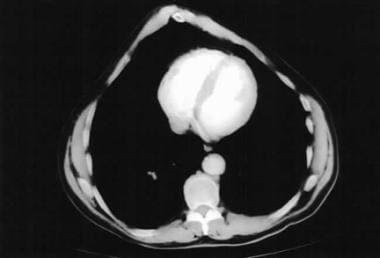 CT scan of a patient with pectus carinatum. CT courtesy of A. Fruauff, MD.
The Haller method may be used to determine severity index, as follows: width of the chest divided by distance between the sternum and spine at the same level; this may help to predict those individuals who will benefit from surgical intervention.
Other Tests
In patients with pectus carinatum, pulmonary function studies may be tailored to address concerns about clinical symptoms and the appearance of the chest wall upon examination. Data on pulmonary and exercise physiology in patients with pectus carinatum deformities are limited. However, children with barrel chests usually have obstructive ventilatory defects. This underscores the importance of preforming complete pulmonary function testing, including prebronchodilator and postbronchodilator spirometry, lung volumes, and diffusion capacity. Exercise testing may complement these studies.
In 1982, Castile described one patient who reported exercise intolerance in his series of symptomatic pectus deformities. [17] His pulmonary function studies revealed flow rates and lung volumes within the reference range. Derveaux's 1989 series also reported a patient with no significant respiratory compromise at the time of his study. [3]
Progressive exercise studies may also be helpful in evaluating the exercise-related symptoms and exertional tolerance.
Electrocardiography and echocardiography may be considered if congenital heart disease is suspected. Iakovlev's study reported 70 patients with pectus carinatum deformity. Of these, 97% had echocardiographically documented mitral valve prolapse. [5] Hemodynamic and cardiodynamic changes were also observed in some patients, as well as decreased myocardial contractility. These abnormalities were more frequently observed in the patients with pigeon breast.
Scoliosis series may be considered if clinical features are suggestive of this diagnosis.
Chromosomal analysis and metabolic testing may also be considered if other dysmorphic signs are identified.
What would you like to print?