Workup
Laboratory Studies
The following studies are indicated in suspected cases of pneumomediastinum (PM):
ABG
ABG should be checked in individuals presenting with respiratory distress.
Depending on the severity of the underlying respiratory compromise, the blood gas may be normal or may reveal hypoxia, hypocarbia, or hypercarbia.
Cardiac enzymes
Evidence of myocardial infarction should be sought in individuals with chest pain of unclear etiology. Myocardial infarction is very rare in children. However, it has been seen in patients with the coronary vasculitis of Kawasaki syndrome and with congenital coronary artery anomalies.
Toxicology
Blood or urine should be tested for the presence of illicit drugs when indicated by history or physical examination.
Imaging Studies
Chest radiography
Chest radiography usually (although not invariably) reveals a pneumomediastinum. Chest radiography reveals air within the mediastinal space. Coexisting disease (eg, pneumothorax, pneumoperitoneum, pneumoretroperitoneum of pneumopericardium) may also be evident.
Radiolucent streaks representing free air may be observed tracking along the margins of the heart, within the retrosternal space, or surrounding the trachea. Typical features of pneumomediastinum seen on chest radiography are caused by air outlining normal anatomic structures as it tracks from the mediastinum producing the thymic sail sign, "ring around the artery" sign, tubular artery sign, double bronchial wall sign, continuous diaphragm sign, and the extrapleural sign (see the image below, which is a chest radiograph demonstrating pneumomediastinum as well as subcutaneous emphysema in a female with asthma intubated for respiratory failure).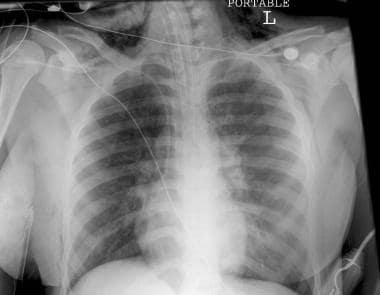 The chest radiograph is taken from an adolescent girl with status asthmaticus who was intubated for respiratory failure. A rim of air consistent with a pneumomediastinum may be observed along the upper left border of the heart. Subcutaneous air is observed in the soft tissues of the neck. She required very high peak inspiratory pressures (50 cm H2), which in conjunction with marked air trapping due to her asthma, caused alveolar rupture, allowing air to track to the mediastinum. A central venous line was placed.
Radiographic signs are as follows:
Ring around the artery (tubular artery): A radiolucent area is observed surrounding the right pulmonary artery when viewed on a lateral chest radiograph.

Continuous diaphragm sign: Free air is present between the pericardium and diaphragm, causing the central parts of the diaphragm to become apparent.
Wong et al (2013) report that lateral neck soft-tissue radiographs demonstrated abnormal air collections in 9 of 10 patients who had normal chest radiographs. [7] They suggest that the addition of lateral neck radiographs may help to identify some patients with SPM in whom chest radiographs are normal.
Chest CT scanning
Chest CT scanning has 2 major roles in the diagnosis of pneumomediastinum.
Chest CT scanning may be used to diagnose pneumomediastinum not visualized on chest radiography. A study from Japan describes the use of chest CT scanning in diagnosing small pneumomediastinum not visible on chest radiography. In a series of 33 patients diagnosed with spontaneous pneumomediastinum (SPM) on the basis of clinical presentation and/or chest radiography findings, chest CT scanning revealed pneumomediastinum in 3 patients in whom the chest radiography findings were unremarkable. The authors concluded that chest radiography alone may result in a missed diagnosis in 10% of patients presenting with pneumomediastinum. In a series of 20 patients with SPM and evidence of mediastinal air collections on chest CT, chest radiographs were interpreted as normal in 20% (Okada 2014).
Ho et al [42] report a series comparing the radiologic findings of patients diagnosed with spontaneous pneumomediastinum to those with secondary pneumomediastinum associated with a central airways defect, esophageal rupture, or recent intervention in the airway or esophagus. They note that on multidetector CT (MDCT), spontaneous pneumomediastinum patients were more likely to have air in the anterior mediastinum (97% vs 61%, P< .001) and pulmonary interstitial emphysema (57% vs 4%, P< .001) and less likely to show subdiaphragmatic air (0% vs 32%, P< .001), pleural effusions (9% vs 61%, P< .001), and acute pulmonary airspace opacities (14% vs 50%, P = .003) when compared with patients with secondary pneumomediastinum.
CT scanning may provide additional diagnostic information regarding the presence of coexisting illness, such as perforated esophagus. Dissanaike et al noted that major injuries to the aerodigestive tract were readily identified on chest CT scans performed in adult patients with blunt trauma and pneumomediastinum. [43]
A study by Lee et al characterized CT findings associated with mortality in patients with pneumomediastinum due to blunt trauma. The study found that pneumomediastinum is uncommon in patients with injury from blunt trauma, however, CT findings of posterior pneumomediastinum, air in all mediastinal compartments, and concurrent hemothorax are associated with increased mortality. [44]
Contrast radiography
Contrast studies have been recommended when esophageal perforation is suspected in some patients with PM.
Wu et al (2013) compared chest CT to contrast fluoroscopic esophagogram among patients with pneumomediastinum evident on CT who were referred for an emergent contrast study. [45] A positive result for esophageal perforation on CT was defined as evidence of esophageal injury or periesophageal infiltration that coexisted with periesophageal air. A positive fluoroscopic study result was defined as oral contrast medium leakage from the esophagus. The sensitivity and negative predictive value (NPV) were 100% for CT compared with fluoroscopic contrast esophagogram. Thus, the sensitivity and NPV of CT were either superior or equal to those of fluoroscopic esophagography for identifying esophageal perforation. These study results suggest that contrast esophagograms are unnecessary in patients with pneumomediastinum when CT is negative for esophageal perforation.
MRI
The routine use of MRI in the diagnostic evaluation of pneumomediastinum has not been reported. However, Castellote et al reports the sensitivity of MRI in detection of free air as well as other forms of intrathoracic pathology. [46]
Ultrasonography
Megremis et al details the use of ultrasonography in the detection of pneumomediastinum. [47]
Other Tests
Spirometry
Spirometry or measurements of peak expiratory flow should not be undertaken in patients with pneumomediastinum because the increased alveolar pressures may further exacerbate the air leak.
Electrocardiography
An ECG may be performed to evaluate for myocardial infarction, pericarditis, and myocarditis. Decreased voltage, ST segment depression, and nonspecific T-wave changes may be noted as indications of these potential disease processes.
Procedures
Diagnostic or therapeutic procedures are generally not necessary. Placement of a chest tube should not be attempted unless an accompanying symptomatic pneumothorax is present.
Bronchoscopy is indicated if a tracheobronchial perforation is suspected, which may occasionally be observed following blunt chest trauma. Neal et al observed that pneumomediastinum after blunt trauma in clinically stable children is rarely associated with significant underlying injury to the tracheobronchial tree. [48] In addition to trauma indications, bronchoscopy may assist with localization and removal of foreign bodies as well as the evaluation of endobronchial lesions that may occur in association with pneumomediastinum. [49]
Haam et al report a series in which all patients with spontaneous pneumomediastinum undergoing contrast studies of the esophagus or esophagoscopy had normal studies. [50] These authors suggest that these studies are indicated only if an esophageal perforation is suspected or signs of mediastinitis are present.
What would you like to print?