Overview
Background
Right middle lobe syndrome (RMLS) generally refers to chronic or recurrent atelectasis in the right middle lobe of the lung. First described in the medical literature in 1948, [1] it is caused by various etiologies and has no consistent clinical definition. Right middle lobe syndrome is characterized by a wedge-shaped density that extends anteriorly and inferiorly from the hilum of the lung, which is best visualized using lateral chest radiography.
See the image below.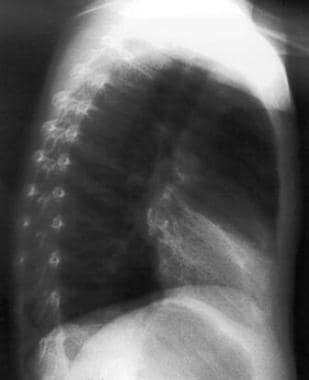 Lateral view chest radiograph showing a wedge-shaped density extending from the hilum anteriorly and inferiorly.
This condition is most common in children with a history of asthma or atopy. Although the mechanism by which asthma leads to lobar atelectasis is unknown, associated inflammation, bronchospasm, and secretions that cause mucus plugging are likely major contributors. Management is determined by etiology, and most patients respond to medical therapy alone.
Pathophysiology
Certain anatomical characteristics make the right middle lobe susceptible to transient obstruction as a result of inflammation or edema. The narrow diameter of the lobar bronchus and acute take-off angle create poor conditions for drainage. Relative anatomical isolation of the middle lobe and poor collateral ventilation decrease the chance of reinflation once atelectasis occurs. Bronchial obstruction can result from extrinsic compression as in hilar lymphadenopathy or tumor of neoplastic origin; however, atelectasis in children usually results from a process such as asthma-associated edema and inflammation. Foreign body aspiration into the right middle lobe orifice can also predispose to collapse of the lobe.
Epidemiology
Frequency
United States
The precise incidence in children is unknown. Right middle lobe syndrome is widely underdiagnosed and frequently unrecognized.
Mortality/Morbidity
Severity in children ranges from mild atelectasis and scarring of no consequence to severe bronchiectasis requiring surgical resection, although this has become a rarity in the modern era.
Sex
Right middle lobe syndrome has been said to occur twice as often in girls than in boys; however, large epidemiologic studies are lacking.
Age
Symptoms begin in early childhood, usually in children aged 1-2 years. Symptom frequency decreases in later childhood, but the interval between onset of symptoms and diagnosis widely varies.
What would you like to print?