Workup
Laboratory Studies
No specific laboratory study is necessary in the workup of patients with pectus excavatum. Most children with this condition are otherwise healthy.
Imaging Studies
Imaging studies are important in the initial assessment of any patient with pectus excavatum.
Radiography
Some surgeons obtain a baseline 2-view chest radiography (anteroposterior and lateral views) in all patients. This provides information about any possible associated intrathoracic pathology, severity of the lung compression, and mediastinal displacement. Plain chest radiography may also show the degree of posterior displacement of the sternum, particularly in relation to the spine. However, it does not provide any information about the appearance of the affected ribs because the cartilaginous part is the involved part and is not visible on standard radiographs. In addition, plain chest radiography allows for assessment of the spine and possible associated scoliosis, a common finding in many patients with pectus excavatum. It is not mandatory to obtain chest radiographs in all patients with pectus excavatum.
Chest CT scanning
This is useful in determining the Haller index, which is derived by dividing the transverse chest diameter by the anteroposterior diameter. A Haller index of ≤ 2.5 in normal. An index of more than 3.2 has been correlated with a severe deformity that requires surgery. The author's experience has demonstrated that the chest index can also be obtained with plain anteroposterior and lateral chest radiography. However, this is not as precise as the measurements obtained from CT scanning.
CT scanning can provide helpful information related to the commonly seen asymmetry of the chest in patients with pectus excavatum. It also clearly reveals the displacement and rotation of the heart. Recent studies have demonstrated that the severity of the pectus excavatum deformity (as detected by the CT scan) directly correlates with the degree of restrictive lung disease caused by the pectus excavatum.
In cases with significant asymmetry, CT scanning can provide valuable information for planning the operative intervention and can also provide helpful information regarding the asymmetric volume difference between the right and left hemithorax. Many patients with pectus excavatum have some degree of rib hypoplasia, which may cause one hemithorax to be much smaller than the other. This typically cannot be corrected by surgery.
The image below is a CT scan of a young patient with severe pectus excavatum.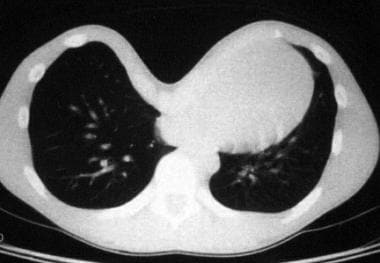 Preoperative CT scan of the chest of 12-year-old girl with severe pectus excavatum (see Media file 5). Note the severe pectus excavatum with compression of the lung fields and complete displacement of the heart and mediastinal structures to the left hemi-thorax.
Echocardiography
Cardiac function and morphology can be easily assessed with noninvasive methods such as echocardiography. Unless the patient is symptomatic, echocardiography is not mandatory in the workup of patients with pectus excavatum. However, if Marfan syndrome is suspected, echocardiography should be performed to evaluate for possible aortic root dilation. In such cases, consultation with a pediatric cardiologist should be considered.
Other Tests
Pulmonary volumes, ventilation, and exercise tolerance can be easily evaluated in a pulmonary laboratory with a standard pulmonary function test (PFT). Findings in patients with pectus excavatum are described in History. A progressive (stress) exercise test may help detect abnormalities in exercise response. Most patients have abnormal stress PFT findings.
Echocardiography, ECG, PFTs, and CBC count are not mandatory and are obtained only if indicated based on the medical history and physical examination findings. Mitral valve prolapse is not unusual in patients with pectus excavatum. The PFT results may show a slight decrease in pulmonary volumes and reserve. For more details about cardiopulmonary assessment, see History.
Histologic assessment of the affected ribs, cartilage, and sternum typically does not reveal any abnormal findings other than the unusual shape of the deformed ribs.
What would you like to print?