Workup
Laboratory Studies
Laboratory studies in a thorough evaluation should include the following:
CBC count with manual differential

Serum immunoglobulin G (IgG), immunoglobulin M (IgM), immunoglobulin A (IgA), and immunoglobulin E (IgE) levels (possibly)
Skin prick testing, allergen-specific serum IgE, and/or food atopy patch testing to common foods may be performed if eosinophilic esophagitis is considered in the differential diagnosis.
Imaging Studies
Chest radiography may reveal hyperinflation; marked diffuse interstitial or perihilar infiltrates, unilateral or bilateral; peribronchial thickening; pleural effusion; lobar or segmental consolidation; bronchiectasis; or atelectasis. See the images below.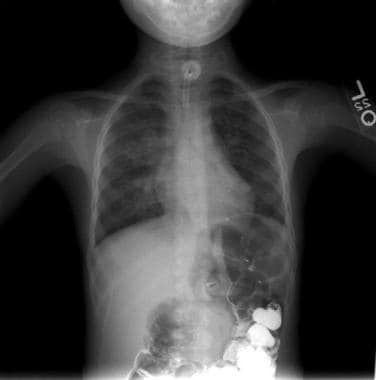 Chest radiograph of a child with a tracheostomy and recurrent aspiration reveals patchy infiltrates and increased interstitial markings.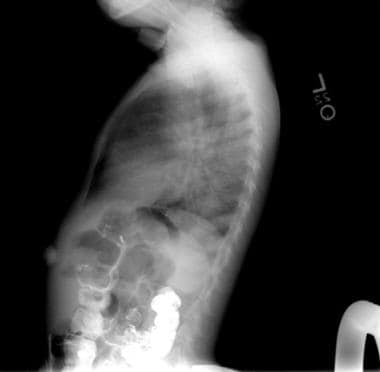 Lateral chest radiograph of the same child as in the previous image reveals increased interstitial markings and patchy and perihilar infiltrates.
High-resolution chest CT scanning may reveal bronchial thickening, bronchiectasis, ground-glass opacities, tree-in-bud centrilobular opacities, and air trapping.
Barium esophagram is used to evaluate for anatomic or physiologic abnormalities of the upper GI tract, to quantify the degree of aspiration during swallowing, and to assess texture-specific foods and swallowing. Anatomic abnormalities, including a hiatal hernia, malrotation, pyloric stenosis, and antral or duodenal webs, may be diagnosed and may predispose an individual to gastroesophageal reflux (GER). These tests are neither sensitive nor specific in the diagnosis of GER.
Gastroesophageal scintigraphy, is a radionuclide study that provides a more functional or physiologic assessment for GER and aspiration. Food of formula labeled with a radionuclide is introduced and the patient is scanned for evidence of reflux and aspiration for one hour. This test also lacks sensitivity and specificity in the diagnosis of pathologic GER.
A study by Fiori et al suggests that lung ultrasonography may be a feasible method to detect lung aeration abnormalities, possibly related to aspiration during meals, in infants with neurologic disorders. Thirty-five infants (mean age 20.2 months) with cerebral palsy or other encephalopathies were included in the study. Lung ultrasonography revealed meal-related abnormalities in infants with neurologic disorders, whereas no significant abnormality was found in a sample of typically developing control subjects. [18]
Procedures
Procedures used in the workup of aspiration syndromes include the following:
Videofluoroscopic swallow study (VFSS) and fiberoptic endoscopic evaluation of swallowing (FEES): VFSS is the criterion standard for assessing the 4 phases of swallowing using various consistencies of barium or food. FEES may be used to assess the oral and pharyngeal phases of swallowing only. The VFSS and FEES are often complementary studies in the assessment. Visualization of entry of material below the true vocal cords is a clear risk factor for aspiration pneumonia. Penetration of material into the laryngeal vestibule but not below the true vocal cords may be a risk factor for aspiration pneumonia as well. Recommendations for determining compensatory swallowing strategies and liquid consistency can be made based on the results of the VFSS and/or FEES.

Fiberoptic bronchoscopy with bronchoalveolar lavage (BAL) with staining for lipid-laden macrophages: Some have found evaluation for pepsin in BAL fluid to be helpful.

Esophageal pH monitoring for 24 hours: This is a reliable measure to evaluate acid reflux, but the level may be normal in some patients with GER and the test does not document nonacid reflux. Multichannel intraluminal impedance and pH monitoring (MII-pH) may detect anterograde and retrograde passage of refluxate, irrespective of pH. This can measure both acid and nonacid reflux and evaluates the change in intraluminal electrical resistance that occurs with advancement of a bolus. Normal values for impedance have not been established for pediatric age groups.

Esophagogastroduodenoscopy (EGD) with biopsies to assess eosinophilic infiltration: GER disease may be represented with distal esophageal erythema, erosions, ulcers, and mucosal friability. Characteristics of eosinophilic esophagitis include linear furrowing, mucosal granularity, scattered exudates, and concentric esophageal rings. A normal appearance of the esophagus does not exclude eosinophilic esophagitis and biopsies are recommended when endoscopy is performed.

Radionuclide salivagrams: These may be used in patients with possible salivary aspiration.

Immunocytochemical staining of alveolar macrophages for milk proteins (experimental)
Histologic Findings
Bronchoscopy may reveal airway mucosal desquamation, mononuclear cell inflammation with granuloma formation, bacterial invasion, and cell damage.
Lipid-laden macrophages may be identified with oil red O stain on bronchoalveolar lavage samples. This may be an indicator of aspiration by the sensitivity and specificity is poor.
Eosinophilic esophagitis can be distinguished from GER if the inflammatory infiltrate has more than 15 eosinophils per high-power field in one or more biopsies, eosinophils are isolated to the esophagus, and the patient was on a proton-pump inhibitor for at least 6 weeks.
What would you like to print?