Overview
Practice Essentials
Bronchogenic cysts, although relatively rare, represent the most common cystic lesion of the mediastinum. [1] Shanti and Klein studied a series of 236 patients undergoing pulmonary resection for cystic lung lesions. [2] Bronchogenic cysts constituted 20% of this group. Of these 47 cases, 20 involved a lobar location, which required lobectomy, and 27 cases were extralobar and were treated with resection of the cyst. Today most bronchogenic cysts are diagnosed antenatally.
See chest radiograph below illustrating a bronchogenic cyst.
Plain chest radiograph showing a left paraspinal mass. Photo courtesy of A Fruauff, MD.
In infants and small children, bronchogenic cysts, especially those that compress vital structures, can present with respiratory distress. In particular, subcarinal cysts can pose life-threatening airway compromise. Symptomatic older children may present with recurrent infection. Despite this many, infants and children are asymptomatic and the cystic lesion is found incidentally during routine chest radiography and during evaluations for GI or cardiac symptomatology. [3] Improvements in fetal ultrasonography have provided prenatal identification of many cystic lung lesions, with early diagnosis and surgical intervention. Error rates vary among studies.
Bronchogenic cysts are the result of anomalous development of the ventral foregut; they are usually single but may be multiple and can be filled with fluid or mucus, as depicted below. They have been found all along the tracheoesophageal course, in perihilar or intraparenchymal sites, with a predilection for the area around the carina. Those in the mediastinum frequently attach to, but do not communicate with, the tracheobronchial tree. Bronchogenic cysts have also been described in more remote locations, including the interatrial septum, neck, abdomen, and retroperitoneal space. Aldawood et al reported the case of a bronchogenic cyst that presented as a painless swelling of the tongue in a 6-year-old boy. [4]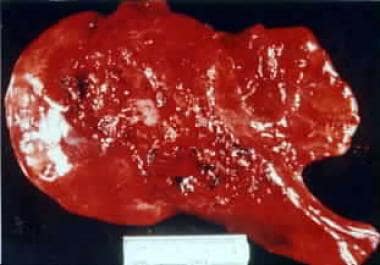 Extrapulmonary bronchogenic cyst. Unilocular cystic mass attached to mediastinal structures by a short pedicle. The inner surface is trabeculated, and the cyst contains mucinous material. The cyst measures 15 cm X 5 cm. Photo courtesy of K Kenigsberg, MD.
Pathophysiology
Bronchogenic cysts occur within the spectrum of foregut duplication cysts and arise from abnormal ventral budding of the tracheobronchial tree. [5] Infants may present with respiratory distress secondary to compression of adjacent airway structures. Recurrent infection (of the cyst) may be the presenting complaint in older children.
Cysts are believed to result from abnormal development of the ventral foregut and lung budding during the first 4-6 weeks of gestation.
Epidemiology
United States statistics
Although rare, bronchogenic cysts are the second most common subtype of foregut cysts found in the middle mediastinum. Enterogenous cysts are the most common subtype of foregut cysts, representing as much as 70%; bronchogenic cysts represent 7-15% of the cystic lesions of the foregut. Reported prevalence rates are 1 case per 42,000 population and 1 case per 68,000 population, respectively. [6]
Sex- and age-related demographics
Bronchogenic cysts are more common in males. [2]
Antenatal diagnosis is made in over 60% of cases. [7]
Prognosis
Casagrande and Pederiva conducted a systematic review of the association of congenital lung malformations and malignant lung tumors in both children and adults. In the adults identified with congenital pulmonary malformations, bronchogenic cysts were most frequently associated with malignant lung tumors. Based on their findings they highlight that all congenital pulmonary malformations need follow-up. No age dependent risk was identified for malignant progression nor did they identify a time limit for progression from diagnosis of the congenital lesion to the malignant one. [8]
In general, postoperative outcomes after resection of bronchogenic cysts are excellent. Thoracoscopic resections are minimally invasive and have advantage of a smaller incision, less post operative pain and better cosmesis.
Poor outcomes have been reported in patients with life-threatening complications preoperatively.
Limaiem et al reported the following perioperative and postoperative complications (no postoperative deaths were reported) [6] :
Perioperative rupture of the cyst

Postoperative pneumothorax
No long-term complications have been reported with complete resection. [7]
Late recurrences have been reported with partial excisions.
Left untreated, the most common complications include tracheobronchial compression and pulmonary infection.
Morbidity/mortality
Ribet et al's 1995 series reported a postoperative morbidity of 13.4%. [9] This series included 45 adult and 24 pediatric cases over a 25-year period at the University of Lille in France.
Complications
Complications include airway compromise and infection.
Mass effect
Compression of the GI tract can result in dysphagia.
Compression of the airway, especially if cyst is just below the carina, can result in life-threatening respiratory distress.
Compression of the heart and great vessels can result in dysrhythmias and obstruction of the vena cava.
Cyst-related complications
Infection, rupture, bleeding, and compression are common. A risk of malignant degeneration is also noted.
Other
Other reported complications include airway-cyst fistula, ulceration, and hemorrhage.
Patient Education
Complete surgical excision is recommended as the treatment of choice.
Fatal complications of air embolism in an airline passenger and a fatal myocardial infarction secondary to compression of the left main coronary artery have been reported.
The more common complications of untreated bronchogenic cysts include pulmonary infection and symptoms of tracheobronchial compression.
Long term follow-up is recommended.
What would you like to print?