Workup
Laboratory Studies
No laboratory studies are needed in pulmonary sequestration.
Imaging Studies
Chest radiography is indicated. [15]
Chest radiography findings vary depending on the size of the sequestered lung tissue and whether infection is present. If no communication between sequestration and normal lung tissue is present, radiography usually reveals a dense opacity in the posterior basal segment of the lower lobe. A cystic appearance may also be observed. [16]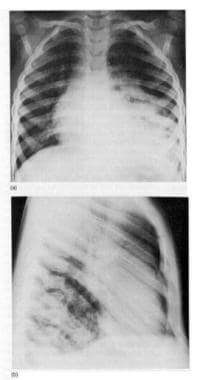 The multicystic lesion in the left lower lobe seen on the chest radiograph of this patient was causing repeated respiratory infections.
Lesion density often increases with secondary infection and appears as a uniform consolidation. When this area fails to clear after a course of appropriate medical therapy, the presence of a malformation, such as sequestration, should be considered, particularly if the lesion is localized to the posterior basal segment of the left lower lobe.
Distinguishing an intrapulmonary sequestration from extrapulmonary sequestration is difficult using plain radiography. [17] Intrapulmonary lesions tend to be heterogeneous and are not well defined. Extrapulmonary masses are usually observed as solid, well defined, and retrocardiac.
Bronchography and arteriography are unnecessary because of current noninvasive imaging available. [18]
Presence of systemic arteries revealed by chest imaging is the major diagnostic feature of pulmonary sequestration. CT scanning with contrast [19] or magnetic resonance angiography (MRA) have been very useful. [20] The arterial supply and venous drainage both should be outlined because of the unpredictability of vascular connections. CT angiography is helpful in identifying aberrant systemic arterial supply, and the 3-dimensional rendering of multidetector row CT scanning can reveal venous drainage. [21, 22]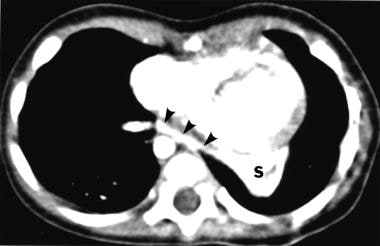 The sequestration (S) is linked by an aberrant vessel (arrows).
Real-time ultrasonography and Doppler imaging are reliable methods of demonstrating systemic origin or blood supply, as well. [23] On prenatal ultrasonography, a sequestration usually appears as well-defined echodense, homogeneous mass. Detection by color flow Doppler of a systemic artery from the aorta to the fetal lung lesion is a pathognomonic feature.
Procedures
Bronchoscopy
Bronchoscopy is not necessary unless an alternative cause of the radiographic abnormalities, such as an inhaled foreign body, is suspected.
Balloon occlusion
Consider balloon occlusion or embolization of the aberrant systemic arteries at the time of catheterization.
Some patients may have a considerable shunt through this anomalous circuit to the extent that, once the segment has been removed, the improvement in cardiovascular status may be striking.
If surgical resection is necessary, risk of vascular complications is greatly reduced with this procedure.
Upper GI contrast examination
Upper GI contrast examination may be useful if communication with the GI tract is considered.
Histologic Findings
Because no communication with the bronchial tree occurs, sequestration appears to have loose, spongy tissue with numerous small cystic spaces containing clear, mucoid fluid. Structures that may resemble bronchi are present near the center. Dilated subpleural lymphatics may also be present. [6]
What would you like to print?