Treatment
Medical Care
The following are potential therapeutic interventions for various care scenarios in patients with antiphospholipid antibody (aPL) syndrome (APS). Classes of medications are suggested below, and specific drugs are covered in Medication. See the therapeutic algorithm in the image below. [87, 88, 89, 90, 3, 29, 46, 50, 91, 92, 93, 94, 95, 96, 97]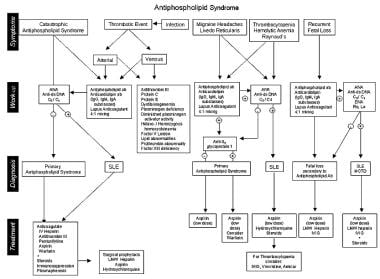 One set of suggested algorithms for the workup and treatment of patients with antiphospholipid antibody syndrome. This should not be considered dogmatic because laboratory evaluation is not standardized and treatment remains empiric and controversial. Laboratory testing is not recommended in healthy asymptomatic individuals with no risk factors and a negative family history.
In healthy patients who are asymptomatic and have no risk factors and a negative family history for arterial or venous thrombosis or fetal loss, no treatment or specific follow-up care is recommended.
In asymptomatic patients with a family history positive for arterial or venous thrombosis or fetal loss, many physicians use antiplatelet prophylaxis, such as aspirin; however, others do not treat patients in the absence of other risk factors.
In patients with primary antiphospholipid antibody syndrome (PAPS) with venous thrombosis, the initial treatment consists of heparin followed by warfarin (Coumadin) or low molecular weight (LMW) heparin. The highest risk for recurrence is in the first 6-12 weeks after thrombosis, but many physicians treat for at least 6 months in the absence of other risk factors. Some physicians advocate treatment for life.
In patients with primary antiphospholipid antibody syndrome with arterial thrombosis or infarction, many physicians administer antiplatelet therapy in the absence of other risk factors, but the use of anticoagulants is controversial. [98] Some have advocated anticoagulation for life, but the recent Antiphospholipid Antibodies in Stroke Study (APASS) did not show a statistical difference between the group treated only with aspirin versus the group treated with aspirin and warfarin (Coumadin) with regard to recurrence of stroke. [99]
In patients with secondary antiphospholipid antibody syndrome with arterial or venous thrombosis, the ongoing endothelial perturbation secondary to the underlying vasculitis places these patients at continuous risk for recurrence. Antiplatelet therapy (often with combinations of aspirin, hydroxychloroquine, and pentoxifylline) plus anticoagulation (with Coumadin or LMW heparin) is indicated. If the patient has positive test results for lupus anticoagulant (LAC) and any other risk factors (eg, factor V Leiden mutation, prothrombin gene mutation, methylene tetrahydrofolate reductase mutation (MTHFR) mutation), anticoagulation therapy may be necessary for life.
In patients with catastrophic antiphospholipid antibody syndrome, consider the following:
Antiplatelet therapy, anticoagulation, corticosteroids, and immunosuppression all have been used with varied success; however, all should be considered in this potentially lethal condition.

Consider plasmapheresis in cases of coagulopathy with an underlying vasculitis or in catastrophic antiphospholipid antibody syndrome.

Precautions include worsening of the hypercoagulable state through the removal of coagulation control proteins such as antithrombin III. This can be ameliorated by replacement with fresh frozen plasma or concentrates instead of albumin.

Some suggest the use of intravenous immunoglobulin (IVIG) or targeted B cell therapy (rituximab) as final replacement after pheresis to decrease B-cell immunoglobulin production.
Surgical Care
The following have been used in the surgical treatment of antiphospholipid antibody syndrome:
Insertion of venous umbrella

Organ-specific biopsy for diagnostic purposes

Central-line insertion for vascular access (for medications or plasmapheresis)

Cardiac valve replacement or papillary muscle repair
Consultations
The following consultations may be appropriate and are dependent on the organ system involvement:
Medical - Rheumatologist, hematologist, cardiologist, neurologist, dermatologist, ophthalmologist

Surgical - Plastic surgeon (for peripheral vascular insults/ulcerations), cardiovascular surgeon (for valvular infarctions, papillary muscle rupture), vascular surgeon (for arterial graft/bypass, thrombus removal)
Diet
Identification and correction of folate deficiencies, elevated homocysteine levels, or both are recommended. [95] Dietary supplementation with folic acid, vitamin B-12, or both is indicated for patients with hyperhomocysteinemia. Dietary manipulation is indicated to decrease consumption of methionine-containing foods, which may increase homocysteine levels in patients with mutations in the gene that encodes for MTHFR.
Dietary counseling is helpful for patients on oral anticoagulant therapy. The following are recommended:
Patients should maintain a consistent diet of foods that contain vitamin K. Foods rich in vitamin K include asparagus, broccoli, brussel sprouts, cabbage, cauliflower, egg yolk, kale, lettuce, liver and pâtés, potatoes, spinach, turnip greens, vegetable oils, and watercress.

Patients should avoid foods that have anticoagulant properties. Herbs with anticoagulant properties include dong quai (Angelica sinensis), fenugreek (Trigonella foenum-graecum), feverfew (Tanacetum parthenium), garlic (Allium sativum), ginger (Zingiber officinale), ginkgo (Ginkgo biloba), and ginseng (Panax ginseng).
Dietary manipulation to prevent obesity, hyperlipidemia, and hypertension, starting at a young age, especially in patients with a family history of these problems
Activity
Physical activity
No specific limitations on activity are needed for individuals with aPL antibodies or antiphospholipid antibody syndrome other than those imposed by residua from a thromboembolic event (eg, stroke, myocardial infarction). However, certain restrictions are prudent for individuals with anticoagulation, such as the following:
Avoid contact sports and high-impact activities.

Use protective headgear (helmet) for sports (eg, bicycle riding, skating).
Travel
Studies have demonstrated Doppler evidence of DVT after prolonged air travel. These data have stimulated discussion of possible prophylaxis for travelers with aPL antibodies, such as the following:
Antiplatelet therapy for asymptomatic individuals with antiphospholipid antibodies and additional risk factors for the duration of any prolonged travel

Anticoagulation with LMW-heparin injections for the duration of air travel (or any travel in which the individual is cramped and stationary) longer than 6 hours if the patient has positive test results for LAC and additional risk factors
What would you like to print?