Presentation
History and Physical Examination
Roughly half of the mothers of patients with neonatal lupus erythematosus (NLE) are healthy at the time of childbirth and do not have signs or symptoms of lupus erythematosus (LE) or other collagen-vascular disorders; the remainder have some symptoms of LE, Sjögren syndrome, or another collagen-vascular disease. Most mothers of children with NLE develop signs of collagen-vascular disease if followed for a long enough period. [17] When carefully questioned, these mothers may report dry eyes, arthralgia, myalgia, or arthritis. One report linked the presence of hypothyroidism in mothers with Ro antibodies with an increased risk of congenital heart block. [18]
Many seropositive mothers with anti-SSA and anti-SSB antibodies give birth to infants who do not show signs and symptoms of NLE; only roughly 1-2% of seropositive mothers will give birth to an infant with NLE. However, in those who have had a baby with NLE, the risk of cardiac and/or skin disease for a future pregnancy is roughly 15-25%.
Neonatal lupus erythematosus
The mother usually discovers NLE that affects the skin shortly after birth. In some instances, the mother notes that the infant is sensitive to sunlight or cutaneous lesions are noted after phototherapy given for neonatal jaundice.
Cutaneous findings
Cutaneous lesions occur in roughly 70% of patients with NLE. [13] The cutaneous findings are transient and resemble those of subacute cutaneous lupus erythematosus (SCLE). NLE lesions are typically annular erythematous plaques with a slight scale, which appear predominately on the scalp, neck, or face (typically periorbital in distribution) (see the image below), but similar plaques may appear on the trunk or extremities. They may be urticaria-like and desquamative, occasionally with ulceration. [19, 20] They are sometimes crusted; this finding is observed more often in male babies than in female babies.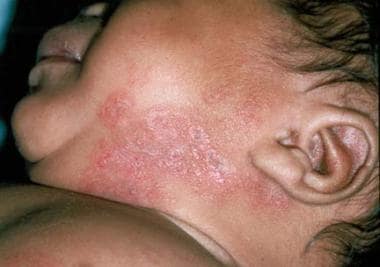 Neonatal lupus erythematosus.
Atrophic lesions may develop [21] ; however, over time, even these lesions leave little residual change. Telangiectasia is often prominent and is the sole cutaneous manifestation reported in some patients. The atrophic telangiectatic changes are most evident near the temples and scalp. When the scalp is involved, there may be associated permanent alopecia. Dyspigmentation is frequent, but, with time, this change spontaneously resolves.
Two thirds of patients with skin findings have them at birth, [22] and the remainder develop cutaneous findings within the first 2-5 months of life. In some infants, solar exposure seems to precipitate the eruption, although exposure to ultraviolet (UV) light may not be necessary for the development of cutaneous lesions. [23] The eruptions usually disappear when maternal antibodies are no longer present in the neonatal circulation at approximately the sixth month of life. However, a retrospective cohort study found that 34% of 106 patients with cutaneous NLE had persistent skin changes at a mean age of 4 years, including telangiectasia (13%), dyspigmentation (17%), and atrophic scarring (9%). [24]
At times, small angioma-like papulonodules may be seen. Follicular plugging is usually not evident. Targetoid plaques may rarely be seen. [25]
In one study, cutaneous involvement was characterized as erythematous patches (91.7%), SCLE-like lesions (50%), petechiae (41.7%), persistent cutis marmorata (16.7%), and discoid-like lesions (8.3%). [13]
In children selected because of cutaneous involvement, thrombocytopenia and hepatic disease may be as common as cardiac disease, and these diseases occur more often in male babies with crusted plaques than in female babies. Thus, children with cutaneous NLE should be evaluated for hematologic, hepatic, and cardiac involvement.
Cardiac disease
Cardiac involvement in NLE is common, occurring in roughly 65% of patients. [13] Cardiac rhythm abnormalities and conduction defects may be observed in various forms, but the occurrence of congenital complete heart block is most closely related to NLE, with an incidence of 15-30%. Cardiac blocks usually develop in utero between the 18th and 20th weeks of gestation. Mothers with primary Sjögren syndrome or undifferentiated autoimmune syndrome have a greater risk of delivering an infant with congenital complete heart block than those with systemic LE (SLE). [26]
NLE that affects the heart is often noted upon physical examination at birth, but it may be recognized with ultrasonography in utero. Complete congenital heart block is the usual finding, but incomplete heart block is possible. This finding may be noted as a bradycardia in utero or during physical examination at birth.
Heart failure is a well-recognized complication during the neonatal period. Other disturbances may also be present. These disturbances lead to blocks in the atrioventricular or Purkinje systems, potentially resulting in sinus bradycardia or prolongation of the QT interval. Incomplete heart block and an irregular heartbeat may also be present. In some cases, myocarditis and pericarditis can develop and lead to bradycardia. Congenital heart block may be associated with endocardial fibroelastosis, which can be severe, and dilated cardiomyopathy. [27]
Circulating fetal blood antibodies, which have been passively acquired, can lead to permanent heart disease and transient cutaneous manifestations. Hematologic and hepatic abnormalities may also occur.
Hepatobiliary findings
Hepatobiliary involvement occurs in approximately 53% of patients with NLE. [13] The clinical spectrum of associated hepatobiliary disease may vary from mild elevations of aminotransferase levels to conjugated hyperbilirubinemia with normal or slightly elevated aminotransferase levels. Hepatosplenomegaly is an occasional transient finding.
Hematologic findings
Hematologic disturbances in NLE (eg, hemolytic anemia, profound thrombocytopenia, neutropenia) may occur in the first 2 weeks of life. [13] Autoantibodies, mainly anti-Ro, can bind directly to the neutrophil and cause neutropenia. Thrombocytopenia may manifest as petechiae (see the image below). Hematologic symptoms may vary from benign to severe and usually appear at around the second week of life and disappear by the end of the second month; these findings may improve or disappear as maternal antibodies are metabolized.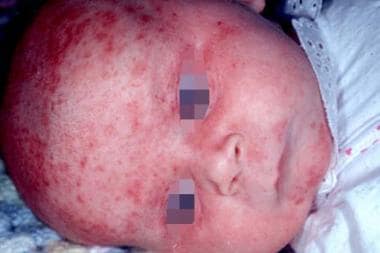 This child presented with petechial lesions, hepatosplenomegaly, and thrombocytopenia. Initially, he was thought to have histiocytosis (Letterer-Siwe disease); however, a skin biopsy revealed an interface dermatitis, and his mother had circulating autoantibodies.
Other manifestations
Neurologic involvement may also be seen in NLE and may manifest as hydrocephalus and/or macrocephaly. [28] A recent systematic literature review determined that most cases of neurologic NLE are asymptomatic and identified by neuroimaging. White matter abnormalities, calcification of the basal ganglia, intracranial hemorrhage, and subependymal pseudocysts were amongst the abnormalities identified on neuroimaging. Symptomatic patients manifested with seizures, spastic paraparesis, myelopathy, disturbance of consciousness, and hydrocephalus. [29] Infants born to mothers with anti-Ro antibodies should probably be monitored for hydrocephalus and other neurologic manifestations with cerebral sonography as part of their routine physical examination.
Pneumonitis may also be seen, manifesting as tachypnea or tachycardia.
In addition, rare reports describe chondrodysplasia punctata occurring in association with NLE. [30]
Lupus erythematosus of childhood
LE of childhood has similar clinical manifestations to LE occurring in adults, although in children, the disease course may be more severe, and certain cutaneous manifestations may have a stronger link with systemic disease. Photosensitivity, arthritis/polyarthritis, arthralgia, and fever may be the presenting symptoms of childhood LE. The patient may also report having a malar rash, which manifests with edematous and erythematous plaques and is strongly associated with systemic disease. In addition, patients may present with discoid LE (DLE) or SCLE lesions. Cutaneous lesions of DLE appear as erythematous plaques with scaling and associated follicular plugging, dyspigmentation, and atrophy and frequently resolve with scarring. Cutaneous lesions of SCLE are generally annular, erythematous patches and plaques with associated scaling and crusting and may resolve with dyspigmentation, but without scarring.
Adults with DLE have a low risk of systemic disease; however, the risk of systemic disease and progression to systemic involvement appears to be greater in children, with one report suggesting rates of 50%. Along the same lines, although SCLE is strongly associated with systemic disease in the adult population, data suggest this link is even greater in children, with approximately 83% of children progressing to systemic involvement. [1] Therefore, children with DLE or SCLE lesions should undergo a complete review of systems, including questions regarding symptoms of pleuritis, pericarditis, and neurologic or renal involvement. In childhood-onset systemic lupus erythematosus (SLE), neuropsychiatric and renal involvement may be more common than in adults.
Drug-induced lupus erythematosus
Drug-induced LE may develop in children and adolescents. Reports have described multiple cases of an LE-like syndrome in patients who take minocycline for acne. These patients often demonstrate fever and polyarthralgia or arthritis. Reports also describe drug-induced LE occurring as a result of antitumor necrosis factor-α medications in the pediatric population.
What would you like to print?